NASCAR Cup points leader and Joe Gibbs Racing Toyota driver Kyle Busch says the series' new aero package for this season "sucked" at Dover.
Busch - who equalled Morgan Shepherd's 1990 record of 11-straight top 10 finishes to start the season - struggled in the rain-delayed race on Monday, hitting the wall in what he called an 'eight out of 10' impact just over half way through the race.
While Dover is not the first race on a one-mile circuit this season - the series has already visited Phoenix - Dover has a much steeper banking and many drivers run at the top of the race track similar to a 1.5 or 2-mile circuit.
It led to Hendrick Motorsports' Chase Elliott breaking the lap record in qualifying to take pole, while drivers including Busch questioned whether the speeds were too high at the venue as early as first practice.
Busch had won the Phoenix race, but struggled at Dover and had choice words for the effects of the new aero package. Other drivers also criticised the changes, including Kevin Harvick, who said that the package made following other cars difficult.
"The package sucked," said Busch.
"No fucking question about it. It's terrible.
"But all I can do is bitch about and it will fall on deaf ears and we'll come back here with the same thing in the fall.
"This was a real bad weekend for us."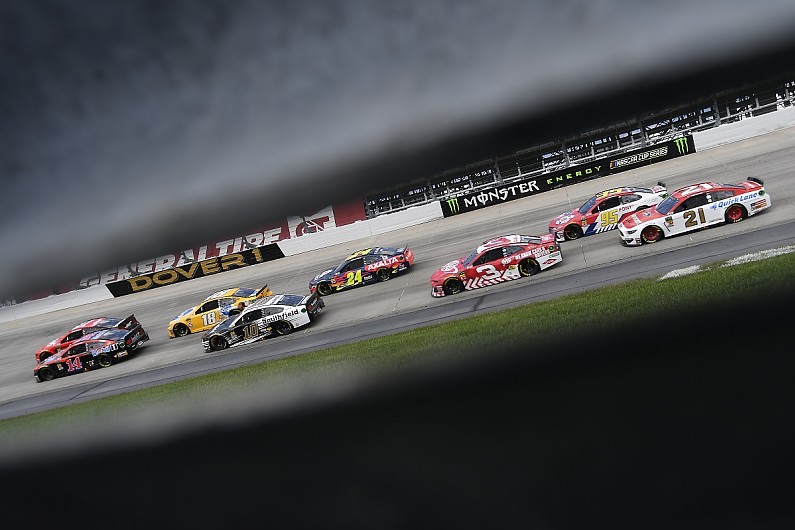 As well as the top 10-equalling record, Busch has scored six podiums in 11 starts this season in a strong start to the campaign.
But Busch's team-mate Martin Truex Jr won the Dover race on Monday, leading Busch to question whether he and his crew got the most out of the event.
"It sucked. We thought we were off as a programme, but obviously [Truex] won the race. So, that's not the case," added Busch.
"Probably we were going to end up about eighth and then I got into the wall in the last stage and we were junk after that.
"It'd be nice to win more. It'd be nice to run better. It'd be nice to lead laps.
"This was a real bad weekend for us."