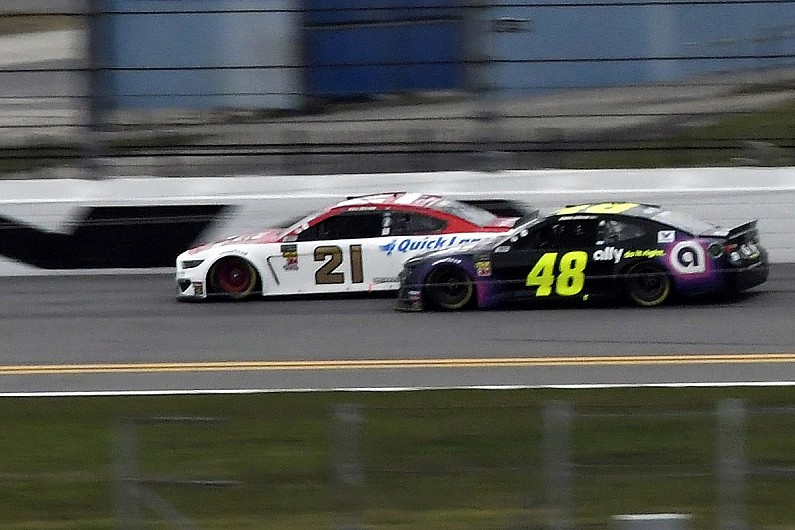 NASCAR Clash winner Jimmie Johnson feels "remorseful" over the race-deciding collision with Paul Menard that wiped out much of the field, but is adamant it was a racing incident.
Wood Brothers Ford driver Menard dominated the non-championship curtain-raiser until Johnson attempted to pass him for the lead 20 laps from the scheduled finish.
Contact led to Menard spinning into the wall and back into the pack, with only eight of the 20 starters still running on the lead lap afterwards.
Heavy rain then caused the rest of the race to be abandoned and Johnson was declared the winner.
"When you drive into somebody and spin them out, you know what you did," said Johnson.
"I pulled up alongside another car and a wreck started.
"I'll take whatever blame is fairly supposed to be put on me, but let's remember that rain is coming and how many plate races have we seen where there's aggressive driving to try to win the race? That's simply all I was doing.
"I didn't try to crash Paul. I didn't drive through Paul. It was a racing incident.
"I'm very remorseful. I'm probably more remorseful than any driver in the field when stuff like this happens.
"I don't crash people to win races. I looked in the mirror and there were a lot of cars caught up in it, and I hate that aspect of it. So absolutely I'm remorseful.
"But at the same time, I have a split-second decision to try to win a race and I set up the pass and got position on him cleanly.
"I don't know what triggered his car wobbling and then the accident started from there."
Menard had also crashed out of last July's Daytona Cup race in an incident with Johnson, and was critical of the seven-time champion's driving.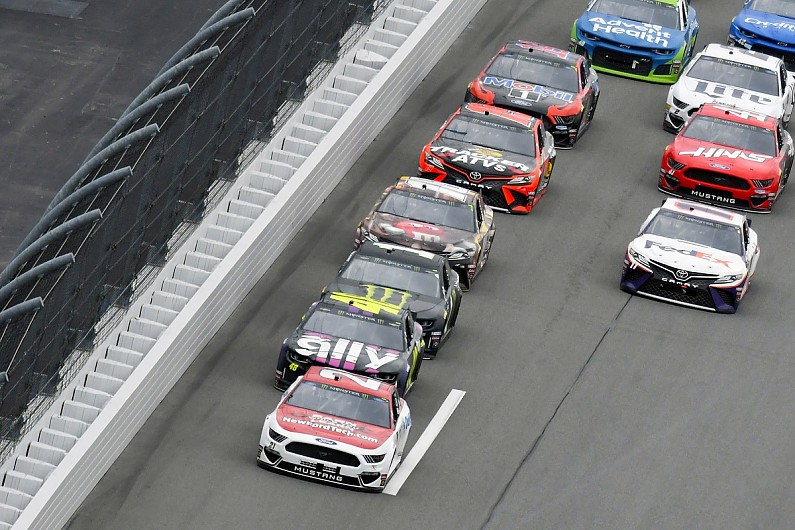 "Jimmie pulled down, I moved down a little bit, and the next thing I knew I'm getting turned in the left rear," said Menard.
"Jimmie does that a lot at these tracks. It's unfortunate.
"We just got turned. I didn't really know what happened until I saw a replay.
"I felt like it was aggressive side-drafting. I got turned to the inside and hooked to the right and all hell broke loose."
Second and third-place finishers Kurt Busch and Joey Logano both felt Johnson had triggered the crash.
"I'm sure it's not intentional, but he definitely dumped him," said Logano.
Busch's Ganassi team initially quizzed NASCAR over whether Johnson should keep the win, as it felt he had effectively taken the lead by going into the prohibited area below the double yellow line on the inside of the track as he collected his sliding car following the contact.
Though Busch felt Johnson had been at fault, he underlined that the cars' instability in the current superspeedway aerodynamic package was also a major factor.
"He stayed in that 'no-zone' - I call it the no-zone - in that left rear quarterpanel for way too long, and it just dragged Menard around with him," said Busch.
"That's some of the instability in the draft that these cars show.
"And that's why we end up single file a lot because sometimes your move is your last move because the cars are so unstable."