Defeated 2018 NASCAR Cup Series title contender Kevin Harvick says his Stewart-Haas Racing Ford was a "daytime" racecar that prevented him challenging for the championship late on at Homestead.
Harvick and SHR started the weekend on a run of difficult form, qualifying just 12th on the grid with a car the 2014 Cup champion described as "off" and "too tight".
The #4 SHR Ford crew's task was made more difficult by the legacy of the penalty earned at Texas for a spoiler infringement that left Harvick without his crew chief and car chief for the title decider.
At the previous race, Harvick's crew chief Rodney Childers had communication set-up problems that prevented him speaking to stand-in Tony Gibson during his enforced absence.
Childers tweeted that he spent eight hours following qualifying trying to find the ideal set-up through simulation, with Harvick describing it "as a lot of small changes".
Harvick won the race's first stage but his car faded as the event went further into evening conditions in the second segment, and a poor final pitstop consigned him to third behind title winner Joey Logano and Martin Truex Jr.
"We had a daytime racecar," said Harvick. "As soon as it got dark we never could get our car tightened up there at the end.
"Then they made a great call to put us in position to win the race, and then the caution came out when the #2 [Brad Keselowski] car spun the #19 [Daniel Suarez] out.
"We came off pit road fourth, and our strong point was not the restarts and we wound up on the wrong side of it.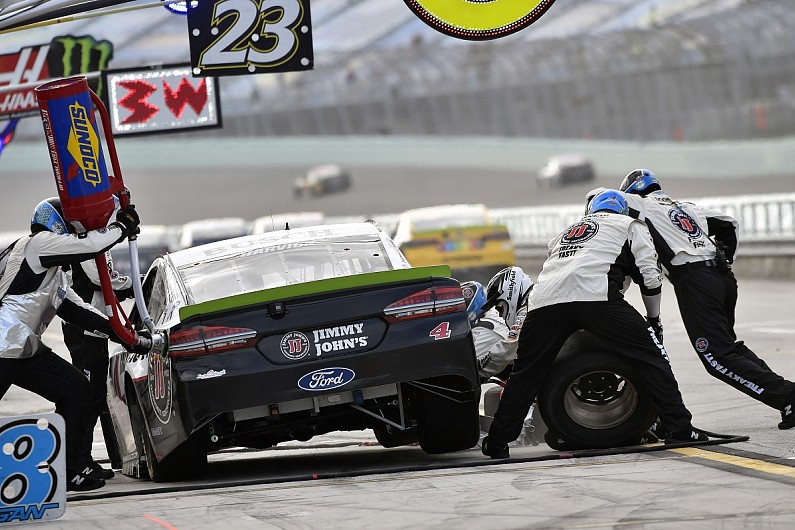 "We didn't make a lot of big changes [overnight], we made a lot of small changes, and the car was definitely better.
"But when it got dark, we just lost the rear grip and couldn't get off the corner, and were having trouble turning in the corner.
"The balance was really good until it was dark outside, and we just never could get the rear grip back to where we needed to, and I couldn't take off."
Harvick felt the late caution was particularly painful for him because of his car's restart weakness.
"But they put us in a position to win if the caution didn't come out, and we had a shot there with 18 laps to go when the caution came out," he said.
"It's just the way it all shook out, the #22 [Logano] could take off really good."