Stewart-Haas Racing's Kevin Harvick secured his place in the NASCAR Cup title decider, prevailing in a late race duel with Ryan Blaney at Texas.
After having swept the first two stages, Harvick had built a comfortable four-second lead over Blaney entering the final 40 laps of the 334-lap race.
However, three late-race spin-induced cautions eradicated Harvick's advantage.
On the second of the restarts, Blaney was able to pass the SHR driver around the outside of Turns 1 and 2 to claim the race lead.
The #12 Penske held the lead for several laps before Harvick worked his way back into the lead of the race.
With two laps remaining at the final restart, Harvick opted for the now seemingly faster outside lane and cleared Blaney with ease to seize the win.
Harvick joins Martinsville race winner Joey Logano in being confirmed as one of the final four playoff contenders who will contest for championship honours in the season finale at Homestead.
Blaney, who was eliminated for playoff contention at the previous 'round of 12' stage, finished second ahead of team-mate Logano.
Penske Fords had locked out the top three positions at the start of the third and final stage, with Brad Keselowski leading 50 laps and Harvick working his way back to the front from fifth place.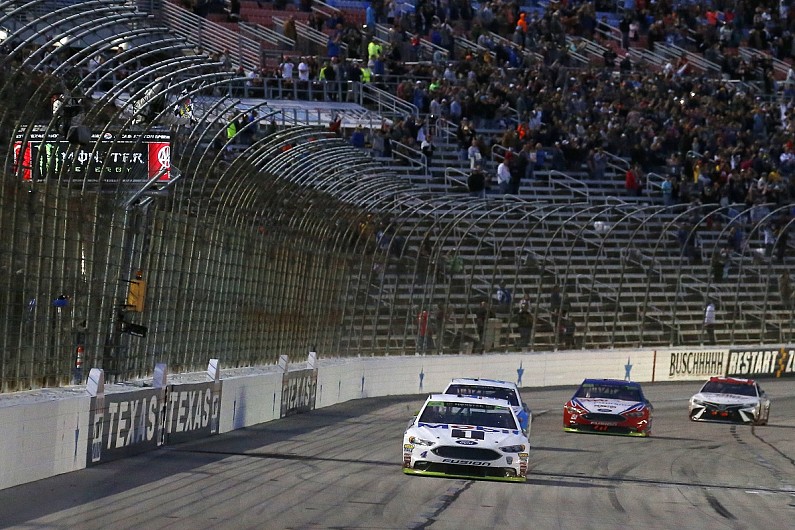 But Keselowski ultimately dropped out of contention with a loose wheel after his penultimate pitstop and ended up in 12th.
Both Logano in third and Joe Gibbs Racing's Erik Jones in fourth managed to pass Kyle Larson at the final restart after the #42 Chip Ganassi Racing Chevrolet hit the back of Blaney at the green flag and lost momentum.
Larson ended up finishing in fifth place, narrowly holding off playoff contender Chase Elliott. Both drivers had been on the periphery of the top 10 until the final stage.
Harvick's SHR team-mate Kurt Busch finished seventh, ahead of Aric Almirola in eighth. Almirola, who started the race from the back after stewards spotted unapproved bodywork changes, had been third before tangling with Logano late on and losing ground.
Elliott, Busch and Almirola all enter the final race of the 'round of 8' at Phoenix outside the cutoff, along with Clint Bowyer who ended up several laps down after his race was heavily compromised by lap one contact with Denny Hamlin.
Having also started from the back after a post-qualifying engine change, Martin Truex Jr finished in ninth place. An unscheduled pitstop for a tyre vibration had left him two laps down during the final stage.
Kyle Busch's day was mired by a similar tyre vibration in the second stage, after having consistently run in the top 10. He could only recover to 15th place.
Results - 337 laps
| Pos | Driver | Team | Car | Gap |
| --- | --- | --- | --- | --- |
| 1 | Kevin Harvick | Stewart-Haas Racing | Ford | 3h21m27.s |
| 2 | Ryan Blaney | Team Penske | Ford | 0.447s |
| 3 | Joey Logano | Team Penske | Ford | 0.816s |
| 4 | Erik Jones | Joe Gibbs Racing | Toyota | 1.335s |
| 5 | Kyle Larson | Chip Ganassi Racing | Chevrolet | 2.084s |
| 6 | Chase Elliott | Hendrick Motorsports | Chevrolet | 2.193s |
| 7 | Kurt Busch | Stewart-Haas Racing | Ford | 2.510s |
| 8 | Aric Almirola | Stewart-Haas Racing | Ford | 2.691s |
| 9 | Martin Truex Jr. | Furniture Row Racing | Toyota | 2.824s |
| 10 | Austin Dillon | Richard Childress Racing | Chevrolet | 3.873s |
| 11 | Ricky Stenhouse Jr. | Roush Fenway Racing | Ford | 3.892s |
| 12 | Brad Keselowski | Team Penske | Ford | 4.032s |
| 13 | Paul Menard | Wood Brothers Racing | Ford | 4.246s |
| 14 | Alex Bowman | Hendrick Motorsports | Chevrolet | 4.257s |
| 15 | Jimmie Johnson | Hendrick Motorsports | Chevrolet | 4.376s |
| 16 | William Byron | Hendrick Motorsports | Chevrolet | 4.655s |
| 17 | Kyle Busch | Joe Gibbs Racing | Toyota | 5.497s |
| 18 | Ryan Newman | Richard Childress Racing | Chevrolet | 2 Laps |
| 19 | Jamie McMurray | Chip Ganassi Racing | Chevrolet | 2 Laps |
| 20 | A.J. Allmendinger | JTG Daugherty Racing | Chevrolet | 2 Laps |
| 21 | Trevor Bayne | Roush Fenway Racing | Ford | 2 Laps |
| 22 | Ty Dillon | Germain Racing | Chevrolet | 2 Laps |
| 23 | Chris Buescher | JTG Daugherty Racing | Chevrolet | 2 Laps |
| 24 | David Ragan | Front Row Motorsports | Ford | 2 Laps |
| 25 | Darrell Wallace Jr. | Richard Petty Motorsports | Chevrolet | 2 Laps |
| 26 | Clint Bowyer | Stewart-Haas Racing | Ford | 3 Laps |
| 27 | Regan Smith | Leavine Family Racing | Chevrolet | 5 Laps |
| 28 | Daniel Suarez | Joe Gibbs Racing | Toyota | 5 Laps |
| 29 | Michael McDowell | Front Row Motorsports | Ford | 6 Laps |
| 30 | Denny Hamlin | Joe Gibbs Racing | Toyota | 6 Laps |
| 31 | Parker Kligerman | Gaunt Brothers Racing | Toyota | 8 Laps |
| 32 | Ross Chastain | Premium Motorsports | Chevrolet | 11 Laps |
| 33 | Reed Sorenson | Premium Motorsports | Chevrolet | 11 Laps |
| 34 | Kyle Weatherman | StarCom Racing | Chevrolet | 14 Laps |
| 35 | Landon Cassill | StarCom Racing | Chevrolet | 16 Laps |
| 36 | J.J. Yeley | BK Racing | Toyota | 16 Laps |
| 37 | Joey Gase | Rick Ware Racing | Ford | 20 Laps |
| 38 | Matt DiBenedetto | Go FAS Racing | Ford | Accident |
| 39 | David Starr | Obaika Racing | Toyota | 50 Laps |
| 40 | Corey LaJoie | TriStar Motorsports | Chevrolet | 68 Laps |
Playoff standings

| Pos | Driver | Points |
| --- | --- | --- |
| 1 | Kyle Busch | 4128 |
| 2 | Martin Truex Jr. | 4125 |
| 3 | Joey Logano | 4119 |
| 4 | Kevin Harvick | 4103 |
| 5 | Kurt Busch | 4100 |
| 6 | Chase Elliott | 4086 |
| 7 | Aric Almirola | 4068 |
| 8 | Clint Bowyer | 4052 |