NASCAR and Charlotte Motor Speedway have been forced to alter the 'roval' road course's backstretch chicane to prevent drivers from corner-cutting.
Early in the development of the new layout, which includes most of the 1.5-mile oval track at Charlotte and its infield road course, a chicane was placed on the back straight entering what would be Turn 3 on the oval track.
The goal was to help control speeds entering Turns 3 and 4 on the oval before the permanent chicane on the exit of Turn 4.
During Tuesday's test at the track, which featured around half the Cup Series teams, several drivers ran virtually straight through the chicane with little consequence, knocking off little speed entering before Turn 3.
Their speeds were markedly higher than those who ran the intended racing line through the chicane.
After a crash by Darrell Wallace Jr, NASCAR gathered the drivers and crew chiefs to forge a solution, then added two additional rumble strips and a tyre barrier to encourage drivers to use the course as it was planned.
No changes were made to the actual layout of the track or in its length, which remains 2.28 miles and 17 turns.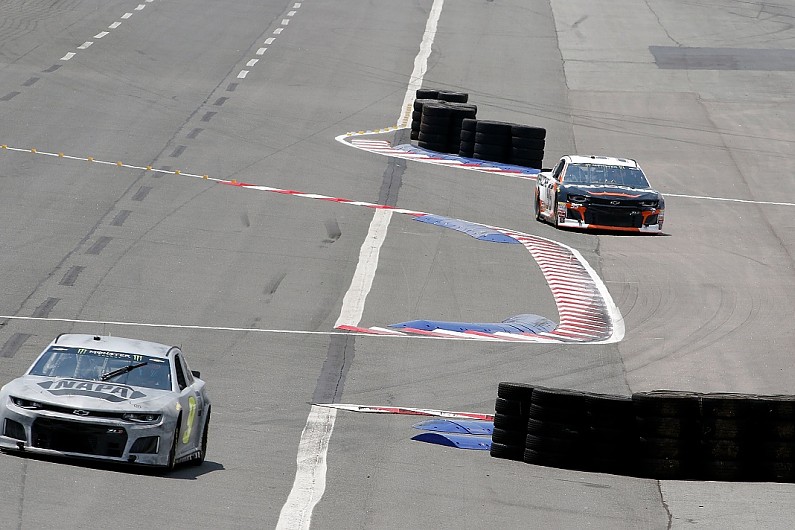 "The changes on the backstretch are just to keep everybody honest, keep everybody on the line that was defined," said Richard Childress Racing driver Ryan Newman.
"I don't know if it's on its final iteration but we're making an attempt.
"I hope it doesn't change [again] for the sake of us having the same opportunity as the guys who [test] next week.
"It's been a learning experience for me all day. I'm still behind the learning curve."
Because of the time it took to alter the chicane, the lunch hour was cancelled and the test extended to 6pm local time.
The change appeared successful. When Penske Ford driver Brad Keselowski ran over the rumble strips with his left-side wheels later on, his car was sent bouncing into the air.
The inaugural NASCAR event on the 'roval' takes place on September 28-30, and will be the first road course to feature in the playoffs.