The NASCAR Cup Series' midweek penalties are "frustrating" and make fans believe "everyone is cheating", says reigning champion Martin Truex Jr.
Drivers including Chase Elliott, Kevin Harvick, Daniel Saurez and Clint Bowyer have recently been hit with post-race penalties for technical infractions that have included a loss of drivers' points.
NASCAR has also enforced a more stringent inspection process using laser scanning that has been designed to level the playing field in 2018.
Asked if the series was becoming "over-engineered" to the detriment of the sporting element, Furniture Row Racing driver Truex said: "I don't know if you can say that.
"I feel like it's more competitive than it's ever been. If you look at the size of the box we have to [legally] work in, it's tiny. There's not a lot we can do.
"I don't know if they're over-engineered as much as they are over-enforced rules.
"I get frustrated when on Wednesday [the day post-race penalties are announced], we get all these stories 'this guy was illegal, that guy was illegal'.
"From the fans' point of view, they think everyone is cheating and 'this is ridiculous, and I don't want to watch racing because these guys are frauds' is what a lot of these fans are thinking.
"Let's have some common sense in the way we enforce some of these things.
"And then Wednesday inspection, you take four cars. If you took the whole field, 38 of them might have failed this particular week. It's a frustrating thing."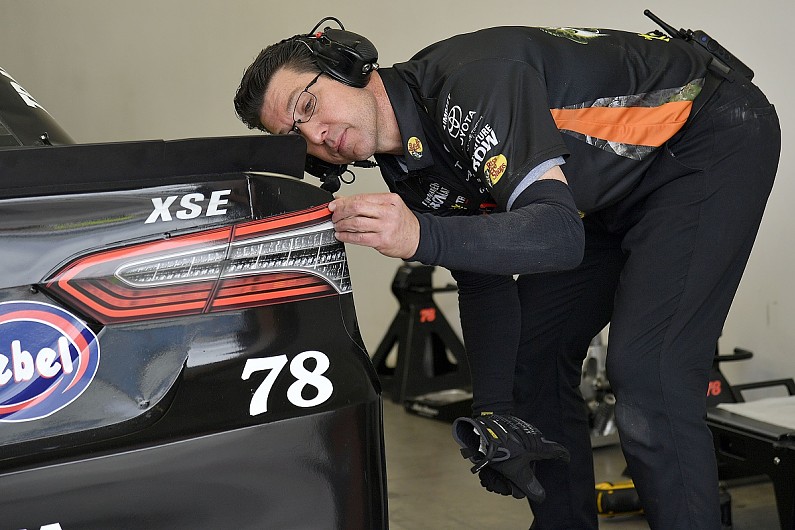 Truex says it is unfair to apportion all the blame on NASCAR.
"It's hard to place blame on anyone. I know NASCAR is in a tough spot," he said.
"They want to make the playing field level. They want everyone to feel like that everyone has the same thing out on the racetrack and it's coming down to the best driver.
"There is just so much to it and it's so complicated. But it is frustrating to hear about penalty after penalty from the driver point of view."
Stewart-Haas Racing's Clint Bowyer defended the inspection process ahead of last weekend's race at Kansas.
"Everybody has a different opinion on it, they [NASCAR] have a tough job," he said.
"You've got a world where the people on the racetrack are as equipped, if not the same, then better than what [NASCAR] are trying to govern and regulate.
"It's a tough job to do on the competition side of this sport."
"It's frustrating when you get to the track and there are so many cars that aren't on the track or whatever the case may be.
"But at the end of the day, truth be told, they have a tall order in front of them and an army of people that are pushing as hard as they can against them."