Kevin Harvick says that he wanted to "stomp" his NASCAR Cup rivals at Phoenix because he was mad at receiving a penalty last week.
Harvick returned to the top of the Cup standings with his third consecutive victory having lost the spot with a technical penalty following his win at Las Vegas after his car was spotted with a flexing roof.

A broken brace caused the issue and NASCAR hit Harvick with a 20-point penalty and a loss of seven playoff points.

Harvick described the penalty as the beginning of a "slippery slope" after believing social media caused the infraction to be caught, but the Stewart-Haas Racing driver says it fuelled his latest win.
"I've been mad - this organisation does a great job and we've got fast race cars," said Harvick.
"To take that away from those guys just really pissed me off last week.
"To come here to a race track that is so good for us is a lot of fun and everyone was just determined this week and we just wanted to just go stomp them.
"We didn't stomp them, but we won. That's all that really matters. Just proud of this team. [It] put a fire in our belly."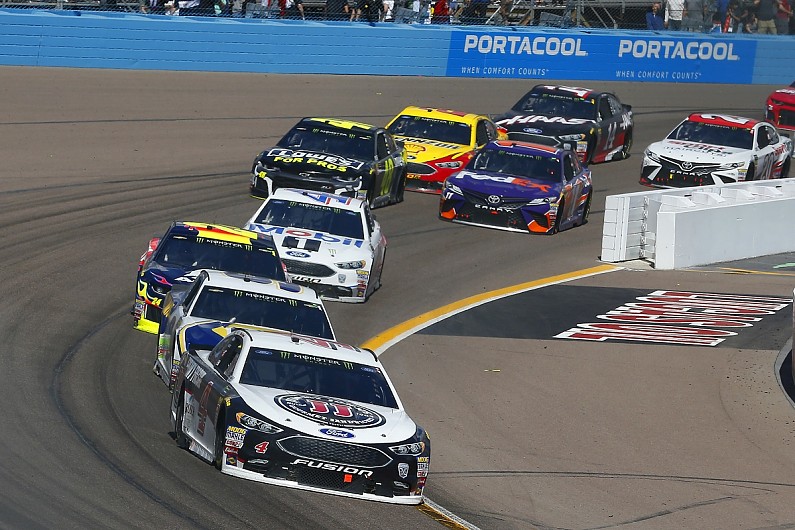 In a press conference following the race, SHR co-owner Tony Stewart confirmed the team will not appeal Harvick's Vegas penalty.
Harvick, Aric Almirola, Clint Bowyer and Kurt Busch all finished inside the top 10 at Phoenix, marking a first for SHR.
It was also SHR's sixth victory since it switched to Ford in 2017.
Stewart says it's clear SHR has never operated so highly in the Cup series.
"Yeah, I don't think there's any question about that," he said. "We saw that even at Daytona this year, the way all four teams ran [Almirola and Busch crashed out of winning contention].
"I admit, I thought we were going to get rained out at Atlanta, so I went home.
"I took a picture of the screen when we had all four cars in the top seven. I took a screenshot of it as a fan.
"Just kept looking at it, going, 'this is really cool, never happened for our organisation'.
"Like Kevin mentioned, it just shows the strength of having four really good team-mates that are giving four valid sets of information that they can all feed off of and work off of."