NASCAR Cup 'regular season' champion Martin Truex Jr says he was caught by surprise when his front-right tyre failed late on while leading Sunday's round at Darlington.
Truex won the first two stages of Sunday's Southern 500 and had led the closing stages of the race from eventual winner Denny Hamlin.
But on worn tyres, Truex suffered a puncture two laps from the finish and made contact with the wall before limping home to finish eighth.
"Sometimes things just don't go your way," said Truex. "We took the lead four or five different times.
"We had a phenomenal race car on long runs. It was just two laps too long.
"I didn't see that coming. We didn't really have any issues all night long with the right-fronts.
"Circumstances were a little bit different with a green flag stop and running pretty long [at the end]."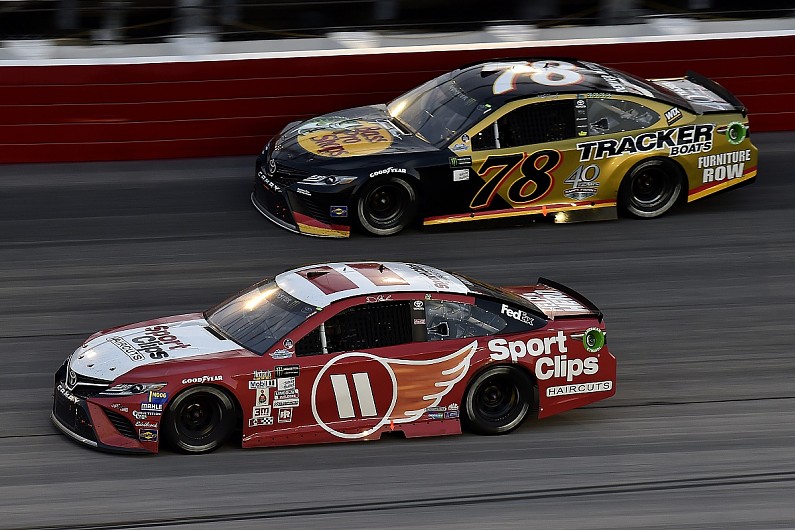 Hamlin had made up for an earlier error - by missing the pits - to run second late on, but Truex believes he could still have beaten Hamlin to victory despite the Joe Gibbs Racing driver reeling him in on fresher tyres.
"I think we could have held him off," Truex said. "If I had a little bit of clean air I was OK, I could hold my own.
"But I'd get in lapped traffic and the car would just about wreck, it was spinning out loose.
"It was a huge challenge. If we had pit one or two laps later it would have been a different race and we would have had it."
Despite missing out on a fifth victory of the year, Truex still clinched enough points during the race to clinch the 'regular season' title with a round to spare, and will start the playoff phase with an additional 15 points as a reward.
"I'm proud of everybody, and proud of the regular season championship," he said.
"That's huge for this team, huge for me and my career.
"Clinching the regular season is really, really tough, especially running at the level we have all season long.
"I'm just really proud of what this team has given me, the opportunities they've given me each and every week.
"It's nice to go out and drive your heart out and it actually gets you somewhere."