Richard Petty Motorsports driver Aric Almirola picked up his first NASCAR Sprint Cup victory in a Daytona race finally abandoned after two enormous crashes and multiple rain delays.
Bad weather had dogged the entire weekend and caused the postponement of what was planned as a Saturday night race.
Further drizzle first delayed Sunday morning's rescheduled start, and then caused an early red flag while the Air Titan system was used to dry the track again.
That shower passed quickly and racing resumed, but on lap 19 a tangle between Ricky Stenhouse Jr, Tony Stewart and Jeff Gordon began a chain reaction that ultimately collected 16 cars.
A subsequent patch of clear weather allowed over half the distance to be completed pretty smoothly, with 11 different drivers leading the drafting pack along the way.
However an even more destructive crash would follow on lap 98 just after a restart for a debris caution.
This time it began in the lead pack with a touch between Joey Logano, Greg Biffle and Kasey Kahne, with a total of 26 cars embroiled in the subsequent mess and Kyle Busch ending the incident upside down. No one was hurt.
Only five more laps of racing would take place before the rain returned and steadily intensified.
NASCAR worked for almost an hour to try to keep the track as dry as possible, before admitting defeat and declaring the race over after 112 of the scheduled 160 laps.
Almirola had worked his way into the lead just before the larger of the two massive crashes and stayed there during the brief period of green flag running between the clear-up and the rain.
The result was the first win for the iconic #43 Petty car since John Andretti's victory at Martinsville in 1999.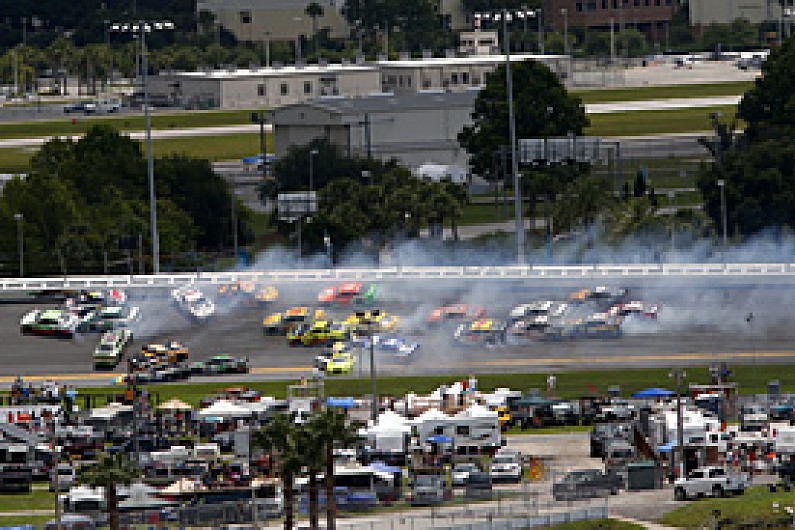 Brian Vickers claimed second for Michael Waltrip Racing, with Kurt Busch coming through the field from 40th on the grid to take third for Stewart-Haas.
Inevitably such a chaotic race provided a chance for underdogs, and it was Germain's Casey Mears and Leavine Family Racing's Michael McDowell who capitalised with fourth and seventh place finishes, split by Austin Dillon and Denny Hamlin.
Shock qualifying stars David Gilliland, Reed Sorenson, Landon Cassill and Bobby Labonte held their own among the frontrunners at first but all four were caught up in the second big crash.
Many of those involved in the first shunt were able to continue in patched-up cars, with reigning champion Jimmie Johnson one of the few exceptions.
Results - 112 laps (red flag):

Pos  Driver             Team/Car                     Time/Gap
 1.  Aric Almirola      Petty Ford               2h09m13.000s
 2.  Brian Vickers      Waltrip Toyota                +0.846s
 3.  Kurt Busch         Stewart-Haas Chevrolet        +1.863s
 4.  Casey Mears        Germain Chevrolet             +3.202s
 5.  Austin Dillon      Childress Chevrolet           +4.161s
 6.  Denny Hamlin       Joe Gibbs Toyota              +5.075s
 7.  Michael McDowell   Leavine Ford                  +6.434s
 8.  Danica Patrick     Stewart-Haas Chevrolet        +8.195s
 9.  Clint Bowyer       Waltrip Toyota                +9.043s
10.  Marcos Ambrose     Petty Ford                   +10.063s
11.  Terry Labonte      Go FAS Ford                  +11.246s
12.  Jeff Gordon        Hendrick Chevrolet           +12.676s
13.  Alex Bowman        BK Toyota                    +13.886s
14.  Dale Earnhardt Jr  Hendrick Chevrolet           +25.970s
15.  Martin Truex Jr    Furniture Row Chevrolet      +36.310s
16.  Paul Menard        Childress Chevrolet          +40.994s
17.  Joey Logano        Penske Ford                  +55.499s
18.  Brad Keselowski    Penske Ford                    -1 lap
19.  Michael Waltrip    Waltrip Toyota                 -1 lap
20.  Matt Kenseth       Joe Gibbs Toyota               -1 lap
21.  Michael Annett     Baldwin Chevrolet             -8 laps

Retirements:

     David Ragan        Front Row Ford               102 laps
     Josh Wise          Parsons Chevrolet            101 laps*
     Ryan Newman        Childress Chevrolet          100 laps*
     Justin Allgaier    Hscott Chevrolet              98 laps
     Bobby Labonte      Circle Sport Chevrolet        98 laps
     Kasey Kahne        Hendrick Chevrolet            97 laps
     Kyle Busch         Joe Gibbs Toyota              97 laps
     Greg Biffle        Roush Fenway Ford             97 laps
     Jamie McMurray     Ganassi Chevrolet             97 laps
     Landon Cassill     Hillman Chevrolet             97 laps
     Ryan Truex         BK Toyota                     97 laps
     Reed Sorenson      Baldwin Chevrolet             97 laps
     Cole Whitt         BK Toyota                     97 laps
     David Gilliland    Front Row Ford                97 laps
     Kyle Larson        Ganassi Chevrolet             69 laps*
     Carl Edwards       Roush Fenway Ford             66 laps*
     Trevor Bayne       Wood Brothers Ford            46 laps*
     Kevin Harvick      Stewart-Haas Chevrolet        46 laps*
     Tony Stewart       Stewart-Haas Chevrolet        45 laps*
     Ricky Stenhouse Jr Roush Fenway Ford             37 laps*
     Jimmie Johnson     Hendrick Chevrolet            20 laps
     AJ Allmendinger    JTG Daugherty Chevrolet       19 laps

*Running again at finish