Matt Kenseth held off Kasey Kahne in a barnstorming finish to take victory in the NASCAR Sprint Cup night race at Bristol.
It was a fantastic comeback by the Joe Gibbs Racing driver, who had earlier been sent to the back for speeding in the pitlane.
Kahne had to fight his way by an inspired Juan Pablo Montoya to set up the thrilling showdown, but despite getting the nose of his Hendrick Chevrolet in front a couple of times, he could not make the pass stick.
Montoya had also been busted for pitlane speeding, but drove a great race to take third for Earnhardt Ganassi.
Brian Vickers was fourth for Michael Waltrip Racing, while Joey Logano boosted his Chase chances with a recovery drive to fifth following contact with Kyle Busch.
Busch's hopes of a hat-trick of Bristol wins following Truck and Nationwide triumphs were undone when he brushed the wall and slid into Logano. He did well to keep pace with the leaders, but his car was not good in traffic and he eventually finished 11th.
A host of potential winners were taken out in a huge restart crash that brought out the red flag.
Denny Hamlin and Kevin Harvick touched, probably after Hamlin cut a cut tyre following contact with Vickers, smashing into the wall and taking out Ryan Newman, Martin Truex Jr and Brad Keselowski. Truex suffered the most damage, but five strong cars were out of contention in an instant.
Carl Edwards had been the dominant driver for much of the race, but during a late-race caution period his Roush Fenway Ford started to splutter.
He switched ignitions, but to no avail and he was forced to bring the Fusion in to retire. Remarkably, it was the first Roush Fenway mechanical retirement of the season.
"I didn't have any warning," said Edwards. "That was the most fun I've had in a car for a long time. The car was perfect. The engine aside, we were the dominant car here."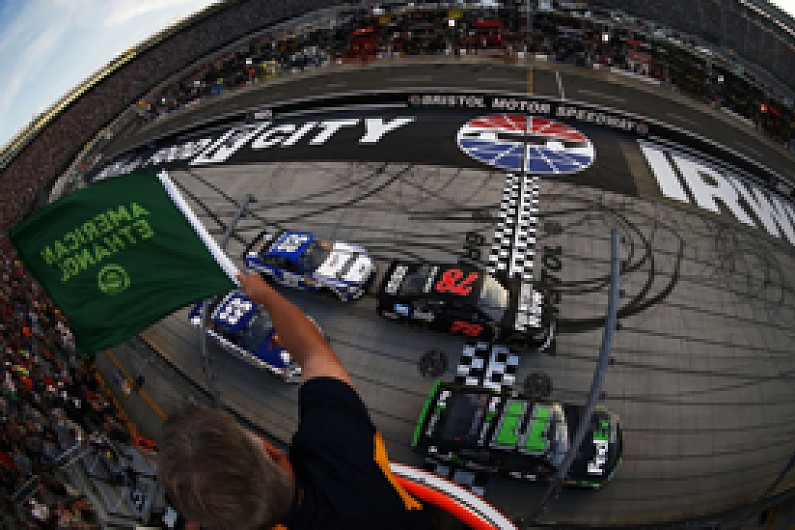 Poleman Hamlin led the opening laps, but was baulked by series debutant Ryan Truex, which gave Kurt Busch the opportunity he was waiting for.
Busch was running comfortably out front when he felt the handling of the Furniture Row Chevy go off. He pitted to have a loose wheel inspected, and lost over 20 laps as lengthy repairs were required.
Jimmie Johnson's recent poor run of luck continued. The five-time champion's Hendrick Chevy sustained heavy damage when he was powerless to prevent running into the spinning David Reutimann.
Results - 500 laps:

Pos  Driver              Team/Car                         Time/Gap
 1.  Matt Kenseth        Joe Gibbs Toyota             2h57m07.000s
 2.  Kasey Kahne         Hendrick Chevrolet                +0.188s
 3.  Juan Pablo Montoya  Earnhardt Ganassi Chevrolet       +4.589s
 4.  Brian Vickers       Waltrip Toyota                    +6.471s
 5.  Joey Logano         Penske Ford                       +7.989s
 6.  Paul Menard         Childress Chevrolet               +8.637s
 7.  Jeff Gordon         Hendrick Chevrolet                +8.979s
 8.  Marcos Ambrose      Petty Ford                        +9.208s
 9.  Greg Biffle         Roush Fenway Ford                 +9.496s
10.  Dale Earnhardt Jr   Hendrick Chevrolet                +9.530s
11.  Kyle Busch          Joe Gibbs Toyota                 +12.342s
12.  David Ragan         Front Row Ford                   +12.709s
13.  Jeff Burton         Childress Chevrolet              +14.468s
14.  Clint Bowyer        Waltrip Toyota                   +17.816s
15.  Aric Almirola       Petty Ford                         +1 lap
16.  Travis Kvapil       BK Toyota                          +1 lap
17.  David Stremme       Swan Toyota                       +2 laps
18.  Ricky Stenhouse Jr  Roush Fenway Ford                 +2 laps
19.  Jamie McMurray      Earnhardt Ganassi Chevrolet       +2 laps
20.  Mark Martin         Stewart-Haas Chevrolet            +2 laps
21.  Ryan Newman         Stewart-Haas Chevrolet            +2 laps
22.  Dave Blaney         Baldwin Chevrolet                 +2 laps
23.  Landon Cassill      Circle Sport Chevrolet            +2 laps
24.  JJ Yeley            Baldwin Chevrolet                 +3 laps
25.  David Gilliland     Front Row Ford                    +4 laps
26.  Danica Patrick      Stewart-Haas Chevrolet            +6 laps
27.  Ken Schrader        FAS Lane Ford                     +8 laps
28.  Denny Hamlin        Joe Gibbs Toyota                 +12 laps
29.  David Reutimann     BK Toyota                        +16 laps
30.  Brad Keselowski     Penske Ford                      +21 laps
31.  Kurt Busch          Furniture Row Chevrolet          +23 laps
32.  Tony Raines         Circle Sport Chevrolet           +24 laps
33.  Casey Mears         Germain Ford                     +32 laps
34.  Kevin Harvick       Childress Chevrolet              +50 laps
35.  Martin Truex Jr     Waltrip Toyota                   +54 laps*
36.  Jimmie Johnson      Hendrick Chevrolet               +59 laps
37.  Josh Wise           Front Row Ford                   +82 laps
38.  Bobby Labonte       JTG Daugherty Toyota            +106 laps

* Not running at chequered flag

Retirements:

     Carl Edwards        Roush Fenway Ford                387 laps
     Scott Speed         Leavine Ford                     223 laps
     Michael McDowell    Parsons Ford                     175 laps
     Ryan Truex          Phoenix Chevrolet                 39 laps
     Joe Nemechek        NEMCO Toyota                        1 lap