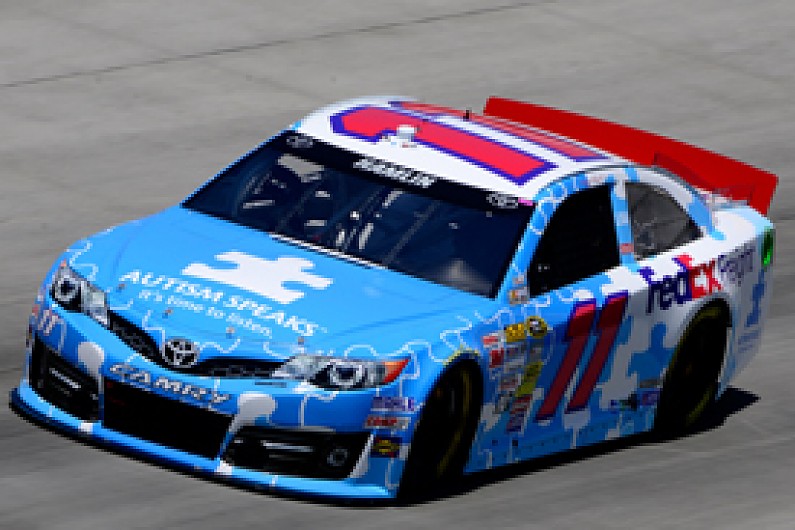 Denny Hamlin claimed a second straight NASCAR Sprint Cup pole position as he led qualifying for Sunday's round at Dover International Speedway.
Despite feeling the one-mile oval is one of his weakest venues, Hamlin was able to produce a 22.788-second to repeat the pole he secured in the last Cup event there last September.
Joe Gibbs Racing secured three of the top four positions, as Hamlin's team-mates Kyle Busch and Matt Kenseth put their Toyotas on row two.
But it was fellow Toyota driver Martin Truex Jr of Michael Waltrip Racing who came closest to deposing Hamlin with a lap 0.026s slower.
Truex's team-mate Mark Martin took sixth, behind Stewart-Haas Chevrolet driver Ryan Newman - the sole non-Toyota interloper on the front three rows.
Charlotte winner Kevin Harvick, reigning champion Brad Keselowski, Joey Logano and Jamie McMurray completed the top 10.
Championship leader Jimmie Johnson had led morning practice, but a big slide on his qualifying run left him down in 24th on the grid.
Pos  Driver              Team/Car                     Time     Gap
 1.  Denny Hamlin        Joe Gibbs Toyota             22.788s
 2.  Martin Truex Jr     Waltrip Toyota               22.814s  + 0.026s
 3.  Kyle Busch          Joe Gibbs Toyota             22.820s  + 0.032s
 4.  Matt Kenseth        Joe Gibbs Toyota             22.823s  + 0.035s
 5.  Ryan Newman         Stewart-Haas Chevrolet       22.826s  + 0.038s
 6.  Mark Martin         Waltrip Toyota               22.842s  + 0.054s
 7.  Kevin Harvick       Childress Chevrolet          22.850s  + 0.062s
 8.  Brad Keselowski     Penske Ford                  22.860s  + 0.072s
 9.  Joey Logano         Penske Ford                  22.863s  + 0.075s
10.  Jamie McMurray      Earnhardt Ganassi Chevrolet  22.871s  + 0.083s
11.  Kasey Kahne         Hendrick Chevrolet           22.879s  + 0.091s
12.  Dale Earnhardt Jr   Hendrick Chevrolet           22.895s  + 0.107s
13.  Kurt Busch          Furniture Row Chevrolet      22.922s  + 0.134s
14.  Juan Pablo Montoya  Earnhardt Ganassi Chevrolet  22.972s  + 0.184s
15.  Clint Bowyer        Waltrip Toyota               22.995s  + 0.207s
16.  Paul Menard         Childress Chevrolet          23.051s  + 0.263s
17.  Casey Mears         Germain Ford                 23.052s  + 0.264s
18.  Carl Edwards        Roush Fenway Ford            23.069s  + 0.281s
19.  Greg Biffle         Roush Fenway Ford            23.084s  + 0.296s
20.  Jeff Gordon         Hendrick Chevrolet           23.122s  + 0.334s
21.  Landon Cassill      Circle Sport Chevrolet       23.160s  + 0.372s
22.  Tony Stewart        Stewart-Haas Chevrolet       23.165s  + 0.377s
23.  Ricky Stenhouse Jr  Roush Fenway Ford            23.19 s  + 0.402s
24.  Jimmie Johnson      Hendrick Chevrolet           23.195s  + 0.407s
25.  Austin Dillon       Phoenix Chevrolet            23.204s  + 0.416s
26.  Bobby Labonte       JTG Daugherty Toyota         23.213s  + 0.425s
27.  David Reutimann     BK Toyota                    23.217s  + 0.429s
28.  David Gilliland     Front Row Ford               23.230s  + 0.442s
29.  Jeff Burton         Childress Chevrolet          23.274s  + 0.486s
30.  Marcos Ambrose      Petty Ford                   23.283s  + 0.495s
31.  Michael McDowell    Parsons Ford                 23.290s  + 0.502s
32.  Mike Bliss          Humphrey Smith Toyota        23.301s  + 0.513s
33.  Aric Almirola       Petty Ford                   23.304s  + 0.516s
34.  David Stremme       Swan Toyota                  23.332s  + 0.544s
35.  David Ragan         Front Row Ford               23.379s  + 0.591s
36.  Joe Nemechek        NEMCO Toyota                 23.432s  + 0.644s
37.  Dave Blaney         Baldwin Chevrolet            23.444s  + 0.656s
38.  Travis Kvapil       BK Toyota                    23.454s  + 0.666s
39.  Danica Patrick      Stewart-Haas Chevrolet       23.471s  + 0.683s
40.  JJ Yeley            Baldwin Chevrolet            23.546s  + 0.758s
41.  Josh Wise           Front Row Ford               23.629s  + 0.841s
42.  Timmy Hill          FAS Lane Ford                23.855s  + 1.067s
43.  Scott Riggs         Xxxtreme Ford                23.887s  + 1.099s