Charlotte NASCAR: Kevin Harvick denies Kasey Kahne in gruelling race
| | |
| --- | --- |
| By Connell Sanders Jr | Monday, May 27th 2013, 03:47 GMT |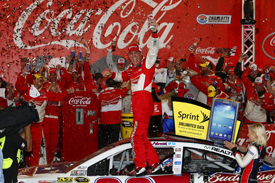 Kevin Harvick snatched Charlotte NASCAR Sprint Cup victory from Kasey Kahne at the end of a gruelling 600-mile race interrupted by two red flags.
Kahne had led 156 of the 400 laps and was as much as six seconds clear of the field at times in his Hendrick Chevrolet.
But he was wrong-footed by a caution for debris with 16 laps to go.
While Kahne stayed out, every other car on the lead lap pitted for at least two fresh tyres.
At the restart, Harvick's Childress Chevrolet got the jump on Kahne and pulled clear to win by a second and a half.
Kahne hung on for second, fending off Kurt Busch, Denny Hamlin and Joey Logano.
Third was a case of what might have been for Busch. He was leading when a violent tangle between Jeff Gordon, Aric Almirola, Mark Martin and Ricky Stenhouse Jr brought out the second red flag of the night.
Busch struggled to restart afterwards and had to pit for a new battery, rejoining at the tail of the lead lap pack.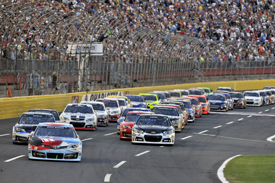 His brother Kyle Busch suffered even worse luck.
The Joe Gibbs driver, Kahne and Matt Kenseth had taken turns to dominate in the opening half of the race.
Busch was at the centre of the bizarre first stoppage, when the cable for an overhead TV camera fell onto the track, damaging his and several other cars.
NASCAR stopped the race so that those affected could carry out repairs without losing position.
That kept Busch's patched-up car among the leaders, but it later suffered an engine failure.
Kenseth's chances faded when he was caught up in a late tangle involving Jimmie Johnson, Juan Pablo Montoya and Paul Menard.
There were several other big incidents in a race that took over five hours to complete.
Dale Earnhardt Jr's engine blew at the same moment as Busch's, dropping an oil slick that sent Greg Biffle, Travis Kvapil and Dave Blaney into the wall.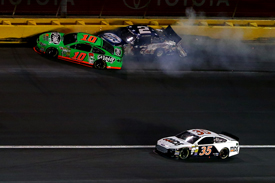 Champion Brad Keselowski tangled with Danica Patrick while they ran three-wide with Stenhouse.
That left Keselowski classified 36th, while Johnson was only 22nd, allowing 11th-placed finisher Carl Edwards to gain a little ground in the points.
Among those that stayed out of trouble, Ryan Newman and Tony Stewart gave the struggling Stewart-Haas squad some encouragement with sixth and seventh.
Waltrip duo Clint Bowyer and Martin Truex Jr were lead contenders at times before finishing eighth and ninth, ahead of Marcos Ambrose, another man whose car was struck by the camera cable.
Results - 400 laps

Pos  Driver              Team/Car                     Time/Gap
 1.  Kevin Harvick       Childress Chevrolet          4h35m49.000s
 2.  Kasey Kahne         Hendrick Chevrolet           + 1.490s
 3.  Kurt Busch          Furniture Row Chevrolet      + 1.662s
 4.  Denny Hamlin        Joe Gibbs Toyota             + 2.065s
 5.  Joey Logano         Penske Ford                  + 2.169s
 6.  Ryan Newman         Stewart-Haas Chevrolet       + 3.394s
 7.  Tony Stewart        Stewart-Haas Chevrolet       + 3.594s
 8.  Clint Bowyer        Waltrip Toyota               + 4.404s
 9.  Martin Truex Jr     Waltrip Toyota               + 4.763s
10.  Marcos Ambrose      Petty Ford                   + 5.498s
11.  Carl Edwards        Roush Fenway Ford            + 6.103s
12.  Jeff Burton         Childress Chevrolet          + 6.630s
13.  Paul Menard         Childress Chevrolet          + 8.604s
14.  Ricky Stenhouse Jr  Roush Fenway Ford            + 2 laps
15.  Matt Kenseth        Joe Gibbs Toyota             + 2 laps
16.  Trevor Bayne        Wood Brothers Ford           + 3 laps
17.  Regan Smith         Phoenix Chevrolet            + 3 laps
18.  Juan Pablo Montoya  Earnhardt Ganassi Chevrolet  + 3 laps
19.  Jamie McMurray      Earnhardt Ganassi Chevrolet  + 4 laps
20.  David Gilliland     Front Row Ford               + 4 laps
21.  David Reutimann     BK Toyota                    + 4 laps
22.  Jimmie Johnson      Hendrick Chevrolet           + 5 laps
23.  Casey Mears         Germain Ford                 + 6 laps
24.  Bobby Labonte       JTG Daugherty Toyota         + 6 laps
25.  David Ragan         Front Row Ford               + 6 laps
26.  Josh Wise           Front Row Ford               + 7 laps
27.  Timmy Hill          FAS Lane Ford                + 9 laps
28.  JJ Yeley            Baldwin Chevrolet            + 10 laps
29.  Danica Patrick      Stewart-Haas Chevrolet       + 15 laps

Retirements:

     Dave Blaney         Baldwin Chevrolet            339 laps
     Greg Biffle         Roush Fenway Ford            335 laps
     David Stremme       Swan Toyota                  326 laps
     Aric Almirola       Petty Ford                   324 laps
     Mark Martin         Waltrip Toyota               324 laps
     Jeff Gordon         Hendrick Chevrolet           324 laps
     Brad Keselowski     Penske Ford                  317 laps
     Landon Cassill      Circle Sport Chevrolet       303 laps
     Kyle Busch          Joe Gibbs Toyota             257 laps
     Dale Earnhardt Jr   Hendrick Chevrolet           256 laps
     Travis Kvapil       BK Toyota                    253 laps
     Joe Nemechek        NEMCO Toyota                 213 laps
     Michael McDowell    Parsons Ford                 50 laps
     Scott Speed         Leavine Ford                 39 laps