Dover NASCAR: Denny Hamlin continues strong form with pole
| | |
| --- | --- |
| By Diego Mejia | Saturday, September 29th 2012, 21:01 GMT |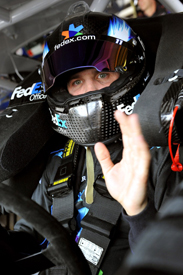 Denny Hamlin kept his momentum rolling from last weekend's victory at Loudon to claim pole position for Sunday's NASCAR Sprint Cup Chase round at Dover.
The Joe Gibbs Racing driver beat the previous benchmark set by Penske Racing's Sam Hornish Jr and his lap of 22.599 seconds stood unbeaten.
Michael Waltrip Racing duo Clint Bowyer and Martin Truex Jr, fastest in Friday's opening practice, got closest but had to take second and third on the grid respectively.
"I didn't think it was a pole-winning lap when I ran it," said Hamlin. "That's why I ran a second lap, just to try to improve it.
"Definitely [crew chief] Darian [Grubb] is working out some magic and obviously our qualifying is working a lot better this year and that's one thing that we've definitely improved this year that's helped with our results.
"Starting from the pole is obviously going to be a huge advantage for us on Sunday."
Hornish ended up a surprising fourth as the best of those who are not contending for the title, followed by Hamlin's team-mate Kyle Busch, also out of the championship battle this year.
Right behind them the majority of title contenders lined up with Roush Fenway's Greg Biffle sixth as the fastest Ford ahead of Hendrick Motorsports' Jeff Gordon.
His team-mate Kasey Kahne and early Chase leader Brad Keselowski rounded out the top 10 ahead of seven-time Dover winner Jimmie Johnson, who survived sideways moments on his first lap to then get 11th with his second one.
"I was happy to get that second lap in," said Johnson. "I knew it wasn't going to be as good as the first [lap].
"The first lap I was on the rev limiter down the back straightaway, so I know I busted [Turns] 1 and 2 well. But it takes a complete lap to get it done around here. It was still a respectable time."
Tony Stewart, who struggled at this track a year ago while fighting for the title, could only manage 24th on the grid ahead of Dale Earnhardt Jr, the slowest qualifier among those in the Chase.
Ricky Stenhouse Jr, who will replace Matt Kenseth at Roush Fenway Racing next year, was the fastest of the non-guaranteed drivers in 17th, while David Stremme, Mike Bliss, Jason Leffler, Cole Whitt and Kelly Bires failed to make the field.
Pos  Driver              Team/Car                     Time     Gap
 1.  Denny Hamlin        Gibbs Toyota                 22.599s
 2.  Clint Bowyer        Waltrip Toyota               22.604s  + 0.005s
 3.  Martin Truex Jr     Waltrip Toyota               22.613s  + 0.014s
 4.  Sam Hornish Jr      Penske Dodge                 22.676s  + 0.077s
 5.  Kyle Busch          Gibbs Toyota                 22.689s  + 0.090s
 6.  Greg Biffle         Roush Fenway Ford            22.707s  + 0.108s
 7.  Jeff Gordon         Hendrick Chevrolet           22.721s  + 0.122s
 8.  Ryan Newman         Stewart-Haas Chevrolet       22.742s  + 0.143s
 9.  Kasey Kahne         Hendrick Chevrolet           22.748s  + 0.149s
10.  Brad Keselowski     Penske Dodge                 22.763s  + 0.164s
11.  Jimmie Johnson      Hendrick Chevrolet           22.772s  + 0.173s
12.  Matt Kenseth        Roush Fenway Ford            22.786s  + 0.187s
13.  Joey Logano         Gibbs Toyota                 22.789s  + 0.190s
14.  Kevin Harvick       Childress Chevrolet          22.789s  + 0.190s
15.  Carl Edwards        Roush Fenway Ford            22.792s  + 0.193s
16.  Bobby Labonte       JTG Daugherty Toyota         22.811s  + 0.212s
17.  Ricky Stenhouse Jr  Roush Fenway Ford            22.816s  + 0.217s
18.  Regan Smith         Furniture Row Chevrolet      22.835s  + 0.236s
19.  Paul Menard         Childress Chevrolet          22.842s  + 0.243s
20.  Jamie McMurray      Earnhardt Ganassi Chevrolet  22.936s  + 0.337s
21.  Aric Almirola       Petty Ford                   22.941s  + 0.342s
22.  Landon Cassill      BK Toyota                    22.955s  + 0.356s
23.  Josh Wise           Front Row Ford               22.984s  + 0.385s
24.  Tony Stewart        Stewart-Haas Chevrolet       22.989s  + 0.390s
25.  Dale Earnhardt Jr   Hendrick Chevrolet           22.997s  + 0.398s
26.  Mark Martin         Waltrip Toyota               23.005s  + 0.406s
27.  Marcos Ambrose      Petty Ford                   23.033s  + 0.434s
28.  Kurt Busch          Phoenix Chevrolet            23.043s  + 0.444s
29.  Reed Sorenson       Humphrey Smith Chevrolet     23.044s  + 0.445s
30.  Casey Mears         Germain Ford                 23.050s  + 0.451s
31.  David Ragan         Front Row Ford               23.074s  + 0.475s
32.  Michael McDowell    Parsons Ford                 23.094s  + 0.495s
33.  Travis Kvapil       BK Toyota                    23.120s  + 0.521s
34.  Scott Speed         Leavine Ford                 23.160s  + 0.561s
35.  Juan Pablo Montoya  Earnhardt Ganassi Chevrolet  23.169s  + 0.570s
36.  Scott Riggs         R3 Chevrolet                 23.188s  + 0.589s
37.  Joe Nemechek        NEMCO Toyota                 23.217s  + 0.618s
38.  Danica Patrick      Stewart-Haas Chevrolet       23.222s  + 0.623s
39.  Dave Blaney         Baldwin Chevrolet            23.222s  + 0.623s
40.  Jeff Burton         Childress Chevrolet          23.279s  + 0.680s
41.  JJ Yeley            Baldwin Chevrolet            23.293s  + 0.694s
42.  TJ Bell             FAS Lane Ford                23.349s  + 0.750s
43.  David Gilliland     Front Row Ford               23.424s  + 0.825s

Did not qualify:

     David Stremme       Inception Toyota             23.262s  + 0.663s
     Mike Bliss          Humphrey Smith Toyota        23.280s  + 0.681s
     Jason Leffler       Robinson-Blakeney Toyota     23.306s  + 0.707s
     Cole Whitt          Circle Sport Chevrolet       23.416s  + 0.817s
     Kelly Bires         Go Green Ford                23.425s  + 0.826s