Attendance is down at NASCAR Cup Series races in 2018, television ratings for US stock car racing's top category continue to dip and long-time Hendrick Motorsports driver Dale Earnhardt Jr is retired after an unparalleled run as NASCAR's most popular figure. And those factors are linked, rather than coincidence.
In the context of a series trying to reinvent itself and return to its role as the behemoth of American sport - look no further than the debut of the controversial, but somewhat popular, stage racing format in 2017 - it cannot afford to go backwards.
It may seem strange to herald Earnhardt as the beacon of NASCAR popularity considering he is most notable for winning the Daytona 500 twice and was never Cup champion, but Earnhardt's reach from his two decades of NASCAR racing cannot be underestimated.
Between stints at the family-owned Dale Earnhardt Inc and the "just like family" of Hendrick, Earnhardt won 26 times in the Cup Series.
He won the series' first race following the terrorist attacks of September 11 2001; he dominated at Talladega through the years; he won on tracks both large and small and he won the 1998 and '99 Busch (now Xfinity) series titles.
And his fanbase, ridiculously large from the very beginning, continued to grow with each passing season. For 15 consecutive years, from 2003-17, he was voted the series' most popular driver. No one else was even close.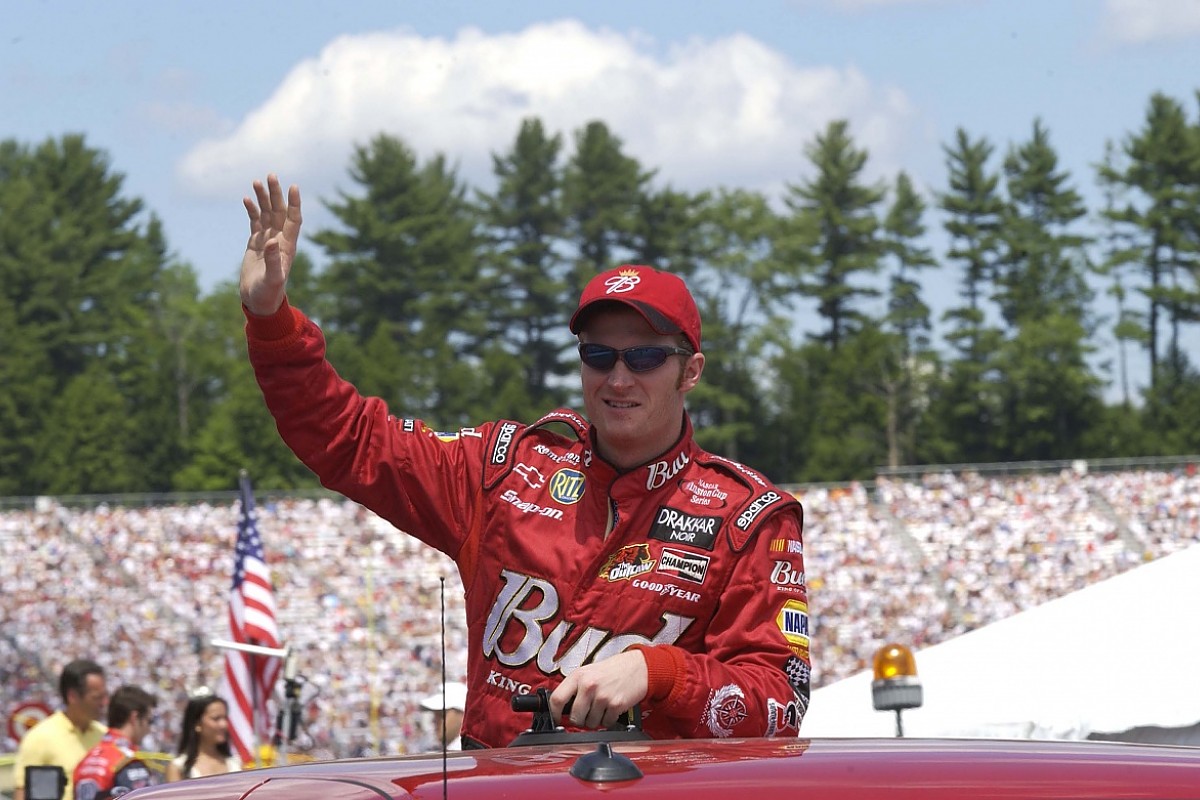 But on April 25 2017, Earnhardt stood before a microphone and announced to the racing masses that his time as a full-time competitor was coming to an end.
Twice sidelined by concussions, there were health concerns. Newly married, he was eager to explore the role of husband and father. Racing in general and NASCAR, in particular, would have to proceed without him behind the wheel.
Measuring the impact such a decision has had on a sporting series is difficult. But it's also familiar.
"I've been at Talladega and Dale Jr would be running pretty good and something happens to his car," says three-time series champion Darrell Waltrip. "He'd fall out of the race and half the grandstands would leave. And the race wasn't over yet.
"With him, you just have to look at the numbers. We know he has probably 60-70% of the fans in the stands, so when he's not out there it has to take its toll. It's got to hurt the sport."
For 15 consecutive years, Earnhardt was voted NASCAR's most popular driver. No one else came close
But can the loss of a single driver in NASCAR make such an impact that it can be seen in the grandstands and through TV viewership?
"You see the ticket sales and you see the viewership and there aren't many other single things to account for that decline," says Mike Joy, a veteran broadcast journalist who currently serves as lead announcer for Fox's coverage of NASCAR events.
"So yeah, I think it's definitely had an effect."
Joy admits he has no hard numbers "but if you look at how little the sport has changed since last year, the biggest change is Dale Jr is not out there".
But there is a way of getting those hard numbers. Sport sponsorship evaluator Joyce Julius and Associates measures the impact of sponsorships and branding across all forms of media.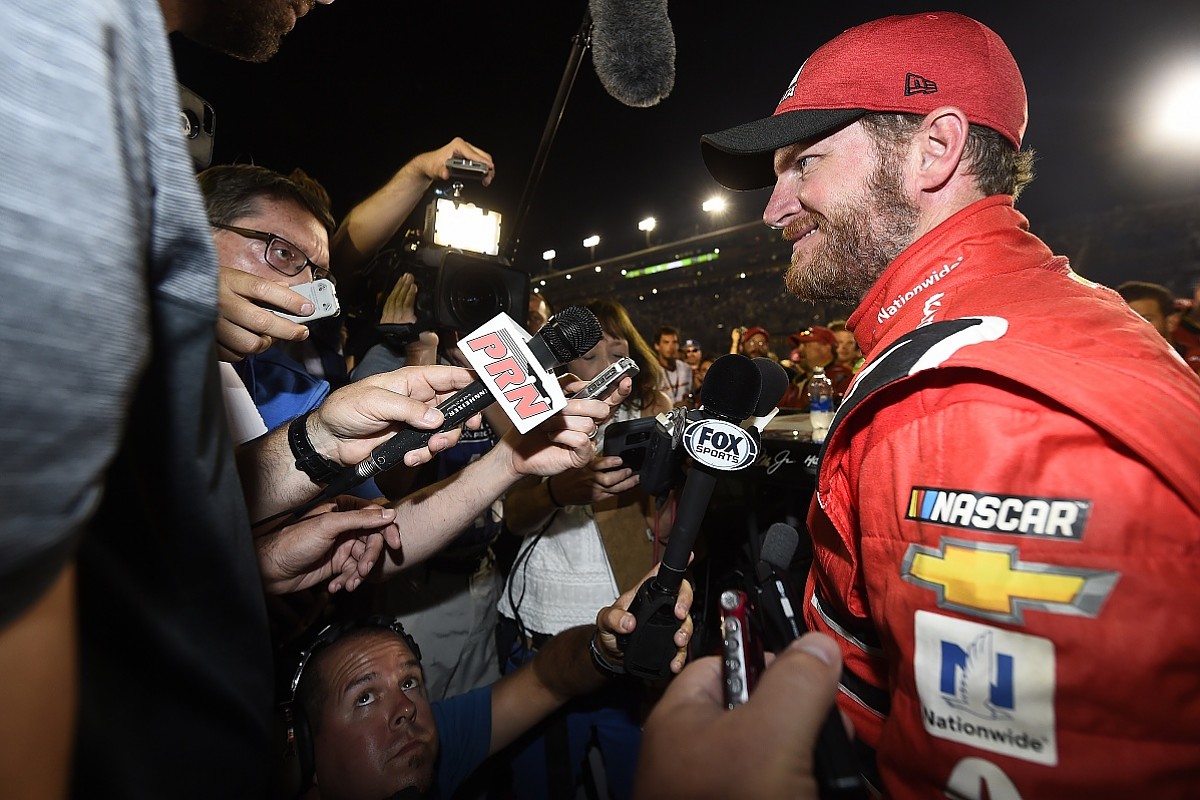 When it comes to NASCAR, the company provides valuable insight into which drivers are getting airtime, either through mentions during race broadcasts or individual interviews, both before and after events.
For sponsors, the numbers from Joyce Julius can be measured against the bottom-line costs of putting a company's name on a product, person or organisation. When it comes to Earnhardt, those numbers have always been impressive.
"He's always been off the charts in those results in comparison to maybe how he was doing in the standings," says Eric Wright, president and executive director of research for Joyce Julius.
"Very popular, getting more attention maybe during the broadcast than maybe we would think, again just based on where he finished in the field, things like that."
The mentions and attention, Wright says, were there from the very beginning. While not as impactful near the end of his driving career as he found himself on the sidelines, Earnhardt's impending return in 2017 after sitting out the final half of the '16 season due to injury provided another glimpse at his "star power".
Joyce Julius did an off-season media glance that began after the 2016 season-ending awards ceremony in early December and then ended prior to the start of the '17 Daytona 500.
The findings? Earnhardt garnered "35% more news media coverage in the off-season than Jimmie Johnson did coming off his [record-equalling seventh] championship," Wright says. "That shows you what kind of lightning rod [Earnhardt] can be for attention and coverage."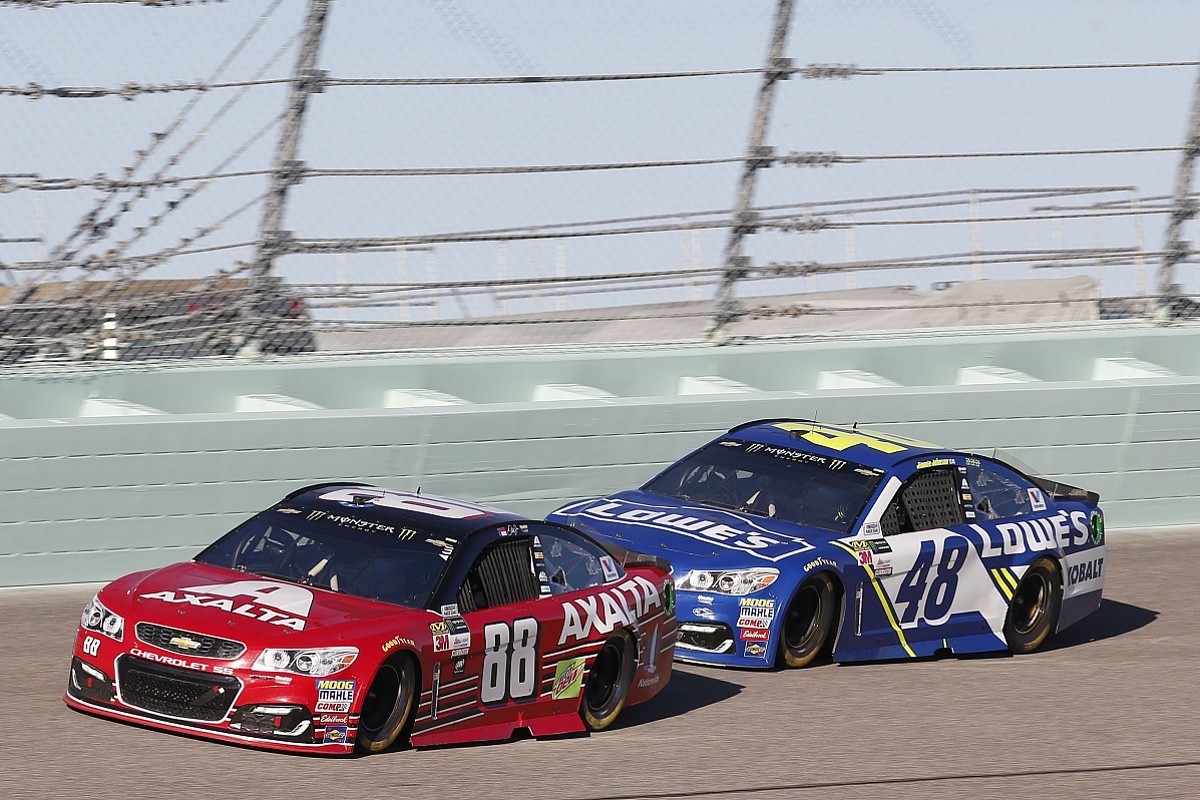 Contending for a championship was rare for Earnhardt. His best points finish came in 2003 when he placed third; a year later he won a career-best six races yet he finished fifth in what was the inaugural year of the Chase - now known as the playoffs.
There were years when he failed to find the winner's circle at all and years he enjoyed multiple victories. But his results, or lack of, failed to tarnish his popularity among fans and his reputation in the garage.
"It's not an overstatement to say he always warranted more coverage and more attention than his performance would lead you to think he would have," Wright says. "That's not a negative on him; if anything, that's a positive to his popularity, his articulate nature, good interview, all those intangibles that everybody wants in a driver, including the sponsors."
Whichever way you look at it, that's a sizeable void that NASCAR now has to find a way of filling. Now, Earnhardt's popularity is confined to a career transition into broadcasting - including commentating on the recent Winter Olympics in South Korea, not just NASCAR.
NASCAR officials made a concerted push before the start of the 2018 season to highlight the series' younger competitors, a move that came on the heels of Earnhardt's departure as well as the recent exits of Jeff Gordon, a four-time champion, Tony Stewart, a three-time title-winner, and Carl Edwards, a 28-time race winner.
Matt Kenseth, another past champion, began the season on the sidelines but has since returned in a part-time capacity with Roush Fenway Racing. Meanwhile, drivers such as Ryan Blaney, Chase Elliott, William Byron and Darrell Wallace Jr were being touted as the new young stars.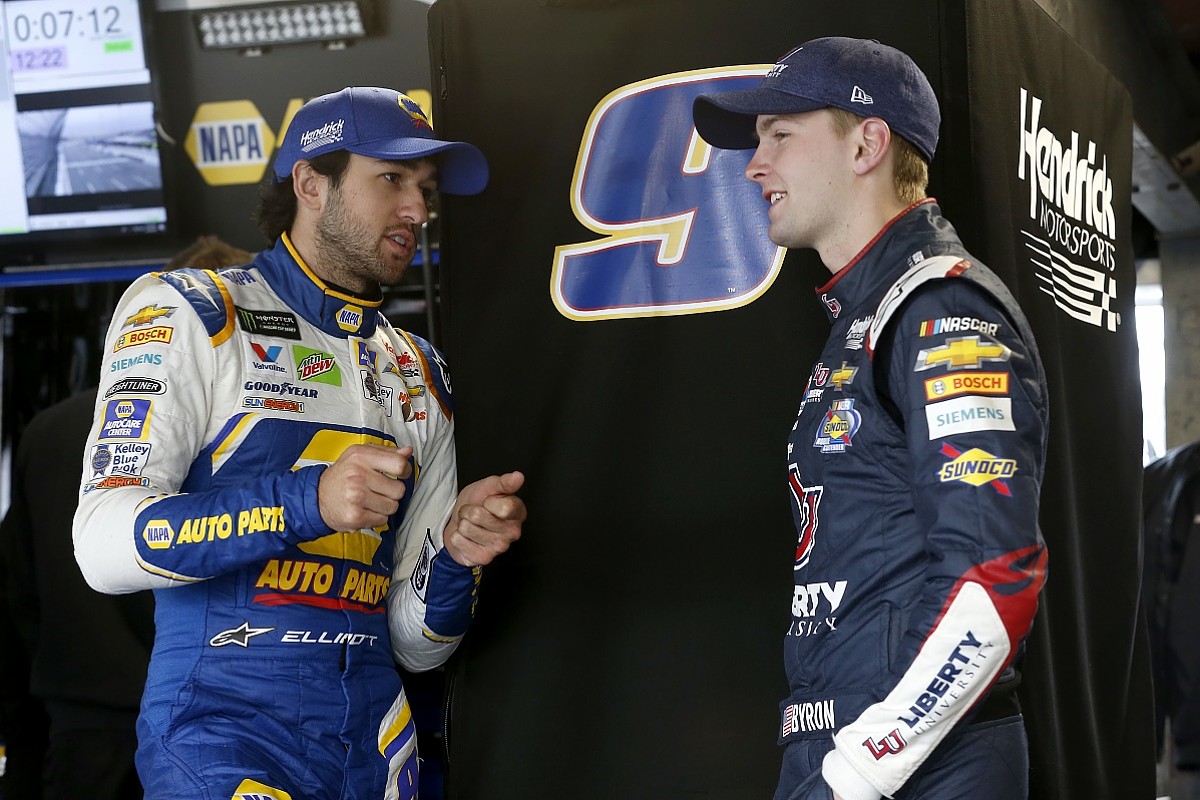 It was done even while much more celebrated and successful veterans remained in the NASCAR line-up and practically owned the keys to victory lane. The average age of the driver roster on any given weekend for a Cup race is getting younger. Through this season's first 11 races, the average age of drivers was 30.6.
Five years ago, the average age of those competing on a regular basis was almost 36 years old. So it's not surprising to see that youth movement push has angered some of NASCAR's elite, with 2015 champion Kyle Busch calling the approach "stupid".
NASCAR is reacting to the Earnhardt problem, but getting the youth movement to resonate with fans - who need reasons to care about a driver, regardless of his or her age - is difficult
"We've paid our dues, and our sponsors have and everything else, and all you're doing is advertising all these younger guys for fans to figure out and pick up on and choose as their favourite driver," said Busch at the pre-season media days. "I think it's stupid. But I don't know, I'm not the marketing genius that's behind this deal. I just do what I can do, and my part of it is what my part is."
Stewart-Haas Racing's Kevin Harvick, increasingly one of the elder statesmen of NASCAR, described Busch as a "whining child" with two of the youth stars in Wallace and Blaney also doubling down on the Busch criticism.
Interestingly, NASCAR showed some sympathy towards Busch.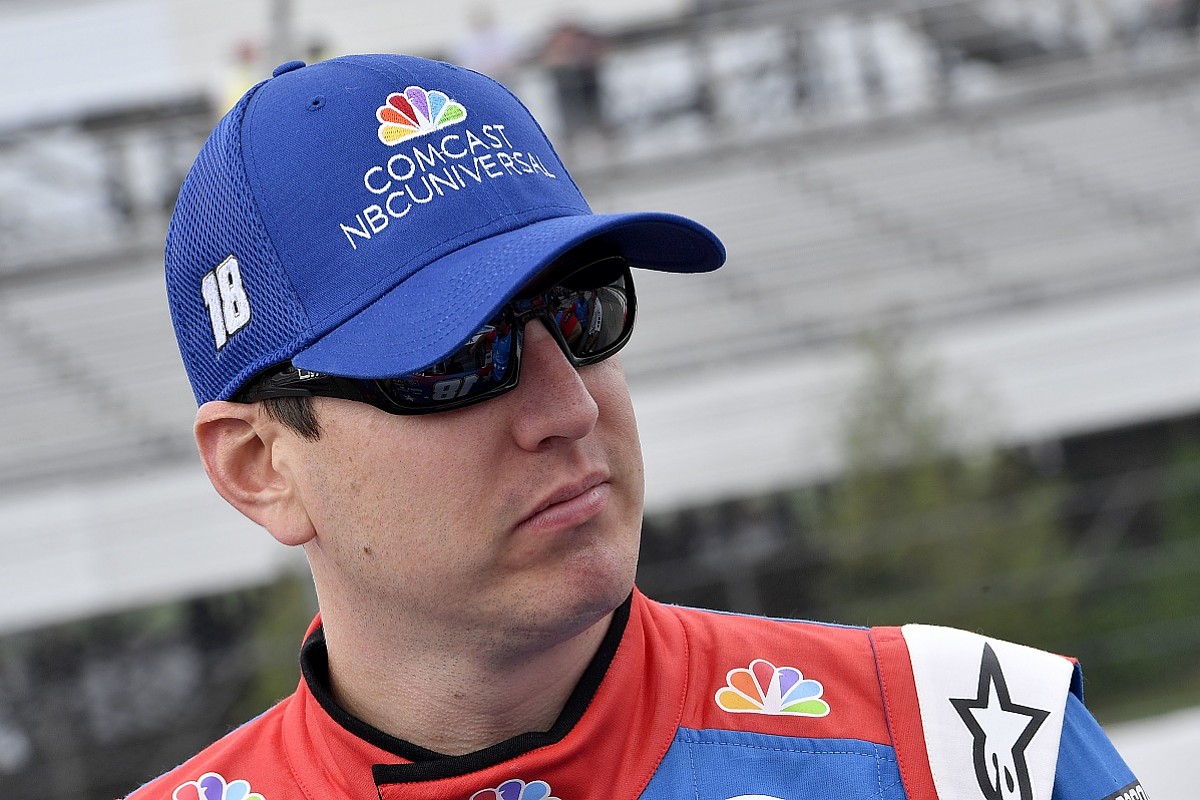 "Until four or five years ago, most of our marketing was about the racing itself and pretty pictures around the racing," said Steve Phelps, NASCAR's chief global sales and marketing officer. "It wasn't about the stars of our sport. I think it's a fair statement that we did not give that kind of support."
While NASCAR is certainly reacting to the Earnhardt problem, getting the youth movement to resonate with fans can be difficult. Fans have to have a reason to care about a driver, regardless of his or her age.
"You can't do that overnight," says Waltrip. "You can't just throw out one group and bring in another and think everybody is going to buy into it right away. It takes a little bit of time. You have to prove yourself, that's the big thing."
Waltrip enjoyed a successful racing career that included three premier series titles and 84 career victories and he was inducted into the NASCAR Hall of Fame in 2012. He believes that sort of success is needed to win fans over.
"People aren't going to be a fan, they're not going to pull for you, until you become a winner," he says. "Not by being an also-ran. You've got to be a winner.
"This is a performance-based business. We've seen it with every mediocre driver in the world. They can be the nicest people in the world and they can be in this sport their entire life and people hardly know who they are.
"But if you ever win a race you go into a different league. It changes everything."
Steve Letarte, former crew chief for two immensely popular drivers in Gordon and Earnhardt before moving into the broadcast booth at NBC, agrees with Waltrip.
"The reason I love sports is that the personalities aren't built off [social media] and stories, they are built on the racetrack and in victory lane," says Letarte.
"I think we have some young guys that have the world at their fingertips. It is a very simple code to unlock that safe. You go to victory lane, you unlock the safe. That's how it works."
While Earnhardt was NASCAR's most popular driver for 15 consecutive years, Letarte said the driver's popularity among fans was only part of the draw. The success was there as well.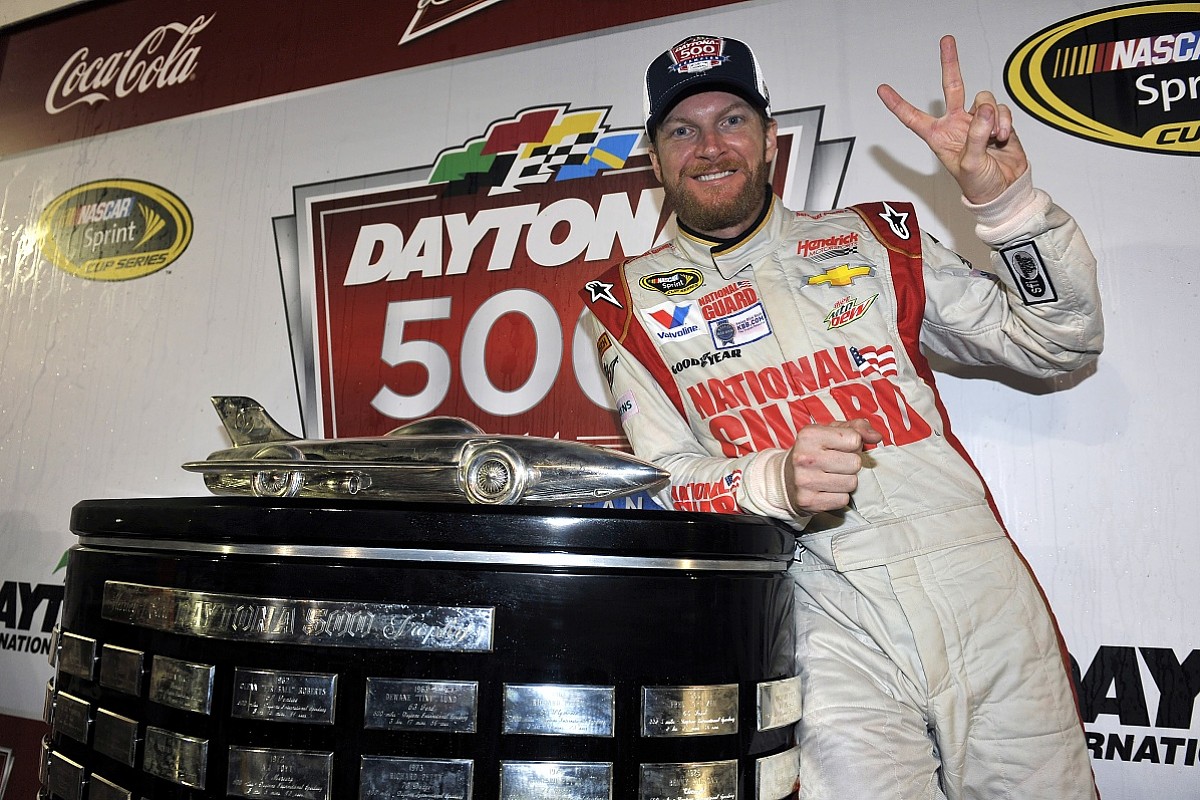 "He's not just Dale Sr's son," says Letarte. "He's a 26-time race winner, two-time Daytona 500 champion."
Elliott has been picked by many in the paddock as Earnhardt's successor, but has endured a frustrating streak of finishing second eight times in his career to date and is still searching for his first win. His father Bill was the 1988 Cup champion and was more than just a 16-time winner of the most popular driver award.
"He won the Winston Million [winning three out of the grand slam races of Daytona, Talladega, Charlotte and Darlington], he won the championship," Letarte says. "I could list every one of those drivers that left recently, they were not a personality, they were a winning personality. That's the difference."
Drivers have come and gone ever since NASCAR's inaugural season in 1949. Champions and race winners came and went, as did those who never darkened the winner's circle. But there has always been a group ready to step in and step up to help carry the series forward.
But one driver's departure has rarely made such as noticeable impact as that of Earnhardt's retirement at the end of 2017.
"It's been kind of like the waves at the beach," says Joy. "When one wave breaks, there's another one right behind it. And the same is true with waves of drivers and stars.
"I think the sport right now is in a very big transition between 30 to 40-year-old drivers and teen to young-20-something drivers. But I think there is a bigger gap between waves than there ever has been.
"I think over the past few years, Joey Logano and Kyle Larson aside, we have not had the emergence of many future stars.
"And I think fellows like Larson and Harvick are exactly right - the way we are going to do it is one fan at a time and it's going to take getting out and going to the local tracks and back to grassroots racing to help pull the fanbase forward."
But in the face of its continuing adversity, NASCAR can only wait so long for Earnhardt's true successor to secure the return of the disillusioned and simultaneously find an elusive new fanbase.