As Chevrolet celebrated its 13th consecutive NASCAR manufacturers' title in 2015, Toyota was planning its own dominant streak. It was already working on the 2018 Camry for the road and the '17 NASCAR Cup series, but few predicted it would end up being accused of Formula 1 dominance by the end of the year.
During Chevrolet's stranglehold on the series, Toyota's debut season in 2007 was described as "humbling" by senior management. The nadir was only four cars qualifying for the Daytona 500 - it brought eight - and none finished higher than 22nd.
Since then, it's committed to pumping money into the NASCAR programme and relentlessly bringing significant updates. From 2013 onwards, it introduced a virtually new car every two years. A first manufacturers' title came in 2016, but '17 was when Toyota threatened to truly dethrone Chevrolet.
"When that car rolled out at Daytona, and we all got to see it for the first time, there were two reactions: one, we couldn't believe NASCAR approved it, and two, we were impressed by the design team," said Brad Keselowski, a Penske Ford driver, last year. "That said, I don't think anybody really ever had a shot the second that thing got approved and put on the racetrack.
"It kind of felt like Formula 1 where you have one car that makes it through the gates heads and tails above everyone."
Keselowski's comments came after a season where Toyota only got stronger as the races passed. It won just two of the first 11, then the 600-mile Charlotte event at the end of May proved to be the turning point. Toyota won 14 of the last 25 races, with eight victories coming in the 10 playoff races to seal the drivers' title (for Martin Truex Jr) plus the manufacturers' crown.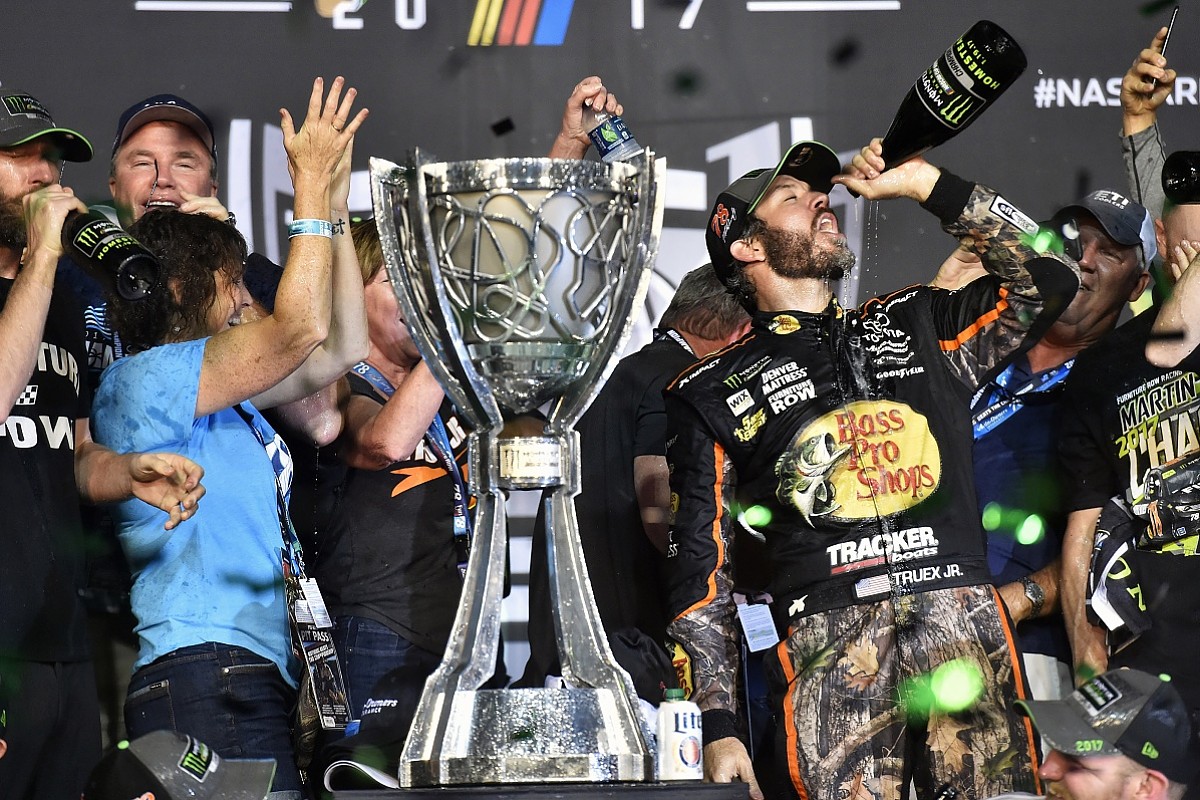 "When they went to Charlotte in May, it was like they just turned the switch on and played possum on the first portion of the season," says Stewart-Haas Racing and Ford driver Kurt Busch. "That is really what their game-plan was like: act like they were at a deficit and then just jump on us. They were off and running after the Coke 600."
From Toyota's point of view, it's been bemused by the criticism of domination and in some respects that's understandable. From the moment NASCAR went down the route of the Gen-6 cars for 2013, the manufacturers have worked closely together on all aspects of the new cars. In short, Chevrolet, Ford and Toyota know what each other is doing.
"Toyota's game-plan was: act like they were at a deficit and then just jump on us" Kurt Busch
David Wilson, Toyota's president of North American racing, feels it has been the victim of a changing narrative.
"To put that in perspective [with] the '18 Camry we took it to the windtunnel, and - we have very specific parameters that count to the performance output, the downforce, drag - we were still at the bottom on some of the other major parameters," he says.
"Our performance last year certainly was good, we started off a little slow to be fair, we only won two of the first 10 races or something like that, and the funny thing is that of course, everyone said 'well they're struggling with that new Camry'.
"You get two-thirds of the way through the season and the narrative is that we've got a big advantage with that new Camry. And you're kind of like, 'guys, which is it? Which is it going to be?'"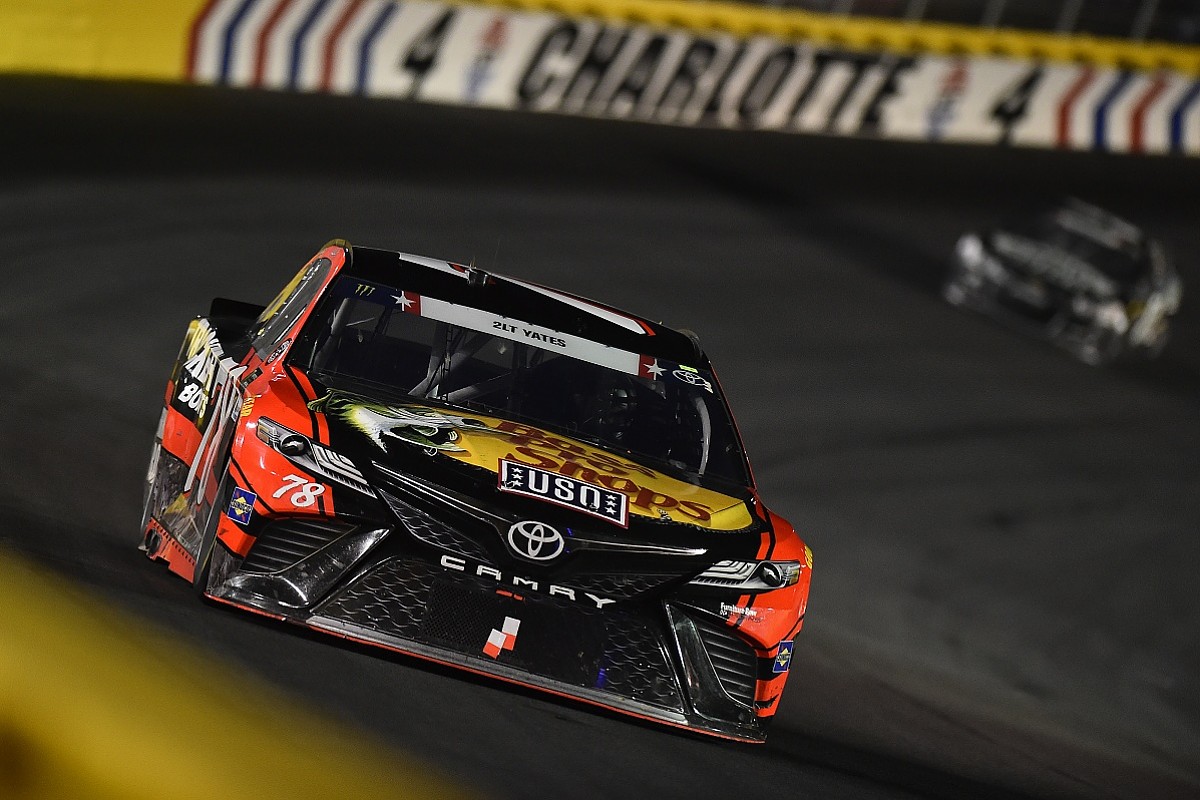 As for why Toyota dominated, there are several theories. The easiest argument the defeated Chevrolet and Ford drivers make is that Toyota has "unlimited spending". Toyota's financial commitment has never been in doubt, but when you speak to those involved in car development, one area is constantly mentioned: downforce.
Having progressively scaled back downforce reliance, NASCAR is increasingly focused on its efficiency. Chevrolet lacked the balance needed in 2017, but Toyota was the clear leader in this area. Add a better engine, and Toyota had the ideal package.
Chase Elliott, who has been involved in testing the new Chevy Camaro, said it was the fine margins that separated the two.
"It's just a little bit here and there, whether it's a little bit of body or a little bit of drag to downforce numbers and that ratio. Who knows what you're up against? Just trying to improve everything is the goal, and if that's the case I think we'll be close," he says.
Elliott's target could be aided, ironically, by Toyota's success. Chevrolet waiting to introduce its own car, based on the Camaro ZL1, until the 2018 season means it has a year's worth of observations and data to build on.
"We learn lessons every time one of the other OEMs enters a car," explains Chevrolet's NASCAR group manager Pat Suhy. "When we had our car in 2013, we started racing the SS (pictured below), and that project [Gen-6] was truly a collaboration between NASCAR and the three OEMs.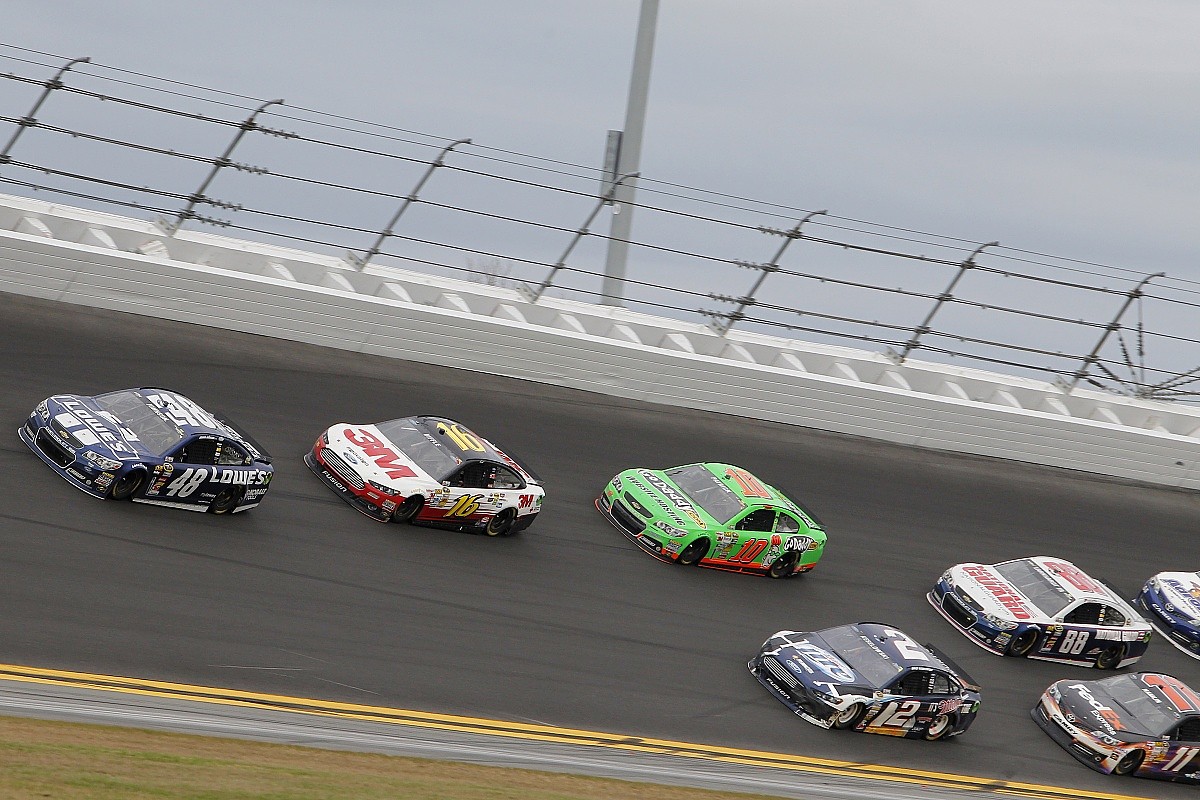 "We were together creating the submission rules, the aero, submission targets, the geometric look the cars had to fit in, and things like that. Knowing the rules ahead of time is key to coming out with the best-performing part or vehicle you can. We had a hand in setting the rules, the process, at the same time. We didn't have a chance to understand them and I'll say design our way around some of them.
"As we watched our competitors bring out one or two new vehicles between then and now, we certainly see trends in how they approach that, that we made a note of."
With General Motors having the benefit of watching Toyota introduce two new cars while it persevered with the uninspiring Camaro SS, it's no surprise Wilson is expecting a fightback from Chevy.
"We certainly expect the Camaro to be strong," says Wilson. "What's somewhat surprising is that this is their first new car since 2013. I have no doubt that they're going to be strong this year.
"Sometimes it's easier to chase than being chased, because you know there's a benchmark out there, you know there's a target. When you're the target you have to approach it a little bit differently."
Armed with the knowledge of its own programme and Toyota's methods, Chevrolet has developed the far more aggressive ZL1. At first look, it's visually striking, but Chevrolet isn't chasing aesthetics. It's aiming to learn from Toyota's aero advantage.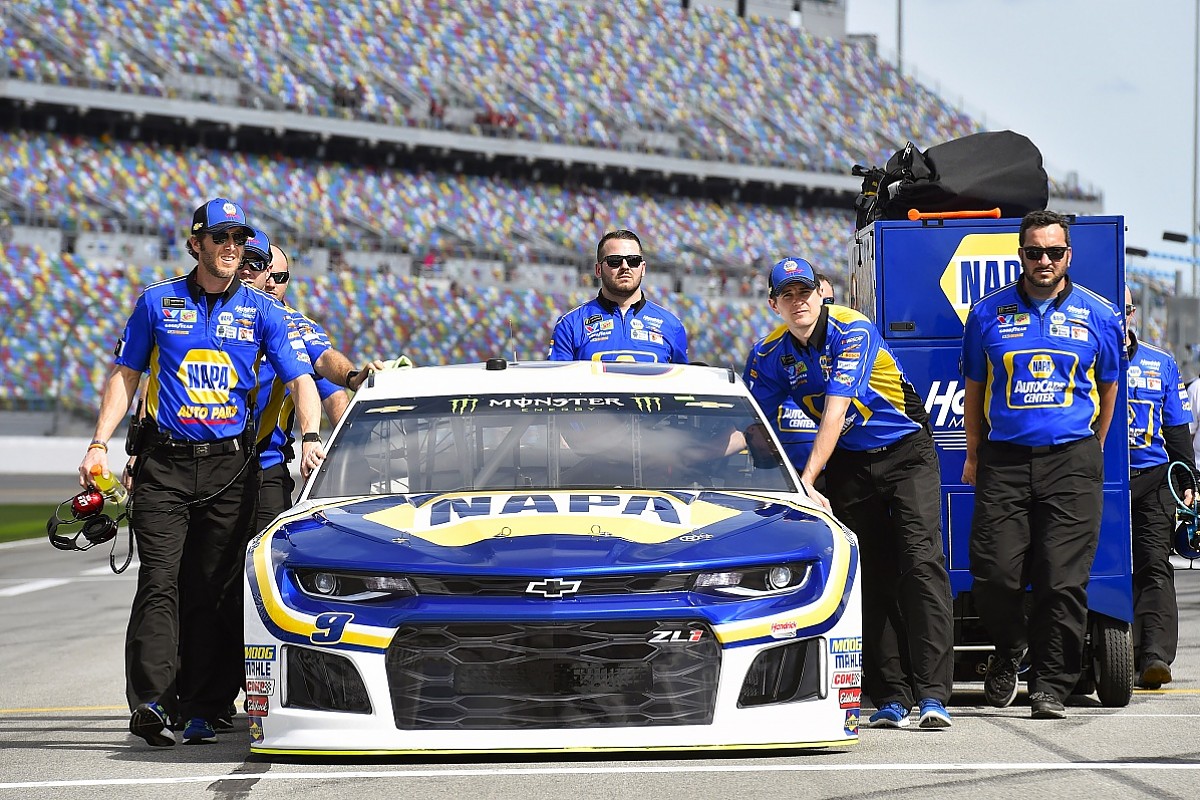 "We knew we had a deficit in rear downforce compared to some of the competitors," Suhy says. "And when you look at aerodynamic development the teams go into the windtunnel however often - every week or every other week, [it's a] very structured development plan. They always make more downforce. It's really amazing to watch. If you left the rules alone, you'd see a pretty linear increase in downforce over time and very little drop-off."
"We had a hand in setting the rules. We didn't have a chance to understand them and, I'll say, design our way around some of them" Chevrolet's Pat Suhy
The pursuit of that aero advantage is to instil more confidence as the drivers don't have a car loaded at the front, which makes driving difficult, particularly when turning into corners.
But in NASCAR, that needs to be married to a good power output. Chevrolet has often been considered one of the finest series engine builders, with Suhy believing that pitting both Hendrick Motorsports and Richard Childress Racing against each other raises its engine quality.
Has it worked? The build-up to the Daytona 500 has given the series its first glimpse at the competitive order and comparing the two qualifying sessions for the big race gives an insight into how close 2018 can be.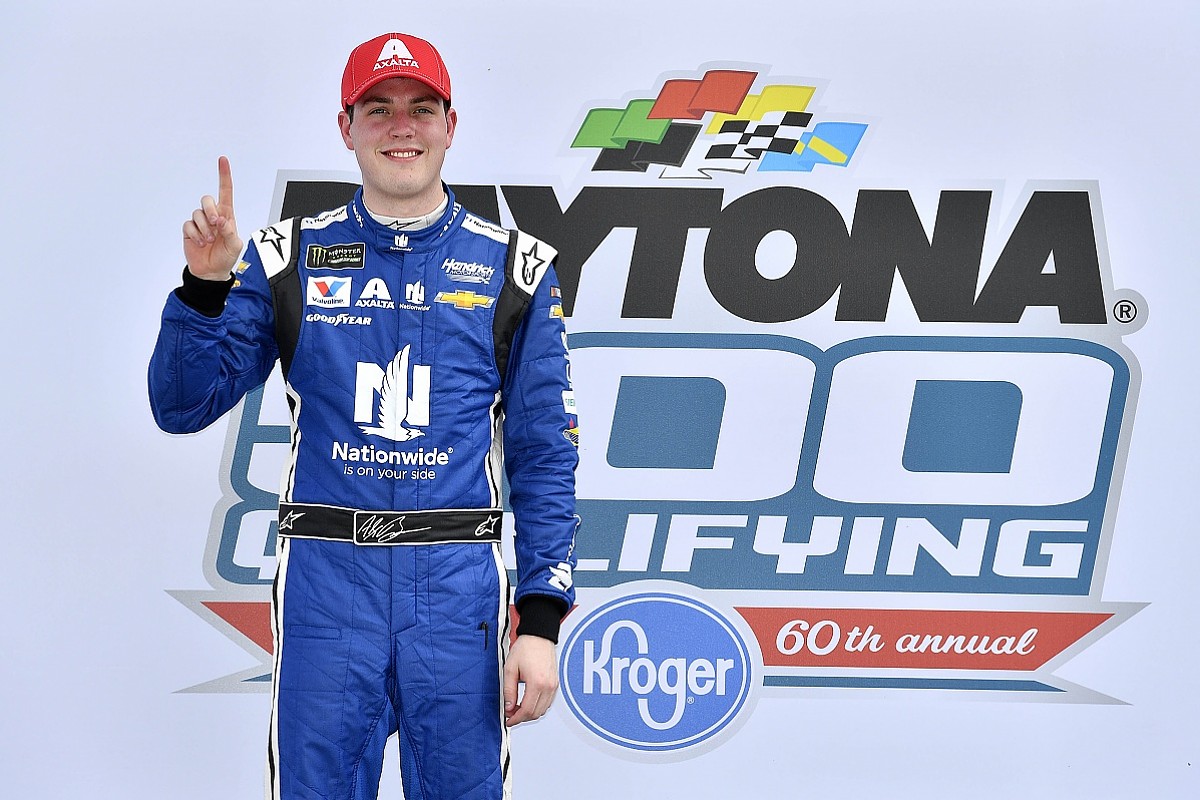 New full-time Hendrick driver Alex Bowman gave the Chevrolet pole for its competitive debut, beating the Joe Gibbs Racing Toyota of Denny Hamlin by 0.130 seconds. In the first qualifying, the gap was as small as 0.020s. None of the preliminary races so far have been won by Toyotas either.
The full competitive order will not likely be established until round two at Atlanta, a more representative track than Daytona, but the early signs are a promisingly close battle for the 2018 title.
In true NASCAR fashion, that battle could also take place off track too. It was very telling that after accusing the series of doing a poor job of regulating car difference and comparing Toyota to Mercedes in F1, Keselowski was much more subdued in pre-season media days.
The reason was NASCAR's new inspection system and it's given hope not just to Chevrolet but to the increasingly isolated Ford, which hasn't won a manufacturers' championship since 2004.
Having progressively modernised its post-race inspection system, for 2018 NASCAR will have its most comprehensive version yet. It comes after the now-retired Dale Earnhardt Jr claimed that race winners were deliberately doing burnouts to damage the rear bodywork and make inspections easier to pass.
Suhy himself admits that as teams and manufacturers knew the system, there were ways to design around the inspections.
"I think the stuff Dale was referring to was more about things that move in the chassis, under the bonnet and with aerodynamics, you know you want the axle to shift a certain way, shock arms to shift a certain way when you're racing and then when you come back to inspection you've had a burnout or turned right to reset everything," he says.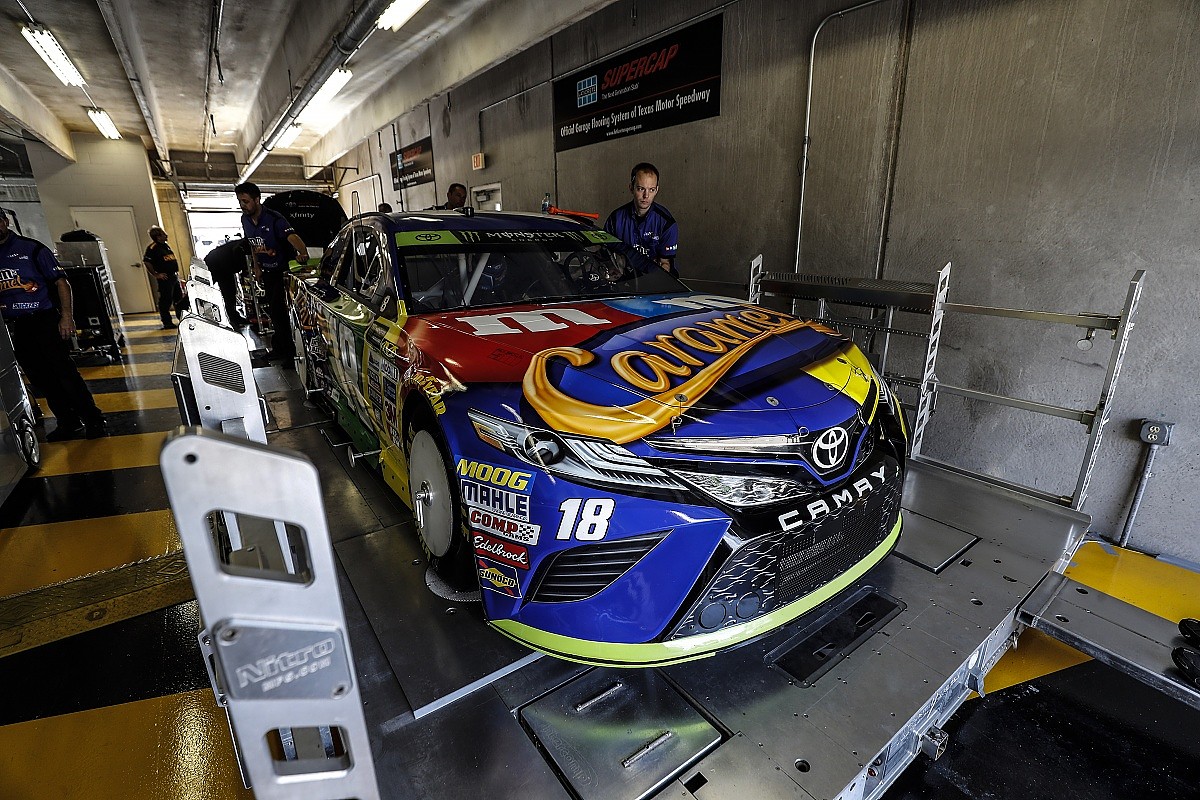 "And so again knowing that there's a new inspection process that's vision-based, camera-based system stuff, some of the things we probably would have done if it was strictly the grid template system, we knew were directionally incorrect. And some of its shapes around the wheel openings and areas like that [which] were very sensitive."
NASCAR's new inspection system, Hawkeye, was trialled at four races last year and scans the car with lasers in 90 seconds using 16 cameras and eight projectors and compares information to computer-aided drawings provided by each of the series' marques.
It replaces NASCAR's old laser inspection and claw template station, and Keselowski has praised the change as a potential field leveller.
"The biggest thing for me is seeing what happens with the Hawkeye system," he says. "That will be the determining factor on what manufacturer is successful this year. If the Hawkeye system comes in working fully I think we will see a very level playing field in 2018 and we are capable of winning.
"It's inherent to the designs of the cars that some things that weren't able to be policed before were designed into other cars. This system will eliminate it."
While Ford's only real chance of competition is likely to come from its rivals being caught on such technicalities, its leading teams such as Penske and SHR have demanded changes for 2018.
Early feedback from the teams has been positive on those, but 2018 will likely be a straight fight between Chevrolet and Toyota. There's still talk of Ford revolutionising its NASCAR approach next year, replacing the ageing Fusion with the Mustang. But for now, all eyes are on Chevrolet.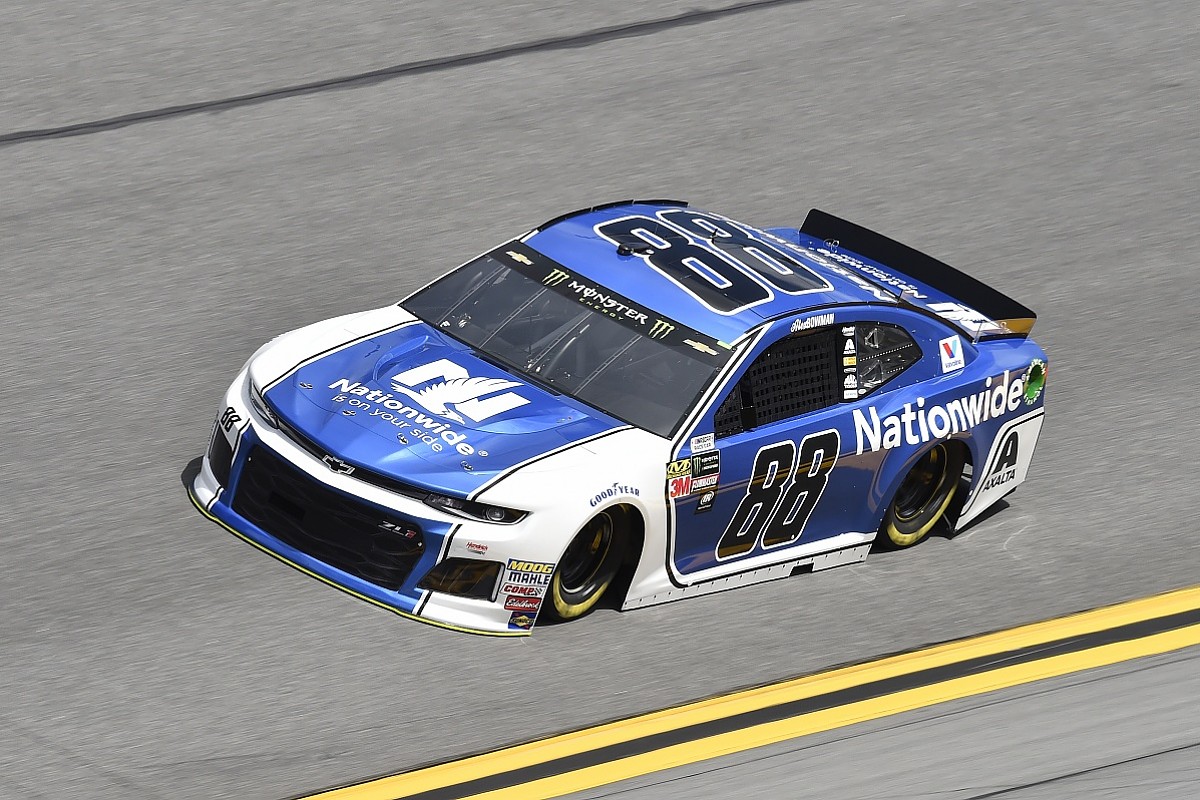 How Chevrolet produced its new challenger
By Adam Hall
Pole position for the Daytona 500 in the hands of Hendrick Motorsports' Alex Bowman was the perfect start for Chevrolet's new Camaro ZL1, which replaces the ageing Camaro SS after five years of middling service.
Chevrolet has targeted improved aerodynamics, an area where Toyota has excelled, and the American manufacturer's engineers have highlighted their use of CFD as a key element of development.
CFD essentially models how a vehicle performs against a particular flow - it is a windtunnel on your computer. In Chevrolet's case, the CFD results show how the pressure varies across the surface of the Camaro ZL1's bodywork as well as where the air flows under and over its body.
The importance of aerodynamics in NASCAR design is perfectly demonstrated at Daytona. Camaro ZL1 tester Chase Elliott's pole lap last year was completed at an average speed of 192.9mph. For comparison, that's 30mph faster than Juan Pablo Montoya's Italian Grand Prix F1 qualifying lap record in 2004 - and F1's aerodynamic efficiency is well established.
That astonishing pace comes from keeping drag to a minimum as it is key to going fast around the banked ovals, because drag is the main force resisting the acceleration seen in NASCAR, to the point that a simple rear wing is all that is required to keep the cars grounded.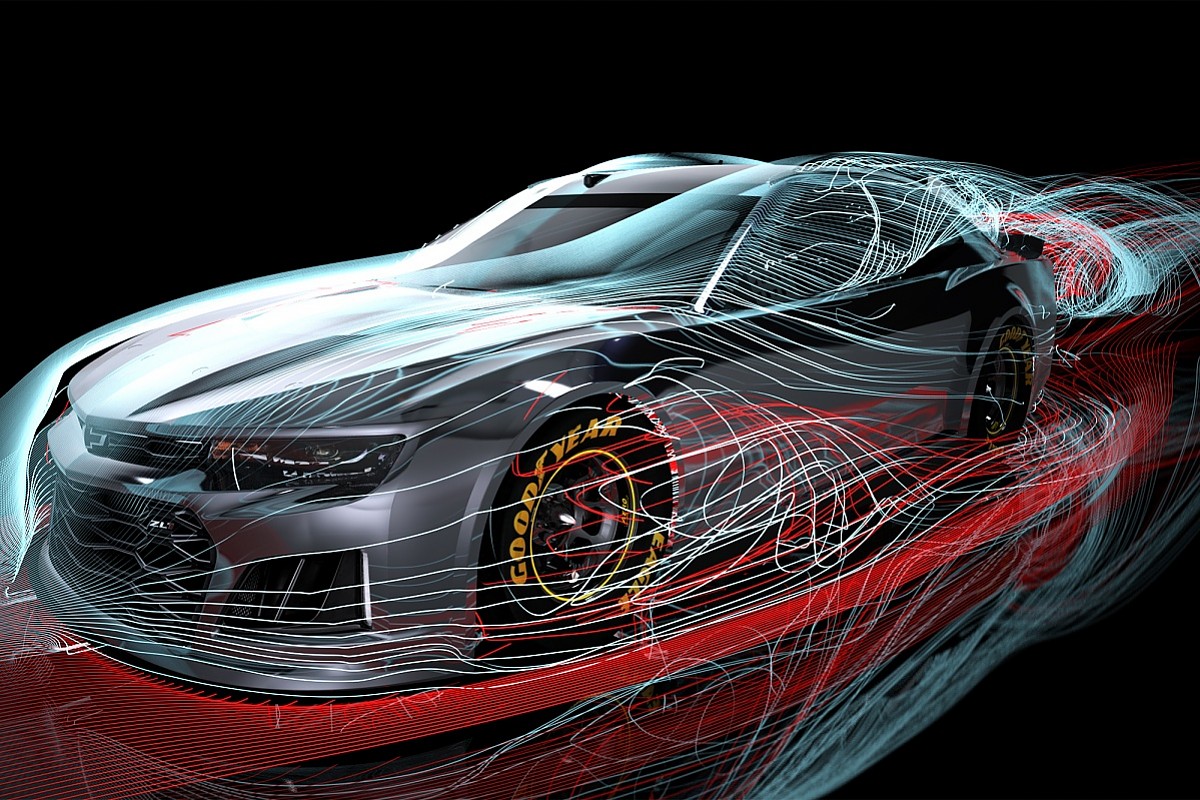 The rear wing follows on from the Chevrolet ZL1's smooth bodywork, allowing the airflow to pass cleanly from the first contact at the front bumper, around the front wheel arches and towards the rear of the car. The front bonnet is shaped to push the airflow towards the edge of the windscreen and around the car as opposed to directly over the middle of the roof.
Airflow is disrupted at the rear by the regulatory roof spoilers that are visible along the edge of the rear window and bonnet. Designed to reduce rear downforce by diverting the airflow away from the rear wing, the roof spoilers are ultimately there to reduce NASCAR's top speeds. If Chevrolet has been able to use CFD methods to design bodywork that directs airflow in avoidance of the roof spoilers then a big aerodynamic gain will have been made instantly.
The front splitter and side skirts are also critical areas for the ZL1's aerodynamic performance. Designed to be as low as possible, the front splitter blocks underbody airflow and, along with the side skirts, will aim to create an area of low pressure.
Underbody downforce gains are limited due to the series' regulations that outlaw aerodynamic floors. Despite NASCAR bodywork being carefully controlled by its officials - a key aspect of its inspection technology - Chevrolet's engineering team will have been able to design an efficient package thanks to its CFD and windtunnel work.
Chevrolet's new era kicked off with the perfect start in the face of Toyota's dominance, but revolutionary gains are difficult to find with stringent NASCAR rules. By implementing the use of CFD analysis, Chevrolet's new design will offer an aerodynamically better-performing car this year and should help close the gap to its rival.