The Sprint Cup season is just a few races short of entering its play-offs and a quick look at the key top-15 positions in the drivers' standings reveals most of the usual suspects - mainly Hendrick, Roush Gibbs, Stewart-Haas and Penske drivers. However, there's another organisation that has made inroads into that elite group.
Michael Waltrip Racing currently has two of its three drivers among the top 10, with Clint Bowyer and Martin Truex Jr looking very much like Chase contenders. Their win tally so far only shows a victory claimed by Bowyer at Sonoma in June, but their numbers look impressively consistent in terms of top-five, top-10 and average finishes.
Those figures are made more compelling by Mark Martin's. He is running a partial season for the team this year, sharing the #55 car with team owner Waltrip and Brian Vickers. The 53-year old, potentially the most veteran winner in Cup, has started from pole more than any of the full-time drivers, and came very close to victory last June at Pocono where he finished second behind his pupil Joey Logano, after getting bumped from the lead in the closing laps.
"So far it's been more fun than I expected," says Martin about life at MWR. "Early I expected it to be more of a work in progress."
The team's turnaround has been impressive. Last year Truex was 18th, the highest driver from a two-car team. He wrapped up the season by finishing third at Homestead, right behind Tony Stewart and Carl Edwards, the championship contenders who were fighting for the title right there in the closest battle the sport has seen for years. That was a very telling performance that previewed what MWR was up to for 2012.
By then Scott Miller, who had been working for many years at Richard Childress Racing, most recently as director of competition, had already joined Michael Waltrip Racing in a similar position but with a longer title: executive vice president of competition.
Mark Martin joined MWR after three years with Hendrick Motorsports © LAT
Also coming from Childress was Bowyer himself, while Brian Pattie, who had lost his job as crew chief for Juan Pablo Montoya at Earnhardt Ganassi Racing, was later named as Bowyer's crew chief. Along with hiring Mark Martin, those were the main changes Waltrip went through ahead of this season.
"I think that the old saying that it takes time to gel is overrated," says Martin about the way the outfit has been able to make the most of its new recruitments seamlessly. However, the team's upswing really started towards the end of 2011, just as Miller was getting a measure of things.
A closer technical bond between MWR and Toyota was already developing and it turned out to be instrumental in their breakthrough. Waltrip praises Toyota's Andy Graves for strengthening that relationship in his role as Sprint Cup Series manager for the brand, heading the technical support that the manufacturer gives to its teams.
"I give Andy Graves a lot of credit any time I'm asked about where we are today," says Waltrip. "'The reason for that is simple. I went to him in January 2011 and I said, 'Are our cars as good as Job Gibbs' cars? And he said, 'No, they are not, because you don't trust our process. Your direction is not to follow us."
"I said, 'Well, we are changing directions, Buddy, and we are going to start following you.' They have just helped us. We have got a lot of smart people at MWR and you give them a task and you say, 'These are the numbers we are going to chase...'
"We were well down that road and talked to Scott Miller and explained to him where we were, and he believed in our process and he believed in who we are.
"It didn't happen overnight. It took from early 2011 all the way until November of 2011 to get those cars on the road. Truex drove in Miami and qualified second and finished third, and Clint has driven them all year long.
"We have a great partner in Toyota Racing Development and we didn't exploit them as much as we should have up until the 2011 season."
Miller has been pinpointed by many as the key to MWR's turnaround but he refuses to take all the credit. He admits it was already heading in the right direction when he got on board last year on November 1, right before the final three races of the season.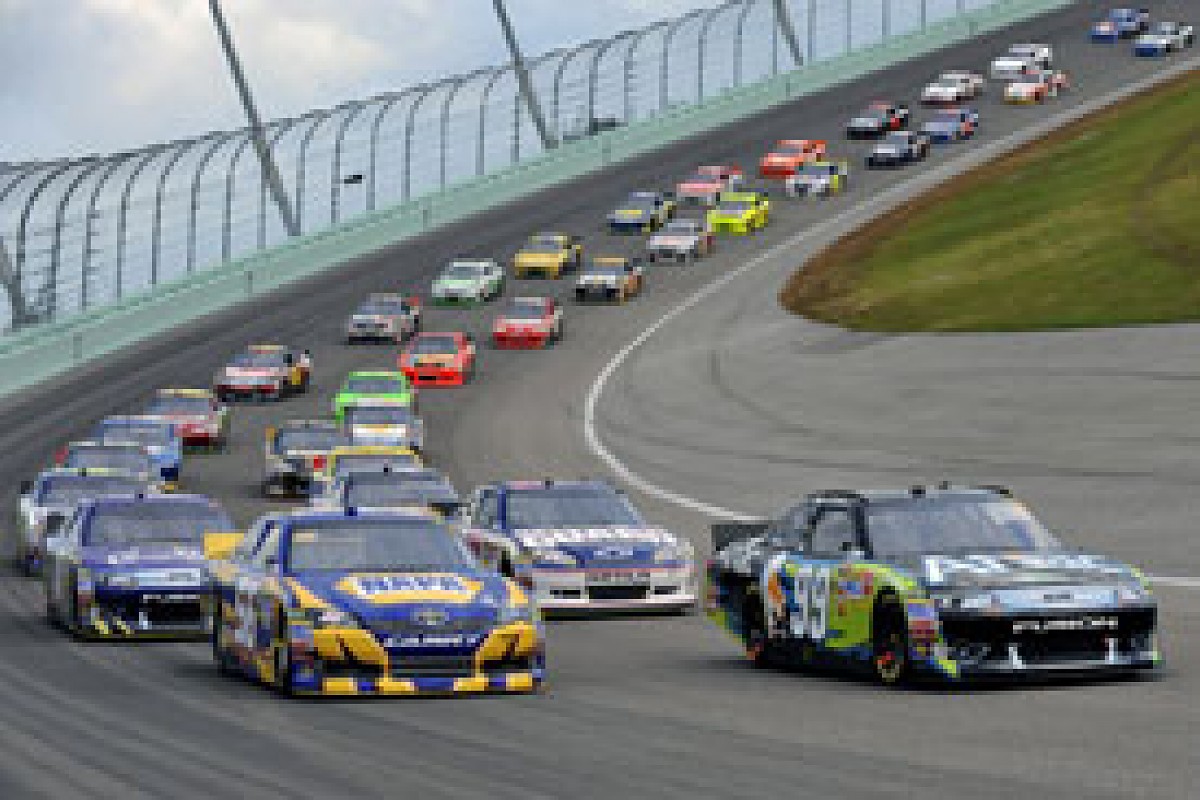 MWR's finish to 2011 - capped off by Truex's third-place at Miami - provided momentum and optimism © LAT
His role, he says, has been more about trimming the organisation from an operational standpoint in order to keep progress steady.
"I think there was a lot of momentum in a positive direction before I even came," says Miller. "I think that showed at the end of last year. They came up with this car spec that we're currently on for the last three races of last year and it showed a lot of promise.
"Since then and since I've gotten on board, I've obviously tried to make the organisation more efficient so we can have more throughput of cars, keep quality pieces coming all the time. But it's nice to see that everybody's work panned off and we've been competitive."
Bowyer also admits that the foundations of their current form had already been laid last year, before either of them arrived.
"I had a lot of confidence in Scott Miller and knowing that he was going to be the competition director, knowing the direction that he was going to steer the ship," he says. "However, that being said, both Scott Miller and myself walked into a pretty good situation that was guided in the right direction before we got there. You could see it.
"When we got there, through meetings, through talking to the engineering staff, TRD, through talking to Martin Truex, I mean, there are just so many things there that build a lot of confidence in both of us, well before we ever got there, that we were going to be all right."
Chad Johnston, crew chief for Truex, has seen the team's turnaround first hand after taking on the role halfway through the 2011 season. He says improvements have been made "across the board," and points at "aero and making chassis better" as the two areas where the team has clearly made a step forward.
"Our cars are just faster and they're built better," says Truex. "They're faster and easier to drive - durability is better. Every single part of what Michael Waltrip Racing does is better today than it was at this time last year. Toyota Racing Development has been a big help in the turnaround of the race team and the performance of the racecars on the track. "
Bringing on board the experience of Mark Martin has also boosted the team, even though he is not there every race weekend. However, when he is there, everyone listens.
"When we have our meetings with all three drivers - his feedback, everybody is listening intensely to it," says Johnston.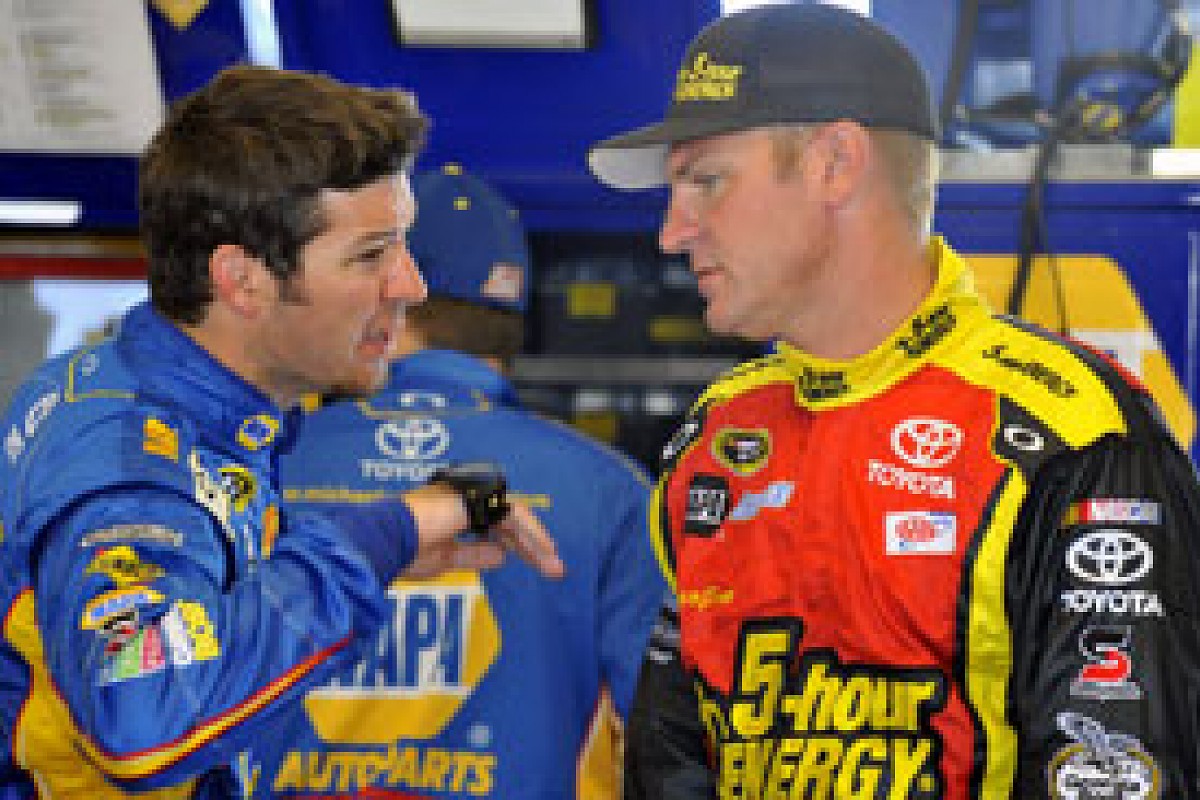 Truex Jr and Bowyer's similar styles have made it easy to share data © LAT
The fact that Truex and Bowyer share similar technical demands from the car has also translated into an easier transfer of information between the #56 and #15 teams over race weekends. Their performances thus far mirror that.
"I would say Martin and Clint are very similar," says Johnston about their driving styles. "Mark gets in the corner relatively easy while the other two seem to drive in as deep as they can; and then the way they get back to the throttle and the way they get off the throttle is definitely different.
"But Martin and Clint are very similar so it makes it very easy to share information between the two cars."
For MWR to finish the season with two drivers in the Chase would be a huge leap forward, regardless of their finishing position in the championship play-off; it would be the first step towards becoming major contenders in NASCAR's elite, something that may not necessarily happen this year.
"Our goal this year was to put a car in the Chase, " says Miller. "If we could manage to put two cars in the Chase that would be a huge accomplishment.
"But you know, you get kind of greedy... If we make that happen it sort of doesn't stop there and we want to have a solid performance.
"If we can't challenge for the championship, we want to learn from competing for the championship and how to be better at it next time we have that opportunity."
This year Waltrip drivers have shown speed, consistency and reliability, while their JGR rivals, perceived as the leading Toyota outfit, have had more wins but also more ups and downs.
The standings actually show Bowyer and Truex as the best Toyotas for now, and there's no reason to believe they won't be able to back up their regular-season performance during the Chase, which they seem to be entering comfortably.
What that means in the championship for them, we'll have to see come Homestead.