Early this year AUTOSPORT editor-in-Chief Andrew van de Burgt had an exclusive interview with Kurt Busch, NASCAR's most out-spoken driver, during which he talked of how he was going to change his ways. Following his latest outburst, Busch has been suspended from taking part in this weekend's Pocono race. It seems that this leopard failed to change his spots despite a winter during which he'd sought the key to some inner peace, and which he thought he'd found...
It's the day before the Daytona 500; well the day before this year's Daytona 500 was supposed to take place anyway. I've requested an interview with Kurt Busch, the controversial 2004 NASCAR Cup champion, whose fiery temper and foul-mouthed exploits earned him his ticket out of a plum drive at Team Penske and into the unfancied Phoenix team.
In the beating sun, we grab a spot on a couple of chairs in the shade created by the lowered tailgate of his team's hauler and I attempt to find out how a winter of soul-searching has gone down.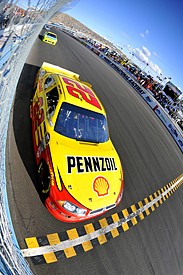 Busch lost his Cup drive with Penske last year... © LAT
Q: When you did your soul-searching, what did you find?