The 2011 NASCAR Sprint Cup season was one of change at the top of the order, following five years of domination from the same driver and the same organisation. Jimmie Johnson and Hendrick Motorsports finally saw their title streak come to an end when Tony Stewart claimed his third Cup title, his first driving for his own squad in only its third year of operation.
However, one thing that didn't change was where the champion's cars were built, as Stewart ran both chassis and engines built by Hendrick Motorsports. They were undeniably key ingredients in his outfit's quick route to the top.

Team founder Rick Hendrick didn't get there as fast as Stewart, nor was he as well funded to begin with. It took nearly 10 years for him to claim a Cup title after being a top contender with drivers Geoff Bodine, Tim Richmond and Darrell Waltrip in the 1980s. Since then, his organisation has grown in size, depth and success, setting trends and raising the bar constantly in the highly competitive NASCAR environment.
From only five full-time employees in 1984, Hendrick now boasts more than 500 people, and a record 14 NASCAR titles, including 10 in the elite Cup Series. Hendrick Motorsports headquarters are now spread across 140 acres of land and 12 different buildings, located only 1.8 miles west of Charlotte Motor Speedway.
But what sets Hendrick apart from Jack Roush, Joe Gibbs or Richard Childress these days? AUTOSPORT was able to see how Hendrick Motorsports' success is built daily inside its 430,000-square-foot facility. This is what we saw first hand.
Where the magic takes place
The chassis engineering shop, where frames and bodies are built and put together, is where our tour starts.
To date, Hendrick Motorsports has built well over 700 cars since it started manufacturing its own chassis instead of buying from a supplier. For a whole season, each of the outfit's four teams count on 14 different cars, which means 56 for the organisation every year.
The team also builds Stewart Haas Racing cars for Stewart and team-mate Ryan Newman, plus Danica Patrick on a limited schedule. And then there's the Nationwide Series chassis for JR Motorsports, which also fields two full-time entries. It gets quite busy for the guys in the chassis shop as it takes around three weeks to build a single car.
Each of them is built from three different sections - the centre, and the front and rear clips, all of which are manufactured in-house. Depending on which type of track the car is built for (short, intermediate, restrictor-plate or road course), it has different characteristics both in the chassis and the body, most noticeably in the front clip.
A few steps up from the chassis shop is the composite shop, for work on carbonfibre components, including race seats. It's not uncommon to see non-Hendrick drivers visit, as most have their seats made there. HMS is certified by NASCAR to do the job, with products that must withstand forces of up to 60G.
Walking out of that small shop we come to a building where a huge part of the Hendrick magic takes place.
Through a small back door we enter the CNC shop, where 30 Computer Numeric Control machines produce a wide range of components for both chassis and engines. Around 60 per cent are engine parts, the rest being mostly chassis components.
While other organisations have to rely on multiple vendors or more 'standard' parts, such a massive resource capability gives Hendrick greater flexibility than many rivals, speeding up development.
Those advantages obviously transfer to the organisation's engine programme, which operates in two buildings connected with the CNC shop.
Other NASCAR outfits have tried to reproduce Hendrick's in-house engine programme, but over the years some have shut down their initiatives, others have merged their resources and only a few keep their engine shops running.
HMS engines are built based on blocks, heads and manifolds provided by General Motors, which are all coded in the NASCAR rulebooks with specific part numbers approved by the sanctioning body. However, many of the moving components are developed in-house.
Every year more than 700 engines are assembled at HMS, including units for Cup, Nationwide and Trucks. That's based on around 180 blocks, which get rebuilt more than once with fresh components, of which only pistons from winning engines are kept on the shelves as trophies. Other used parts get melted down for the CNC machines.
Crankshafts, for example, are used multiple times and around 20 more components can be reused, while blocks sometimes even transfer from Cup to Nationwide units as the second-tier series rules allow a bigger bore, so that once they run out of measures in Cup, they're still usable.
Four teams and two-by-two
One of the most unusual aspects of Hendrick Motorsports is how it operates at base, having four full-time Cup teams. Going up the hill from the older buildings where the cars are built, there are two separate shops with big, distinctive numbers that tell you whose cars are where.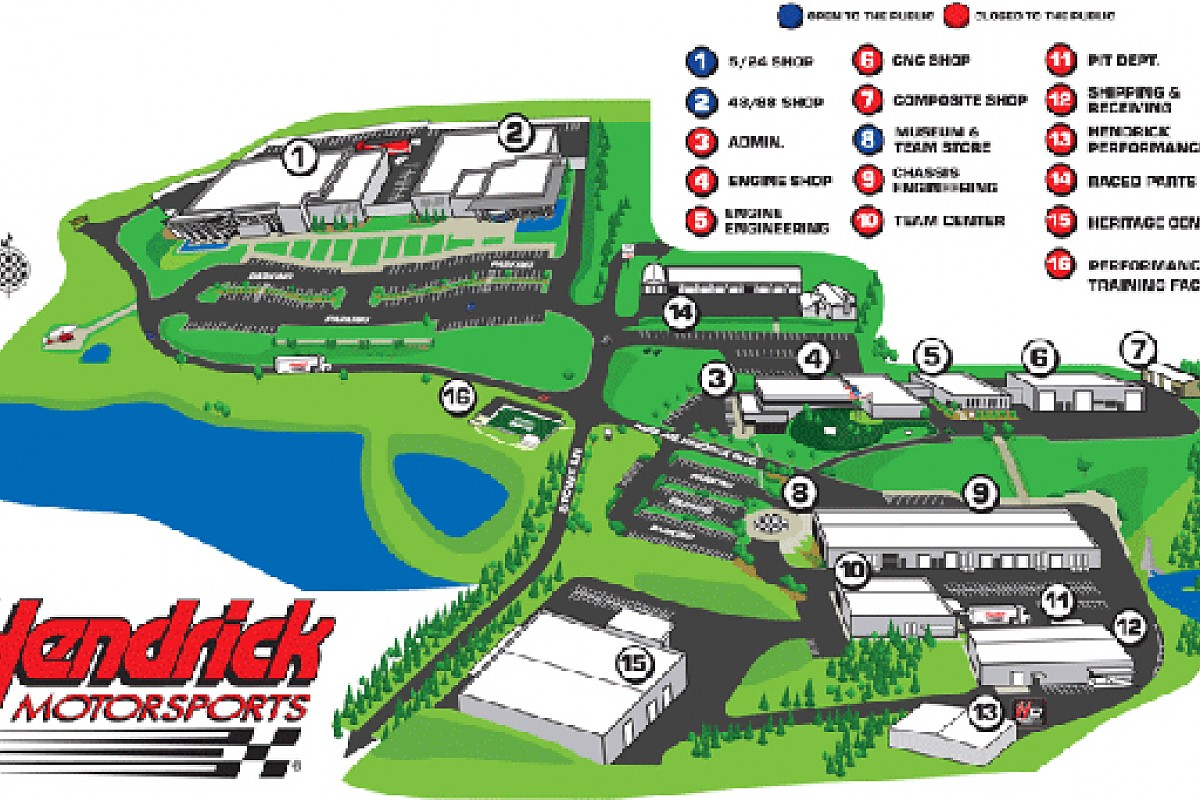 Jeff Gordon's and Dale Earnhardt Jr's cars are run out of different buildings © LAT
On one end there's the 48-88 shop, where leading crew chiefs Chad Knaus and Steve Letarte have adjacent offices. Up until 2010, the same shop was for the 24-48 cars, when Letarte was Gordon's crew chief, but since Rick Hendrick decided a move was necessary to boost Dale Earnhardt Jr, the shop was renamed and only the colours and number on the cars have changed.
Beside this building sits the 5-24 shop, where the cars of Kasey Kahne and Jeff Gordon are prepared for every race. The distribution of spaces inside each shop is slightly different in arrangement, but there's nothing telling you that one shop is 'number one', or the other is 'number two'. In the end, all the components come from the same machines and people, although watching the cars in detail there are subtle differences as to how each crew chief customises them.
The two-by-two layout is unique to Hendrick Motorsports and it combines team work with competition. Its two groups develop synergies in order to beat the other two teams, or the other shop, while still getting the benefit of having economies of scale.
"When Rick came along it wasn't in fashion to have two-car teams, they tended to be one-car operations but then Rick started assembling a two-car, then a three-car team, which we stayed with until Jimmie came along," says Ken Howes, one of Hendrick Motorsports' key people, who has been with the outfit since 1985. He is in charge of all four Cup race teams in his role as vice president of competition.
"We did some of those things first and initially we had three separate teams, spread all over the city that just happened to have the same owner. As time went on, the new complex was built and we learned the lessons of how to do that before other teams."
Unlike some other series, there isn't a championship for race organisations in NASCAR, as the manufacturers' one is for Chevy, Ford, Toyota and Dodge, not Hendrick, Roush or Gibbs. The sense of being a team-mate is then slightly different to, say, Formula 1.
Conversely, it's each team's goal to beat the other in NASCAR, even when under the same roof from Monday to Wednesday. Once they get to the track, they get spread across the garages and only come back together to share information at certain times during race weekends.
"Rick has a view and drives it though the company: he wants us to win, but he wants us pulling together on the road, not against each other," says Doug Duchardt, Hendrick Motorsports' vice president of development.
"I think that drives how we work though the company and it's not easy to maintain when you've got four guys trying to beat each other every weekend. I think we do a good job of managing that."
So they share the same components, the same technology, the same development tools, and most venues where they compete have only four corners. It would be easy to assume that the organisation's four cars run very similar set-ups, but each driver has his own technique and sometimes they are very specific to each track.
"Our set-ups are all different," says Howes. "Even though we use the same simulation programmes and data acquisition, we come up with four different answers. Once a crew chief understands that, they don't feel as threatened any more, talking freely about why I use this spring or this shock absorber.
"A lot of times it's just information. Sometimes it can help your car, fix a problem, but the guys with us have been around long enough to understand that we need all our four teams running well all the time."
Besides what they share between all four teams, there's further information they can rely on from the two Hendrick-built Stewart-Haas Racing Chevys of Stewart and Newman. Just how much they knock on their client's door depends on the circumstances.
"The honest answer is: it depends how we're running," says Howes. "If we're not doing too well and they are, we'll be paying a whole lot of attention to what they're doing. It varies, but it clearly doesn't hurt. It helps when things are not going well.
"When you're going well, you seem to mind your own business but when the time comes, and Rick tells us, six brains work better than four."
Trying to simulate
Since NASCAR banned testing at tracks included in the calendar, besides those where Goodyear runs with a handful of teams to make tyre selections ahead of events, outfits have had to hone their simulation tools.
On the aerodynamic front, Hendrick Motorsports tests at both the AeroDyne and Windshear windtunnels. These days, especially at intermediate tracks such as the mile-and-a-half ovals, aerodynamics play a more influential role on performance, despite a very tight set of rules.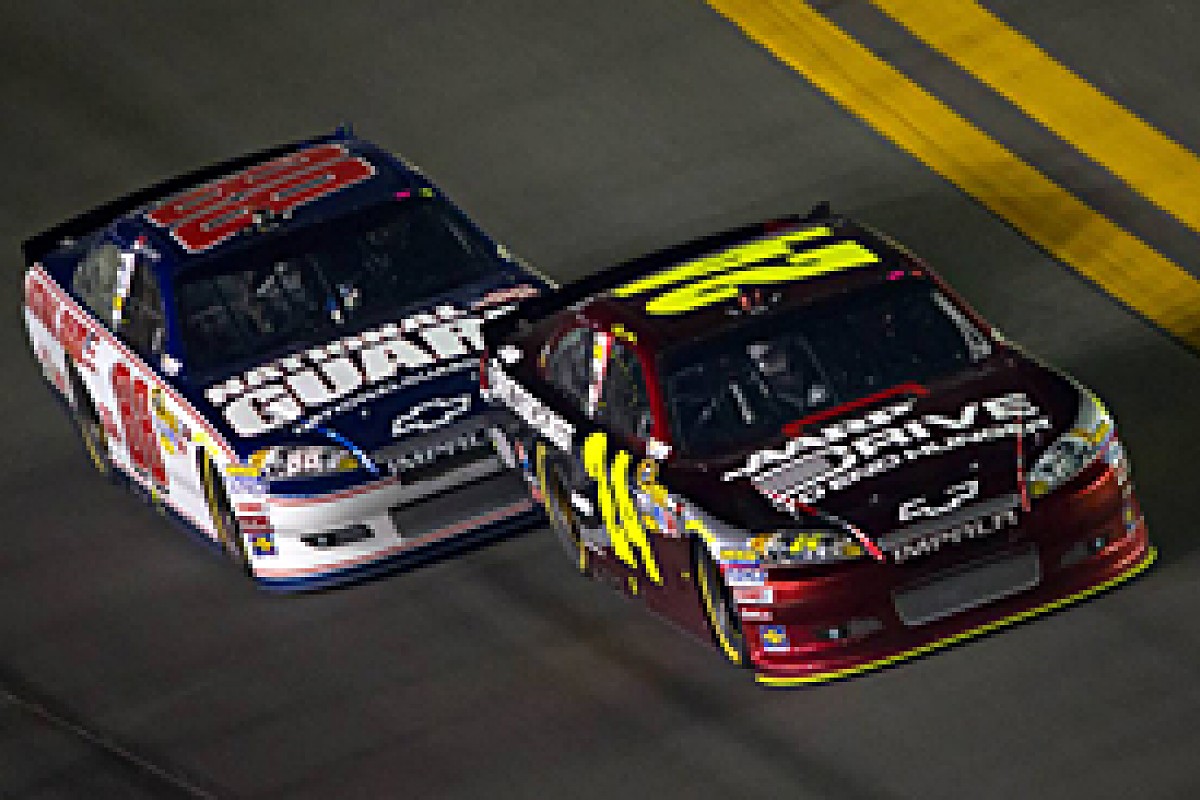 The biggest simulation programme that HMS develops in-house on the chassis side takes place around its seven-post rig, installed inside the 48-88 shop, where they can go through different shock, spring and track-bar combinations, for example.
Typically, Hendrick teams, testing separately, spend two to three days a week in the rig, with each session taking between 10 and 12 hours, sometimes more. Rivers of data are then analysed in order to reach any valuable conclusions.
Suspension and bodywork movement are measured very accurately as there is an effect on the aero side depending on the car's attitude. The position of the front splitter and how much air gets to the rear spoiler, for example, are key variables correlated with how the suspension of the car moves the boxy bodies.
However, there are limiting factors for these simulations' accuracy. One is the tyre, which changes constantly as Goodyear tends to review their selections yearly at most tracks, plus the 'shaker' rig can't reproduce tyre rotation or deformation.
The other hurdle is getting the data that feeds the simulations. In many cases, information dates from many years back, as they are only able to run data-acquisition systems for handling purposes when there's either a collective test, of which there are fewer than a handful every year, or when they are selected to test for Goodyear. During our visit, engineers were running a Pocono simulation with info dating back from a test in 2007.
As far as engine simulation, two AVL dynamometers test units around a virtual Fontana track, where they run at very high revs for a long portion of the lap, putting the valve train under massive stress. The full race weekend is reproduced in detail and now, thanks to fuel injection, engineers have plenty more accurate and fresh data to feed into those simulations.
It's about people, not resources
So Hendrick Motorsports is arguably the best-equipped NASCAR outfit in terms of engineering, but that alone doesn't make it happen every time, and there are plenty of examples of that in motorsport.
Hendrick's motto and culture have been the same for many years. It's all based around the people who use the resources at their disposal, the 550-plus employees who actually build the success of the company feeling they belong to something special.
There can be a lot of personnel rotation in NASCAR, but many of the key figures at Hendrick are long-time employees.
"At the end of the day, I'm going to treasure the people that I've got to be around and be close to, see superstars like Jimmie Johnson, Chad, Jeff Gordon, all those guys accomplish big things," said Rick Hendrick a week after Johnson claimed the outfit's 200th Sprint Cup win.
"I'm very thankful I'm in this position... Any business that's done well, it's just the people."
Will that philosophy alone continue to bring the team success in an ever-evolving sport? Hendrick seems to think so.
"I think we'll do the same thing we've been doing for the last 25 years," he says. "Everybody's working hard. Everybody's got the same tools. It really comes down to the people and the communication and the commitment and the gut, who wants it the worst.
"You can't let up. You can't take your foot off the gas in this sport. You've got to have a commitment; the championships and wins are what you're all about. It's not about the money. It's about the commitment and the will to do whatever it takes."