"We just haven't been on par this year. We were good enough to get here, but we've got to have a revelation to get through the next 10 weeks." Those were the words of two-time series champion Tony Stewart ahead of the start of the Chase for the NASCAR Sprint Cup last month at Chicagoland.
He labelled himself an underdog in the battle for the 2011 title and didn't consider his chances to be anywhere near as good as those of seven other drivers he thought were the favourites, and the ones carrying momentum into the decisive last 10 weeks of the season.
What unfolded days later was probably beyond anyone's expectations, specially Stewart's. He went on to win that Chicagoland event - the Chase opener - in a rain-delayed Monday race, fighting against a migraine over the weekend and managing his fuel mileage better than rivals though the first 400 miles of the play-off. The victory was also his first in NASCAR's top echelon this year.
A week later he went on to pick up another win, again beating his rivals on fuel economy to lead just the last two laps of the race at New Hampshire after Richard Childress Racing's Clint Bowyer ran dry while leading. That was the first time Stewart had managed to win back-to-back races since driving for his own squad and amazingly it happened at a crucial stage of the season.
However his pre-Chase prediction made sense in the third week of the title race as the whole of the Stewart Haas Racing organisation went through possibly its worst outing of the season; Stewart and his team-mate Ryan Newman running off the pace to finish two laps down in 25th and 23rd respectively at Dover. Then came Kansas, where Stewart had the pace to run up front, but where a late mistake at his final pitstop cost him a better finish than his eventual 15th spot.
Stewart pits during the Talladega race © LAT
He drew solid finishes at Charlotte and Talladega, and having gone through the crapshoot of last Sunday's restrictor-plate race at Talladega, he is currently among those within striking distance of points leader Carl Edwards.
Stewart was one of few who managed to work with different drafting partners last weekend - actually leading the most laps - after accidentally spinning out Newman early on while running in tandem. As facts have emerged this week though, he probably didn't get a fair push to the finish as Paul Menard was on his rear bumper, while the RCR driver's team-mates Bowyer and Jeff Burton were up front with a clear shot at victory. Team alliances, or 'politics' if you like, played a role more than ever at Talladega but Stewart seemed to be above that for a good portion of the race.
With just Martinsville, Texas, Phoenix and Homestead remaining in the calendar and 60 per cent of the Chase behind the drivers and teams, the cream of this year's crop is inevitably rising to the top. "I don't think there's anybody that's mathematically out of it with four races to go here right now," says Stewart, who trails Edwards by 19 points. With 172 still up for grabs he may be right, but if we go by the statistics of previous Chases, those still in the thick of the title battle may be down to just a handful of names, driver-owner Stewart being one of them.
"Honestly, I mean, I sound like a broken record, I know ... but literally we are taking it one day at a time," says Stewart when rating his title chances ahead of next weekend's race at the 'The Paperclip'. "We are going to Martinsville this weekend with Ryan's package that he's been running really well with and we have kind of struggled there, so we are going to start with Ryan's set-up and work our way from there.
"We know it's going to be a little different for me and our driving style. Mine and Ryan's are a little bit different. But I feel that's a good place to start for the weekend.
"The last four weeks are tracks that I like and that I've had success at, but you know, every time you go to a track, it's a little bit different than the time before. You know, your set-ups change, your packages change and you hope that you're staying ahead of it.
"So it's hard to tell whether we are going to be able to be where we need to be, but we are going to do everything we can to be as good as we can be in all four of those races."
He sounds very pragmatic, almost pessimistic; unsure that he'll be in with a chance in four weeks' time at Homestead for the season finale. But looking back and trying to put it all into perspective, Stewart Haas Racing is just in its third year in the Cup series, both its drivers are in the Chase and right now Stewart is the top-placed Chevrolet driver in the standings, ahead of the Hendrick Motorsports roster that runs the same equipment.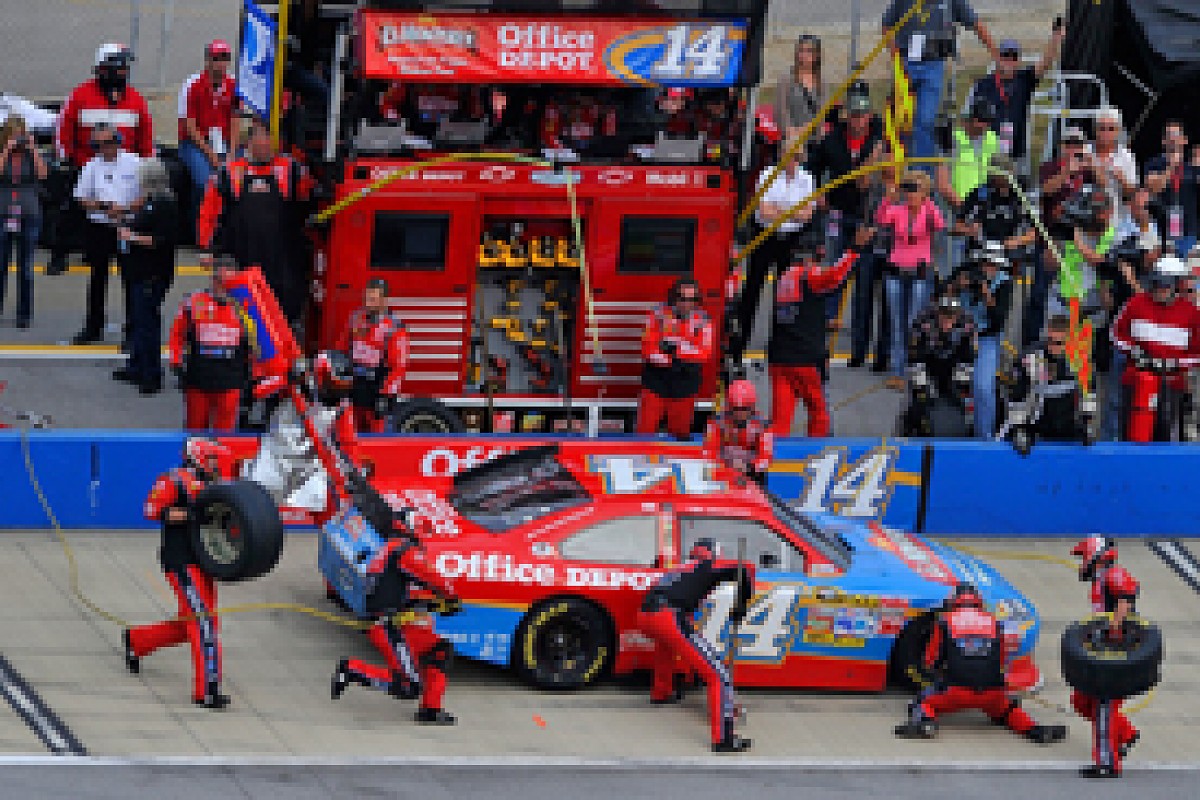 Stewart Haas hit the ground running when Stewart joined the team owner ranks in 2009 © LAT
Back in 2009 in the team's debut season, Stewart led his squad to the top of the standings by the time the end of the regular season came to a close; and by 179 points too! But when the points were reset he dropped to third due having scored less wins than either Mark Martin or Jimmie Johnson. He wouldn't move any further up, and eventually finished sixth; not bad at all for a start-up team that also got Newman into the play-off. Then came the sophomore year for SHR when only Stewart made the Chase. It still won three times with Stewart and Newman and had a solid season, although this was far less spectacular than had been envisaged after its debut year.
Halfway through the 2011 regular season both Stewart and Newman were inside the championship top 10, but it was at this point that the team's director of competition, Bobby Hutchens, who had been an integral part of building the team up to what it is, was released from his contract with immediate effect, and SHR had nobody to replace him. Matt Borland was promoted to take on some of Hutchens' responsibilities on an interim basis, but even now, a full-time replacement hasn't been named.
The news coincided with the summer months, a time at which Stewart is usually at his best; the high temperatures of July and August creating slick surfaces on which his skills behind the wheel are at their most evident. However, during that period Stewart dropped almost out of the top 12 championship positions, and it took him until late July's Brickyard 400 at Indianapolis to break back into the top 10.
Newman was safely inside the cut as well by then as the team showed incredible depth in being able to quickly adjust and overcome a reshuffle in the middle of the season.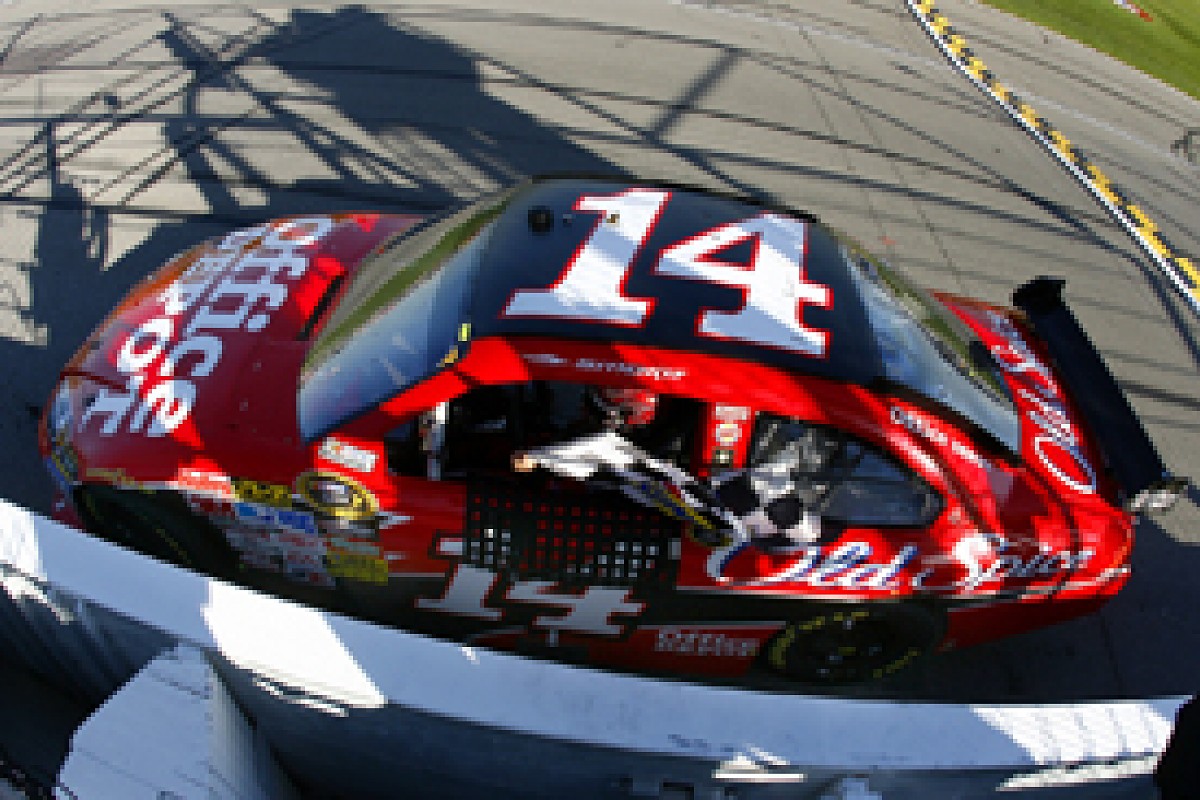 Crew chief Darian Grubb (right) is key to Stewart's success © LAT
"It was one of those where we kind of had no idea," says Stewart's crew chief Darian Grubb about the team's dip in form. "We had a really good start to the year, had good race cars, fast race cars, chances to win, strategies to win, and got beat over and over and over. It beat us down.
"Middle of the year we couldn't hit on anything that made it better. Rode the same, didn't have feedback or anything that was positive. Everything was just kind of there.
"The last few weeks [before the Chase] we started getting better. I think it was the same time at Michigan that Tony said we weren't Chase contenders even if we made the Chase. I think everybody started taking an extra load, working harder, getting faster."
Grubb arrived at Stewart Haas from Hendrick Motorsports and remains key to the team's structure. The team ran Hendrick chassis and engines from day one and he knows the Hendrick way very well, now acting as a bridge when information is relayed between the two organisations.
Hendrick Motorsports is a model many would like to emulate but Stewart is not trying to create a Hendrick clone. Instead, he hopes to mix the best from different worlds into an organisation that has its own culture, just like the man whose name is at the top of the shop door.
Stewart is an owner and a driver, but more importantly he is the reason why many good people from the industry wanted to join his venture in creating a new force to be reckoned with at NASCAR's top level. The key ingredients have mixed incredibly well thus far, but the final recipe has yet to achieved. With Danica Patrick driving a third car in selected events next year, some adjustment will also take place as the team expands for the first time beyond its current fleet.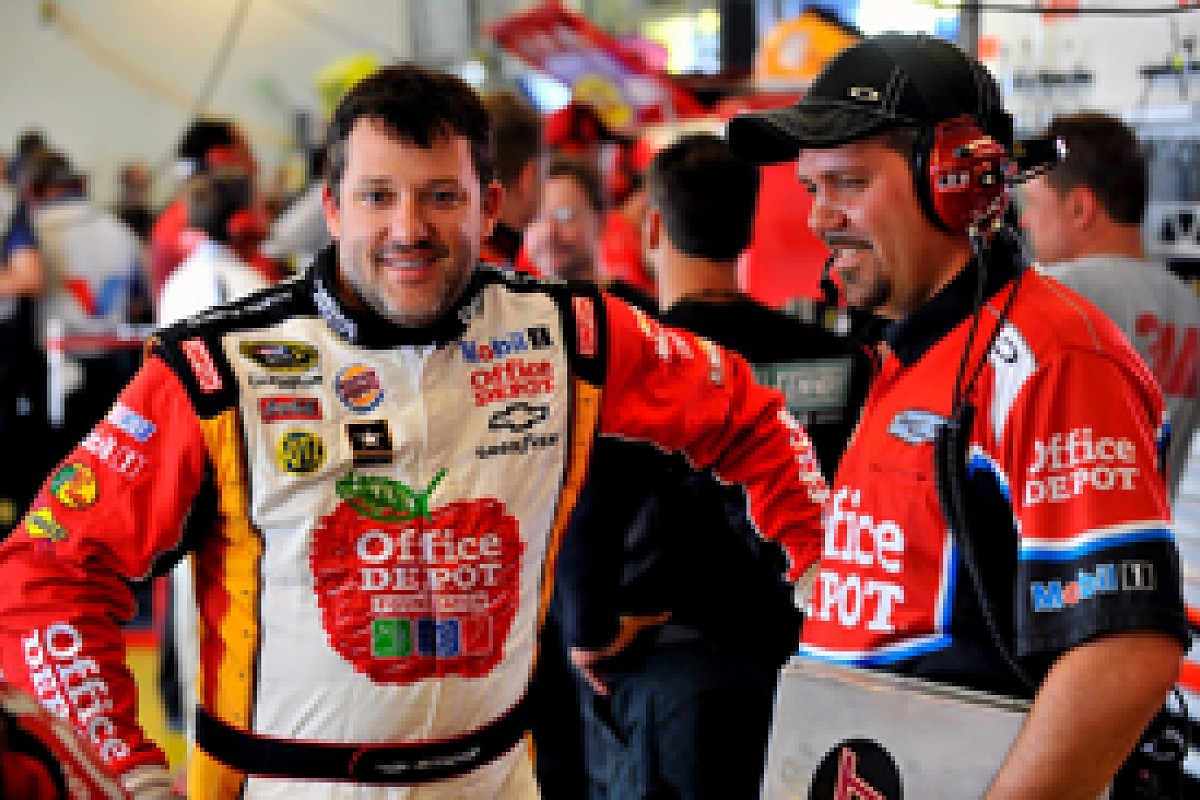 Stewart Haas and Hendrick are technical partners but rivals on track © LAT
"Obviously we have our relationship [with Hendrick] on the engine and chassis side and technology that we share, but it's hard to know the inner workings without being directly involved with it," says Stewart.
"From my standpoint, it's been easier for me to emulate what Joe Gibbs has done and what we saw over there. I think the great thing about Stewart Haas Racing is that we have had so many guys come from so many different organisations; Bobby Hutchins coming from RCR, and Dale Earnhardt Inc, and Ryan Newman and Matt Borland coming from Penske, and myself coming from Joe Gibbs Racing, Darian coming from Hendrick...
"We are trying to take the best of what we have seen from each organisation and trying to incorporate them into our own package to make it the best we think it can be. We'll try to take the positives we saw in each of those organisations and take the lessons learned that we think are negative from those and try not to make those same mistakes. We try to learn from a lot of different teams and try to take the best from each."
Stewart Haas and Hendrick are rivals at the top level in a manner similar to Mercedes and McLaren in Formula 1. Despite never being a Hendrick driver, Stewart has total trust in the team, the information, the data and the equipment he's being provided with.
"I don't think that there's anything that they are holding back from us that we could ask for to be honest," he says. "We work very closely with them every week with the set-ups. In terms of engines; I have the ability, and Ryan does, too, that if we feel like we aren't getting a good enough engine, we can sit there and look at all six dyno sheets for our engines and hand-pick the one we want if we so desire.
"I have confidence that our relationship with Rick [Hendrick] and his whole group is very solid and that we are getting everything that we need from them. It's just our job to execute it and finish it out on the weekend."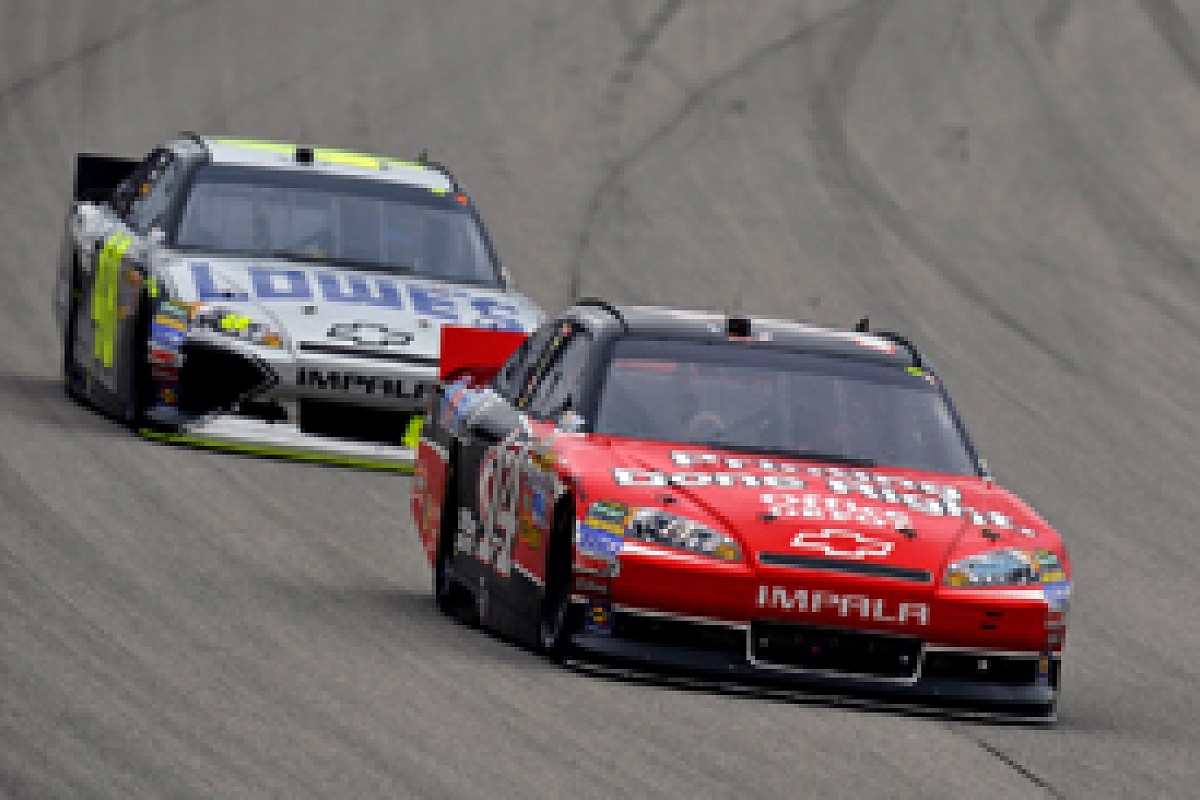 The last time Jimmie Johnson was beaten to a Cup title, Stewart was the man who did it © LAT
The execution part is one that they've probably performed better than the Hendrick teams six races into this year's Chase. Stewart's performance hasn't been up to Johnson's standards from previous years but he could still be the man stopping the Roush Fenway tandem that currently leads the play-off.
He is after all the last driver to have won a title before Jimmie Johnson started his hot streak in 2006, and besides the five-time champion and Kurt Busch, Stewart is the only driver to have won the title under the play-off format. In fact, Stewart is the only Cup driver to have claimed championships under the cumulative and play-off systems.
So can he join Lee Petty, David Pearson, Cale Yarborough and Darrell Waltrip as a three-time Cup champion? The 19 points he currently trails Edwards by are exactly the same as he was able to gain on early Chase leader Kevin Harvick during the first two races of the play-off as he jumped from 10th up to the top of the standings in a matter of days...
Edwards looks particularly strong at this stage and some of the coming tracks may suit him, but he's got to deal with a new pressure while those running behind will need to attack in order to eat into the leader's points cushion. If fuel mileage comes into the mix during these final races, as it often happens at the last two venues (Phoenix and Homestead), Stewart may end up very high in the championship table.
The man they call 'Smoke' could well be turning up the heat as the season comes to a close next month in Florida. Stay tuned.