While Australian Will Power was making the headlines thanks to his honest display of disapproval against IndyCar officials' decisions at New Hampshire last Sunday, some 340 miles west, 27-year-old Brad Keselowski was riding a bicycle in circles in the driver-owner motor-coach lot at Watkins Glen, in what looked like a therapy session to work on an injured left ankle.
Most of his colleagues meanwhile were chilling out or sharing some privacy following a rain-delay that postponed the Sprint Cup series race until Monday morning.

Less than two weeks before, Keselowski had survived a frightening testing crash when his brake pedal went soft at Road Atlanta's turn one while travelling at some 160mph. Although the impact against a not-so soft barrier took place at about 100mph, according to him the severity of the hit knocked down a concrete panel that was behind two lines of tyres. It has been placed there in order to prevent cars running off course from ending up in the bushes.
The current NASCAR Nationwide Series champion had to be airlifted to a nearby hospital, where any major injuries were discarded.
An avulsion fracture was diagnosed to his left ankle however, which looked about ten times its usual size from the massive swelling that he didn't mind putting out in the public eye through his Twitter account. That's usually the last thing any other driver would probably do under such circumstances.
"I just enjoy Twitter and I enjoy talking to my fans and kind of explaining what's going on," says Keselowski, whose list of followers has grown massively over the past couple of weeks to 35,000-plus.
With such evidence of his fitness status just a couple of days ahead of the Sprint Cup event at Pocono Raceway, it seemed uncertain he would even attempt to drive his Cup car. Penske's press releases all but added to that uncertainty. All Keselowski needed though was the green light from a doctor, which he got a day later - his team already had Sam Hornish Jr on standby. But they didn't require the former IndyCar champion in the end.
"I'm not putting someone else in my Cup car," he said at the time. Not only did he start the race at Pocono, but he won it by fending off a charging Kyle Busch. It was his third Cup victory, following a controversial first win in 2009 at Talladega when he beat a flipping Carl Edwards after the pair made contact in sight of the chequered flag.
Brad Keselowski finished second at Watkins Glen © LAT
Keselowski followed that up with his first win for Penske earlier this summer at Kansas, thanks to some good strategy and efficient fuel saving tactics.
"I would say your last win is always the most special," says Keselowski. "But Pocono was a special win for a lot of different reasons and one that I'll always remember. I think to win it kind of legitimately is always special and overcoming adversity always makes it special as well.
"Obviously I didn't feel bad about Talladega, but restrictor-plate racing opens up a lot of different doors and is just not a conventional style of racing. Not that I don't like it by any means, but it's just different."
Talking to him at Watkins Glen, it was clear he was still in pain. He would limp everytime he climbed out of his car, and on Friday following practice he said not only his ankle but his back was hurting anytime he'd run over a bump or a kerb - something you need to do in order to be on the pace at the 2.45-mile circuit.
A road course was probably the toughest environment he could be placed in given his condition, plus Watkins Glen probably tops the NASCAR roster in terms of hard braking, which Keselowski does with his left foot. Compromising performance by changing style to brake with his right-foot was simply not an option, and several times he underlined that the pain wouldn't be an excuse for him not being competitive come race day.
"I really don't embrace the talk of what it means to battle through toughness as a race car driver because to me I still view the sport as an entertainment sport," he says. "Battling through adversity and pain to entertain is not that big of a deal."
Before Monday, Keselowski had only run three Cup races on road courses, plus a handful more in the Nationwide Series. He grew up following the tradition and passion of his family, first driving midgets from 14, then moving to bigger stock cars - but always driving on ovals. Turning right hasn't been exactly his cup of tea.
His Penske team-mate Kurt Busch was dominant in the first road course race of the season at Sears Point, claiming an uncontested win. On Saturday he jumped in Keselowski's Nationwide Series car to sub for him in the second-tier series race and went on to go two-for-two in road course races in 2011, beating the field from pole position. In his Cup qualifying run, things had not gone right for Busch, but much was expected from him on race day.
For Keselowski this was perceived more as a race of survival, not one where he or his #2 crew would entertain the idea of contending for victory.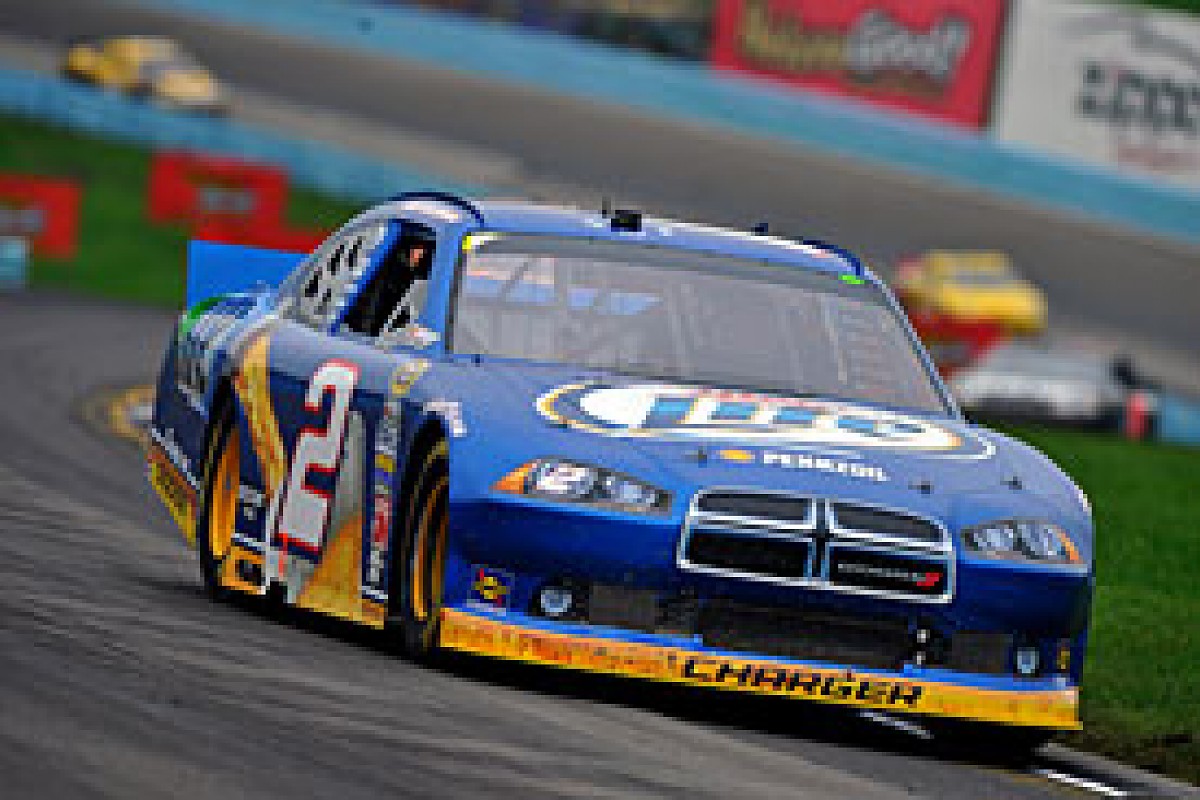 Keselowski won Pocono in spite of his testing injury © LAT
However as things turned out on Monday, Busch would have an early spin and then a hard crash following brake issues. Meanwhile Keselowski jumped to the lead by overtaking Kurt's brother Kyle Busch after keeping the pressure on him for a number of laps. Moreover, following the final restart, he was leading the race on pure pace and merit, running the same two-stop strategy as his Joe Gibbs Racing rival.
Inevitably Marcos Ambrose would jump ahead, which he eventually did halfway through the penultimate lap to grab the lead from Keselowski and ultimately the win. But the Penske racer didn't put a foot wrong, accepted defeat and took an impressive second place which, put into the context of his experience, the calibre of his rivals at that specific track, plus his physical condition, was far more than anyone would expect. Anyone but himself, that is.
"When your car is fast you can put a lot of that stuff behind you and make it work," he said on Monday. "You know, we were able to do that today and make it work. I was happy to have a fast car, and that's what it's all about - having fast race cars. Life is just good when you have fast race cars.
"I look back at this one and wish that I had been in better condition and wish that I had more experience or was able to run the Nationwide race the day before and maybe I could have made the most of my car because quite frankly I think I had one of the cars to beat. But that's just the way it goes. It kind of is what it is."
It's been two weeks of high performance and emotion for Keselowski but there is no time to sit down and look back just yet. His Pocono win and his second place at Watkins Glen have vaulted him up to 14th in the standings and all he has to do for the next four weekends is finish solidly to remain eligible for a Chase wildcard by staying inside the top-20 in points come Richmond, where the playoff field will be set.
Keselowski believes however that he needs to remain aggressive and on the offensive until that happens.
"Looking back when your career is over is great," he says. "Now we've got to look forward. We've got a lot of races left, a lot of ways that we can improve as a team, that I can improve as a driver. I want to focus on that."
"I think that it would be a disservice to change what we've been doing. We need to keep plugging away, top 10s, and top 15s... To get out and play defense is the worst thing that we could do."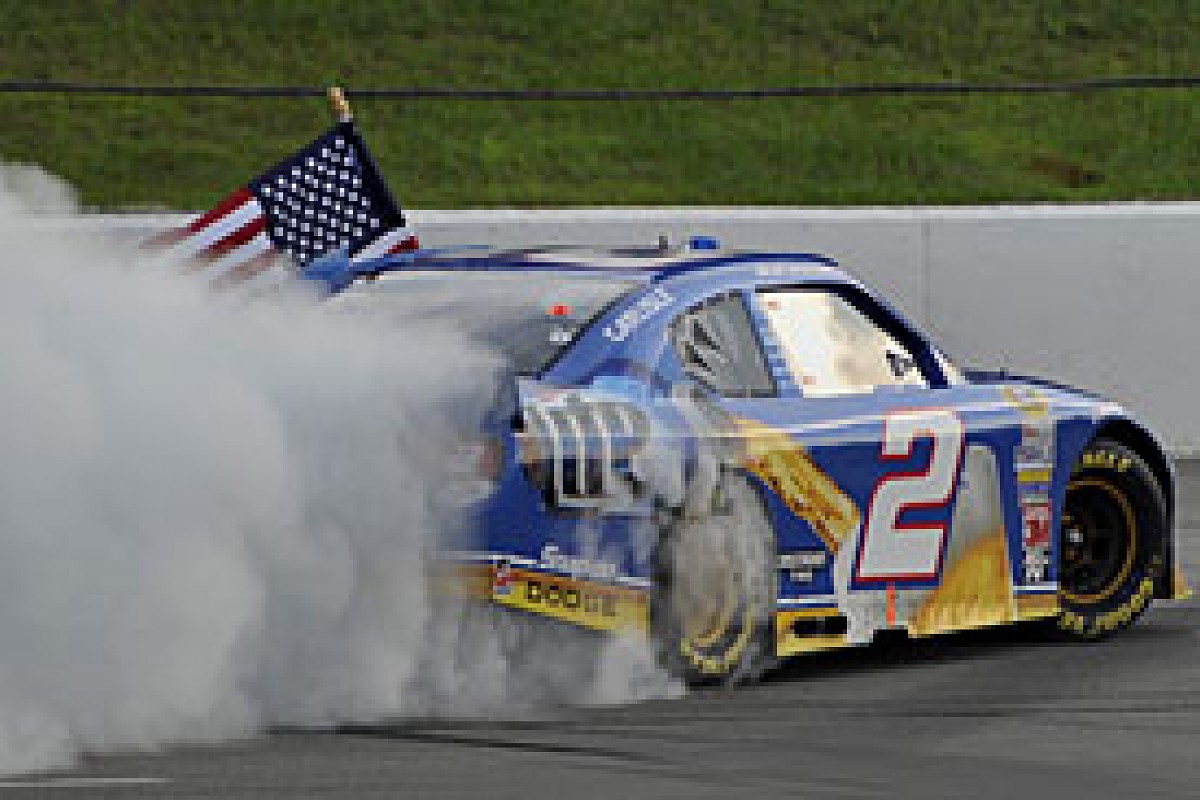 Keselowski's rivalry with Edwards began with this accident at Talladega © LAT
If his current trend carries on, he could even break inside the top-10 in points and qualify for the Chase on merit. Looking back at the last two weeks he has shaved off more than a third of the gap he had to tenth placed Tony Stewart in the standings after the Brickyard 400. He was 95 points off and 21st in points two weeks ago, now he's 58 adrift. Stewart has yet to win a race this year.
It looks quite likely that Keselowski will make his first Chase in just his second full season in Cup and it's easy to overlook him against names such as Jimmie Johnson, Carl Edwards, Kevin Harvick or the Busch brothers, but Keselowski knows how to win championships.
In nearly 40 years of NASCAR competition for Roger Penske, he can proudly say he is the only driver to deliver a title for 'the Captain'.
"I think we can be successful in it," he says confident about his Chase prospects looking ahead. "If we continue the path of growth that we've seen so far I think that we can be a legitimate contender."
Penske Racing has clearly turned a corner with its performance, evident on the form it's shown at every type of track since May. Many point at suspension developments playing a role in it, as one of Penske's strengths is having a dedicated racing shocks business [Penske Racing Shocks]. But regardless of that being the case, no other outfit in the Sprint Cup garage has picked up as much during the year as Penske has, which bodes well for its chances once the season enters the 10-race championship stretch.
"Our cars are way better than three or four months ago," says Keselowski. "I'd rather not go into detail on where or how, but they're way better."
"You have to go back to some of the changes that were made in May. It's just obvious. If you just graph out how we've run and look at it, you'll see that we've performed much better since the month of May and all the changes that we made at Penske Racing."
But besides the technical gains made by the sole Dodge team on the Cup grid [it also supplies equipment to Robby Gordon's outfit], the fact that Keselowski and his team are hitting top form is helping boost the performance of the whole organisation.
Last year the team had a clear goal of winning the Nationwide Series trophy but with that box already ticked at Penske and the rule change this year forcing drivers to choose only one championship to run for, more focus has gone into the Cup programme.
"I felt like Brad's intensity for that Nationwide car really kept him back a little bit last year," says his team-mate Kurt Busch. "But that was the focus, to bring that championship home in that Nationwide car and continue to build on the Cup side. So to see him settle in with [crew chief] Paul [Wolfe] and where they are as a team, is great.
"Their pit crew on the #2 car is hands-down faster than the #22 this year. Those guys have that desire, youthful exuberance, to go and to try different things and find it. Right now they're putting it together. My team needs to feed off of that and find the groove in the next few weeks to be that championship leader within the Penske team."
It will be fascinating to see if the dynamics inside Penske change now that Keselowski is casting a shadow over his more experienced team-mate and former Cup champion Busch. "I hope not because we need each other to run well," says Keselowski. "I'm committed to working with him as much as possible. That's very important because he offers that unique experienced perspective that I don't have. He's helped me tremendously though the year."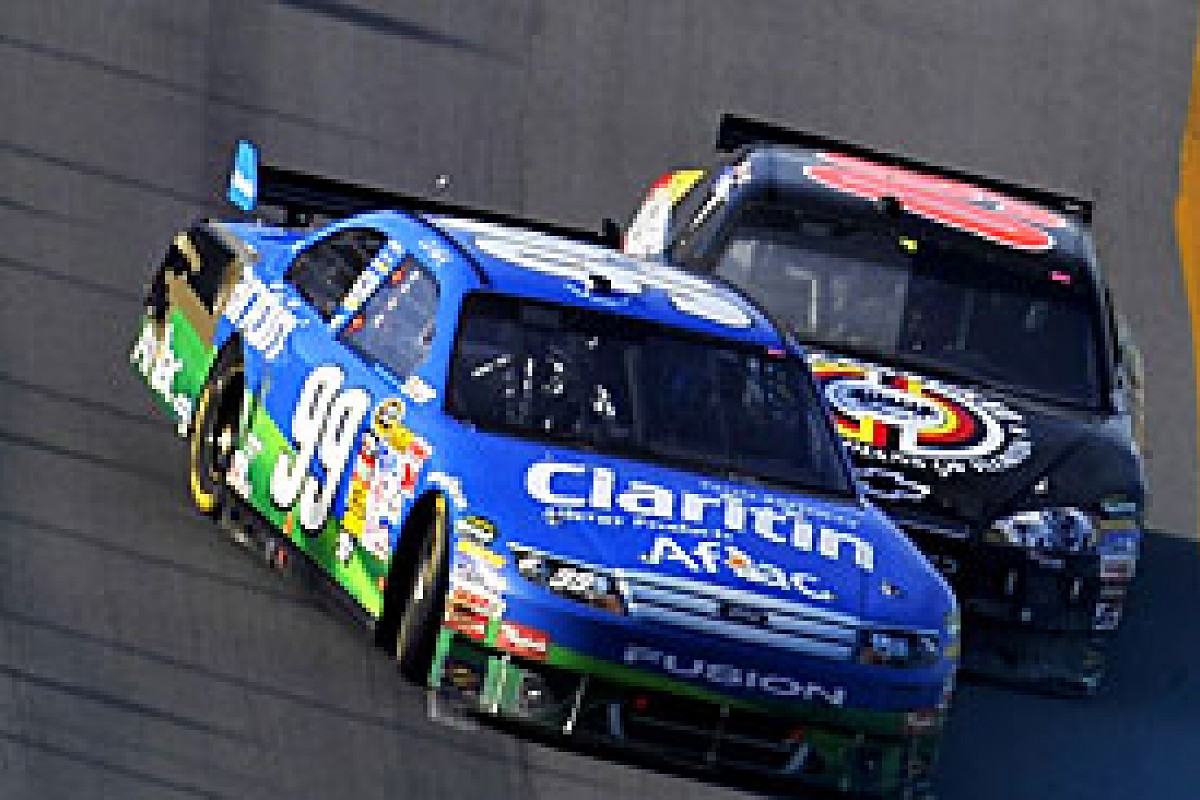 Keselowski ended up on his roof at Atlanta © LAT
The Rochester Hills native is a fierce and tough competitor, one who doesn't get easily intimidated by rivals. His reputation as a racer among his Cup peers today is probably much better than a year ago, when he was still under probation following his feud with Carl Edwards. Keselowski landed on his roof at a Cup event in Atlanta after being bumped by Edwards - retaliation for the previous incident. Their tough rivalry dragged into their battle for the Nationwide series title, which ultimately went to the Penske driver.
"The 'Bad Brad' label is not as bad now," says his team-mate Busch. "He's able to go out there now and compete at a level that's going to get him a Chase berth. That's what we want to see. Right now, he's in great position to get that."
He may not be the most popular among his rivals, but his recent heroics have for sure earned him due respect from many of them. He is popular with the crowds though and he readily admits that his association with Dale Earnhardt Jr in the past, while driving for him in the Nationwide Series, could have boosted his profile with 'Junior nation'. He's also been a Hendrick Motorsports driver, making his Cup debut for the leading Sprint Cup outfit at Texas back in 2008.
There wasn't a permanent seat for him there as rules downsized the maximum number of cars per organisation to four, but Penske came knocking on his door and he is now driving the iconic Penske #2 car that Rusty Wallace took to victory lane many times since the early 90's.
"I still like Rick [Hendrick]," says Keselowski. "I think he's a great guy but I'm very happy with where I'm at with Penske right now."
With all seats locked at Hendrick for the foreseeable future, it's unlikely that we will see Keselowski returning there, but the story unfolding inside Penske Racing may only prove to be the first few chapters of a glorious storty. The Penske-Keselowski combo is gaining momentum as you read and rivals are probably about to learn of its true strength.
You've been warned. Brad Keselowski is coming on strong.