Sprint Cup Series drivers will enter Sunday's Daytona 500 still discovering the intricacies of a new style of racing that has prevailed so far ahead of the season-opener.
During both the Budweiser Shootout and the Gatorade Duel qualifying races, two-car tandems were the norm throughout the events as drivers found running in pairs to be the most effective way of gaining speed and momentum to get to the front.
In last Saturday's Shootout, two pairs of cars fought for victory on the last lap, Earnhardt Ganassi's Jamie McMurray eventually pushing Penske's Kurt Busch to the win.
On Thursday's first duel, Busch won while getting pushed by Regan Smith, who attempted to break out of line from his drafting partner heading to the chequered flag, finally having to settle for second.
Also, on the second duel the technique allowed Richard Childress Racing team-mates Jeff Burton and Clint Bowyer to battle for victory on the last lap, Burton just edging the sister Chevy Impala of Bowyer.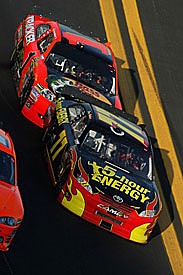 "The pushing has taken some getting used to," says multiple Daytona winner Tony Stewart about the two-car drafting style. "Being pushed hasn't been a big problem. It's learning how to push and the visibility of it. That side of it has been a little tricky. That's where we rely on the spotters a lot and I think everybody has learned how to make the adjustments to make it work."
The new smooth surface at Daytona has allowed the technique to develop, as drivers can now push one another for a whole lap without lifting the throttle. Front and rear bumpers also match evenly on the current specification of Cup car, making the bump-drafting easier than in the past.
Up until last year, surface undulations on the track made it almost impossible to push in the same way at Daytona, although a two-car breakaway was first seen to do the magic two years ago at Talladega - a track which has a much smoother surface since it was last repaved in 2006. Brad Keselowski pushed Carl Edwards to pull away in tandem from the rest of the field during the closing laps of that spring event in 2009. Their race ended in a massive crash when the Roush Fenway driver tried to block his rival approaching the chequered flag. Edwards's car flipped and ripped off part of the safety catch-fence, after being hit by Ryan Newman's car.
Following the incident NASCAR forbid drivers from pushing in the turns when the series returned to Talladega, but last year it loosened that ruling on bump-drafting, allowing drivers to do so again.
Kevin Harvick, the 2007 Daytona 500 winner, believes the technique has been seen before but it simply didn't develop as it has recently at Daytona. He credits Dale Earnhardt Jr as being one of those who first used it, although the Hendrick driver seemed to dislike the trend judging by his words following a practice crash on Wednesday - which led to him losing pole position for Sunday's main event.
"Six or seven years ago if we had all known this was going to work we would have all probably worked a lot harder on it with the old cars too, and it probably would have done the same thing," said Harvick. "I remember back at Talladega when everybody was screaming and yelling because Dale Jr was bumping through the corners with the old car.
"But he was making time and winning a race it didn't click in everybody's mind that that would work all the way around the race track all the time.
"So it's a new scenario that everybody has figured out and still not mastered but it still works and I think it would have worked seven or eight years ago. It just pops up and all of a sudden you don't really know exactly what direction to go because I think it's just there and it's always been there."
The new style of racing has put emphasis on the ability to push another car for long periods of laps while keeping engine cooling right on the edge.
Despite NASCAR introducing new rules to reduce engine cooling in the hope of preventing the two-car tandems from being as effective, drivers and teams have been able to work their way around the new limits.
The measures were issued before Thursday's duels after some were able to push for more than 20 consecutive green flags, but a number of drivers, especially some running the Roush Yates Ford FR9 Engine, were able to push for as long during those qualifying races.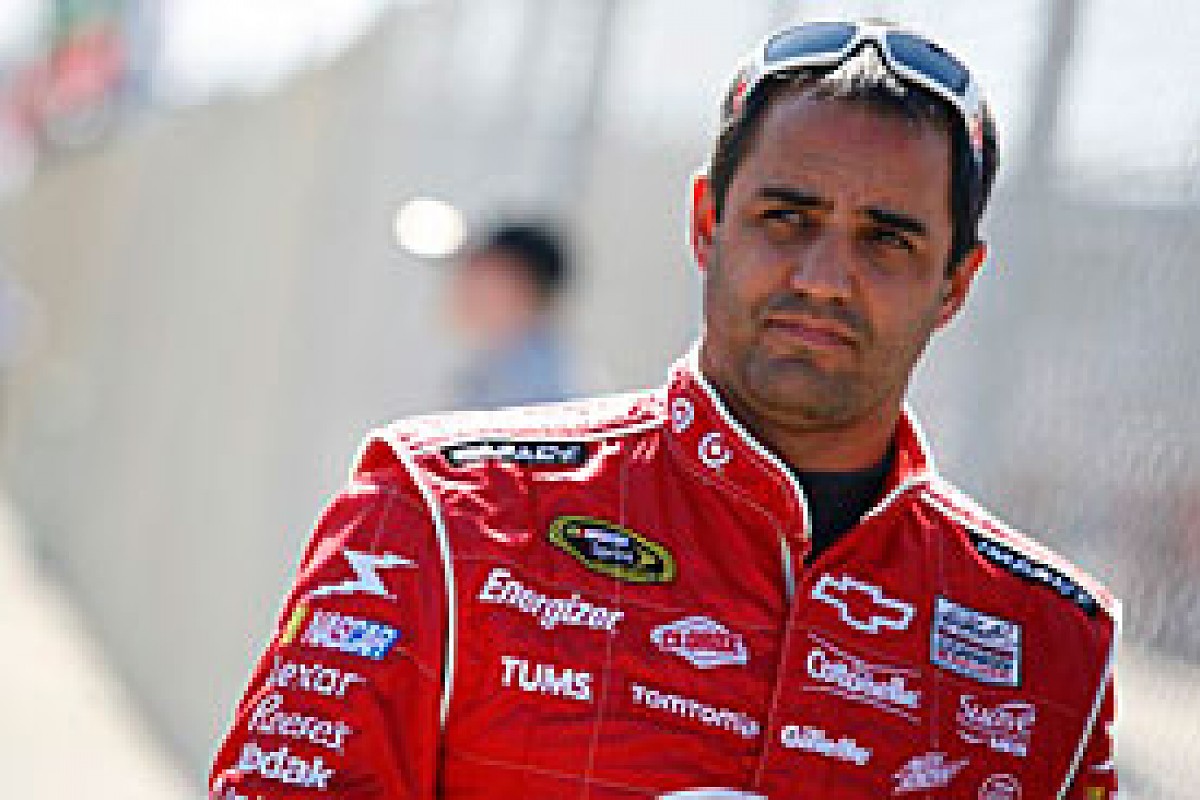 Juan Pablo Montoya © LAT
A smaller restrictor was also enforced by NASCAR hoping to bring speeds and rpm down, but averages during the duels were still breaking the 200mph barrier. Earnhardt Ganassi's Jamie McMurray set the fastest lap on the second duel at 202mph while running in the draft.
"Right now it seems that the Fords are the best car for a pusher because they don't have a heating problem," said McMurray's team-mate Juan Pablo Montoya. "At least it seems that way. They changed everything they could change. They closed the grill opening. I think in more traffic, you are going to get less air the guy in front is not going to cool down as well. I think it is going to be a little bit different in the 500."
Roush Fenway's Matt Kenseth, who pushed Harvick for a long time and eventually into third place in the first duel, denies his car has an advantage heading into Sunday's race. He says that with the qualifying race run over a shorter distance it allowed him to push his engine to the limit.
Although he was able to draft in the right way to keep pushing Harvick while getting some cooling still.
"I don't think our stuff is any different or we have any advantage over anybody necessarily," said Kenseth, the 2009 Daytona 500 winner. "There are probably a few circumstances where I got some air in there and kept it kind of cool or maybe didn't take care of that engine as much as I would the 500 engine because I knew we were going to change engines anyway and I didn't care if it got overheated.
"It was more important to me to keep our car in position and get a decent starting spot for Sunday. I didn't want to be in the back and get wrecked."
Others like Kyle Busch admit they still have to master the new technique. He says for some reason he can't push other cars as well as when he gets pushed, making it hard to get the right drafting partner.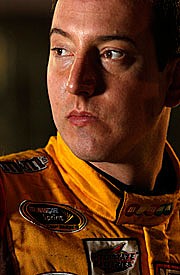 Kyle Busch admits he is yet to master the new style of drafting © LAT
"A lot of guys, they're really off-setting themselves from the car they're pushing to the right and getting that air that they need to keep their engines cool," said Busch. "That's been basically the only thing you can do. You have to become comfortable with that person that you're pushing in order to do that. I haven't been able to do that yet. I've been scared to push somebody.
"I don't mind getting pushed - anytime anybody is pushing me and they are really off-set like [Jamie] McMurray and Denny [Hamlin] - they were way over. It was fine for me. But, whenever I'm doing that and I'm moving over on somebody and pushing them, it seems like I'm turning them sideways down the straightaway."
While many team-mates have planned in advance in order to work together in tandem, caution periods and pitstops may eventually break their pairings, forcing them to look for new partners. Montoya says communication will be key between spotters in order to quickly make a plan and time their moves in the right way.
When making pitstops under green, drivers pairing up must do so simultaneously in order to avoid being left out alone on the track when they rejoin. Drivers in the first duel who did that were able to make a huge gap to those who didn't, before a caution brought them back in contention again.
"You hope the person you pick is smart enough and good enough to get the job done," says Montoya. "Especially early in the race you have to have somebody who knows exactly what the plan.
"What we did with [Kasey] Kahne [in Thursday's duel] as soon as we got together, I told my spotter to make sure he talked to Kahne to make sure he knows what we are doing and how we have been doing it and it has been working so make sure he does the same thing. We did it and it worked flawlessly."
Although most teams have fitted a new engine for the Daytona 500 following Thursday's qualifying races, the units will be placed under massive stress during the 200-lap event, where all 43 cars will be on the track for the first time. Only 24 cars race in the Shootout and the duels. Roush Yates Engines Doug Yates anticipates seeing some failures during the event.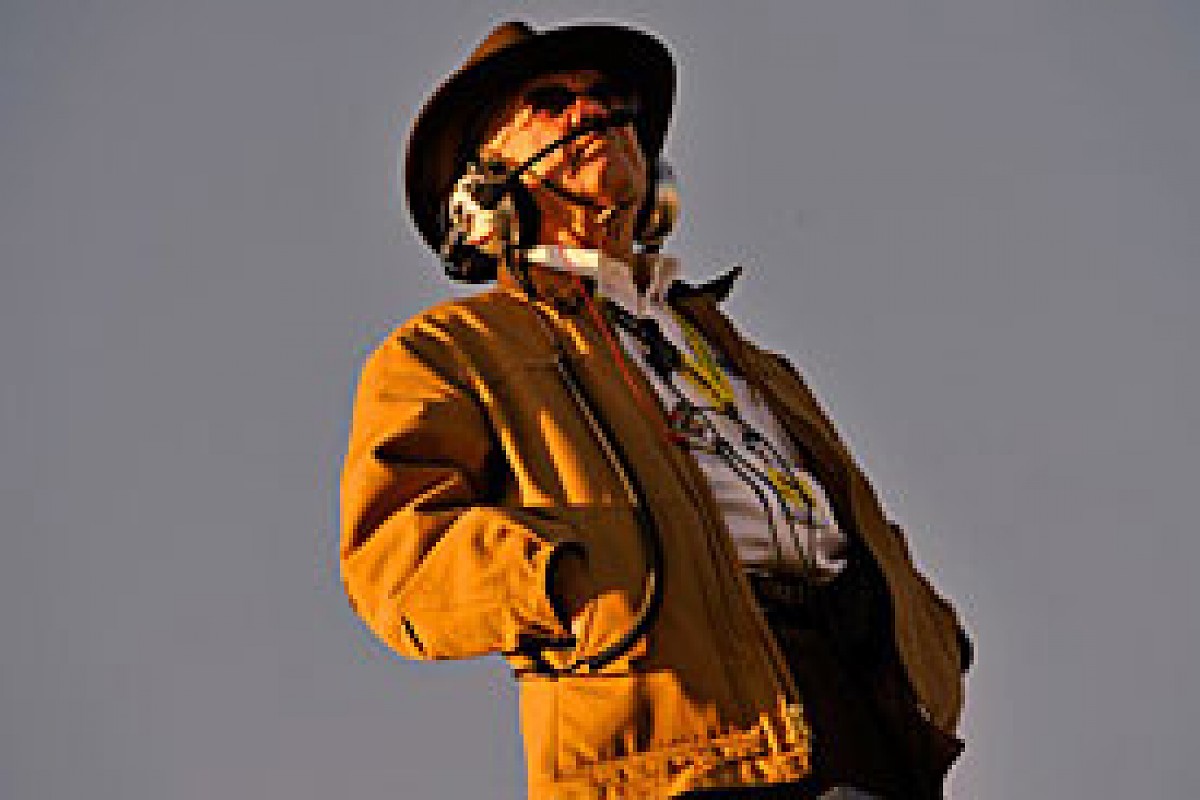 Jack Roush is confident his team can optimise the technique © LAT
"As an engine builder, I think the situation is controlled for everybody, but we've seen some and we probably will, especially if the drivers let the temperatures get out of control or if the cooling systems exceed their capacity and then have to come back down and operate the rest of the day, which is really tricky and something we have to be on top of," said Yates.
"I'm anxious to get into the race and get through the race and then go from there, but I like what I see so far. I like the fact that our cars can push so long and just as long as our drivers do their job right and position ourselves at the end where we've got a shot at this thing, I think we're gonna be good."
As the new drafting technique continues to evolve, some still wonder what the right position to be in should be exiting the final turn on Sunday night.
Last Saturday Denny Hamlin came out second from turn four and while overtaking leader Ryan Newman he drove below the double-yellow line at the bottom of the track and was penalised. Meanwhile In Thursday's duels, the cars leading out of the last corner were able to remain up front across the finish line.
"Both races the guy in the front won," says Montoya. "It is hard to know, and I think the 500 is going to be different because you are going to have double the packs. You had what, four or five packs per race, now you are going to have 10 packs of twos.
"Ten packs of twos, three-wide, there is nowhere to go. It is going to be hard. You are going to have to be patient. The pit stops are going to be a key factor. Working well in the pits making sure you come together, make sure you come out pushing. I think that goes a long way."
With 43 cars on the track it will be inevitable that a driver is left alone as the odd man out as everyone hooks up with a drafting partner.
The 53rd edition of the 'Great American Race' promises to be as exciting as it will be intriguing.