Just as Formula 1 passed into darkness for a time after May 1, 1994, when Ayrton Senna was killed in front of millions of television viewers, so NASCAR suffered an immeasurable loss when its greatest character Dale Earnhardt was killed in what seemed at the time to be an innocuous crash during the climax of the 2001 Daytona 500. Instead the accident and the race left a deep mark in the sport's history.
It's now ten years to the day since that sunny February afternoon, when the man known as 'The Intimidator' died on the final lap of an event that took him almost 20 years to win. Ironically, the team he founded, Dale Earnhardt Incorporated, went on to take a 1-2 finish with Michael Waltrip followed by his son Dale Earnhardt Jr in that race.
It was arguably the team's greatest competitive moment, but instead it will be remembered as its worst. There was nothing to celebrate. NASCAR had lost its leading light, whose legacy goes way beyond his seven championships and 76 victories.
They used to say Earnhardt could see the wind while driving in the draft. Some close who were close to him say that while that's not true, he could hear it, he could feel it in his face always exposed under his open-face helmet. He was a great restrictor-plate racer
Earnhardt raced aggressively and was feared by many, respected by everyone. His trademark #3 plate is a NASCAR icon, one that his son has refused to run while carrying on his shoulders the huge weight of expectation that a legion of fans want to see live on.
As we mark the tenth anniversary of the great man's death, AUTOSPORT has collected together the personal recollections of NASCAR figureheads, contemporary stars as well as some of Earnhardt's rivals from the time.
Jeff Gordon
Four-time Sprint Cup Series champion and one of Earnhardt's fieriest rivals, remembers an IROC race where he came face-to-face with the man.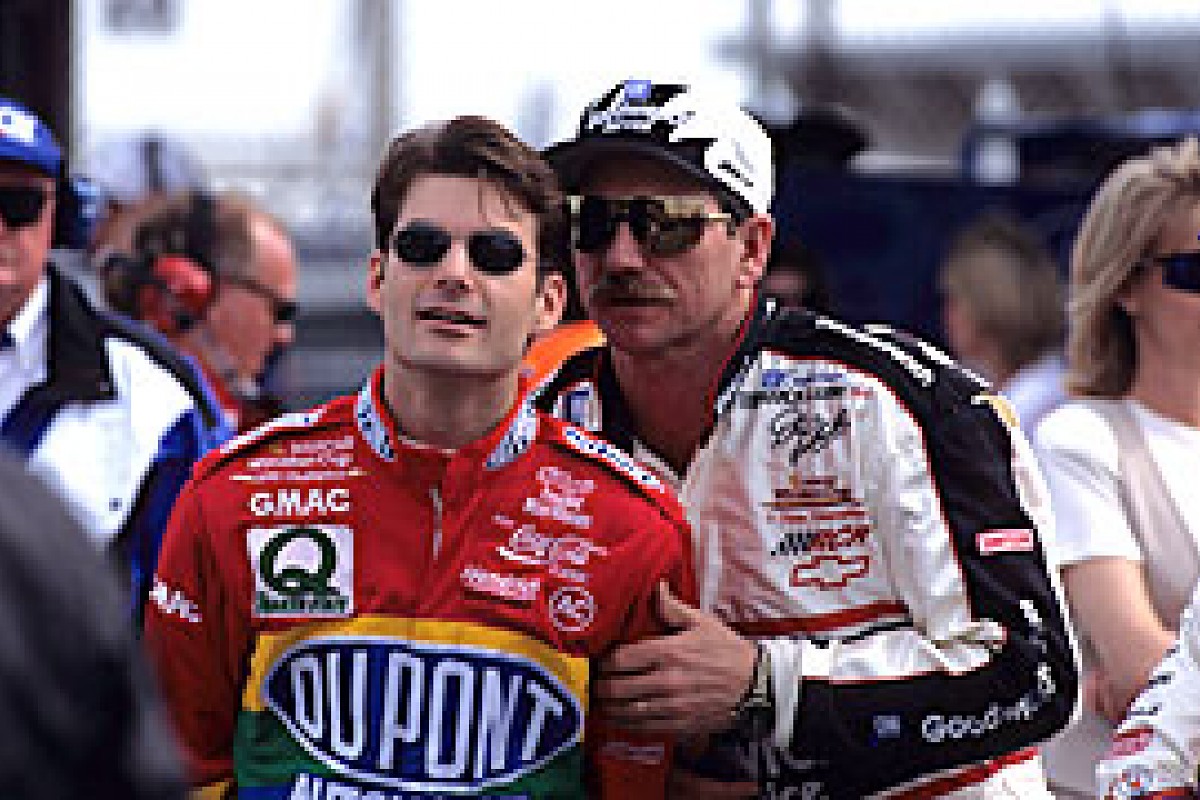 Jeff Gordon and Dale Earnhardt in 1996 © LAT
"I think there was probably three or four of us out there on the track, and I know Dale was one and [Ken] Schrader was one and I was one. I was pretty new to the IROC series and learning those cars and the way they drafted and everything. So I was just kind of a kid in a candy store having a great time.
"I remember that I think Schrader was leading, I was running second, and we came off Turn 2 and Dale gave me a pretty good push... And back in those days you had no headrest, you could pretty much see all the way inside the car. And I remember looking to the right at Schrader, and he was just looking ahead, focused, because we're three wide. And I looked to my left, and Dale is over here like... he's kicked back he's got one hand [resting on a rollbar], one hand on the steering wheel, he's looking at me with this big grin on his face.
"And I realised at that moment I'm three wide in between Schrader and Earnhardt. And back then you couldn't go three wide into Turn 3. And I was like, now, which one of us is going to lift? I'm not going to lift. I'm not going to lift. As we got closer to Turn 3 and I look over at Dale, I realise I was going to have to be the bigger person in this moment and lift.
"And thank God I did, because I lifted and Dale went in there sliding all the way up three lanes, got in front of Schrader, and it would have been a heck of a wreck.
"But I'll never forget that look on his face and just how relaxed he was in that race car at that moment when I was freaking out because we're three wide. It's just one of the many stories that stood out for me with Dale."

Dale Earnhardt Jr
The Hendrick driver, whose amazing popularity derives from being the son of a legend, remembers how his dad was off the track.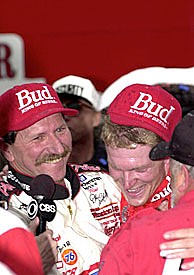 Dale Sr celebrates his son winning at Texas in 2000 © LAT
"He was a lot of things to a lot of different people. You know, I just wanted to be - he was intimidating, like they say. He was like that as a father when he was at home. You wanted to please him all the time, make him happy. Whatever you did, you wanted it to somehow get a response from him.
"I think as I was growing up, you know, you tried to get away and do your own thing and have fun as a kid but at the same time you wanted to make your parents proud, and you sort of found your direction by listening to them inadvertently, whether you wanted to or not.
"They sort of helped you find whatever it is you wanted to achieve in life. My dad was there to guide me in a lot of good directions that helped me out a lot.
"I think that I tried to have some of the same good qualities that he had. The qualities that I enjoyed about him, I tried to emulate those as best I could and keep those qualities, as well, because I felt like it made him a good person."
Jimmie Johnson
The five-time Sprint Cup Series champion wishes his path and Earnhardt's would have crossed.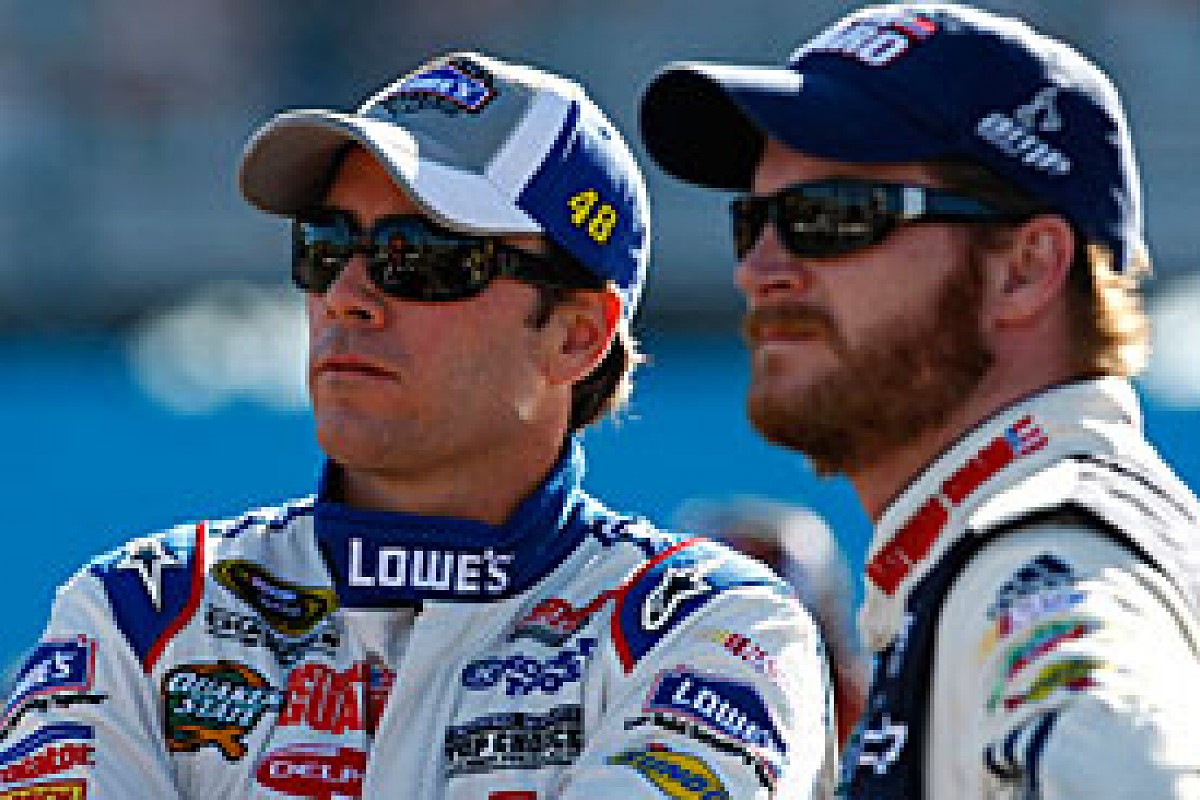 NASCAR's current top dog Jimmie Johnson is team-mates with Earnhardt's son © LAT
"I never was able to race against him. My standpoint is watching him on television and being a fan of the sport. My brother picked [Dale Earnhardt] Senior as his driver when we were kids, and I certainly couldn't align with my brother in his thoughts. It was my job to beat him up and often as possible.
"So I had my driver, my brother had Senior, and I remember a lot of times, my guy was getting waxed by Senior year after year. I didn't know him as a competitor.
"I met him a few times in passing. That's one thing that I really wish I could have experienced was the intimidation factor that he had on and off the track and being around him and watching him work through the garage area and to help advance the series and to work with NASCAR and his interaction with the fans.
"You just hear some stories, I hear so many stories today about him but I never had a chance to see him first-hand. I have a great deal of respect for who and what he was and what he did for our sport, and I regret that I didn't have a chance to know him."
Kevin Harvick
Dale Earnhardt's successor at Richard Childress Racing, remembers a personal story.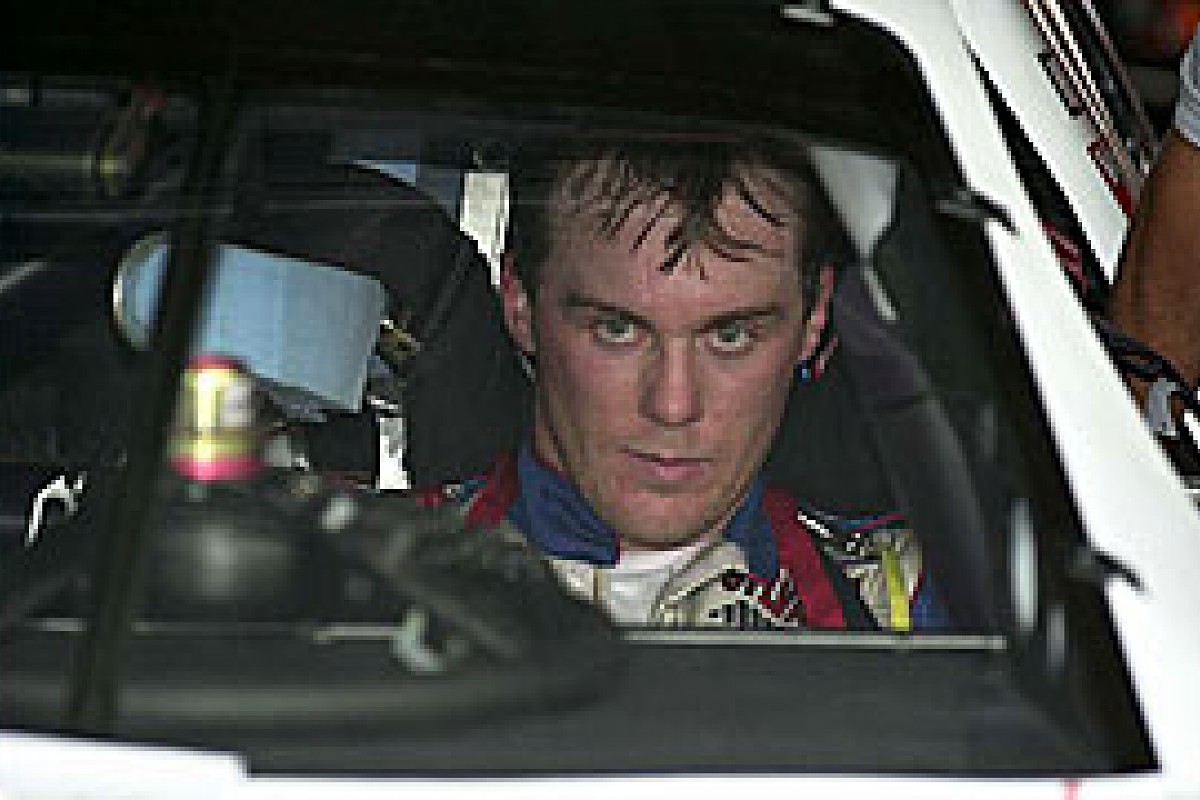 Kevin Harvick was the man charged with carrying the RCR crew after Earnhardt's death © LAT
"Probably one of my favourites was just the first time that we went and tested his car in Homestead. It wasn't the first time, but it was the first time we got in trouble for testing his car.
"But we went to Homestead in... I guess it was 2000, right at the end of the year, and we went down and tested and we ran really fast. And we got to Phoenix the next week and he was irate because we had gone and tested his car and because nobody told him. So he dragged myself and Kevin Hamlin and Richard [Childress] into the trailer. And I don't know why but Dale Jr. just happened to be in there that day, but he was really pissed that nobody asked him to go.
"And Hamlin, I'm sure you guys all have talked to him, you know how he talks in this kind of smart aleck way he says: 'Well, every time I ask you, you just don't want to go'. So we went anyway and ran faster than anybody else, and he was mad because everybody was asking him when he was going to retire and why people were testing his car and why he wasn't putting an effort in.
"He was mad that day."
Michael Waltrip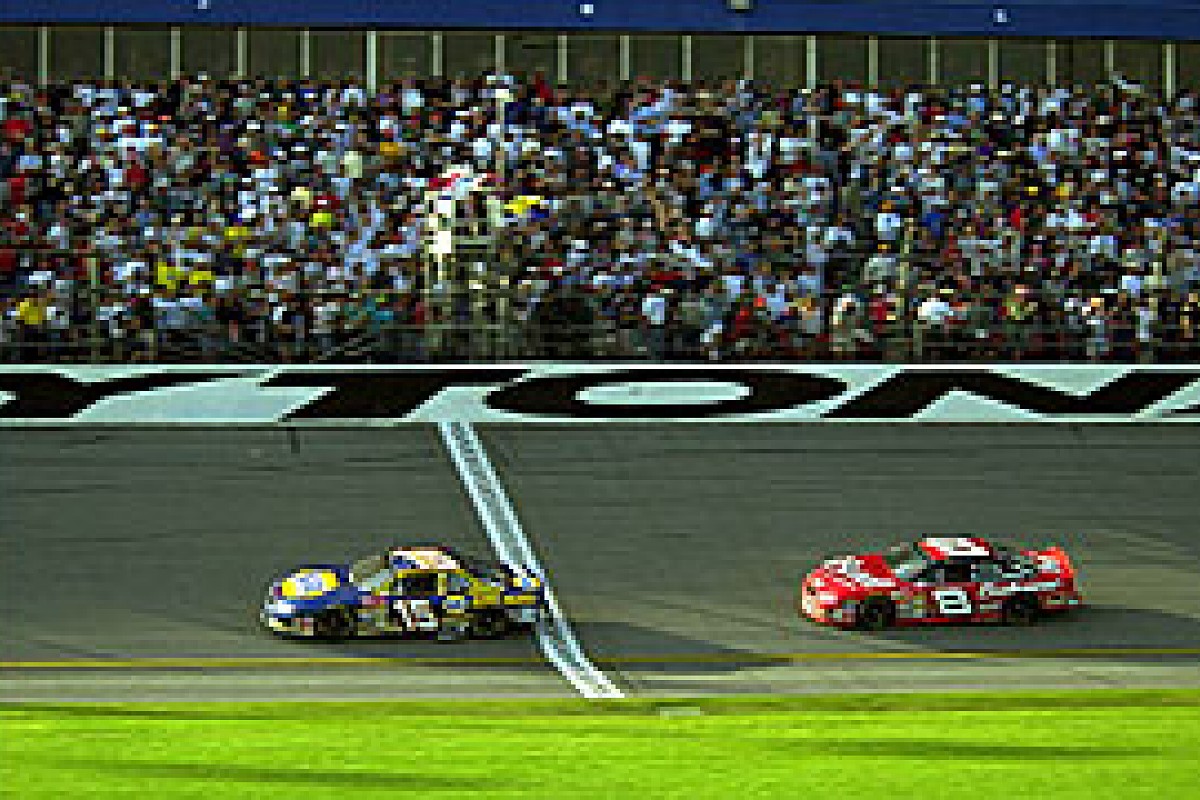 Michael Waltrip wins the 'worst race ever' - the 2001 Daytona 500 © LAT
The Sprint Cup team owner wishes he could have celebrated his maiden Sprint Cup win with his boss at Daytona in 2001.
"That day was a quarter-mile away from being maybe the best Daytona 500 ever. It was an amazing race - it had everything - an upset-winner, the champion Dale battling those guys, it was just an amazing race. Now, instead it's the worst race ever.
"You won't ever see that race in the greatest races in Daytona history because it's the worst. I live with that. I'm the winner of that race - that's what it is. Certainly I'm not here to celebrate that, I'm just here to honour Dale. Everyone is going to have a heavy heart."
Tony Stewart
The two-time champion says part of Earnhardt's legacy lives on the current safety standards of NASCAR.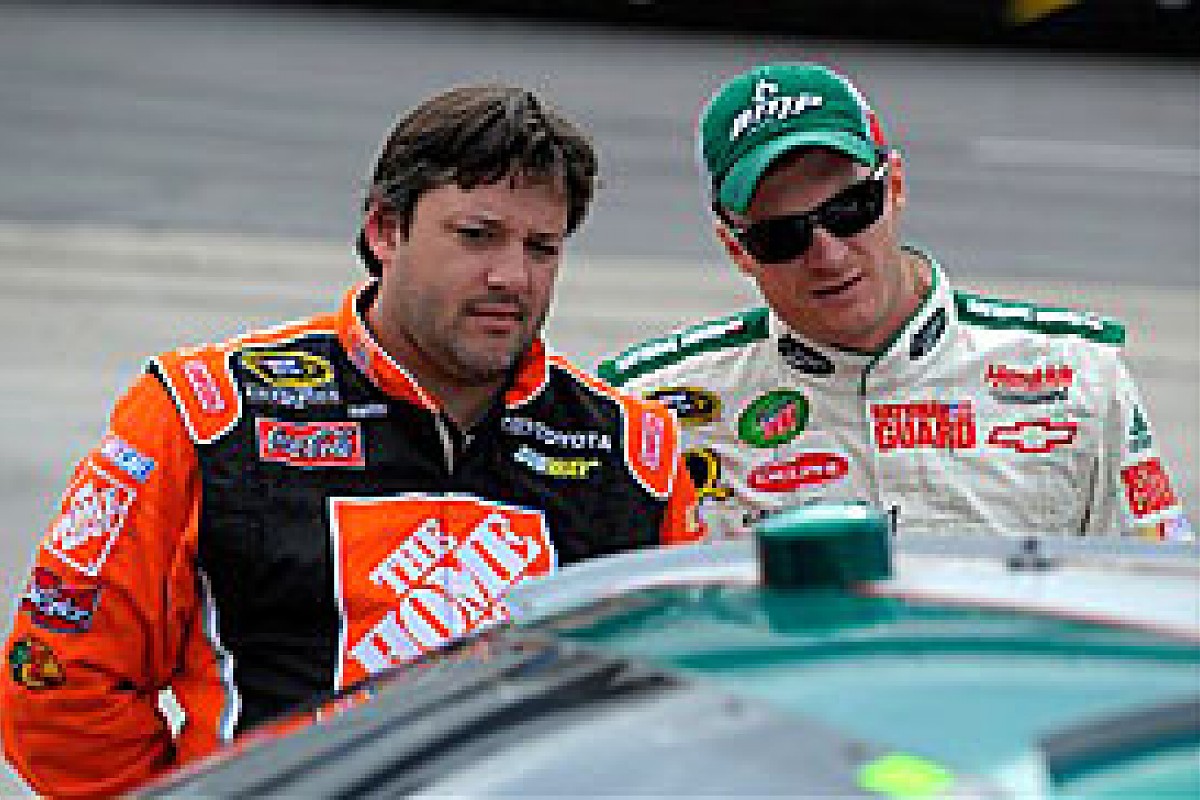 Tony Stewart says NASCAR has come a long way in safety terms since Earnhardt's death © LAT
"I just think it took a while to realise that we were in a time frame that people were starting to lose the edge on the safety side and it had to be revisited.
"The good thing is now, because of all this, we have a group that's dedicated to the safety aspect of our sport, and NASCAR is taking the initiative. Every year there's a meeting about the progress, what they've found in new studies, what we can do with helmets, safety belts, seats, materials inside the car to make it safer for us, how we build the cars to make them safer. It's all been positive.
But it wasn't because of one guy. There were other guys that we had that were friends in the sport that lost their lives that also contributed to that movement of having to take a hard look at it.
One crash didn't change our sport from the safety side. It was a lot of instances in a short amount of time that forced our sport to have to look at where we were and re-evaluate the sport from that side."
Mark Martin
NASCAR veteran and Dale's rival says before Earnhardt's death there wasn't enough being done to make cars and tracks safe.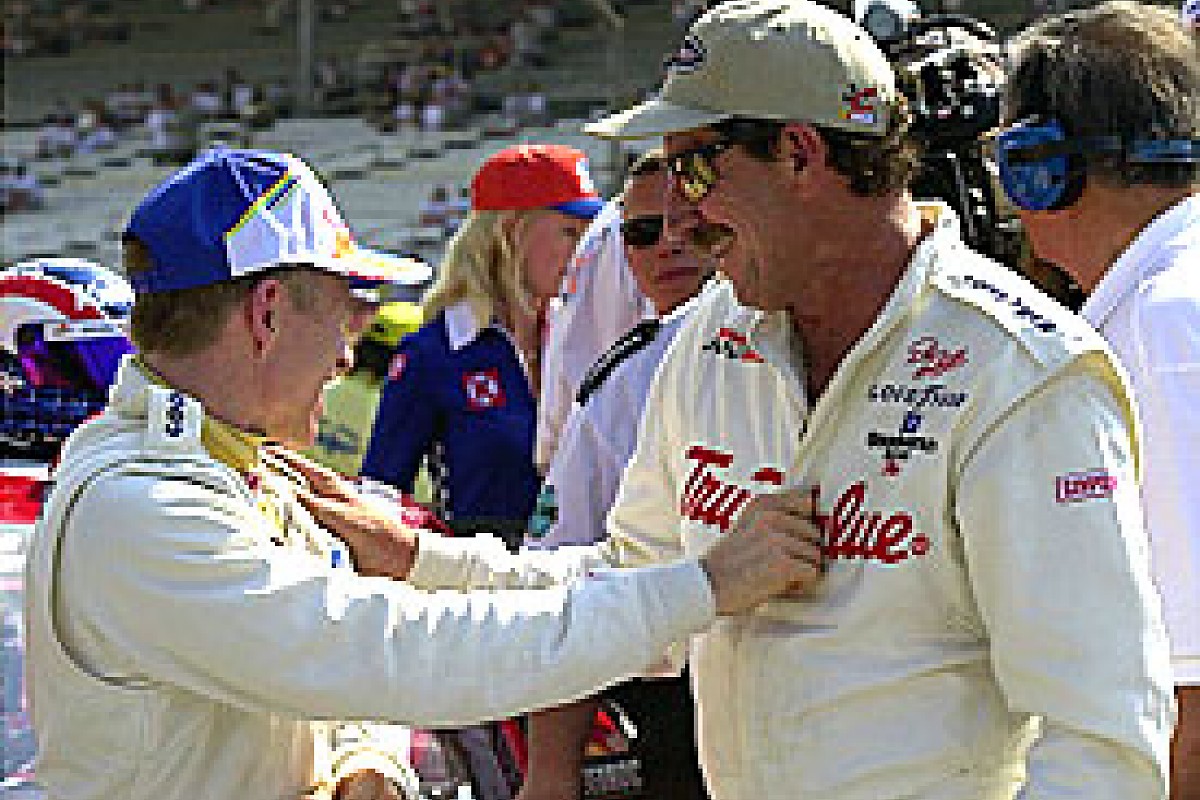 Dale Earnhardt and Mark Martin were great rivals © LAT
"It's amazing and it's just something that we didn't put enough thought into. It didn't have to be the way it was. The seats that we drove in were ridiculous... ridiculous.
"When I first came to NASCAR racing in 1981, the seats that were used in NASCAR racing were... it was just outrageous. You know it could have been so much better but when you think back to when they raced without seat belts... that was ridiculous too, so we were just in the Stone Age.
"And where we are today, I just don't see where you can make big leaps and gains like we did with the safer barrier, the HANS device, and the seats and the headrests and head restraints."
Kurt Busch
The 2004 Sprint Cup Series champion, says NASCAR lost one of its leaders when Earnhardt died.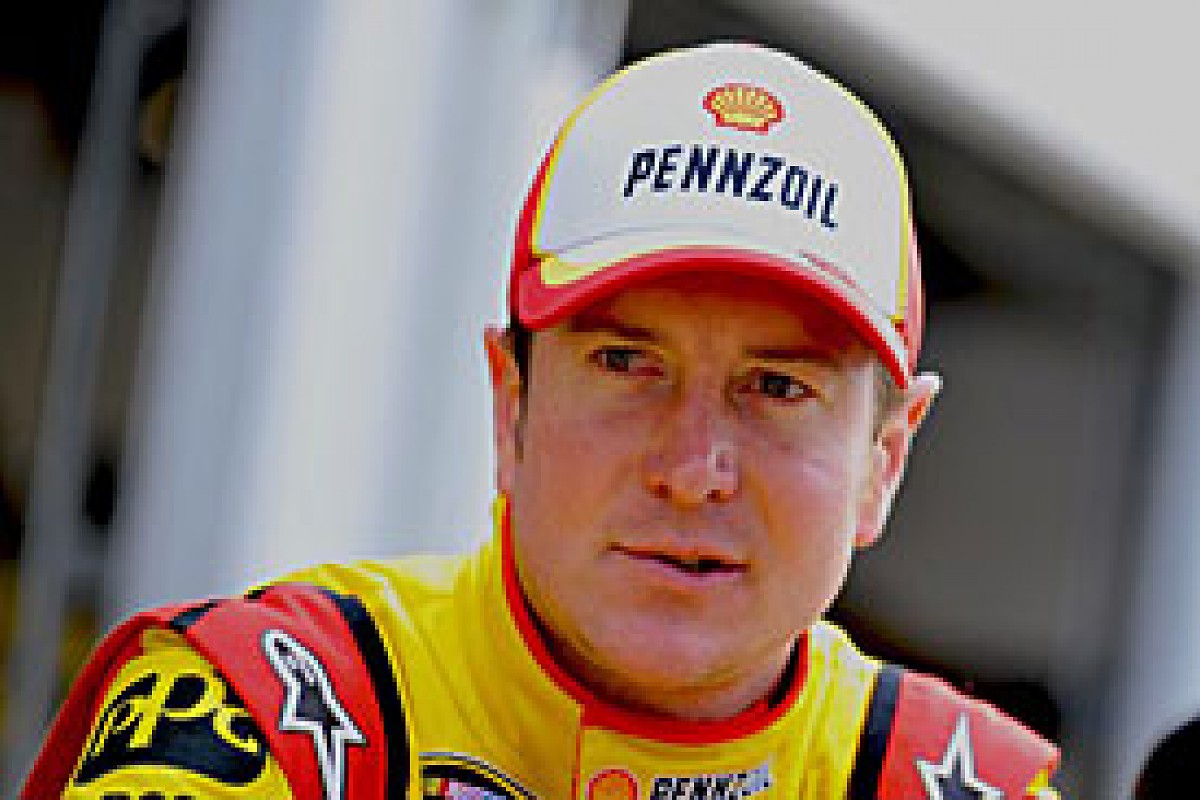 Kurt Busch made his Daytona 500 debut in that fateful 2001 event © LAT
"Just his name and just the Earnhardt legacy and the Daytona mixed into the same sentence is so powerful. For him to have gone 20 years before he won his first time here [at Daytona] in 1998, it was amazing to watch, the outpouring of support from all the teams, of course the fans, the other drivers.
"He's always been the intimidator, and he's always been one that was an innovator out on the track with the draft, and when he passed away, we lost so much as far as our leadership in the garage area and how he could communicate with NASCAR and to develop rules or to explain to them how the cars needed to be changed or adjusted.
"The one thing that came from his passing was the safety innovations in our sport, and that is what has continued on as his legacy, how we've kept so many drivers safe since that point. It was a tough race.
"That was my first-ever Daytona 500, and to have that type of news and to have those feelings, like man, what am I getting into, we just lost the most iconic individual of our time, obviously other than Richard Petty, in this race, and here I am starting out my first race. It's been an amazing ten years since it's happened."
Denny Hamlin
The 2010 Sprint Cup Series runner-up never raced against Earnhardt, but remembers crying when learning about his death while following the sport as a kid.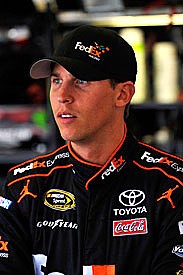 Denny Hamlin admits he cried when he heard Earnhardt had died © LAT
"I remember watching the race obviously and seeing it and it's just like everyone else thought, it didn't look too bad. Then next thing you know you get a phone call and someone says they heard something and next thing you know you log onto the internet and there's rumours here and there on whether he has or hasn't passed.
"Then the next thing that you know it becomes reality when you see his face on TV.
"For me, I remember that as a race fan that was probably the first time I've ever cried because of something else outside of my life that has actually happened. It was a big event. Trust me.
"I'll say it right here, I wasn't the biggest Dale Earnhardt fan. I was a big Bill Elliott fan and he was the alpha. But still, everyone had a respect for him and obviously he touched a lot of people even though he might not have been your favourite."

Jeff Burton
Long-time NASCAR racer remembers stories from his boss Richard Childress about him dealing with Earnhardt back in the day.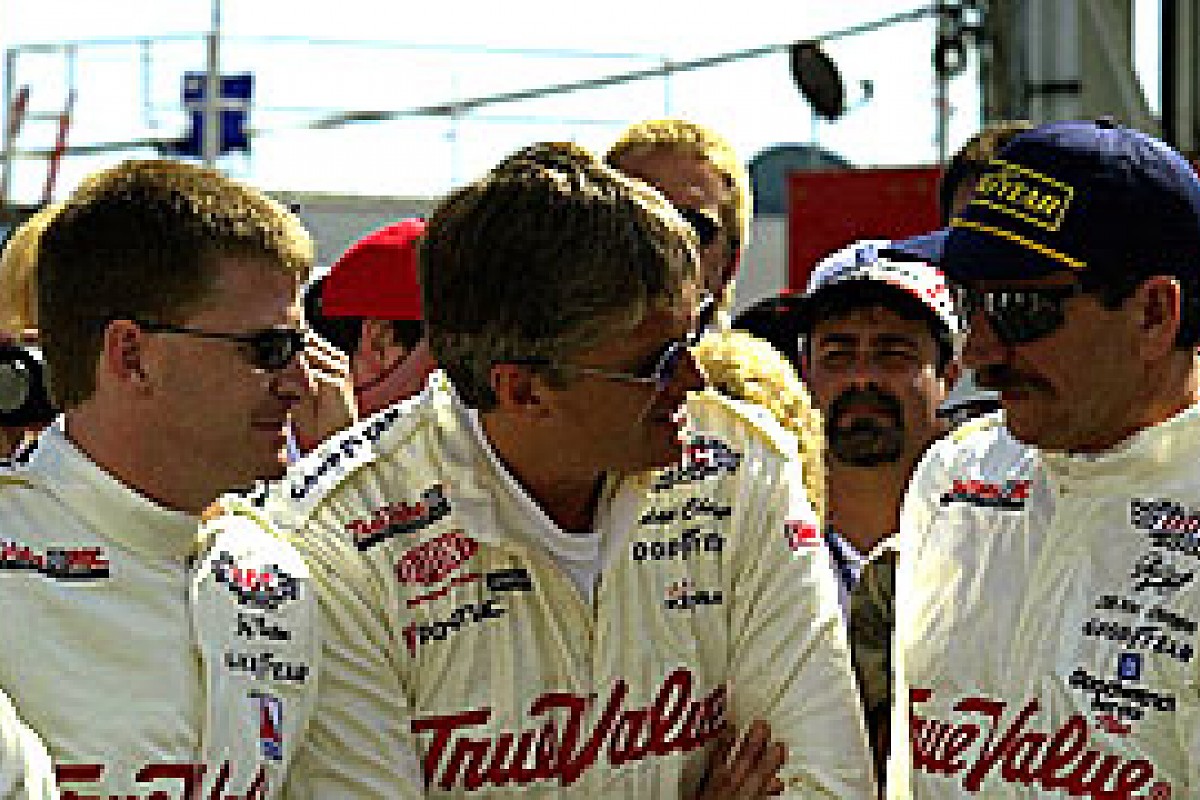 Jeff Burton with Eddie Cheever (middle) and Dale Earnhardt © LAT
"I wasn't part of RCR back then... For Richard it means a great deal, so that means that it means a great deal for us. Dale and Richard were tight. You know, it wasn't just boss, it was two friends and they supported each other through good and bad.
"We tend to glamorise it but they had a lot of bad times, too. Richard tells a story of him saying, 'Look, man, I can't put you in the kind of cars you need to be in right now, you need to go drive somewhere else.' Dale says: 'No, I drive for you. We're going to work it out. I'm your driver.'
"He has so many stories of Dale doing things to make the company better. They respected each other. When Dale was killed, he lost more than a business partner."
Rusty Wallace
Rival and friend of Earnhardt, says he was powerful and persuasive with the sanctioning body.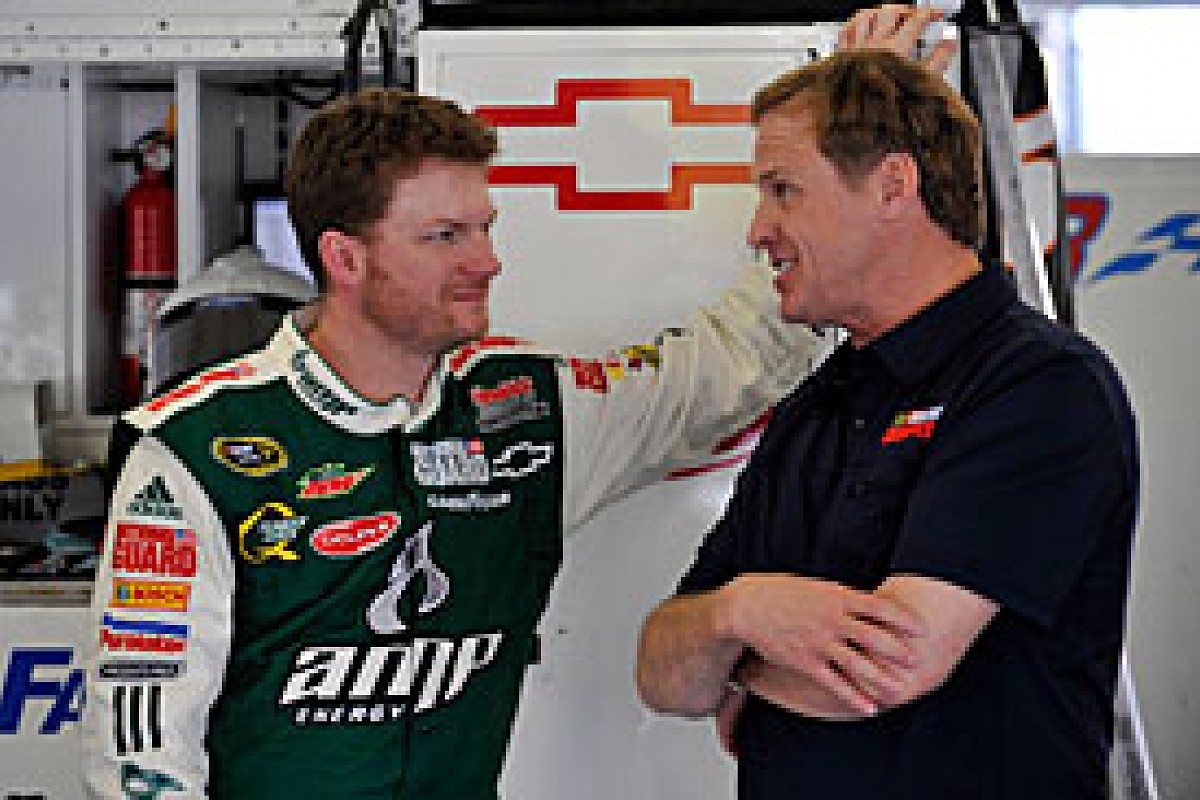 Rusty Wallace (right) was a rival and a friend of Earnhardt's © LAT
"He was very, very persuasive with NASCAR about what he thought was right and what was wrong, whether it was what was on the track or off the track or rules. If he didn't like what he saw, he would be the first one to complain about it.
"'Hey, that doggone Ford is faster than my Chevy.' He would voice an opinion. I think one of the things he was good at was that he knew what was right and wrong for the sport."

Bobby Labonte
The reigning champion when Earnhardt died, Labonte remembers how the man helped him along his career.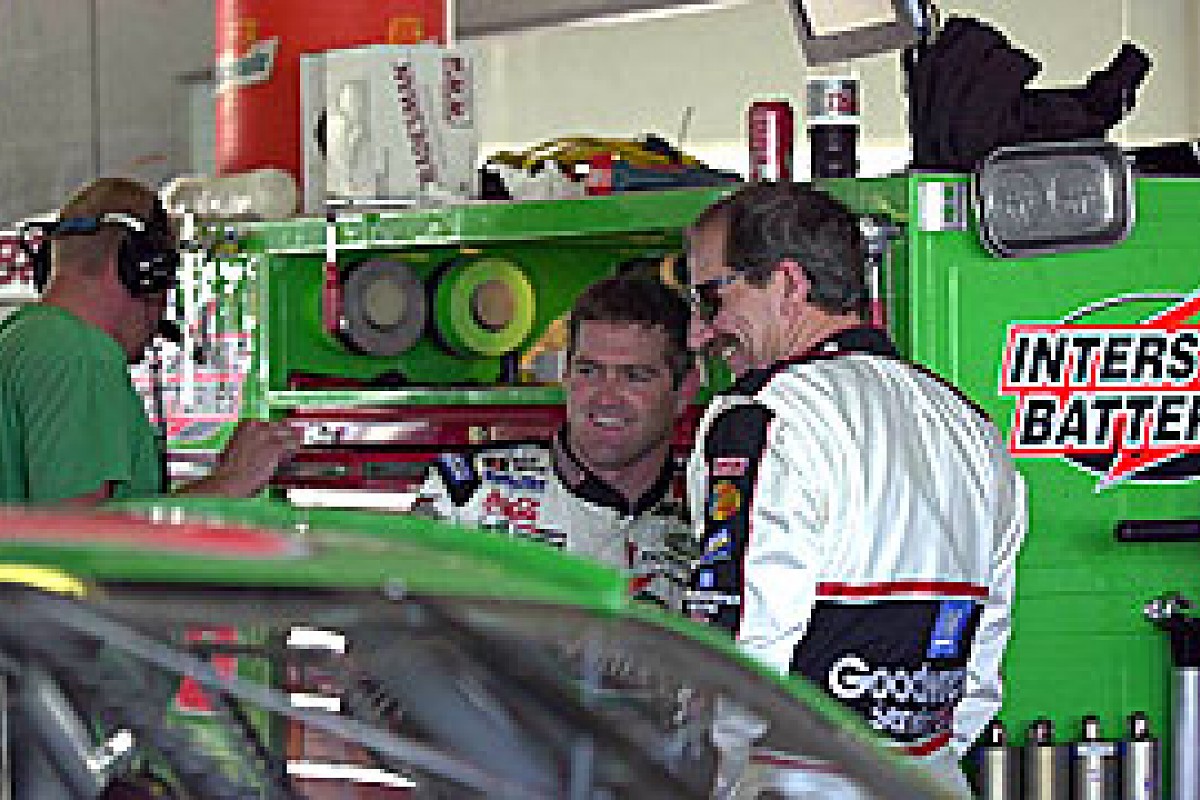 Earnhardt helped Bobby Labonte get his Cup-winning Gibbs drive © LAT
"There are a lot of things that he did for me and for the sport that a lot of people don't know about. He had conversations with Mr [Joe] Gibbs when Dale Jarrett was leaving, 'Hey you have to get him to drive that car.' Talking about me.
"I didn't know that until later on.
"My on-track experiences that I've gone through with him had been me racing pretty hard and pretty clean. I know I made him mad probably a couple times and he made me mad a couple times, too. The respect was at a high level. I tell a story about one of the greatest moments I had with him. It wasn't at a race track, it was at his farm.
"We went there for a meeting with Gibbs and some NASCAR people and we just happened to have it in his office with Theresa [Earnhardt] and afterwards he asked, 'What are you doing?'
"'The wife is taking me home, I got to go home.'
"'Come here,' he says and spent two hours showing me the shop, and you could see that Dale... It wasn't the same one you saw at the racetrack. To me, I learned a lot more about him that day than I had ever, because when you see someone at the racetrack, they have their race face on. This was not the same one."
Mike Helton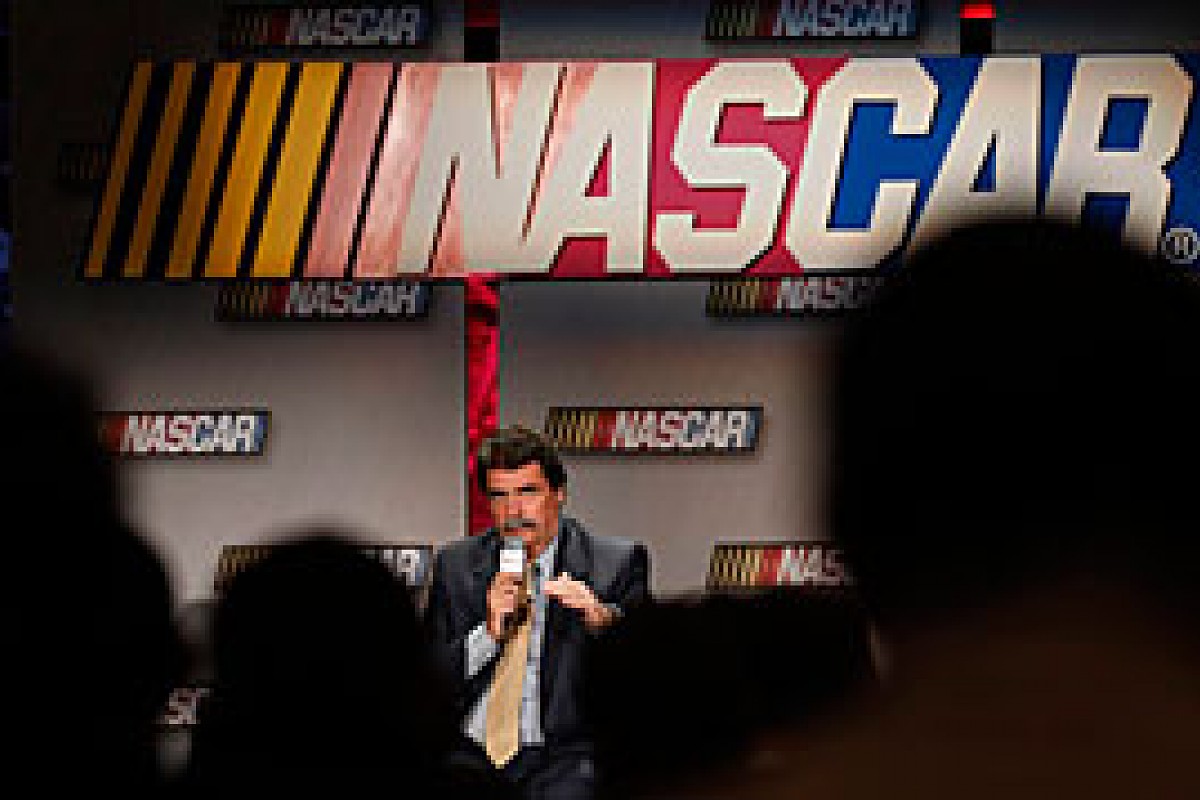 NASCAR president Mike Helton © LAT
President of NASCAR was a close friend of Earnhardt but he had to break the news of his death after the 2001 Daytona 500.
"I don't know that finding a replacement for any athlete does that athlete justice, or whoever you think should be the replacement. That's not fair.
"I think that we have had, as other sports have had, one-of-a-kind athletes. Richard Petty was one unique character. Junior Johnson was one unique contributor. Dale Earnhardt was one unique contributor, and you don't really go looking for replacements."