Just a couple of weeks ago Chip Ganassi kicked off his 2011 racing season in style by winning one of the few big trophies he missed out on last year. His Riley-BMW prototypes finished 1-2 in the star-studded 24 Hours of Daytona, an event his team had won already three times in the last five years, but finished second in 2009 and '10.
This time his cars overcame a number of challenges and went on to lead nearly 60 per cent of the laps, despite Grand Am officials shedding off a few rpm's from their BMW engines ahead of the event in an effort to 'equalise' the field. Ganassi is the reigning Rolex Series champion after winning nine out of twelve races, in what was arguably the best year ever for Ganassi's organisation as a whole.
Let's recap. Ganassi won the IndyCar Series title and the Indianapolis 500 with Dario Franchitti. Jamie McMurray gave Chip the team's first victory in NASCAR's marquee event - the Daytona 500 - and also treated him to a second trip to Indy's victory lane in 2010 at the Brickyard 400, a race that Juan Pablo Montoya dominated before a strategy call placed McMurray on the edge of more glory.

Jamie McMurray and Juan Pablo Montoya © LAT
Neither driver made the Chase for the Sprint Cup, but they won four races between them, a figure that the team has never seen before in its relatively short NASCAR history. Ganassi even achieved something that Hendrick Motorsports couldn't last year, winning races with more than one driver.
For what it's worth, Ganassi has been in NASCAR for 10 years. His first Daytona 500 was the same race in which Dale Earnhardt lost his life. The legend is now part of the Ganassi legacy as the team known as Dale Earnhardt Inc was merged with Ganassi's two years ago and is one of the key ingredients in the team's upswing in performance.
The #1 plate that McMurray drove to victory three times last year was the same that Steve Park took to an emotional victory for DEI at Rockingham a week into the aftermath of Earnhardt's passing. As it is named now, Earnhardt Ganassi Racing went on to make the Chase with Juan Pablo Montoya in the first season of the merger, before ticking the boxes of winning NASCAR's top events last year.
It has taken a while, but Ganassi's Midas touch is beginning to work the magic.
Mike Hull, Ganassi's right hand for his IndyCar and Grand Am programmes, has been closely watching his NASCAR counterparts operate on the track during the Daytona events this week.
He's been a Ganassi man since 1996 and has been able to see the NASCAR programme transform over the years. He admits he hasn't been too involved as he works out of the team's Indianapolis base, but labels himself an 'informed observer' of what goes on in the team's shop in Concord, North Carolina.
"Over the time that Juan has driven for Chip in NASCAR, there's been terrific positive change," says Hull. "Just the fit and finish of the cars that I see today when I come to the race track, the way the cars are prepared, being ready with spare parts, being ready to react during the race. The team is enormously better than what it was several years ago because the team was growing.
"It wasn't that they weren't trying. It's just that as you grow a team, you grow all the systems within the team's framework. I think it's the best two-car team in Cup, in terms of how they work together. It represents partnership, like we like to do across the board. It's an unselfish environment and Juan is an integral part of that growth."
Graham Rahal, Chip Ganassi and Charlie Kimball © LAT
Last December when Ganassi announced the expansion of his IndyCar programme with the addition of Graham Rahal and Charlie Kimball, both he and Hull emphasised that they were not turning into a four-car operation rather than two, two-car teams.
Ganassi compared it to the way Hendrick Motorsports works with two separate shops for their four cars, one for the #48 and #88 teams, another one for #24 and the #5. Ganassi's NASCAR shop started with two teams under the same roof in 2001 (plus a Nationwide team that was shut down prior to the 2009 season) as well as the third Cup team that was unplugged from their system shortly after the DEI merger was signed at the end of 2008. Now the organisation operates only the #1 and #42 Cup cars out of a shop initially built with expansion in mind.
"When I got here in 2006 the team was huge, we had three Cup cars and a Nationwide team." recalls Montoya, now in his fifth season with the team that took him back stateside from Formula 1. "Then we shrunk and were nearly shut down, then we merged with DEI, changed manufacturers to Chevy, so a lot has happened since then,"
Montoya has seen half of the process of building the team into what's shaping into: "Right now we're in a very good position and everything has settled down. The sponsors are also happy and I think that's going to help us move forward."
Looking back, the team has taken many stumbles and a complete reengineering process of the whole structure of the team was required to bring it up to a winning standard. "Seems the smaller we get, the faster we go," says Ganassi.
And it hasn't come as straightforward building bridges technically between his NASCAR and IndyCar or Grand Am operations as one might think. While Hendrick, Roush, Childress or Gibbs thrive with three to four-car teams, Ganassi seems content with the model his organisation is currently running on.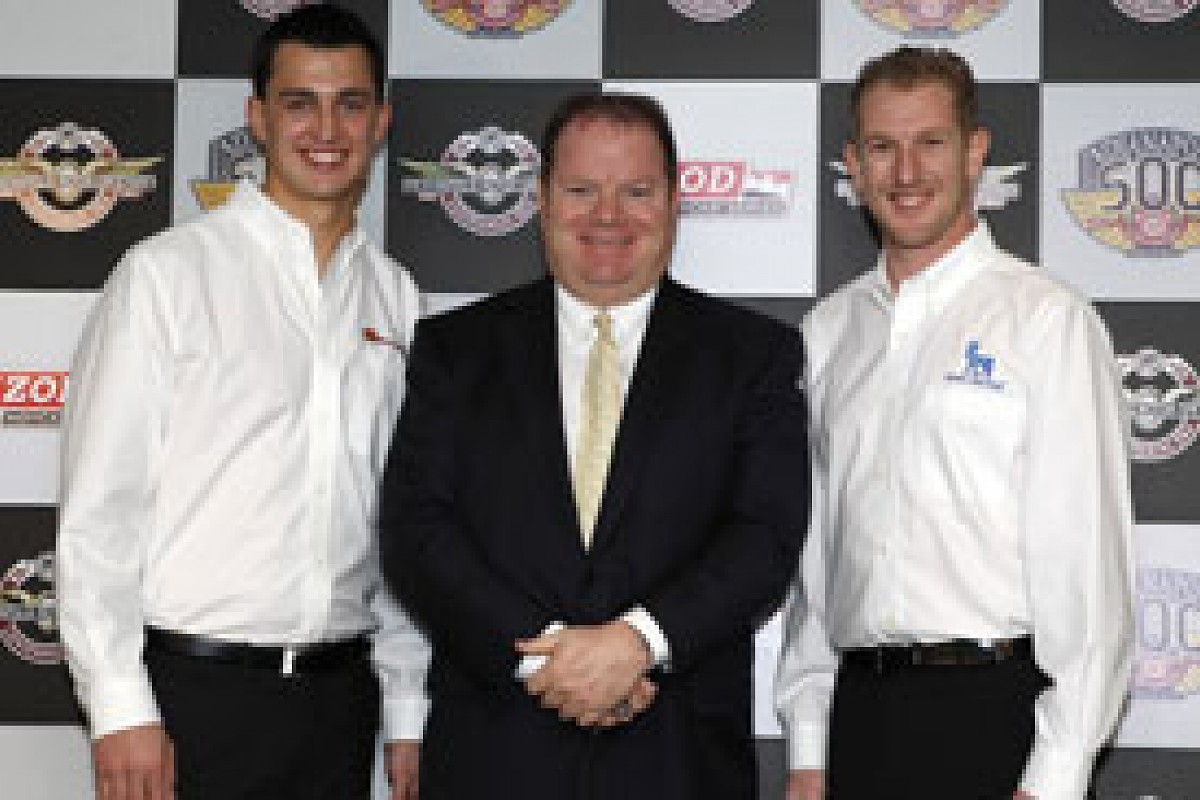 Chip Ganassi © LAT
"When I fill up my tax return in April it's always a seven-car team," jokes Ganassi. "We get information from all our teams into one. [Our rivals] may have more of a concentration of NASCAR information than we do and that's good for them. But last I checked I was not interested in trading places with any of those guys."
NASCAR is very unique in many ways and it's taken a long time for Ganassi to put the right people in place and develop synergies between his two shops. Although there are few similarities between a Cup car and an IndyCar, there's plenty of information now flowing between Concord and Indianapolis, especially given the testing restrictions that have been in place in Cup since 2009.
"Certainly there's some technology that transfers back and forth," Hull says. "If nothing more it could be the simulation engineering in North Carolina talking to their counterparts in Indianapolis, or the shock absorbers or the transmission. There are things that they may not have exactly the same product, but they have a very similar or same process. We can have those people talking to each other, making sure they're grounded in what they're doing."
Judging by the numbers on the large amount of statistics that come out of a 36-race season with thousands of laps, McMurray and Montoya were the best non-Chasers by quite a margin.
An incident between the pair on the third race of the season at Las Vegas was one of several hiccups that ate into their points tally during the regular season enough to put them out of the title equation. Up until the end of 2009, Montoya had been 'the man' at Ganassi, especially coming off a year where he finally put the team in the Chase after many years of narrowly missing it.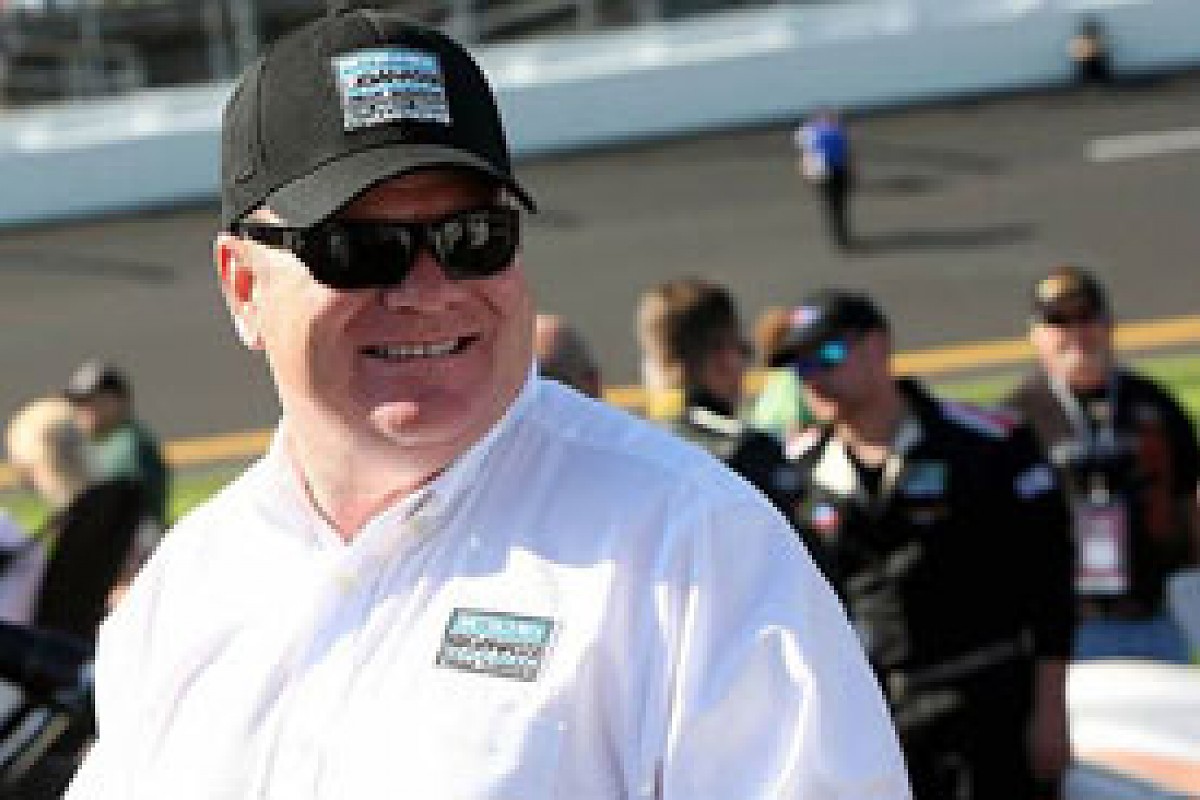 Jamie McMurray © LAT
Then came McMurray's impressive return to the team, which got off to a dream start with a win in the first and biggest race of the season at Daytona.
For the first time in his NASCAR foray Montoya was paired with a driver that really pushed him to raise his game. McMurray was hungry and wished to show his worth after being axed from Roush Fenway Racing. And, in returning to Ganassi, where he had started his Cup career in 2002, McMurray was making the most of his second chance.
Both drivers raced to win, not really settling for points in the conservative fashion that saw Montoya finish every race in 2009. Sometimes the risks didn't pay off and other times they were simply in the wrong place, at the wrong time. In addition, the team had a few strikes before hitting the curved ball thrown by NASCAR when ditching the rear wing of the cars in favour of the good ol' spoiler.
"Last year we maybe took a bit more risks but we thought we had the speed to recover if things didn't work out," says Montoya, who failed to finish nearly a quarter of the races in 2010, incidents and technical failures included. "When NASCAR changed the rear wing for the spoiler in the first part of the season, the aero balance shifted like two per cent to the front and we lost our edge, it hurt us. You can't just change the angle on the spoiler because that's fixed by the rules, so we had to throw everything we had developed for the wing out the window. On the short tracks we got some of it back but we struggled on the bigger tracks, specially the mile-and-a-halves."
Montoya's crew chief Brian Pattie agrees, but he believes they're close to finding a compromise on their overall performance throughout a season. Also, the pair has now been together for more than two full seasons as part of the stability developing inside the team.
"Last year we were probably a bit more reckless than we were in 2009," Pattie admits. "In our Chase year we had a plan and we had one last year but it got shot in the second race of the year when he had an engine fail at Fontana. 2009 was our Chase year, 2010 we had the speed but didn't stick to a plan. If we have the pace that we had last year and stick to the plan like in '09, we'll be just fine."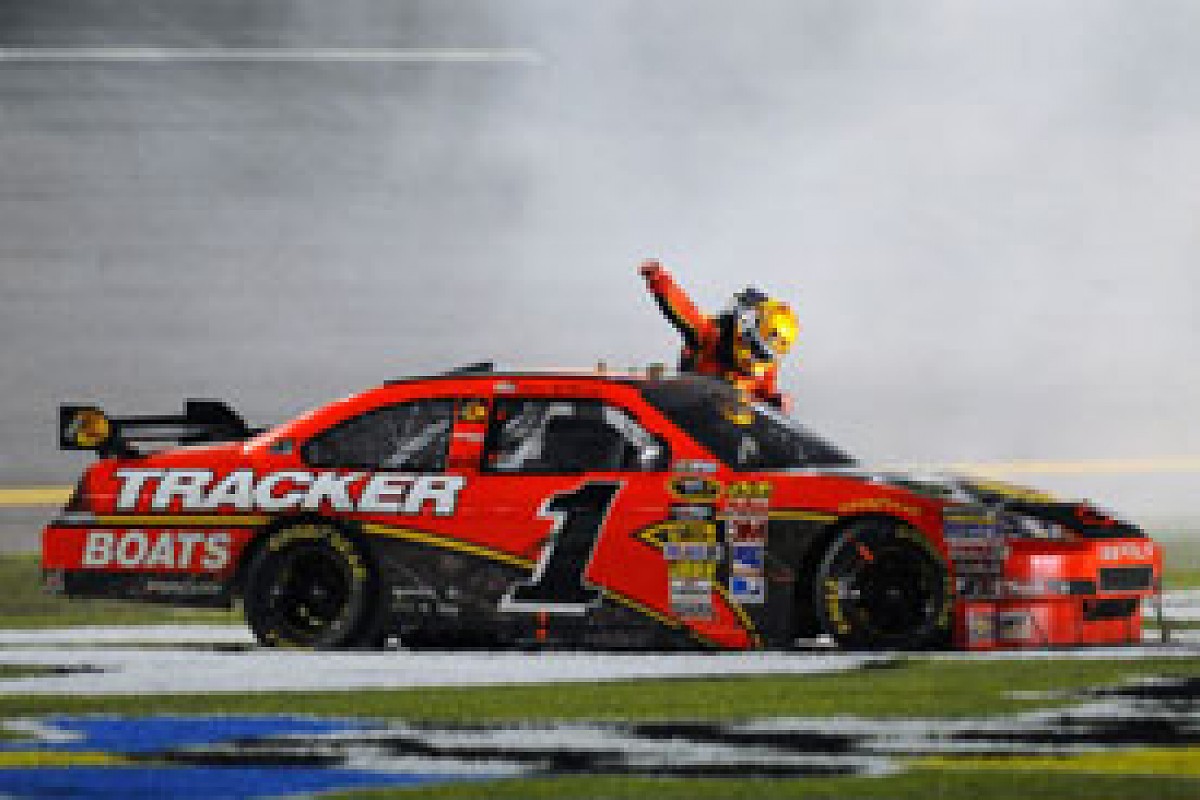 Juan Pablo Montoya © LAT
The Colombian has already won twice in Cup, but both his wins have been on road-courses.
A first oval victory has been close a number of times, especially at Indy and Talladega, but for different reasons it hasn't happened yet. Montoya's stats show top-five finishes at every type of track, so he may actually break his duck anytime given the right circumstances, but if he is to finally contend with Jimmie Johnson and company, which is the team's ultimate goal and their next logical step, he's going to need to win a number of races.
Big names like Jeff Gordon or Dale Earnhardt Jr have both been winless for nearly two seasons despite driving the same cars that Johnson has placed on Victory Lane time and again, but McMurray proved last that his outfit is capable of getting it done.
"If we can make the Chase and win a couple of races, that would be a decent season," says Montoya. "If we're in the Chase I think with the speed we have now relative to two years ago, we could have a realistic chance of fighting for the championship... We've just got to finish the races."
While some like three-time IndyCar champion Sam Hornish Jr have struggled to make the transition to NASCAR, Montoya has settled in despite going at it in his very own way. He admits though that the challenge has come in learning what to look for in the car throughout the long races when conditions change, sometimes drastically, between the green and chequered flags.
"I know I drive the car very differently to other people, but it seems to work for me," he says.
"The feeling in these cars is basically very different to what I was used to but you've got to learn to deal with that.
"Now I feel a lot more comfortable when the car moves around but the hardest part is understanding what it needs in order to improve it during the races, because there's a lot of things you can change."
Similar to his final stint a McLaren in F1, Montoya and his team-mate run very different set ups.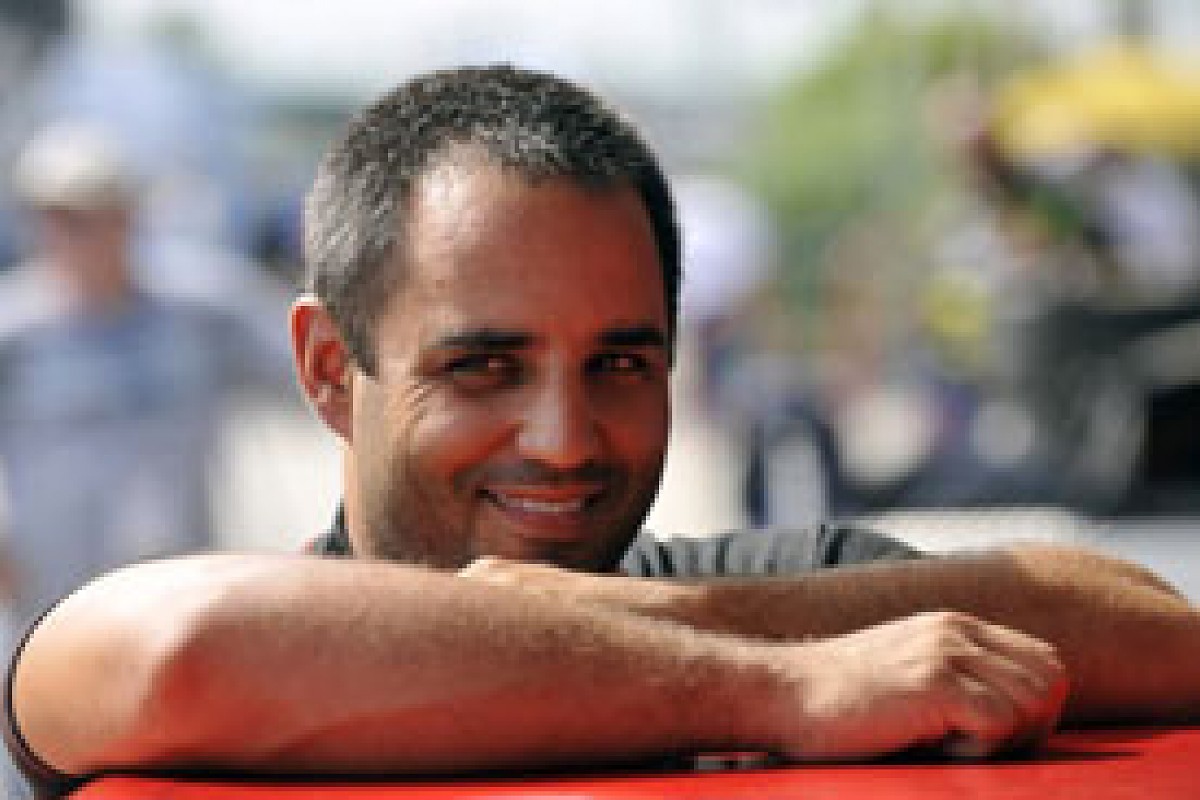 Jamie McMurray and Juan Pablo Montoya © LAT
McMurray has been able to explore through his own path, unlike his time at Roush Fenway, and that has unlocked some of his hidden potential. But behind that there is a very close bond between both drivers' crew chiefs, which brings symmetry to their programmes.
"I think that it's important to keep everyone that we have right now where they are because I think [crew chief Kevin Manion] Bono and Brian [Pattie] have a great relationship and I think that Juan and I, although we're not buddies, have a good working relationship," says McMurray.
"In order to be successful it has to be everybody and what we have right now is a very good group of people together. It's probably more important for the crew chiefs to get along than it is the drivers."
McMurray just inked a new multi-year deal with Ganassi following his spectacular return to the team, while 2011 is contract year for Montoya. There's a number of potential free agents on the market like Carl Edwards, Clint Bowyer, Greg Biffle or Ryan Newman, but some of them are already working on contract extensions and don't look likely to go anywhere else.
In the best interest of keeping the momentum rolling, the team would be better off getting the matter sorted before it starts to become a distraction, but both parties have to agree on the terms of a new deal, nearly five years after Ganassi put everything together to lure Montoya from F1 in the summer of 2006.
Assuming everything goes smoothly on that front, EGR could be on the verge of making the next step. If last weekend's Bud Shootout showed anything, it's that its picking up right where it left off in 2010 as McMurray finished second pushing Kurt Busch to victory in the non-points event.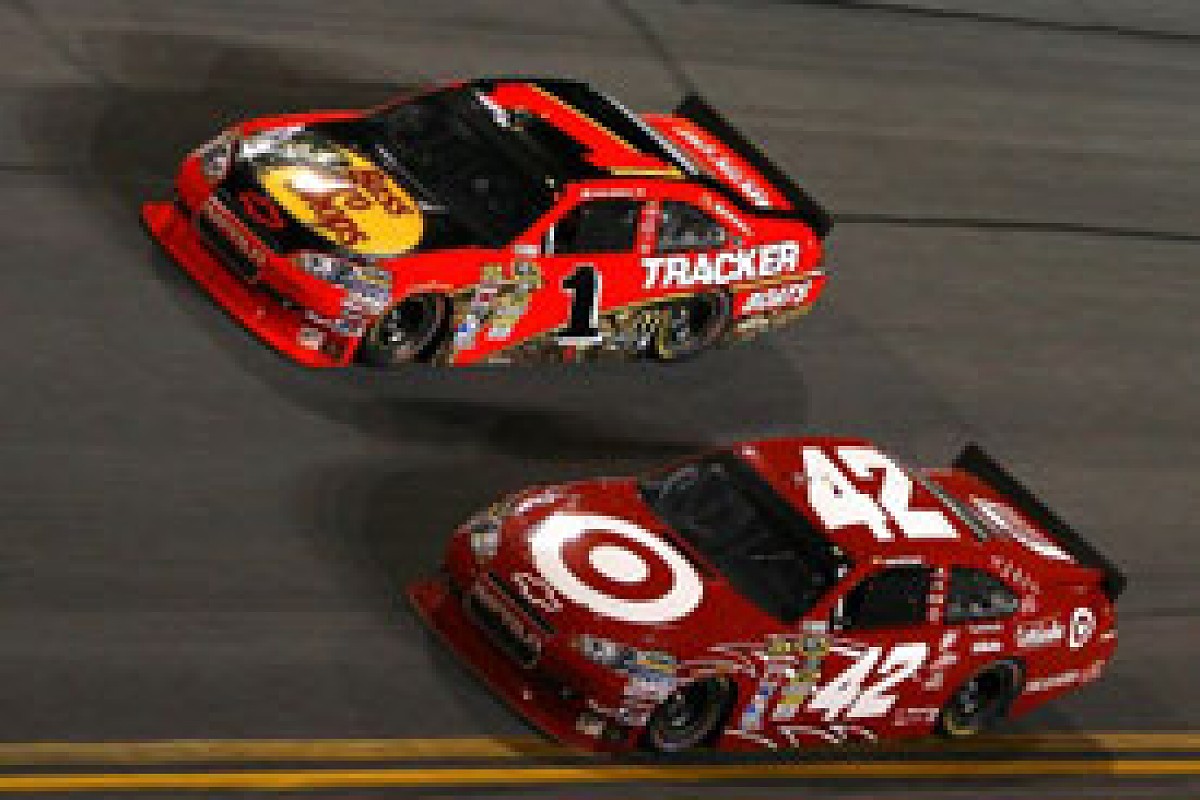 Ganassi workshop
This once again proving the team is building some of the best cars in the field powered by Earnhardt Childress Racing engines, arguably one of the strongest in NASCAR.
In doing so, it also continues to live up to the Earnhardt name, which has always been associated with success on restrictor-plate racing.
"I see all the ingredients are there and they have everything in place," says Mike Hull after carefully thinking how to phrase where Ganassi's NASCAR operations stands ahead of the 2011 season. "They have the technology, they have the engineering, they have the R&D, the manpower, the personnel and the symmetry. They have all the things to win.
"Then it's a matter of successfully lining it up; making it happen."