With a testing ban in place and no significant rule changes for the 2009 NASCAR Sprint Cup Series, it's hard to see how anyone can stop Jimmie Johnson from winning an unprecedented fourth consecutive title. But Carl Edwards believes that with a little bit of luck he can be the man.
By anyone's standards, 2008 was an impressive year for Edwards. A total 16 times he performed his trademark backflip during the NASCAR season, winning nine races in the Sprint Cup to finish runner-up to Jimmie Johnson, and taking seven victories in the Nationwide Series, where he was runner-up to Clint Bowyer.
So yes, a lot of wins, yet no titles to come with them. The big trophies eluded Edwards, but despite that, or probably because of that very fact, many expect him to prevent the No.48 team from rewriting the record books this year.
Recent polls among NASCAR folks place the Columbia, Missouri native as the clear favourite for the 2009 Sprint Cup series title.
"I've kind of tried not to pay any attention to that," says Edwards about his fan-favouritism. "I put a lot of pressure on myself. Once I'm in that race car it's all or nothing. This doesn't change anything."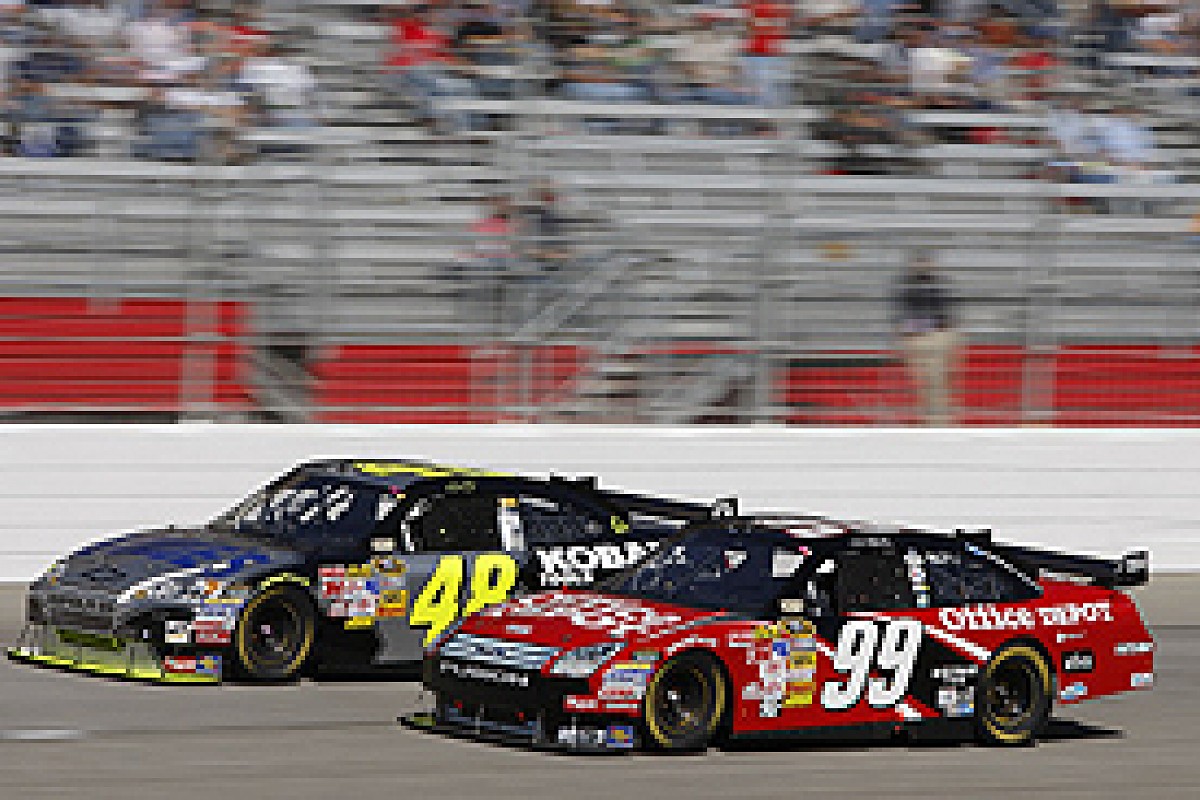 Carl Edwards battles with series champion Jimmie Johnson
Edwards is a pure racer and that all-or-nothing approach makes him popular. Last year's race at Kansas Speedway is a perfect example of what Edwards is about: he tried to pull off an unlikely last-lap pass on Jimmie Johnson, clearly defying the laws of physics. Not the kind of move you would see from the three-time champ.
The consequences of what he attempted could have been awful, but Edwards made it all look pretty spectacular. He entered the last two corners at an impossible speed, hoping to bounce off the wall without scrubbing too much speed as if he was in a video game. Sadly for him it didn't work out, but that fighting spirit makes him a dangerous rival to anyone on the track.
The 29-year-old wants to beat them all and winning is his motto. But taking that Sprint Cup trophy away from Johnson is his ultimate goal and one that has him hungrier than ever.
"Jimmie is... what he has done in the past three years is really special," Edwards reckons. "But man, if it comes down to him and me again I want to beat him really badly. I want to win that championship. I want to know what it feels like.
"Even winning nine races and having a great year and all that, that's fine but you know, I'd take a championship with no wins, rather than a nine-win season, just because I really want to accomplish that goal."
Speed-wise, probably Kyle Busch is the only driver to come close to Edwards for outright race pace in the Sprint Cup series. But Roush Fenway Ford racer Edwards has shown that he is able to remain consistent through a whole season, an area where Busch faltered last year as his championship challenge plummeted during the Chase.
Edwards was quick from the word go last season, and there was hardly anyone as good as him on the intermediate tracks that prevail during the season. By the time Johnson and his crew chief Chad Knaus had figured out the new Cup car at those tracks, Edwards had already won three times.
Later he won just as many races as the Hendrick driver within the last 10 of the 'play-off', but two consecutive bad weekends at Talladega and Charlotte ruined his title chances.
"If you look at what happened last year in the Chase, we had the wreck at Talladega and we had the ignition problems at Charlotte," remembers Edwards's boss Jack Roush. "Both of those problems were unpredictable and thus unavoidable. If any of those things had not occurred, he would have got more points in the final 10 races than the 48 car did.
"So we don't need to close the gap in technology, we don't need to correct some oversight on judgment, we don't need to make our manufacturing or cars faster in terms of the speed they've got in them. All we have to do is just miss the wreck and not have the bad luck."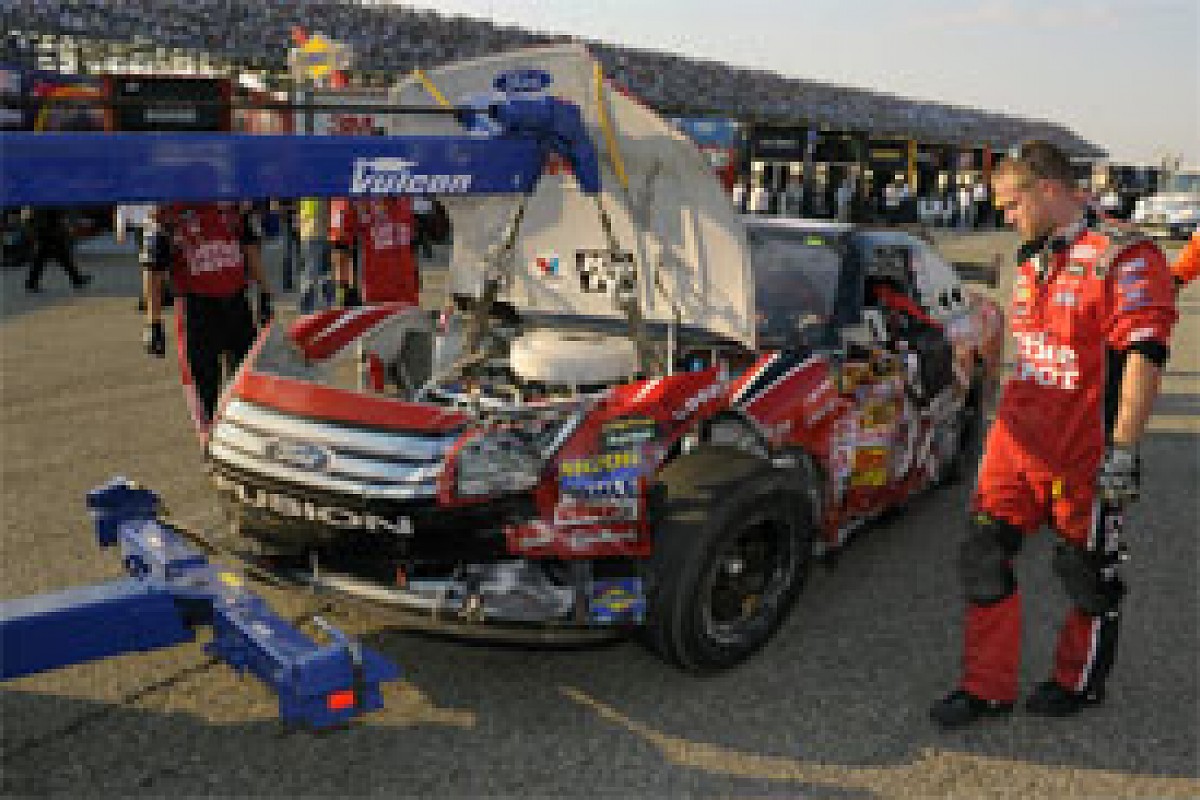 The Roush-Fenway Ford of carl Edwards following his accident during the fall Talladega race © LAT
As Roush points out, taking those two races out of the equation, his driver had the upper hand in the battle against Johnson. Edwards still laments he ignited the 'Big One' at Talladega after turning teammate Greg Biffle sideways, but believes the ignition failure that put him out of contention at Charlotte was pure bad luck.
"The wreck at Talladega... any time you go to Talladega you could wreck," Edwards says. "I ended up participating in that one more than I wanted. But then the deal at Charlotte - that was just luck. Other than that our races, I think, were really, really good.
"You know, it's tough. When someone runs as well as Jimmie did, it's tough to beat them. But other than those two races, we ran really well and we outperformed them at a lot of racetracks."
Some of Edwards's detractors may point out that, besides his judgment mistake at Talladega, more than once he has driven into Victory Lane just by making a strategy gamble work, so he is probably not that unlucky after all.
Three of his nine Sprint Cup victories last year came partly due to some fuel saving. At Pocono, Texas and the season finale at Homestead he won by avoiding an extra stop towards the end. But, to be fair to him, in at least two of those three events he had been the driver to beat before fuel calculations came into play.
That also shows that Edwards's team is probably just as strong as Johnson's in many areas, and the guys who call the shots for him from the pits know how to get the best out of their man.
This year crew chief Bob Osborne remains onboard for a fourth consecutive season, while Pierre Kuettel has been named as his car chief, making an already top team even stronger. Kuettel was Edwards's crew chief in 2007 when they won the Nationwide Series crown, and was also his car chief in the 2005 Cup, when they first came close to the series title.
"Pierre came out and we won a championship in the Nationwide series together, and then Drew (Blickensderfer) became my crew chief," Edwards says about his team. "We had so much success with PK on that team in 2005, I think having him come back and do this job is going to be a huge addition."
Besides Kuettel's addition, Edwards has also earned on the personal side during the off-season. On January 3 he got married to girlfriend Kate Downey, someone he believes will bring some off-track stability. He thinks that can only be a good thing.
"I believe that it's going to be something that kind of grounds me and gives me a constant in my life, to allow me to focus on being a better race car driver," he says.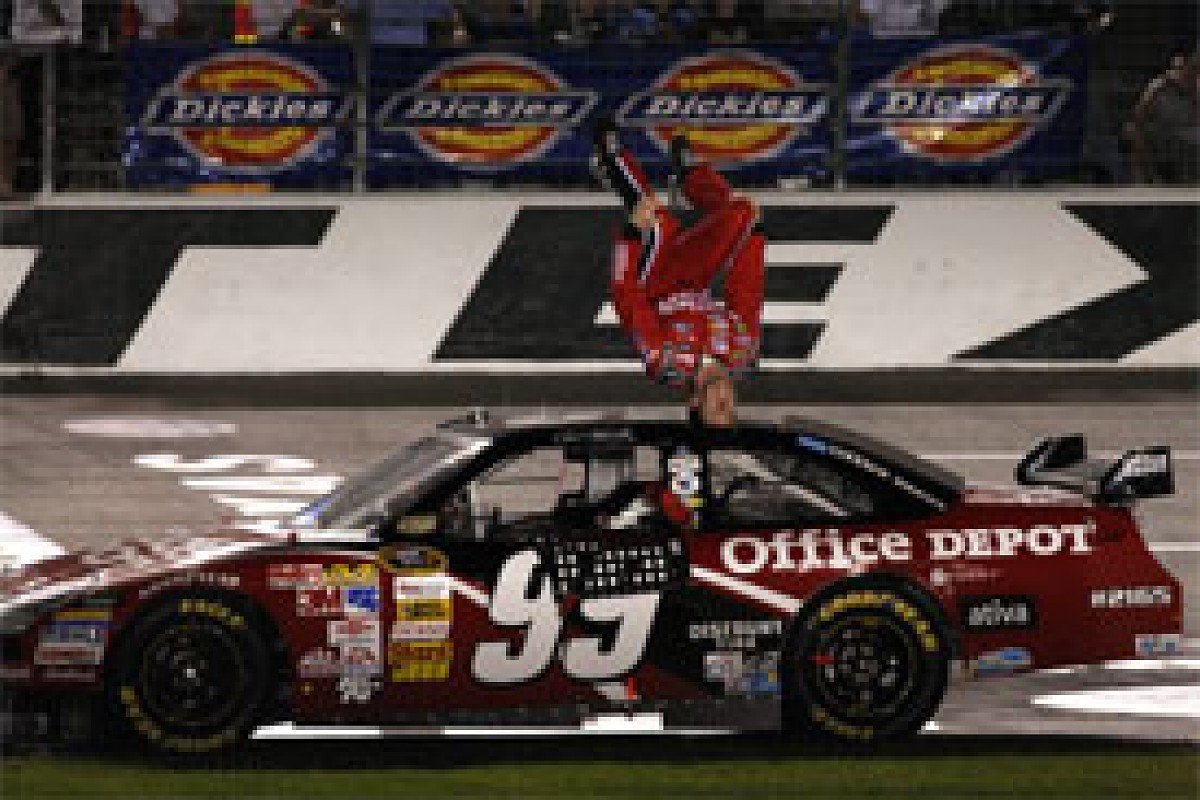 Carl Edwards celebrates one of his many 2008 victories in his trademark style © LAT
It won't be easy for Edwards to match his numbers from 2008 but, following an impressive rookie year and a slump in his sophomore season, his stats show he has been growing ever stronger.
The testing ban will most likely allow teams to carry their level of performance from last year into the first part of this season at least, and that can only be a good thing for Edwards, who finished 2008 on a high by winning the last race.
The same passion that drives him to be the fittest guy in the Sprint Cup field can give him the focus he needs to avoid the odd mistake that can cost him a title against a driver and a team that look unbeatable over the final 10-race stretch of the championship.
With some luck, he can probably beat the best at last.