Trident driver Giuliano Alesi topped the last practice session of the GP3 Series era, as ART Grand Prix title rivals Anthoine Hubert and Nikita Mazepin struggled on qualifying-style laps.
Alesi set a barnstorming lap late on, fastest in all three sectors including the all important technical final sector to end what has been a rollercoaster for the son of ex-Formula 1 driver Jean.
He will be the last ever practice-topper, as the series becomes FIA Formula 3 for next year, with a new car launched in the Abu Dhabi paddock the previous day.

David Beckmann, Alesi's Trident team-mate, punched in a purple first sector on his last flying run, but the rest of the lap was not good enough to oust Alesi and he had to settle for second.
Rounding out the top three was Gabriel Aubry, in a brilliant session for Arden.
The team has struggled in GP3 this year, but Frenchman Aubry - who also competes in the World Endurance Championship - was joined by Joey Mawson in fifth and Sacha Fenestraz in sixth.
Mawson topped the early running in a bid to sign off the season in style with sponsors in attendance, while Fenestraz is in his second GP3 race weekend having switched from European Formula 3 for Sochi in September.
Behind Aubry and ahead of the the other Arden runners was GP3 race weekend debutant Jehan Daruvala for MP Motorsport.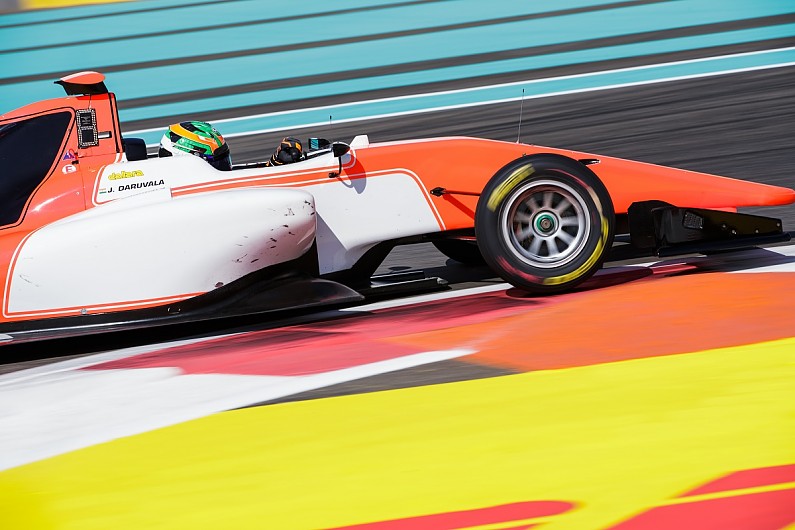 He too has competed in European F3 this year, but did drive the GP3 car at this track with the same team in the post-season test last year.
Leonardo Pulcini briefly held the fastest time inside the last 20 minutes, but was usurped when a number of drivers came out to improve their laps and he had to settle for seventh, ahead of Hubert.
He had massive understeer at Turn 2 on his final rapid run at the end of the session, while Mazepin - who trails Hubert by 32 points heading into the weekend - locked up and binned his lap at Turn 17 coming into the penultimate tight complex, leaving him 13th.
Behind Hubert, Devlin de Francesco and Richard Verschoor joined Daruvala to make it three MP cars in the top 10.
Callum Ilott - third in the championship but out of title contention - could only manage 19th despite completing 16 laps.
Practice times
| Pos | Driver | Team | Time | Gap | Laps |
| --- | --- | --- | --- | --- | --- |
| 1 | Giuliano Alesi | Trident | 1m55.676s | - | 18 |
| 2 | David Beckmann | Trident | 1m56.568s | 0.892s | 12 |
| 3 | Gabriel Aubry | Arden International | 1m56.568s | 0.892s | 18 |
| 4 | Jehan Daruvala | MP Motorsport | 1m56.589s | 0.913s | 20 |
| 5 | Joey Mawson | Arden International | 1m56.655s | 0.979s | 17 |
| 6 | Sacha Fenestraz | Arden International | 1m57.053s | 1.377s | 18 |
| 7 | Leonardo Pulcini | Campos Racing | 1m57.116s | 1.440s | 16 |
| 8 | Anthoine Hubert | ART Grand Prix | 1m57.170s | 1.494s | 16 |
| 9 | Devlin Defrancesco | MP Motorsport | 1m57.170s | 1.494s | 18 |
| 10 | Richard Verschoor | MP Motorsport | 1m57.259s | 1.583s | 18 |
| 11 | Ryan Tveter | Trident | 1m57.277s | 1.601s | 15 |
| 12 | Jake Hughes | ART Grand Prix | 1m57.311s | 1.635s | 17 |
| 13 | Nikita Mazepin | ART Grand Prix | 1m57.393s | 1.717s | 16 |
| 14 | Juan Manuel Correa | Jenzer Motorsport | 1m57.453s | 1.777s | 17 |
| 15 | Diego Menchaca | Campos Racing | 1m57.579s | 1.903s | 18 |
| 16 | Simo Laaksonen | Campos Racing | 1m57.588s | 1.912s | 17 |
| 17 | Pedro Piquet | Trident | 1m57.727s | 2.051s | 15 |
| 18 | Tatiana Calderon | Jenzer Motorsport | 1m57.826s | 2.150s | 18 |
| 19 | Callum Ilott | ART Grand Prix | 1m57.847s | 2.171s | 16 |
| 20 | Jannes Fittje | Jenzer Motorsport | 1m58.579s | 2.903s | 17 |