Ferrari protege Callum Ilott says his ART Grand Prix team-mate Anthoine Hubert deserves to win the 2018 GP3 Series title.
Hubert leads fellow ART driver Nikita Mazepin by 32 points going into the Yas Marina season finale this weekend, while third-placed Ilott fell out of mathematical contention for the title during the penultimate round at Sochi.
The 22-year-old Hubert, who was taken under the wing of the Renault Formula 1 team this season, partnered Ilott at Van Amersfoort Racing in the Formula 3 European Championship in 2016 before moving to GP3 with ART last year.
Ilott remained in F3 last season, but his move to GP3 in 2018 meant another link-up with the Frenchman.
"Yes, he's done a really good job this year," Ilott told Autosport when asked whether Hubert would make a worthy champion.
"Obviously experience helps, I can see that now, but he's just always been there, always done a good job on little things.
"Like the reversed-grid races - he always gains one more position than me and little things like that just add up.
"Other than the Red Bull Ring, he's done a very consistent job, which is impressive - I thought he would have struggled at some points a bit more, but he's always been there.
"He knows what he wants in the car, knows how to get the last little bits out of it, so fair play to him - I think in Abu Dhabi he'll win the championship, because 32 points [advantage] is quite hard to beat."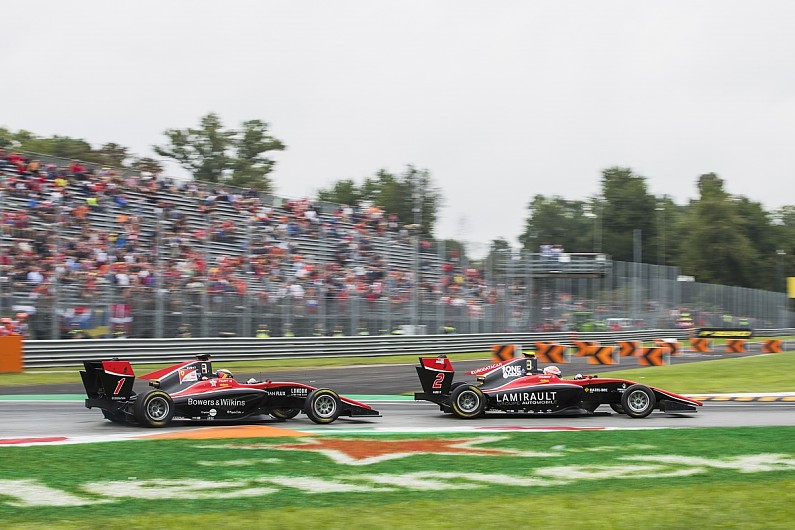 Ilott said that his own performance this season was an inverse of his F3 campaigns in 2016 and '17, where he was one of the fastest drivers but lacked consistency.
"Obviously going to a championship like that with a team like ART, you expect a good result, and it [third] is not a bad result at all," he said.
"The last two rounds have been a bit disappointing - at Monza I got the disqualification when I finished P3 [due to a tyre-pressure infringement], and Sochi was just a disaster of a weekend, and I'm still not exactly sure why.
"Up until that, the season was really consistent, and I was really happy with the performance and progress that I was making.
"It's strange, going from the top guy in qualifying in F3 [Ilott scored more pole positions than champion Lando Norris in 2017] to really struggling in quali relative to my team-mates here, but I've learned a lot, especially with the tyres.
"Everyone told me after last year I needed consistency, and the one thing I had this year was consistency and that's still not enough to win the championship."
After three years in F3 and one in GP3, Ilott is aiming to step up to Formula 2 next season.
"The plan is to do F2 and make a mark in that," he said.