Dorian Boccolacci gave MP Motorsport its first win in the GP3 Series with a dominant victory ahead of Ferrari and Renault affiliated drivers Callum Ilott and Anthoine Hubert respectively.
Boccolacci was attacked at Turn 1 on the opening lap but held the spot as a melee displaced many drivers.
A lunge around the outside of the first corner pushed Ilott off the track, and when he rejoined in second he headed his fast-starting ART Grand Prix team-mate Hubert, the points leader leaping into third from sixth ahead of second-placed starting Juan Manuel Correa.
Boccolacci then built a lead of over five seconds by three-quarters race distance, but with a few laps remaining Ilott and Hubert began to hone in and erode the gap as they had looked after their tyres in the early stages.
But Boccolacci never appeared to be fazed, and managed the gap to 2.3 seconds at the finish.
It's Boccolacci's first win of the season after he was disqualied from a home victory at Paul Ricard for a lack of fuel that meant he could not produce a sample at the end of the race.
Ilott held on to take second from Hubert, both securing good points for their title challenges, with Hubert leading Ilott by 15 points in the overall standings.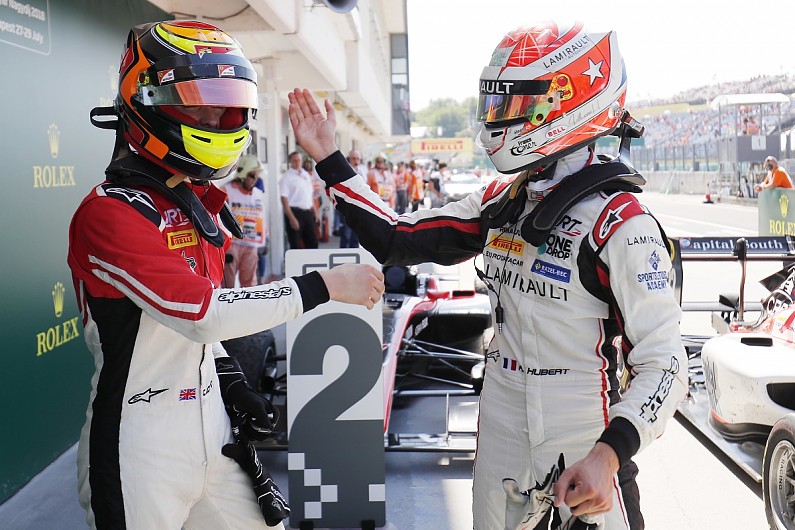 Leonardo Pulcini, starting seventh after taking second in the feature race, took fifth from the start. He began to attack Jenzer's Correa as the race reached two-thirds distance, which he took at Turn 2 on lap six and it was enough to secure fourth in a strong weekend for the Campos Racing driver.
Correa held fifth despite being attacked to the flag by American Ryan Tveter. His new team-mate David Beckmann harried Correa for the majority of the race, but Tveter lunged around the outside of Turn 1 to displace Beckmann and earn a chance to attack Correa, which went unfulfilled.
Beckmann had a strong debut with Trident and held on for seventh ahead of old team-mate Tatiana Calderon at Jenzer. She passed Diego Menchaca late-on, as did Pedro Piquet to take ninth ahead of the Mexican.
Nikita Mazepin, Saturday's sprint race winner, fell back from his eighth-place starting spot. He was passed by Calderon, Piquet, Menchaca and Simo Laaksonen of Campos to finish the race 12th and out of the points.

Race result
| Pos | Driver | Team | Gap |
| --- | --- | --- | --- |
| 1 | Dorian Boccolacci | MP Motorsport | 27m27.055s |
| 2 | Callum Ilott | ART Grand Prix | 2.308s |
| 3 | Anthoine Hubert | ART Grand Prix | 3.944s |
| 4 | Leonardo Pulcini | Campos Racing | 10.709s |
| 5 | Juan Manuel Correa | Jenzer Motorsport | 12.673s |
| 6 | Ryan Tveter | Trident | 12.970s |
| 7 | David Beckmann | Trident | 13.968s |
| 8 | Tatiana Calderon | Jenzer Motorsport | 14.341s |
| 9 | Pedro Piquet | Trident | 17.163s |
| 10 | Diego Menchaca | Campos Racing | 18.412s |
| 11 | Simo Laaksonen | Campos Racing | 18.764s |
| 12 | Nikita Mazepin | ART Grand Prix | 20.846s |
| 13 | Gabriel Aubry | Arden International | 21.141s |
| 14 | Jake Hughes | ART Grand Prix | 22.324s |
| 15 | Julien Falchero | Arden International | 22.938s |
| 16 | Giuliano Alesi | Trident | 46.778s |
| 17 | Jannes Fittje | Jenzer Motorsport | 55.874s |
| 18 | Joey Mawson | Arden International | 1 Lap |
| - | Niko Kari | MP Motorsport | Retirement |
Drivers' standings

| Pos | Driver | Points |
| --- | --- | --- |
| 1 | Anthoine Hubert | 129 |
| 2 | Callum Ilott | 114 |
| 3 | Leonardo Pulcini | 99 |
| 4 | Nikita Mazepin | 98 |
| 5 | Pedro Piquet | 67 |
| 6 | Giuliano Alesi | 66 |
| 7 | Dorian Boccolacci | 58 |
| 8 | Alessio Lorandi | 42 |
| 9 | Ryan Tveter | 42 |
| 10 | Jake Hughes | 37 |
| 11 | Juan Manuel Correa | 26 |
| 12 | David Beckmann | 26 |
| 13 | Joey Mawson | 18 |
| 14 | Niko Kari | 5 |
| 15 | Simo Laaksonen | 3 |
| 16 | Diego Menchaca | 3 |
| 17 | Tatiana Calderon | 1 |
| 18 | Gabriel Aubry | 1 |
| 19 | Julien Falchero | 0 |
| 20 | Devlin Defrancesco | 0 |
| 21 | Christian Lundgaard | 0 |
| 22 | Jannes Fittje | 0 |
| 23 | Will Palmer | 0 |