Pedro Piquet earned his maiden GP3 win, beating another son of an ex-Formula 1 driver Giuliano Alesi in the second race of the weekend at Silverstone in a Trident 1-2-3.
Piquet - son of three-time Formula 1 champion Nelson - started second on the grid but mugged polesitter Alesi - son of Jean - who won this race last year for his maiden GP3 triumph as well.
The early leader merely had to manage the gap back to Alesi, then survive a two-lap shootout after a late VSC caused him a headache.
Piquet kept Alesi out of DRS range on the final two tours to win victory, a day after surviving contact with Leonardo Pulcini in a move he labelled "dangerous".
Ryan Tveter was in the hunt for the win for the majority of the race in third, but he also had the charging Anthoine Hubert to contend with.
Frenchman Hubert was full of confidence after a first on-the-road win in Saturday's feature race, and he made up two spots from eighth on the first lap and was soon past team-mate Callum Ilott then Pulcini a Stowe and into fourth.
But an off track moment later on cost Hubert valuable time to Tveter, who held on for his best result of the year.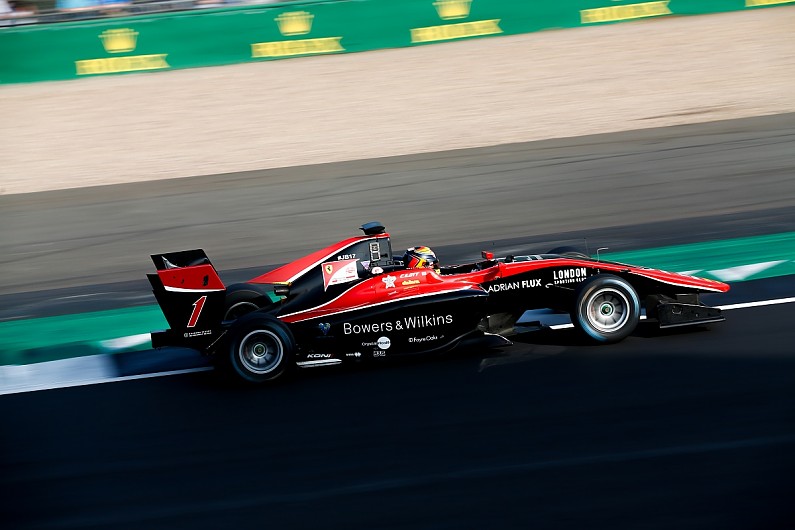 Ilott took fifth with a solid drive, staying neat and tidy to pick up solid points - although Hubert was able to extend his points lead further. Ilott had to pass Pulcini on lap 9 at Stowe to secure a place in the top five.
Pulcini took sixth ahead of Nikita Mazepin, who could not follow Hubert through the field and took seventh, losing third in the championship to Pulcini in the process.
Jake Hughes rounded out the points in eighth, having started 16th after a broken battery forced a DNF on Saturday.
He survived contact with Niko Kari, who was penalised five seconds for pushing Hughes off the track at Brooklands, with Hughes also clipping Kari - who later retired - into a spin.
Dorian Boccolacci took ninth ahead of Tatiana Calderon's, who produced her most impressive drive of the year by scything through from 17th on the grid to 10th.
Result - 15 laps
| Pos | Driver | Team | Gap |
| --- | --- | --- | --- |
| 1 | Pedro Piquet | Trident | 28m46.563s |
| 2 | Giuliano Alesi | Trident | 1.401s |
| 3 | Ryan Tveter | Trident | 2.967s |
| 4 | Anthoine Hubert | ART Grand Prix | 3.503s |
| 5 | Callum Ilott | ART Grand Prix | 3.900s |
| 6 | Leonardo Pulcini | Campos Racing | 9.356s |
| 7 | Nikita Mazepin | ART Grand Prix | 12.450s |
| 8 | Jake Hughes | ART Grand Prix | 14.033s |
| 9 | Dorian Boccolacci | MP Motorsport | 14.676s |
| 10 | Tatiana Calderon | Jenzer Motorsport | 15.401s |
| 11 | Diego Menchaca | Campos Racing | 16.025s |
| 12 | Alessio Lorandi | Trident | 18.222s |
| 13 | Joey Mawson | Arden International | 18.915s |
| 14 | Devlin Defrancesco | MP Motorsport | 19.152s |
| 15 | Juan Manuel Correa | Jenzer Motorsport | 19.385s |
| 16 | Simo Laaksonen | Campos Racing | 22.846s |
| - | Julien Falchero | Arden International | Retirement |
| - | Niko Kari | MP Motorsport | Retirement |
| - | David Beckmann | Jenzer Motorsport | Retirement |
| - | Gabriel Aubry | Arden International | Retirement |