Diego Menchaca and Rene Binder shared the fastest times in practice as the Formula V8 3.5 field ran into the night for the first time this season in Bahrain.
In the series' only trip to the Middle East this year, drivers struggled with several teething issues and the amount of sand on the desert circuit during the two 50-minute sessions.
The first was held at midday and Fortec driver Menchaca traded fastest laps with SMP Racing's late arrival Konstantin Tereschenko.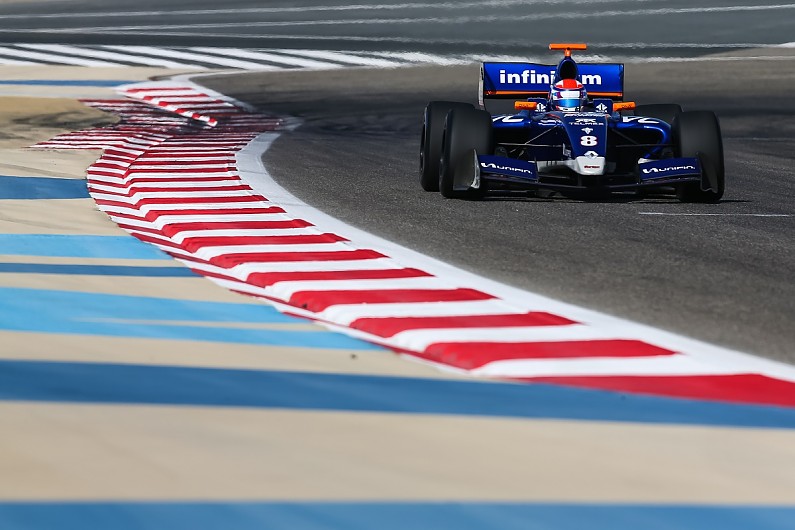 Menchaca logged a 1m45.246s as the chequered flag came out to deny championship leader Pietro Fittipaldi top spot, with Tereschenko having to settle for third.
Under the Bahrain floodlights it looked like Menchaca was going to top the times again, but the fastest lap of the day by Binder - a 1m44.153s - put him almost 0.6s clear of the rest of the field.
Fittipaldi had a more troubled run in the second session as he could only manage eighth with a 1m45.713, despite feeling happy with the car's set-up.
Title rival Matevos Isaakyan overcame braking issues with his SMP Racing machine in first practice to finish fourth in the second session, less than one tenth of a second behind third-placed Alfonso Celis Jr.
Isaakyan's team-mate Tereschenko finished fifth, having only been phoned about the possibility of joining SMP on Wednesday afternoon.
Celis' 1m44.988s in the late practice was in stark contrast to his slower time in practice one where he complained his Fortec car was slower on the straights than it was at the last round in Austin.
Recovering from an equally poor start to his weekend was Roy Nissany, who suffered multiple problems with the steering and braking systems on his car in the first session.
He set the seventh-best time in FP2 as RP team-mate Yu Kanamaru had a mixed day with sixth and ninth placed finishes.
Series debutants Henrique Chaves and Tatiana Calderon improved as the two practices went on, with the pair using the cooler track temperatures to adjust to the increased downforce and power of the FV8 3.5 cars.
FP1 times
| Pos | Driver | Team | Gap | Laps |
| --- | --- | --- | --- | --- |
| 1 | Diego Menchaca | Fortec Motorsports | 1m45.246s | 19 |
| 2 | Pietro Fittipaldi | Lotus | 0.315s | 13 |
| 3 | Konstantin Tereschenko | SMP Racing by AVF | 0.449s | 19 |
| 4 | Rene Binder | Lotus | 0.495s | 15 |
| 5 | Matevos Isaakyan | SMP Racing by AVF | 0.689s | 19 |
| 6 | Yu Kanamaru | RP Motorsport | 1.087s | 18 |
| 7 | Alfonso Celis | Fortec Motorsports | 1.095s | 16 |
| 8 | Henrique Chaves Jr. | AVF | 1.591s | 20 |
| 9 | Tatiana Calderon | RP Motorsport | 2.012s | 14 |
| 10 | Roy Nissany | RP Motorsport | 3.262s | 19 |
FP2 times
| Pos | Driver | Team | Gap | Laps |
| --- | --- | --- | --- | --- |
| 1 | Rene Binder | Lotus | 1m44.153s | 14 |
| 2 | Diego Menchaca | Fortec Motorsports | 0.576s | 20 |
| 3 | Alfonso Celis | Fortec Motorsports | 0.835s | 17 |
| 4 | Matevos Isaakyan | SMP Racing by AVF | 0.891s | 15 |
| 5 | Konstantin Tereschenko | SMP Racing by AVF | 0.950s | 17 |
| 6 | Henrique Chaves Jr. | AVF | 1.184s | 18 |
| 7 | Roy Nissany | RP Motorsport | 1.537s | 18 |
| 8 | Pietro Fittipaldi | Lotus | 1.560s | 16 |
| 9 | Yu Kanamaru | RP Motorsport | 1.892s | 19 |
| 10 | Tatiana Calderon | RP Motorsport | 2.375s | 17 |