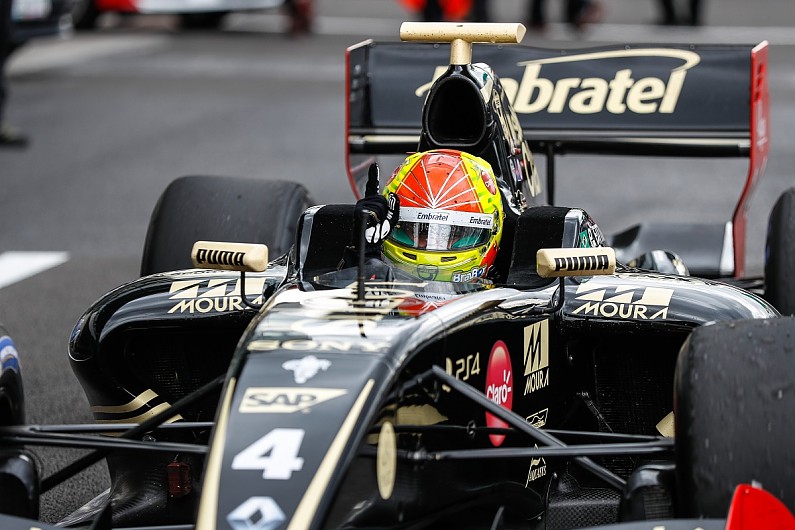 Pietro Fittipaldi completed a double Formula V8 3.5 victory at Mexico City after a crash-filled second race, with Alfonso Celis and Konstantin Tereschenko claiming podium finishes.
Starting from pole position, race one winner Fittipaldi made another great start and led team-mate Rene Binder into Turn 1 as the Austrian took advantage of Egor Orudzhev having a poor start to leap up to second.
Alex Palou, subbing for Nelson Mason at Teo Martin Motorsport, was another driver to make a good start and was third at the end of the first lap.
However, his race ended on lap two as Orudzhev tried to squeeze up the inside of the Spaniard at Turn 1 but clipped Palou's rear, sending them both into the barriers at the end of the main straight.
After a brief safety car period, it was Celis who was trying to make up ground as he fought Binder for second position.
It looked like he had the position at Turn 4, but Binder held the inside for the following corner and kept his nose ahead.
At the pit stops, Binder came out behind his team-mate but ahead of Celis. Unfortunately, an issue with the car a lap after his stop meant he had to retire.
With Fittipaldi opening up a four second gap at the front of the field, the focus became the battle for third as Roy Nissany attempted to hold off a recovering Matevos Isaakyan - who stalled at the start.
Nissany, having a good race after a weekend filled with suspension problems, looked like he was going to hold on to a podium finish but Isaakyan tried to force his way past Nissany on the run into Turn 12.
The RP Motorsport driver held his position on the inside and the pair collided at the apex with Nissany hitting the barrier and Isaakyan losing half of his front wing but continuing to fourth place.
That allowed Tereschenko to complete the podium behind Celis, the latter not being able to make inroads into Fittipaldi's lead.
Fifth place went to Diego Menchaca, who started from the pitlane after engine issues before the start, with Giuseppe Cipriani and Yu Kanamaru rounding out the classified finishers.
Race two result
| Pos | Driver | Team | Laps | Gap |
| --- | --- | --- | --- | --- |
| 1 | Pietro Fittipaldi | Lotus | 25 | 42m15.595s |
| 2 | Alfonso Celis | Fortec Motorsports | 25 | 1.062s |
| 3 | Konstantin Tereschenko | Teo Martin Motorsport | 25 | 2.023s |
| 4 | Matevos Isaakyan | SMP Racing by AVF | 25 | 11.178s |
| 5 | Diego Menchaca | Fortec Motorsports | 25 | 39.362s |
| 6 | Giuseppe Cipriani | Il Barone Rampante | 25 | 51.059s |
| 7 | Yu Kanamaru | RP Motorsport | 25 | 57.867s |
| 8 | Roy Nissany | RP Motorsport | 23 | 2 Laps |
| - | Rene Binder | Lotus | 13 | Retirement |
| - | Alex Palou | Teo Martin Motorsport | 1 | Retirement |
| - | Egor Orudzhev | SMP Racing by AVF | 1 | Retirement |
Drivers' standings
| Pos | Driver | Points |
| --- | --- | --- |
| 1 | Pietro Fittipaldi | 208 |
| 2 | Matevos Isaakyan | 193 |
| 3 | Alfonso Celis | 178 |
| 4 | Egor Orudzhev | 155 |
| 5 | Roy Nissany | 154 |
| 6 | Rene Binder | 148 |
| 7 | Konstantin Tereschenko | 84 |
| 8 | Yu Kanamaru | 83 |
| 9 | Diego Menchaca | 67 |
| 10 | Nelson Mason | 42 |
| 11 | Alex Palou | 40 |
| 12 | Damiano Fioravanti | 36 |
| 13 | Giuseppe Cipriani | 19 |