Formula V8 3.5 championship contender Egor Orudzhev and local hero Alfonso Celis shared practice spoils in mixed conditions at Mexico City.
A dry first practice allowed drivers to push the boundaries of grip on a track where many complained the surface was like ice after heavy rain over the last few days.
As well as the lack of grip, the circuit's high altitude means the cars are severely down on power with Lotus driver Pietro Fittipaldi commenting that he was 100 horsepower down because of the thinner air.
However, that didn't impede the SMP Racing pair of Orudzhev and Matevos Isaakyan trading fastest laps with each other as they found more speed every lap.
Towards the end of the first session Orudzhev became the only driver into the 1m33s with a 1m33.616s to go more than half-a-second clear of Celis in the Fortec Motorsports entry.
Celis went one better in a very wet second session - which was red-flagged for 35 minutes because of standing water in sector two - with a 1m52.383s to finish almost a second clear of Isaakyan.
Nurburgring race winner Alex Palou - who has returned to Teo Martin Motorsport this weekend after continued sponsorship issues for Nelson Mason - finished fifth and ninth as he got back up to speed.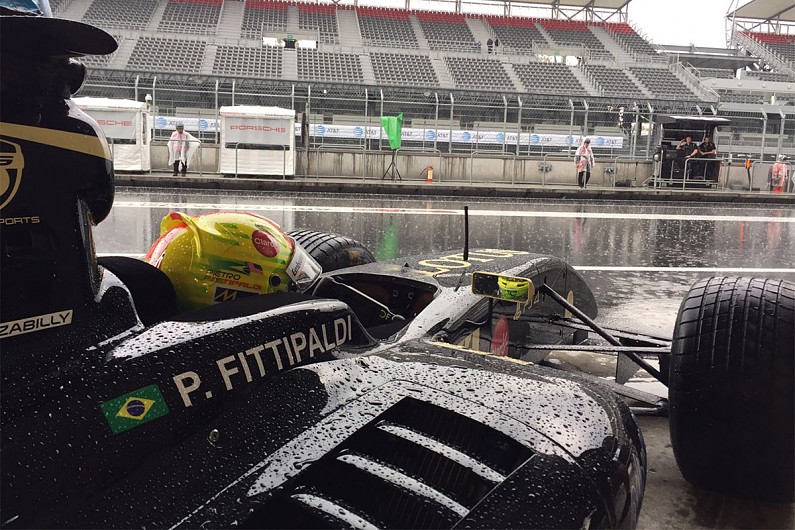 It was a mixed day of practice for multiple race winner Fittipaldi who was fourth in free practice one, then stopped at Turn 6 in the second session without setting a time.
His Lotus team-mate Rene Binder also had an up-and-down day as he set the third fastest lap in the morning session but only managed 10th in the afternoon running.
Konstantin Tereschenko had a good start to the weekend in the second Teo Martin entry as he showed great pace in the wet with a time good enough for third. He finished the first session in sixth.
FP1 times
| Pos | Driver | Team | Time | Gap | Laps |
| --- | --- | --- | --- | --- | --- |
| 1 | Egor Orudzhev | SMP Racing by AVF | 1m33.616s | - | 21 |
| 2 | Alfonso Celis | Fortec Motorsports | 1m34.259s | 0.643s | 24 |
| 3 | Rene Binder | Lotus | 1m34.342s | 0.726s | 20 |
| 4 | Pietro Fittipaldi | Lotus | 1m34.350s | 0.734s | 20 |
| 5 | Alex Palou | Teo Martin Motorsport | 1m34.436s | 0.820s | 24 |
| 6 | Konstantin Tereschenko | Teo Martin Motorsport | 1m34.439s | 0.823s | 21 |
| 7 | Yu Kanamaru | RP Motorsport | 1m34.689s | 1.073s | 22 |
| 8 | Diego Menchaca | Fortec Motorsports | 1m34.699s | 1.083s | 23 |
| 9 | Roy Nissany | RP Motorsport | 1m34.796s | 1.180s | 23 |
| 10 | Matevos Isaakyan | SMP Racing by AVF | 1m34.910s | 1.294s | 20 |
| 11 | Giuseppe Cipriani | Il Barone Rampante | 1m36.809s | 3.193s | 21 |
FP2 times
| Pos | Driver | Team | Time | Gap | Laps |
| --- | --- | --- | --- | --- | --- |
| 1 | Alfonso Celis | Fortec Motorsports | 1m52.383s | - | 4 |
| 2 | Matevos Isaakyan | SMP Racing by AVF | 1m53.250s | 0.867s | 5 |
| 3 | Konstantin Tereschenko | Teo Martin Motorsport | 1m53.941s | 1.558s | 6 |
| 4 | Egor Orudzhev | SMP Racing by AVF | 1m54.033s | 1.650s | 4 |
| 5 | Diego Menchaca | Fortec Motorsports | 1m54.972s | 2.589s | 5 |
| 6 | Yu Kanamaru | RP Motorsport | 1m55.206s | 2.823s | 4 |
| 7 | Roy Nissany | RP Motorsport | 1m57.634s | 5.251s | 6 |
| 8 | Giuseppe Cipriani | Il Barone Rampante | 1m58.560s | 6.177s | 4 |
| 9 | Alex Palou | Teo Martin Motorsport | 1m59.316s | 6.933s | 5 |
| 10 | Rene Binder | Lotus | 2m02.895s | 10.512s | 4 |
| 11 | Pietro Fittipaldi | Lotus | - | - | 3 |