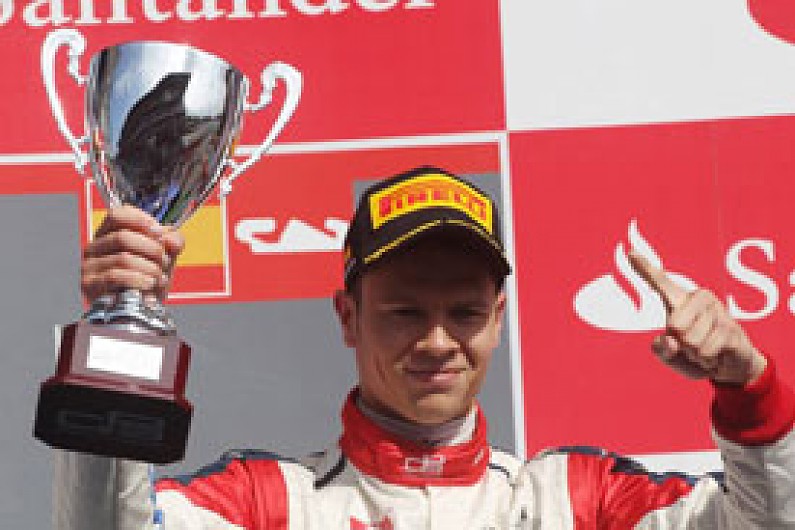 Arden will run GP3 race winners Patric Niederhauser and Robert Visoiu in the series in 2014.
Both drivers already have two years of experience and two victories in the junior category.
Niederhauser, 22, joins Arden after two years with Jenzer Motorsport.
He won twice in his rookie 2012 campaign, finishing seventh overall, but could only take two podiums last year and dropped to 13th in the standings.
"I am extremely happy to drive for Arden in GP3," said Niederhauser, who tested for the team at the end of 2013.
"It will be my third year in GP3 so my goal is to fight for the championship. It will be an immense pleasure to work with them and I'm looking forward to a new chapter in my career."
Visoiu, 17, meanwhile won reversed-grid races at Valencia and the Hungaroring last year with Arden, and ended the season 11th overall.
"I feel I've learned a lot during the previous year and now I am ready to step up to a more consistent evolution," said Visoiu, who also claimed two podiums in Auto GP last season.
"It will be the first time I get the chance to race the same car in two consecutive seasons and that makes me feel very positive about 2014."
Arden sporting director Julian Rouse believes his new pairing will be frontrunners in 2014.
"Patric is a proven race winner in GP3 and working with him in Abu Dhabi in November highlighted to everyone at Arden that he has what it takes to challenge for the championship in 2014," Rouse said.
"It's great to have Robert with us again in 2014 - he worked well with everyone in 2013 and we achieved some good results including two races wins.
"Now having worked together for a season and knowing how to get the best out of Robert we are sure he will be able to push forward and challenge for more regular podiums and wins."
Trident meanwhile has added 19-year-old South African Roman de Beer to its 2014 GP3 line-up.
De Beer sat out the 2013 season, with two days of GP3 testing for Trident his only motorsport activity. He raced in Italian Formula 3 in 2012.