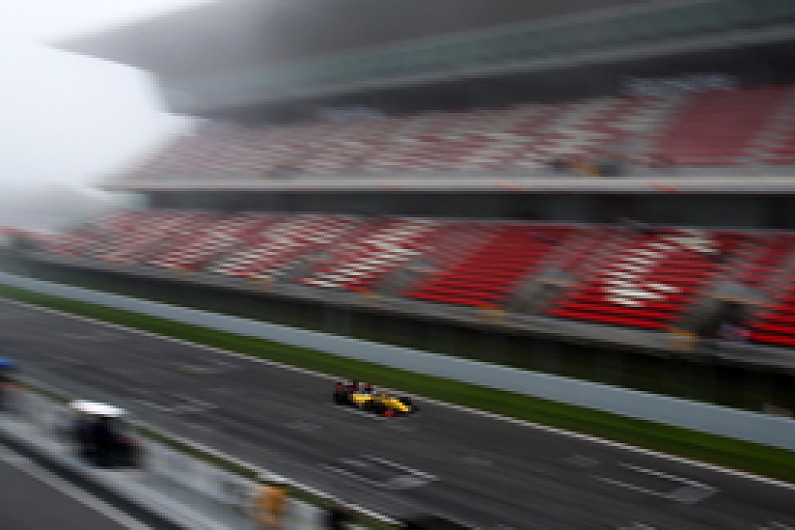 New Formula Renault 3.5 champion Kevin Magnussen took his fifth pole position in a row as fog forced the final qualifying session of the year to be cut short.
The DAMS driver set the pace during the first runs of the morning, but the session was halted for the first time just past the halfway mark as the fog that had started to clear just before the session became thicker.
After a 30-minute delay qualifying was restarted, but five minutes later - just as the majority of cars headed out for their second runs - it was stopped again and the decision was taken to abandon the session.
That left Magnussen on pole ahead of championship runner-up Stoffel Vandoorne (Fortec), with Arthur Pic and Will Stevens on the second row for AV and P1/Strakka respectively.
Draco's Nico Muller and Christopher Zanella's ISR machine were next up, while behind them Carlos Sainz Jr, Norman Nato, Nigel Melker and Will Buller completed the top 10.
Red Bull junior Antonio Felix da Costa could only manage the 13th-fastest lap on his first run so the Arden Caterham driver will start on the seventh row.
Pos  Driver                  Team            Time       Gap
 1.  Kevin Magnussen         DAMS            1m31.588s
 2.  Stoffel Vandoorne       Fortec          1m31.705s  +0.117s
 3.  Arthur Pic              AV              1m31.771s  +0.183s
 4.  Will Stevens            P1/Strakka      1m31.886s  +0.298s
 5.  Nico Muller             Draco           1m31.949s  +0.361s
 6.  Christopher Zanella     ISR             1m31.974s  +0.386s
 7.  Carlos Sainz Jr         Zeta            1m32.015s  +0.427s
 8.  Norman Nato             DAMS            1m32.054s  +0.466s
 9.  Nigel Melker            Tech 1          1m32.128s  +0.540s
10.  Will Buller             Zeta            1m32.157s  +0.569s
11.  Marlon Stockinger       Lotus           1m32.165s  +0.577s
12.  Oliver Webb             Fortec          1m32.284s  +0.696s
13.  Antonio Felix da Costa  Arden Caterham  1m32.316s  +0.728s
14.  Lucas Foresti           SMP/Comtec      1m32.372s  +0.784s
15.  Sergey Sirotkin         ISR             1m32.444s  +0.856s
16.  Marco Sorensen          Lotus           1m32.483s  +0.895s
17.  Pietro Fantin           Arden Caterham  1m32.538s  +0.950s
18.  Zoel Amberg             Pons            1m32.720s  +1.132s
19.  Mikhail Aleshin         Tech 1          1m32.887s  +1.299s
20.  Matias Laine            P1/Strakka      1m32.903s  +1.315s
21.  Andre Negrao            Draco           1m32.921s  +1.333s
22.  Nikolay Martsenko       Pons            1m33.003s  +1.415s
23.  Daniil Move             SMP /Comtec     1m33.034s  +1.446s
24.  Carlos Huertas          Carlin          1m33.475s  +1.887s
25.  Yann Cunha              AV              1m33.761s  +2.173s