Red Bull backed racer Carlos Sainz Jr will drive for Zeta Corse in the Monaco Grand Prix-supporting Formula Renault 3.5 race.
Sainz, who is racing full-time in GP3 this year, takes over the second seat at the team, which has already been raced by Emmanuel Piget and Matheo Tuscher this season.
With GP3 not returning to Monaco this year after the series held a round there for the first time last season, the FR3.5 race gives Sainz an opportunity to gain experience on the famous street circuit.
Zeta Corse team boss Claudio Corradini said: "Carlos is a quick and talented driver, and while he is still really young, he has already proved to be mature and experienced.
"He entered some Renault 3.5 test days last winter and I've been very impressed with how he adapted.
"From that moment on I put his name in my personal '5-star' shortlist hoping to join forces one day.
"This wish was granted so I'm proud that he has decided to join Zeta Corse for his series debut."
AUTOSPORT says
Glenn Freeman, news editor
@glenn_autosport
Don't expect any miracles from Carlos Sainz Jr when he makes his Formula Renault 3.5 debut on the streets of Monte Carlo.
This isn't about landing a top result on the support bill of the most glamourous race of them all - it's simply a chance to get some track time on a circuit that isn't exactly open for testing during the rest of the year.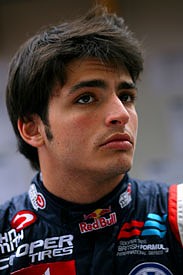 The FR3.5 race has been used for this purpose by a handful of drivers in recent years, including current Marussia Formula 1 pairing Jules Bianchi and Max Chilton, and GP2 championship leader Stefano Coletti.
All three joined the field for the 2009 race. Coletti was the only one to make the top 20 on the grid (13th) and would go on to finish 10th. Bianchi only managed 29 laps all weekend, retiring from the race having started last, while Chilton came home a distant 19th.
But, as is the case with Sainz, the results didn't matter - and it was the same for current GP2 frontrunner Alexander Rossi when he finished 20th as a one-off in 2010.
Bianchi and Coletti returned in 2010 (in GP2 and FR3.5 respectively) to take top five finishes, while Rossi qualified on the second row a year later in FR3.5 and took a podium finish in 2012.
Being able to arrive in Monaco with knowledge of the track - when you're competing in a championship where your results do matter - is something you can't put a price on.