If it Ain't Broke

---
By Richard Barnes, South Africa
Autosport-Atlas Writer
Despite a dominant performance by McLaren's Kimi Raikkonen in Spain, Fernando Alonso left his country with a stronger Championship lead as he continued with his run of consecutive podiums. Richard Barnes reviews Alonso's situation and analyses why the Spaniard will be tough to beat
Renault's Fernando Alonso may have proclaimed bravely that second place in his home Spanish Grand Prix felt like victory, and tens of thousands of blue and yellow clad local fans may have given him a hero's reception. But, after three successive race wins leading into Spain, second place was not what Alonso had in mind, nor what the fans had come to see.
It wasn't just that Alonso failed to win, but the convincing manner in which he was beaten. At Imola two weeks before, Alonso had also trailed McLaren's Kimi Raikkonen for the first stint of the race. Yet, apart from a stunning opening lap in which Raikkonen built a comfortable lead, Alonso had been able to peg the gap at just a few seconds.
On Sunday, Alonso had no answer to Raikkonen's early pace, and the Finn was able to stretch his lead at will - sometimes by more than a second per lap. Indeed, if it hadn't been for reliability concerns forcing him to adopt a more moderate pace, Raikkonen could have lapped the entire field.
A controlled and easy drive into second would have mitigated the setback for Alonso. Instead, mid-race handling problems found him slipping behind teammate Giancarlo Fisichella and almost into the clutches of Ferrari's Michael Schumacher, who was starting to show glimpses of the awe-inspiring race pace that he'd demonstrated in San Marino.
History will record that Schumacher's Bridgestone tyres let him down, Fisichella dropped out of contention after a lengthy stop to replace his Renault's damaged front wing, and Alonso's temporary handling problems were resolved by changing tyre pressures during his first pitstop. In that sense, second place and eight points was like a victory for Alonso. For it kept his streak of podium finishes intact and maintained the impressive momentum that he has generated since the season opener in Australia.
Alonso's season is already reminiscent of Michael Schumacher's 2002 campaign. In that record breaking year of 17 consecutive podium finishes, Schumacher's Ferrari wasn't always the fastest package on the track. But it didn't need to be. The opposition's inconsistency, both at outperforming the Ferrari and making it to the finish line, settled the Championship early. Every time Schumacher was beaten on track, he would cancel the deficit (and usually stretch his advantage as well) at the next race. His sheer consistency steamrolled his rivals into premature and abject defeat.
Likewise, Alonso will not mind that Schumacher was markedly quicker at Imola, nor that Raikkonen blitzed the field in Spain. As long as his two main rivals are taking turns at dominating, Alonso will slot into the first available podium position and relentlessly build his advantage. He is already in the position where he doesn't need to win again this season. Second place for Alonso in each of the remaining fourteen races would leave Raikkonen needing to win them all - and even then, he'd take the WDC by only a solitary point.
As impressive as Raikkonen was in Spain, he has only won three times in 56 starts for McLaren. He has a highly competitive teammate in Juan Pablo Montoya, who will surely come good at some stage during the year, coupled with a team boss who is unlikely to force Montoya to defer to Raikkonen's Championship interests. He has a fairly fragile car that has a record of letting its drivers down at the worst times (Hakkinen at Indianapolis 2000, Raikkonen himself at Europe 2003 and San Marino 2005). Finally, he has Michelin tyres whose development advances will (theoretically at least) benefit Renault to the same degree.
Michael Schumacher is in a more favourable position to challenge Alonso down to the wire. He has a team centred around his Championship interests, with the ability to produce a flawlessly reliable car, and the privileged position of being sole benefactors if Bridgestone can rediscover a competitive edge. Most importantly, he has the resolve, the race smarts and the experience to reel off half a dozen or more race wins on the trot.
However, with his retirement on Sunday, Schumacher's Championship position has passed from the historically improbable into the statistically absurd. Overcoming a 34-point deficit would be a mammoth challenge for Ferrari and Schumacher, even at their irresistible best. The team are currently at their lowest ebb since the start of the Schumacher era, and the strain is starting to show.
A key factor in Ferrari's success has been the solidarity among team members and their major suppliers. Setbacks were greeted with mutual mutterings that "We must all work harder", and wins were characterised by group backslapping and yet more vows to work harder than ever.
Following the Spanish GP, Ferrari president Luca di Montezemolo broke ranks with recent tradition by blaming Bridgestone for the team's lack of success in 2005. Although his statements were followed by the ritual assurance that everybody is working hard to resolve the problem and that success will surely return soon, it will be seen as a clear indicator that the team are in crisis.
The net result is that, barely one quarter of the way through the season, the Championship has become Renault's to lose. Which, in turn, leaves Alonso and team boss Flavio Briatore with an interesting dilemma. They might not have to win again this season, but they will want to. If Alonso gets a sniff at emulating Michael Schumacher's feat of recording a double-digit win tally in one year, he is passionate and ambitious enough to go for it. How hard can he afford to push?
There are two factors limiting an all-out aggressive approach. The first is that the 2005 Renault is far from bullet-proof. Thus far, it has been sheer luck that the mechanical problems have been limited to Fisichella's car. That trend could change at any time and one failure could easily turn into two or three, with mounting consequences for Alonso's Championship lead.
The second factor is the unpredictable nature of wheel to wheel racing. As the Championship leader, Alonso has become the field's main target, with extra kudos to any driver who can pass him on track. And the greater his Championship lead, the less his rivals will feel they have to lose by having a go at him.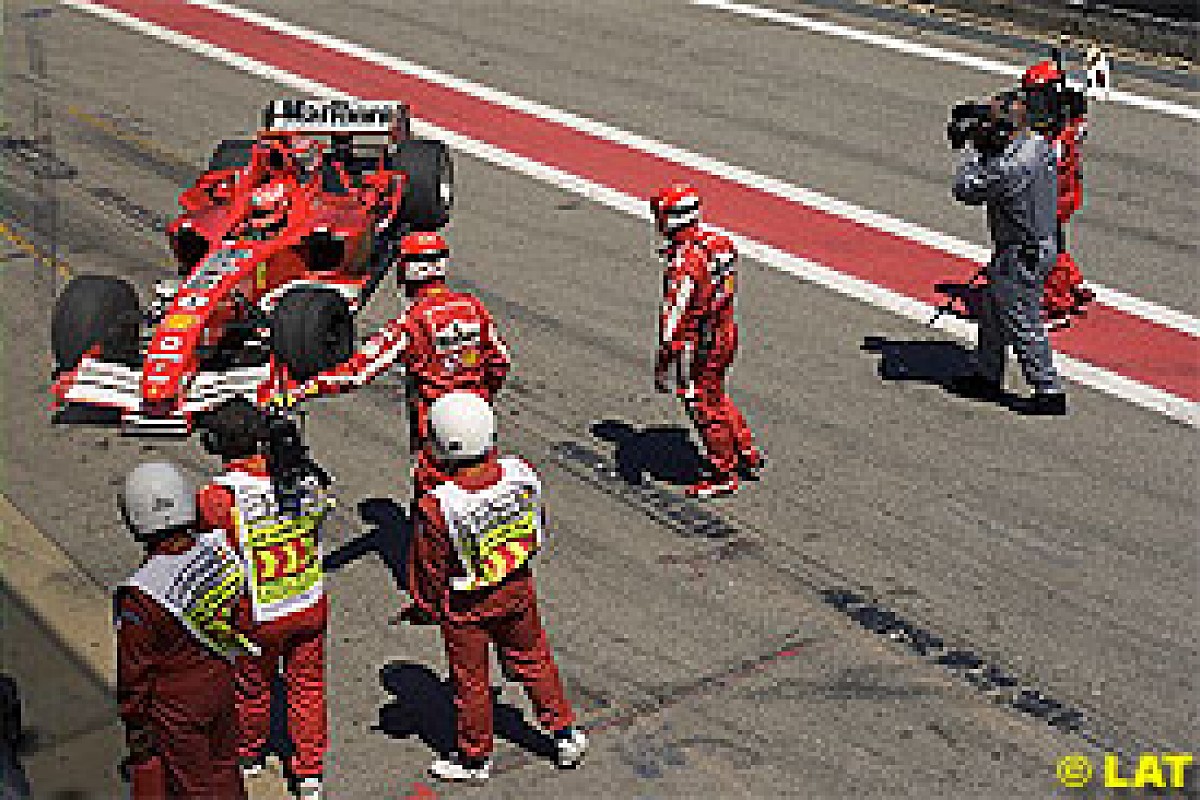 Michael Schumacher felt the sting of unexpected mechanical retirements and collisions in 2000. After a near-perfect start to the season (four wins in the first six races), he suffered four retirements in the next five races and saw a commanding Championship lead evaporate. Two of those retirements came via first-corner collisions where he was hit from behind. It's the sort of eventuality that no amount of testing, development or pre-race strategising can counter.
It almost derailed Schumacher's Championship campaign, even during a season when there were no knock-on penalties. In 2005, there is the double whammy of retirements also resulting in an unfavourable early run in Saturday qualifying for the next Grand Prix.
In Alonso's situation, the best approach would be the old adage: 'if it ain't broke, don't fix it'. He has shown a mature approach to situational driving this year, being aggressive when he needed to be (Australia) and conservative when he could afford to be. His engineers have played their part, giving him a fast package without pushing the engineering limits to the point of compromising reliability. Alonso himself insists that he is not thinking about the Championship, and instead taking things race by race. There is nothing to be gained by Alonso becoming complacent or defensive so early in the Championship race.
At Monaco, Alonso will again enjoy a late qualifying run, on a track where Renault won last year. However, on that day, the Renault glory was all Jarno Trulli's. Alonso ended his race against the barriers, following a hopelessly optimistic attempt to pass Ralf Schumacher's Williams in the tunnel. It was the sort of impetuous mistake that Alonso has learnt to avoid, and he'll be keen to set his Monaco record straight in 2005 with yet another podium performance.