It's easy to belittle Esports drivers and their achievements, but the Super Final of the Le Mans Esports Series was the perfect demonstration of the tenacity and resilience held by some of the fastest drivers in the virtual world.
From 20,000 entries, and after nine months of qualification, 36 drivers qualified for the Super Final at Le Mans. They were tasked with competing in nine races in seven different categories of cars across a range of circuits, all in a 24-hour period.
Drivers came from across all corners of the globe, some of them had never left their home country let alone their continent.
While some - such as eventual champion squad Veloce and the Williams Formula 1 team's Esports drivers - have plenty of competition experience, for many this marked their first tournament. It was a baptism of fire, and the event was so much more than the kind of basic online race that the competitors contest regularly from the comfort of their homes.
Hundreds of thousands of people watched the event online but it was also based in the heart of the Le Mans Fan Zone, meaning there were always eyes on the drivers - including two-time F1 champion Fernando Alonso and three-time Le Mans winner Allan McNish, both of whom stopped by to lend a word of advice to the drivers.
But there was little time to be nervous with $100,000 on the line. The amateur drivers had the unfamiliar pressure of a large audience watching them compete, while the professional drivers carried the responsibility of teams that have invested huge amounts of money into supporting them.
One driver with plenty of sim racing experience is Veloce's James Baldwin, who as the 2019 eROC champion is highly-regarded as one of the most versatile gamers around. His struggle through the event was a testament to the resilience required.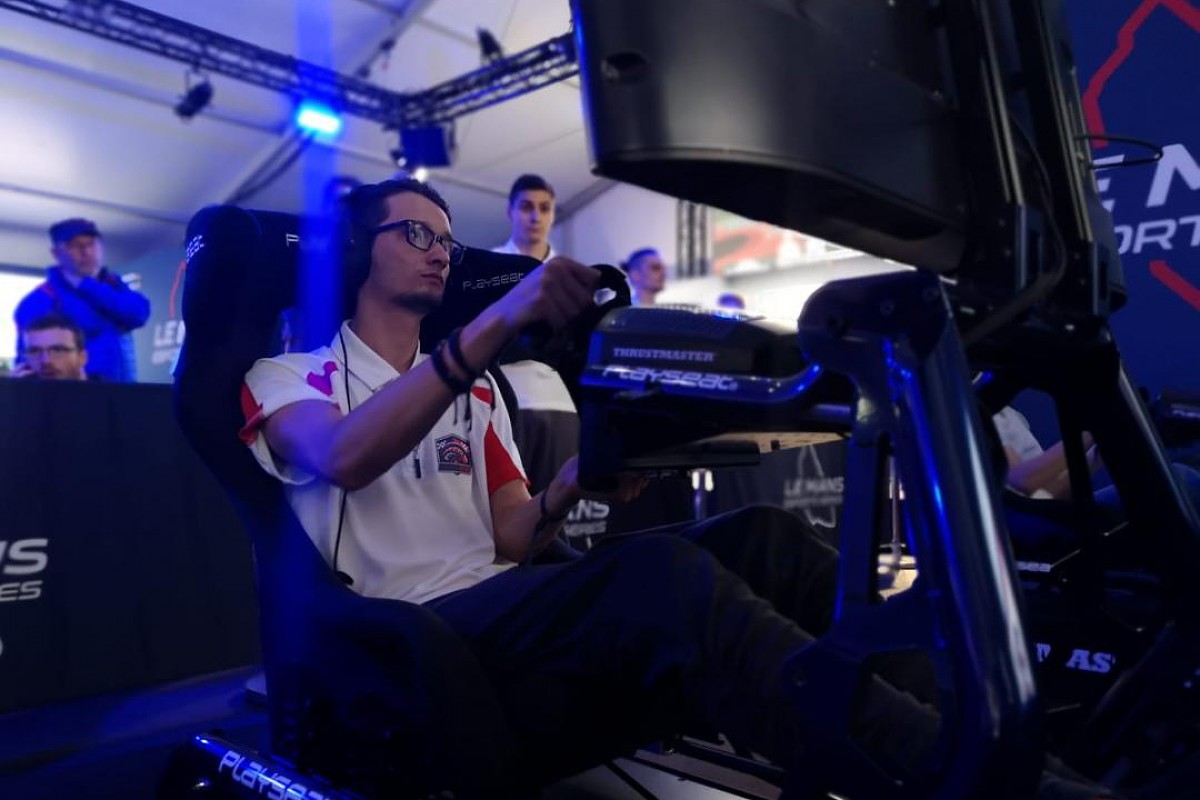 "I've done four or five 24-hour karting events," Baldwin told Autosport. "But this is by far the toughest mentally. I'm not sure what it is, maybe it's the screen, which is worse on your eyes than real-life.
"At one point, I really wasn't feeling good, just before the last race. I said to Dave [Kelly, his team-mate], 'I feel sick, I could actually throw up right now.' It was the nerves, the lack of sleep, hunger and thirst, it was so tough. I tried so many different sleeping positions, and just none of them worked."
"The endurance aspect is mental torture" Dave Kelly
Baldwin's team-mate Noah Schmitz is no stranger to Forza onsite events, but for him too the endurance aspect was like nothing he'd seen before. The schedule was intense with small gaps between the races, and as Le Mans is a circuit that in this particular week never sleeps, the drivers had little chance to rest.
"After the GT race at Spa, everyone was just fucked," Schmitz added. "We were so tired and the rate of mistakes was insane, nobody was good. With the schedule, we couldn't really sleep, the best anyone got was an hour and a half sleep."
Minimum and maximum driving times were in place for the drivers' benefit but unlike the real-life Le Mans squads, the majority of the 12 teams were no bigger than the three drivers, aside from the guests - some of whom were acting as effective race engineers, constantly watching time gaps for the drivers they were supporting. They were evidence that the stress and strain of the event extended to the drivers' families, just like in the real-life race.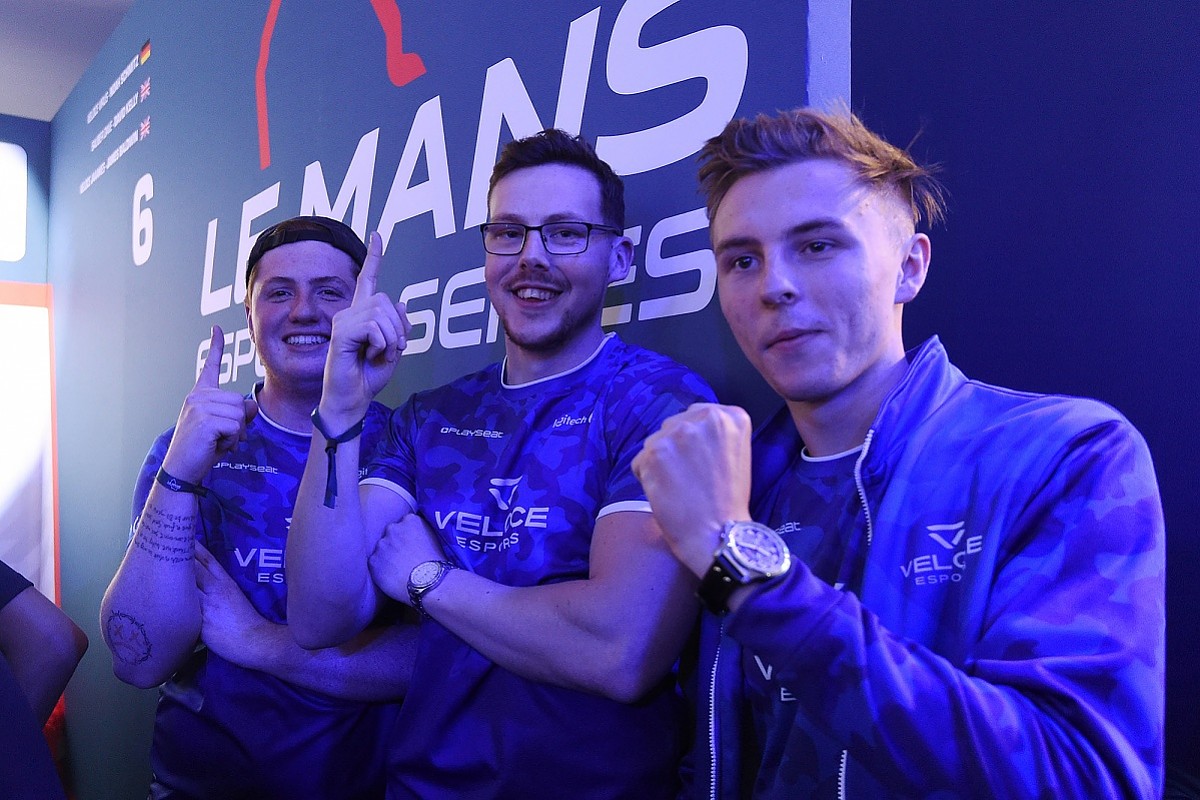 Fortunately, Ocana took his second chance at success, winning four of the nine races and along with his team-mates, scooping $12,000 in prize money. It also highlighted another strategic element to the Super Final - car selection.
The 12 teams each had a specific in-game budget to buy the seven different cars required for the nine races. The first eight races offered $3000 in prize money for the winning team, while the finale boasted $25,000. Some teams, not believing they had the ultimate pace, opted to prioritise some of those first eight races, but sacrifice any hope of a good result in the finale. Mad prioritised four races with its car selection, and remarkably won all four of them, demonstrating that the LMES rewards good strategic thinking as well as pure pace.
Veloce's ability to overcome the "mental torture" of the event, and find that extra gear for the title-deciding finale was arguably what decided the destination of the first-ever LMES crown.
While there was a visible physical and mental toll on the drivers after the 24 hours were completed, almost all of the drivers immediately expressed a desire to do it all again next year
"The endurance aspect is mental torture," Veloce's Kelly said. "The blue lights look great but on your eyes for 24 hours is horrific combined with where you're trying to sleep. It's tough but that's where we really performed well. Other teams started making mistakes and squabbling but when one of us was down, we'd pick each other."
"We just tried to remain positive, because we knew there would be races where we sucked, and it would just be two or three hours of sheer boredom. Cars overtaking us, but just keep that focus and that attitude, and it paid off big time."
The accumulated points from the first eight races were converted into time intervals for the start of the finale. The starting driver from each team ran to their simulators, in a homage to the classic Le Mans start procedure, at delayed intervals.
Baguette Racing took pole position with a seven-point lead, and therefore a seven-second time advantage. Its consistency was supreme, as without winning a race it held a substantial lead after not finishing lower than fourth. Veloce, meanwhile, started down in fourth with a 15s deficit.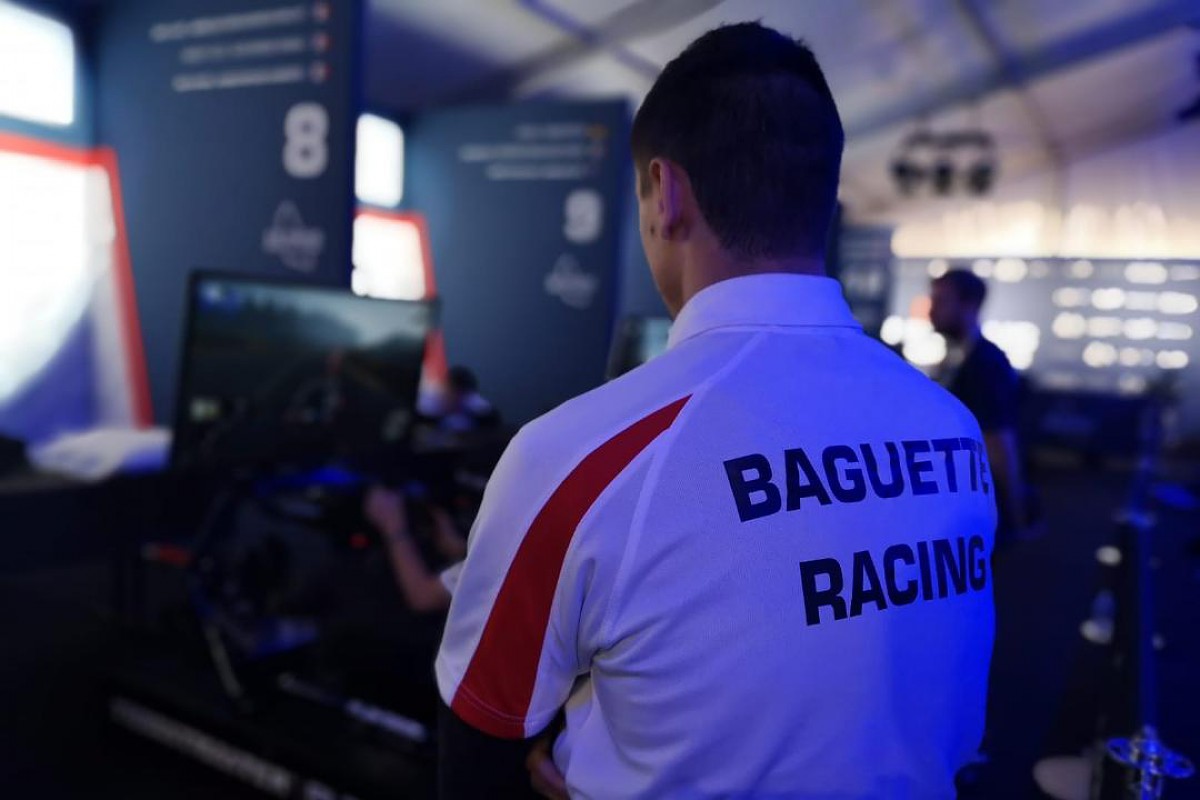 It proved to be a tense finale, with $25,000 up for grabs and a packed arena watching on.
There was a dramatic three-car collision as well as a gripping battle for the race win between Baguette and Veloce, as the latter closed and eventually grabbed the race lead with six laps to go.
"I've been racing since I was eight, and that was the best race I've been a part of, real-life or virtual," Baldwin said. "It was unbelievable, it was just an hour and 10 minutes of pure gunning it, and then 20 minutes of just praying. From a viewer's point of view, they can be pretty happy with what they saw on the broadcast."
While there was a visible physical and mental toll on the drivers after the 24 hours were completed, almost all of them immediately expressed a desire to do it all again next year.
Veloce is looking forward to defending its title, and Baguette immediately declared it wanted to take revenge in season two, while some of the first-timers have learned from their mistakes. Professional team Williams enjoyed little success, but just like its real-life counterpart, it's desperate to make amends.
The drivers know the Super Final platform will have attracted even more competition for next year, which will be undoubtedly another step up mentally. For now, though, they can be proud of how they managed to overcome an incredible endurance challenge, and still put on an amazing show.
The Le Mans Esports Series will return for a second season, and more information will be released shortly. Interested gamers can sign up for to learn more here.