Toro Rosso have had an eventful life since the marque morphed out of Minardi. Last season, the team ran to their own rules with the V10 engine, and Tonio Liuzzi's pace at the Bahrain season opener ruffled a few feathers. After that, the team's form subsided and so did the fuss, despite the FIA granting the Cosworth a few extra revs from mid-season.
This year, we have Toro Rosso embroiled in the saga of customer cars - although co-owner Gerhard Berger, rightly perhaps, insists that the phrase does not properly describe what Red Bull has done. As has been clear for some time, Adrian Newey's design group, now known as Red Bull Technology Ltd, has - apparently within the framework of the Concorde Agreement - produced a design that can take both the Renault and Ferrari engines.
Naturally, the two engines have different installations and associated systems, so the two cars are far from identical. Some of Toro Rosso's own design team contributed to the customising process for the Italian V8, and in addition parts for the Toro Rosso have also been made by a wide range of outside suppliers, so it is not simply built from a kit provided by Milton Keynes. But nevertheless there is there is much in common between the two designs, and that's what has riled the opposition.
Meanwhile, the team has raised a few eyebrows with its curious approach to motivating its drivers. All winter Berger insisted that while he would like to keep Liuzzi and Scott Speed, their places were not guaranteed. Driver choice was a question of commitment and performance, he said, and would not be determined by the availability of an outsider to the Red Bull family who might have funds available, despite suggestions to the contrary.
Liuzzi was finally confirmed in Barcelona last week, but there is still no news on Speed, and rumours that he will ultimately be replaced won't go away.
We asked Berger about the new car, the driver situation and what the team can achieve this year.
Q: When you left BMW you were keen to take it easy, but with the V10 story and now this year, you've been pretty busy.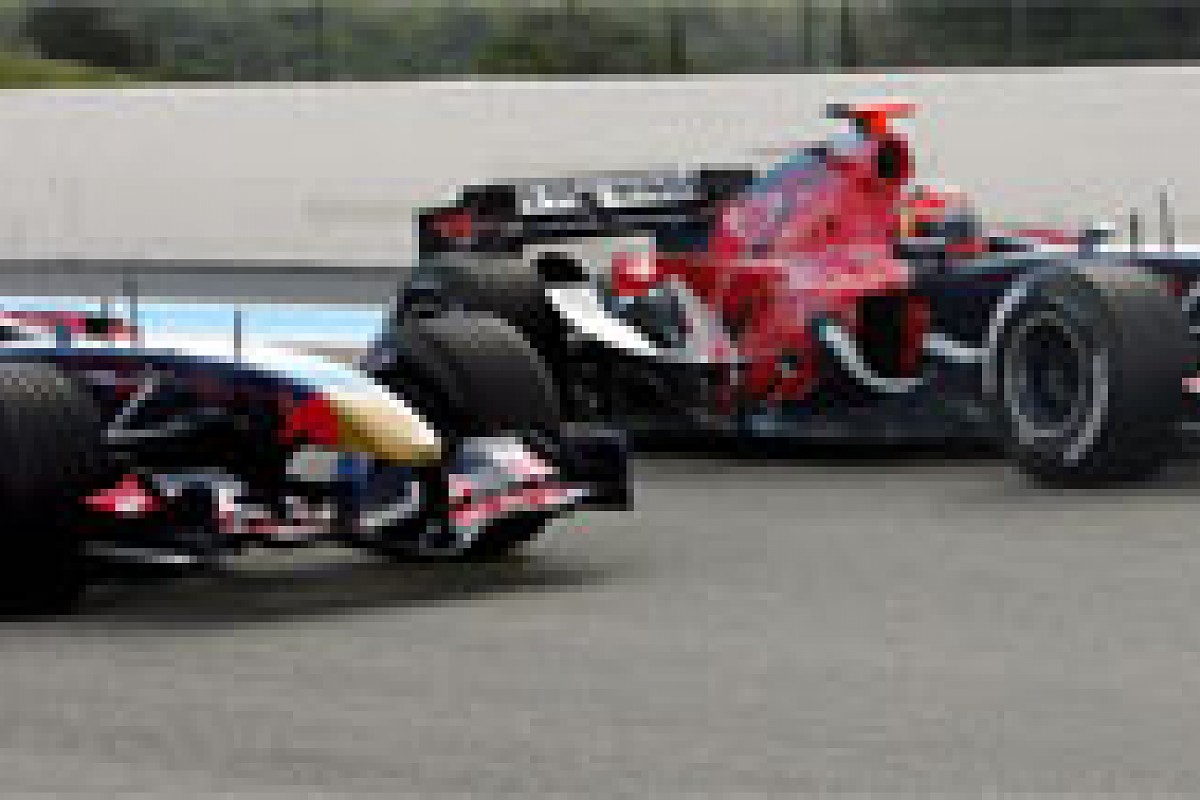 Scott Speed and Vitantonio Liuzzi testing at Paul Ricard in 2006 © GEPA/Red Bull
Gerhard Berger: "I was not expecting anything different. I'm too long in F1 that I know that everything is done on success, in the teams, in all areas. The whole business is highly competitive in each area. If you go and run a team or if you own a team, it's not coming by itself."
Q: So what was your plan for this year?
Berger: "It's very easy. We can put the car on the last row, don't do anything and be friendly to everybody, and everybody is going to laugh at us, and everybody's going to be nice to us, but we're not going to have any success.
"I think the thing is to be competitive. Even if you look at the front-runners, the damper situation last year with Renault, look at some McLaren things, when you are competitive and you go to the edge that's when you face problems. I'm totally prepared to take these problems, but still the only way to be competitive is to run it to the edge."
Q: How would you sum up the team's first year? It was hard for anyone to judge it because you were running to different rules to everybody else...
Berger: Number one, we bought the team and we took over an existing contract. Number two, there was a regulation and you were allowed to run a V10. There was nothing anywhere written that it was just for Minardi, or just for Stoddart. Honestly, it was very clear.
"Then we had some guys telling us that we'd have 100bhp more, that we'd have more torque, that we have a fantastic start, that in Monte Carlo we'd win the race. These guys really must feel stupid. They are still around in F1, and they're still supposed to be experts, and I think they must really feel shit if they think about it, because nothing happened in the end. I can promise we didn't do it on purpose!"
Q: Was last year really about putting the pieces together for 2007?
Berger: "Yeah, it was not easy. There were a lot of complications. The Ferrari engine was first with Red Bull, and now it's with us, the Renault engine had to come in. It didn't happen by itself. You have to finance it, you have to make a proper deal, you need to get it, you need to install it, it's a helluva work."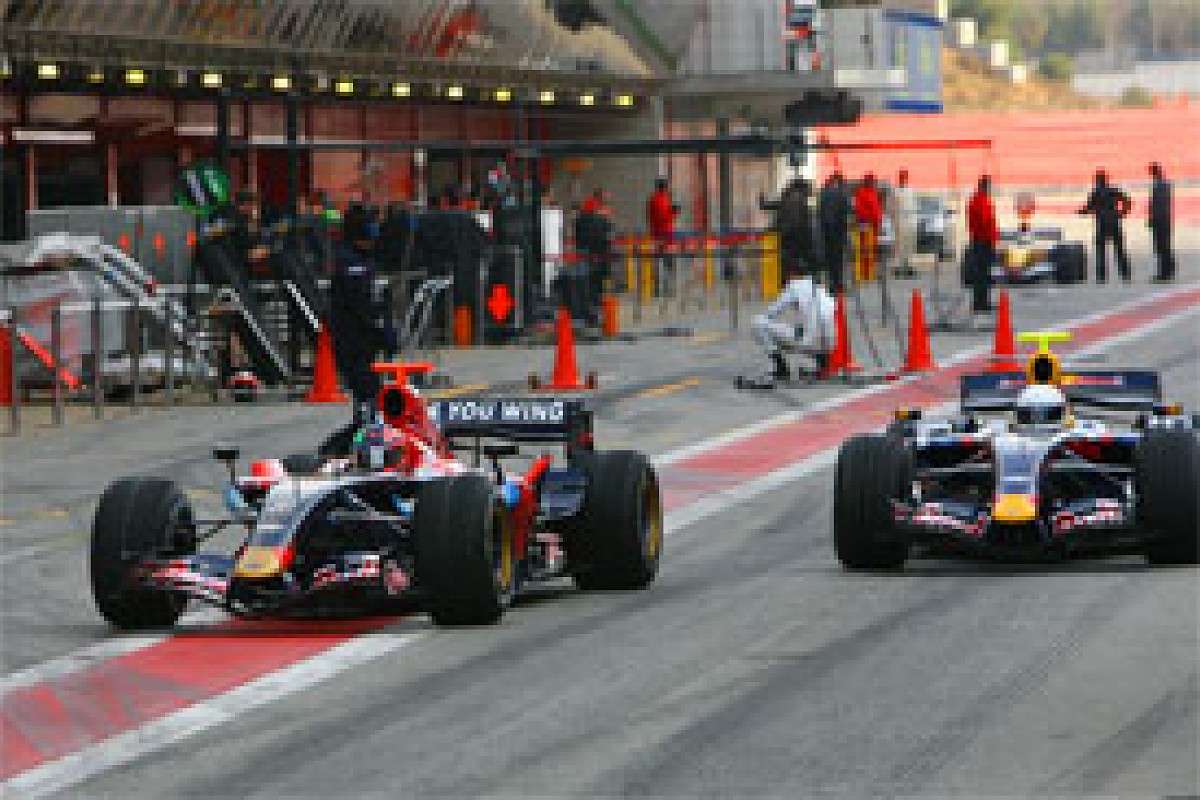 Vitantonio Liuzzi (Toro Rosso Ferrari) and Mark Webber (Red Bull RB3 Renault) © XPB/LAT
Q: Were you happy to get the Ferrari in the end?
Berger: "It's very simple. I was from the beginning interested to get the Ferrari engine. First I think it's a very competitive engine, as the Renault is, both were fighting for the championship. One has an advantage here, another has an advantage there, but in the end there's a similar level of performance.
"I have my history with Ferrari, which told me I would like more to have a Ferrari engine. They will look after themselves, but if they can help me, maybe they will. And for marketing reasons, it was definitely a better fit with Toro Rosso. So it was logical to for Toro Rosso to have the Ferrari engine.
"At the same time I have a very good relationship with Renault, from my times with Flavio, and I appreciate very much this engine, and Christian (Horner) appreciates it very much, so in this case maybe it's best that Red Bull is with Renault."
Q: Doesn't the Ferrari cost a lot more than the Renault?
Berger: "That's contract details..."
Q: But presumably you have to pay?
Berger: "Yes, but that was not the issue, it was not the cost. It was the performance, my relationship, my history, and marketing. And logistically too, to have the team 20kms away (from Maranello), it makes sense."
Q: Jean Todt clearly wasn't keen to make it happen, and the implication was that Red Bull Racing was a better prospect. Wasn't that an insult to Toro Rosso in a way?
Berger: "It's just important that they did it in the end, that's what counts. I think he and Ferrari also appreciate my long term relationship with them, so I think they want to help me, and that's why I wanted to do this step."
Q: In effect did Adrian's group simply design a car with two rear ends, and then hand one over to you?
Berger: "It's not that simple. The Ferrari car, you're talking about different engine, different gearbox, different radiators, different engine cover. It's also going to have different wings. At the end of the day, it's a different car.
"I don't think this matters for the interpretation of the rules. That's on top of it. Of course you find parts on the car that are the same, as is the case with Williams and us. We also go to a damper company and buy the same things. There are many parts that are anyway the same, so where does it start and where does it end?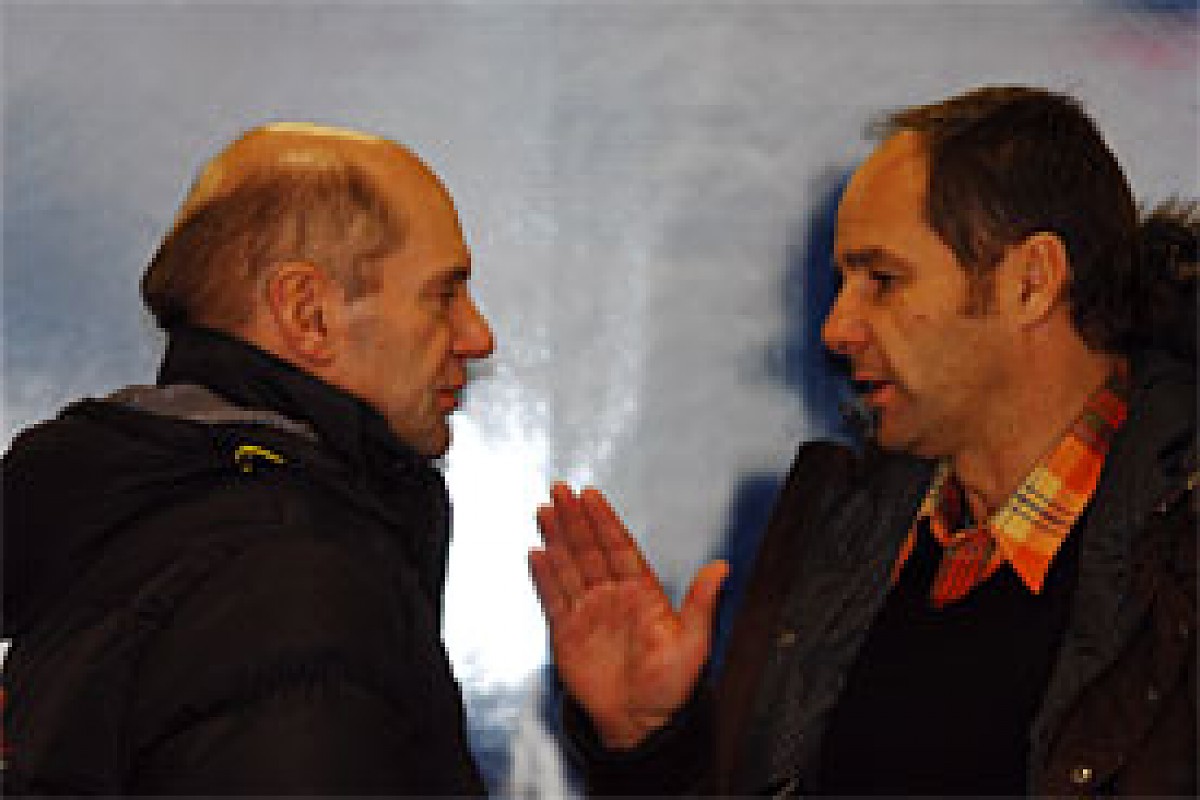 Adrian Newey and Gerhard Berger © XPB/LAT
"On top of it, it's done by a third party company, and the name is Red Bull Technology. That's the structure that we have, and that's what the agreement allows. Adrian is the head of RBT, and obviously the brain of Adrian is in our car."
Q: Did you have people working at RBT?
Berger: "We had some people there, helping to design certain areas, it was a combination of both sides."
Q: What do you think of the criticism?
Berger: "All this business, it's very simple. Every regulation has room for interpretation. We read it very carefully and interpreted in our way. We checked it with the legal department who gave us the green light and said 'we think you are 100 percent right'.
"We also informed the FIA what we're going to do, and if they see it in the same way as we interpreted. From their side we did not have any negative comments. So we went on. And now you have the competition, who have a different interpretation, which is in the nature of competition. The only thing that Frank (Williams) and Spyker cannot have is that we ask them what we can and cannot do."
Q: Do you understand why they might be upset?
Berger: "Some people are going to like it, because some people are going to say we've been tired to see the Minardi running two laps behind the leader, we'll appreciate it more if everybody is competitive. Some other people like Spyker are upset because if they could do this, why didn't we think about it? Obviously that's also fine.
"At the end of the day it's good for F1, the more competitive cars there are. We have to fight for the race weekends anyway. We're in a much better situation than we've been in, but there's still a long way to go to be really with the big boys."
Q: Most of your parts are outsourced. Was that planned to strengthen your case in terms of the cars being different?
Berger: "Not at all. We did not approach it to make certain decisions just to make evidence or something. We checked the rules, and we saw that's allowed. We had first the concept in the head, and then we checked the rules, if it's possible.
"The concept was that should we build up with Toro Rosso another 500 people for manufacturing, or 300 people, or should we use suppliers? And if so you need to find the right ones, you need to find the quality, you need to find the right mentality to deliver on time, so we faced a lot of difficulties on one side. On the other side I don't need to build 15 new offices."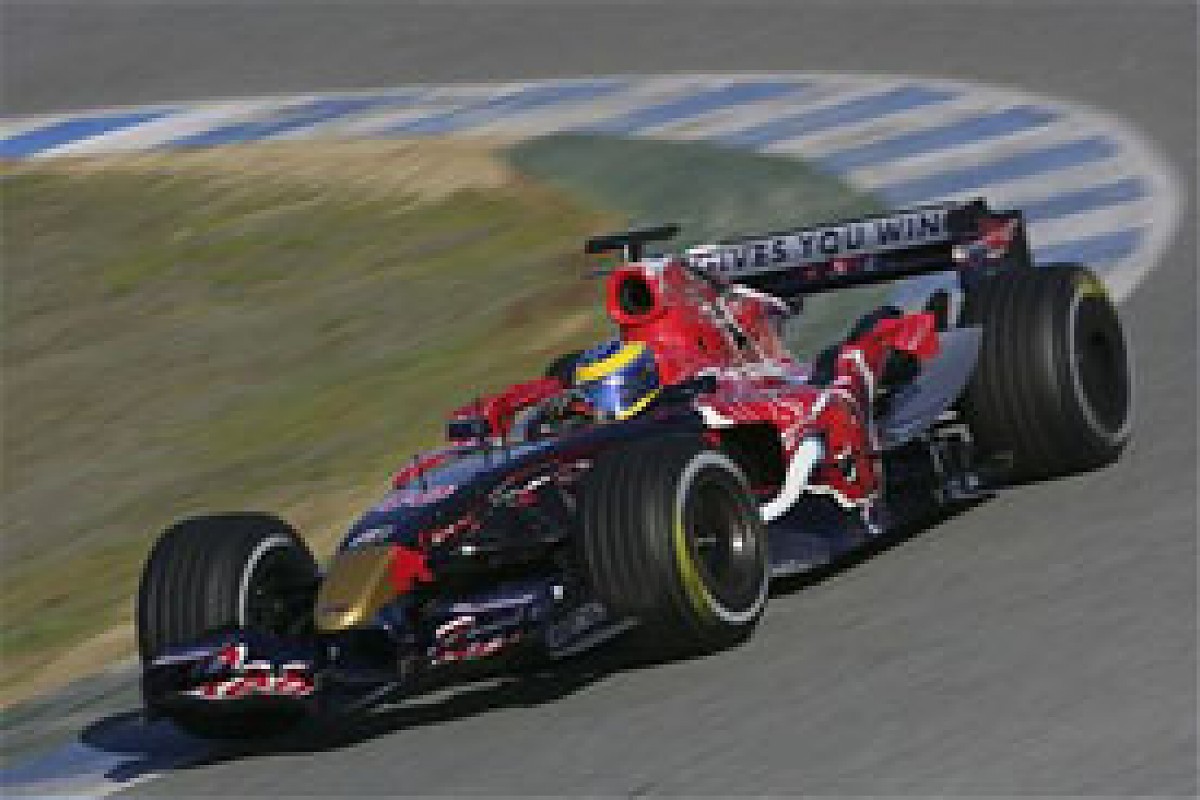 Sebastien Bourdais tests for Toro Rosso at Jerez © LAT
Q: Were you also thinking about next year, when customer cars are legal anyway?
Berger: "It's also nothing to do with next year. Our concept in Toro Rosso is slightly different from others, with all the negatives and positives."
Q: Why were you so late?
Berger: "Because we have a different car - you still don't believe me! But at the end of the day it's a different car, and a lot of parts. We have no in-house production in a way, so we have to go to suppliers. It's a completely different operation."
Q: So you were just waiting for all the pieces...
Berger: "Yeah, it's different when you have to collect them everywhere..."
Q: Is it going to be difficult for your guys to develop a car designed by RBT?
Berger: "Yes, but as I said before, it's like the suppliers. You face advantages and disadvantages, but overall I think it puts us in a better situation."
Q: What's the story with Scott Speed?
Berger: "It looks complicated, but it's very simple. We had a season with two young drivers, and in the first year obviously there were a lot of mistakes, good things and bad things. After the season we said 'OK, let's first analyse very carefully the season, all the races, all the tests, everything. And then let's see together with the drivers and make a plan, how to improve their weaknesses.'
"And obviously this plan you have to do together with the driver, because you need a great commitment from him, first to understand the problems, and then to be able to sort it out. Tonio did very well, he reacted very constructively and worked on himself.
"I think we'll see a different Tonio this year compared with last year. Both drivers are quite OK with natural talent, but obviously it's not everything in F1, you need a helluva commitment. I think we ask our drivers to put a similar commitment into the game as all the mechanics, all the engineers, ourselves, Red Bull on the financial side.
"For us it can be just good for next season if we feel this commitment. If this commitment is not there, it's difficult. We are very confident with Tonio that he has it. With Scott we still have some discussions going on, and before we sort out these points we don't want to confirm him."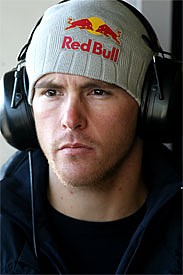 Scott Speed © XPB/LAT
Q: So he didn't react as well to criticism as Tonio?
Berger: "Definitely there is room for improvement in his commitment."
Q: You were quoted as saying that your drivers partied too much. He told me that annoyed him, because after all he doesn't even drink...
Berger: "That's not true. I read it somewhere, but that's not my view. I like the partying. It's part of the game. I appreciate craziness, human things, and we're Red Bull, but it needs to be in balance with the performance."
Q: You mean Michael Schumacher can get away with being seen out having fun.
Berger: "Our guys cannot be like Schumacher in the experience, they cannot be like him with the natural talent, but they can be like him with the commitment. That's up to them. We know that if you don't have this commitment, it's too competitive, and long term or medium term you'll have problems."
Q: Was running Sebastian Bourdais part of motivating the others?
Berger: "Not at all. He was somebody we were interested to see. The guy has been successful in America. Many people in F1 were wondering how he would go and we said 'you know what, let's just put him in the car and have a look.' He did well, it was positive."
Q: What about Juan Pablo Montoya and Mika Hakkinen? Did you really think that having a big name would bring some money in?
Berger: "I never talked one word with Montoya, not at all. I talked to him the last time when he was driving with McLaren, and I don't think anybody of my team talked with Montoya. I have a helluva respect for Montoya's car control, speed, and his good days. But in the end you need to get all the rest also done. He didn't in F1, so that's why he went back to America.
"Franz (Tost, formerly with BMW) always had a good relationship with him. If we wanted Montoya we could already discuss with him at a very early stage when he still was around. I won't say I want Montoya or I don't want Montoya. A motivated Montoya on his day is a Grand Prix winner, as we've seen already. And who doesn't want that? I don't care about the name, I care about the speed.
"I have a lot of respect for him on his good days, but unfortunately he has more bad days than good days, and he would need to change his ways. I wish him good luck in NASCAR."
Q: What about Mika?
Berger: "We have a list, we went through all the drivers. Hakkinen is a friend of mine. I raced with him. I ran into him in Monaco, our children go to the same school. All I did was ask him why do you do all the training and go to DTM? I think you could do another two or three years in F1, why don't you train a bit more and you're still able to do it?
Mika Hakkinen at Barcelona during testing © XPB/LAT
"He said 'Gerhard, I'm not prepared any more to go through all the pain what it needs to be in F1.' That's it, that's all that we spoke, we did not negotiate or anything. Just as friends."
Q: But didn't you say that you were happy that Ron Dennis paid for his 'comeback' test?
Berger: "That was a joke, but it came a bit around. Ron has much more reasons to give him a test, because he has a big history behind him. Actually if I would be Mika I think I would do a proper test over three or four days or maybe two times, because I'm sure he can still be quick in an F1 car."
Q: And you talked to people with budgets, like Monteiro, Viso, Karthikeyan...
Berger: "They're all there, they all approached us, we all spoke with them, no secrets. But I always said that still our two drivers are on pole position. Tonio now is there, and I have to say Scott is still on pole position.
"I believe that with his natural talent he can do a reasonable job. But he is not at a talent stage where he doesn't need to work. He needs also to bring a commitment. If he has this, and he shows this, no problem. I think we will be very happy with the two guys. I really hope that we're going to end up with Scott and Tonio."
Q: What are your plans for the new factory?
Berger: "We decided to stay in Faenza, Forli, around this area. We really want to place ourselves long-term in Italy as the second Italian team. The team has grown up there so we have all our people there.
"For marketing reasons Italy is an important country, and I love to be there anyway. You know, it's important either you are in England or you are around Bologna. There's quite a range of people and engineers you get for racing. Either you are back in England or you're where we are."
Q: Do you feel that you've got a car that you can actually fight with?
Berger: "Yes, because theoretically we should have done a great step forward. I just don't know if the reality is like this. I'm very happy about the Ferrari engine, I'm very happy with the car we have. For our team it really looks like a space shuttle in the pits! And I can see also that the team is very motivated to race again, but how much we can race in the end, I don't know."