No Second Place

---
By Richard Barnes, South Africa
Autosport-Atlas Writer
It is not often that F1 sees a battle that ends in a draw. Sunday's San Marino Grand Prix featured a rightful winner, and a deserving winner; it served as Fernando Alonso's initiation as the heir to the throne, and it was Michael Schumacher's vindication as the rightful holder of the throne. Richard Barnes analyses a race that began with disappointments and ended with a promise
For almost four hours on Sunday, it seemed that mistakes and mechanical reliability had scuppered the prospects for a fine and thrilling San Marino Grand Prix. As the first stop on the European F1 calendar for 2005, San Marino had been eagerly awaited as a harbinger of form to come and the start of the 'real' Championship chase. After Saturday's first qualifying session, the stage was set for an epic race, with Championship leader Fernando Alonso sandwiched between his two main rivals for the WDC title - McLaren's Kimi Raikkonen a mere three thousands of a second faster, and Ferrari's Michael Schumacher hovering ominously in third place.
Sunday morning's qualifying session removed Schumacher from the equation (or so we thought), a rare driving error dropping him back to a seemingly hopeless thirteenth on the grid. Several hours later, Kimi Raikkonen's McLaren had expired from a driveshaft failure. Just nine laps into the race, the weekend's promise had dissipated, resulting in another processional triumph for the flawless reliability and superior pace of Alonso's Renault. Or so it seemed...
You'd think that, after rewriting almost every record in the book, Michael Schumacher would no longer be underestimated by anybody. But on Sunday, the seven time Champion reminded us again just how jaw-droppingly dominant he can be when the mood, the machinery and the conditions allow.
It was unfortunate that one of the best drives of Schumacher's extraordinary career should not be rewarded with victory. But it would have been equally unfair if Alonso's sterling effort had been denied the ten points. It's difficult to remember any Grand Prix in which the driving honours were so evenly split, with both of the top two finishers equally deserving the win. If it had been a boxing match, no impartial observer could have argued with a drawn result. And, as with many of the classic boxing matches, the different style and approach of the two protagonists made direct comparisons all the more difficult and inconclusive.
Schumacher knows that the win was his for the taking. If he'd started from the expected front two rows of the grid, he'd have breezed past Alonso (and Raikkonen, even if his McLaren had remained reliable) during the first round of pitstops and won going away. The reigning Champion also had good fortune on his side, in the form of Toyota's Jarno Trulli. The Italian did a marvellous job of keeping the entire field, barring Alonso and BAR's Jenson Button, within easy reach of the Ferrari. If BAR's Takuma Sato and/or McLaren's Alexander Wurz had managed to find a way past Trulli at the start, Schumacher's epic drive would never have been. He'd have trailed Sato or Wurz or both after the first round of stops, would have had to wait until the second stop to leapfrog them, and would have been left with insufficient laps to attack even Button, let alone Alonso.
Nevertheless, even if the cool conditions favoured Schumacher's Bridgestone tyres, even if Imola is a circuit that traditionally favours Ferrari, and even if the F2005 really is as dominant as it looked on Sunday, Schumacher's level of driving was still in a different league. Schumacher's fastest lap was only three quarters of a second quicker than Jenson Button's and just over one second faster than Wurz and Alonso's best efforts. Still, when he was chasing hardest, Schumacher was effortlessly stripping 1.5 to 2 seconds per lap from his rivals' lead. Disappointingly, Rubens Barrichello's sister Ferrari didn't last long enough for him to cut loose in clean air and give us a second reference point for Ferrari's general pace. However, even if it had, it would no doubt have confirmed that, on the day, the car's raw pace was only partly due to superior power, traction and braking. The rest was Schumacher.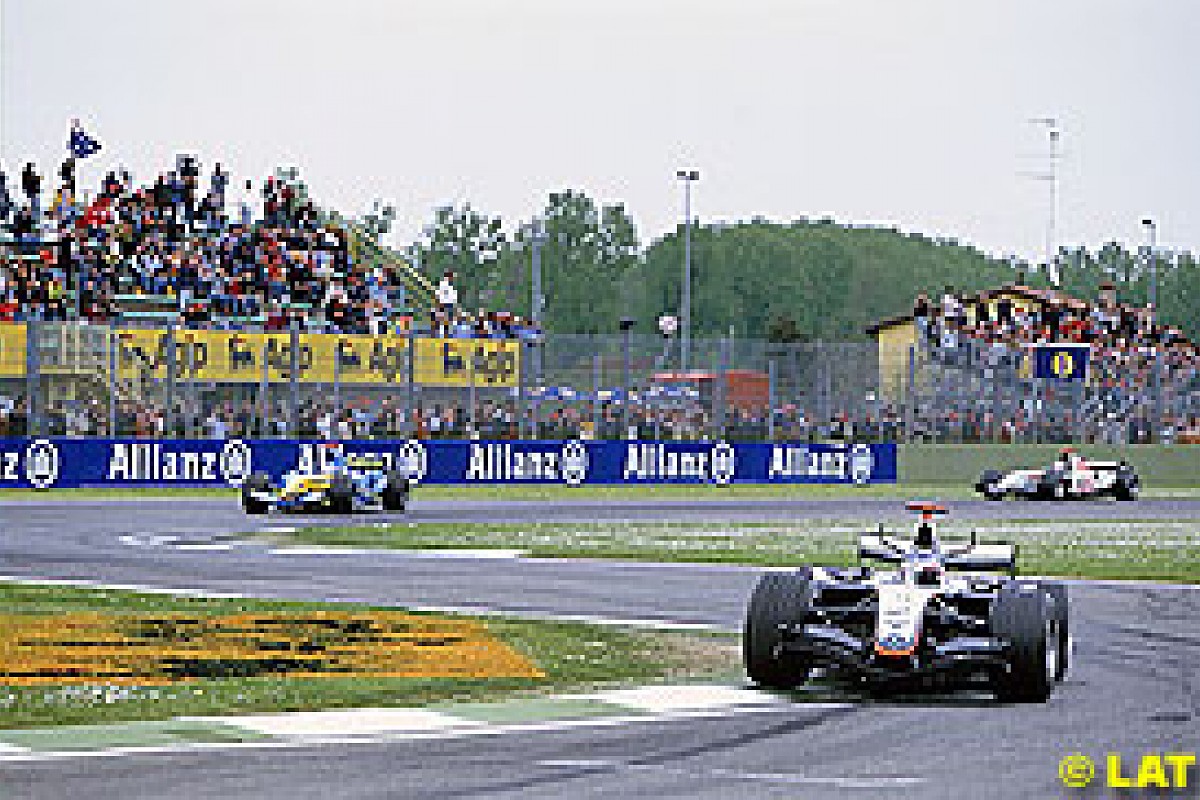 Fernando Alonso's race was not nearly as eye-catching as Schumacher's. He seemed to have no answer to Kimi Raikkonen's early speed, settled into a comfortable lead and rhythm once Raikkonen had retired, and seemed to again have no answer when Schumacher loomed in his mirrors. Yet Alonso also made no mistakes during the entire weekend and nursed a well-used engine to its second successive victory under difficult circumstances. In Formula One, where the most efficient style is often the least visually impressive, Alonso delivered handsomely for himself and for his team.
There was the notion, put forth by the ITV commentary team, that Alonso would have been smarter in deferring to Schumacher's storming assault and holding on for the safe eight points. There are Championship scenarios in which that approach would be best, but Alonso's current situation is not one of them.
Prior to Sunday's race, Alonso had three GP wins. Michael Schumacher hadn't been a factor in any of them. At Hungary 2003, Alonso outclassed the field while Schumacher was only marginally competitive. At Malaysia 2005, Schumacher was well off the pace, and survived for only a handful of laps at Bahrain two weeks later. Alonso has never had to beat a fired up and competitive Schumacher to win. If he is to inherit Schumacher's crown, it was a test that he had to face sooner or later. Capitulating at the first attempt could have been disastrous for Alonso's confidence and mindset.
The other important factor was that track position at Imola is defensible, even without unduly stressing the engine. Through adopting defensive lines, positioning the car carefully on the apex of each corner, and relying on Renault's impressive traction out of corners to prevent slipstreaming and outbraking, Alonso forced Schumacher to resort to the heroic if he wanted to pass. Under the circumstances, Schumacher wasn't going to risk contact. If he'd taken Alonso off, he'd have suffered a fresh round of allegations that he's an unsporting driver who'd rather crash than lose. So it was always an unjustified risk for Schumacher. Besides, Ferrari needed the constructors' points as much as Schumacher needed the WDC points.
The major risk that Alonso faced was not the Prancing Horse behind but the Red Bull ahead. The unpredictable reaction of lapped backmarkers was the very situation which had caught Jenson Button unawared and allowed Schumacher through a few laps earlier. It's an eventuality that not even the most experienced and skilful driver can always guard against, and Schumacher himself was the victim of a stunning overtaking move at Spa 2000 when he and arch-rival Mika Hakkinen came upon Ricardo Zonta's lapped BAR. To his great credit, Alonso was canny enough to slow his pace over the final few laps to avoid catching the slower cars ahead.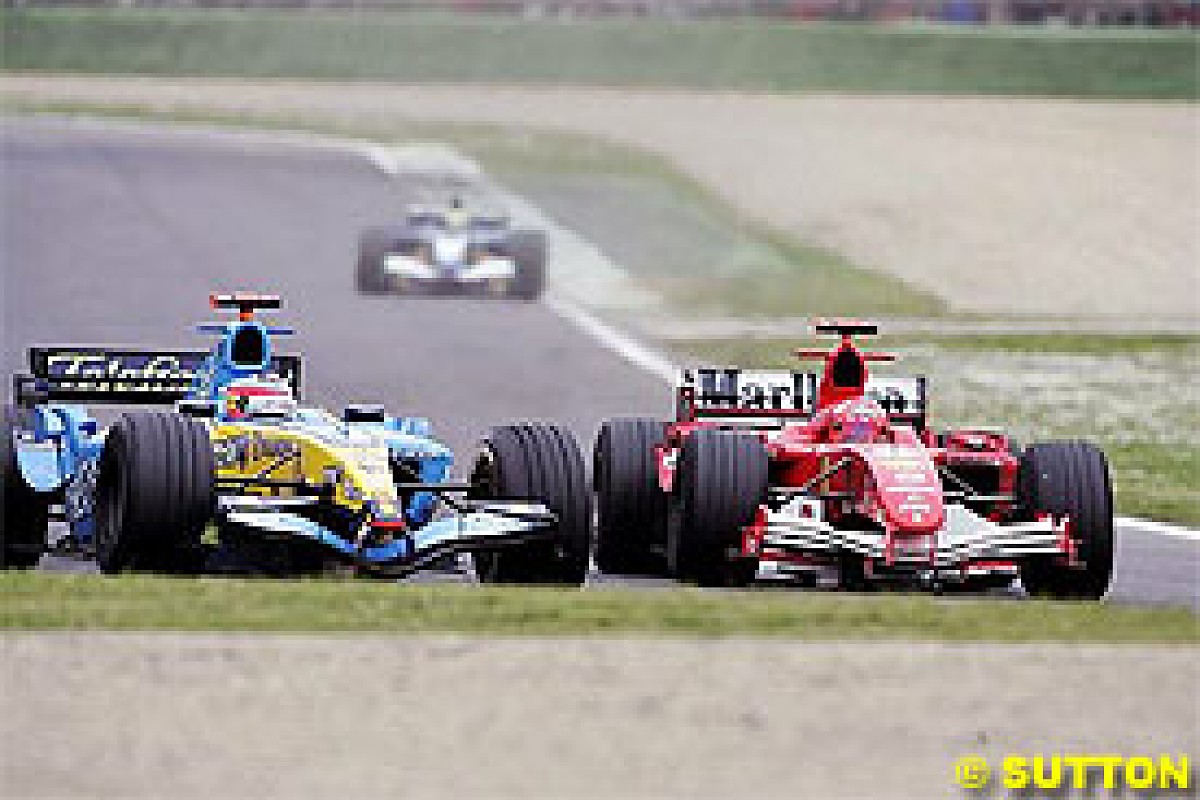 Even if the theory of what Alonso needed to do is easily understood, it's another matter entirely to execute it flawlessly under racing pressure and with tyres that have already run almost a full race distance. Kimi Raikkonen faced the Schumacher pressure test at France 2002 and capitulated; not through a driving error but via the cruel misfortune of Allan McNish's stricken Toyota dropping oil on his braking zone for the hairpin.
Raikkonen was able to extract a measure of revenge with a brilliant victory at Spa 2004, Schumacher's 'home' circuit and one of his favourite hunting grounds. For Alonso, there will be no need to set the record straight. Over those agonising final dozen laps on Sunday, he learnt more about pressure than in all his previous 53 GP starts combined. It was a rite of passage that he aced first time, and a test of character that will stand him in good stead for the future.
Although, if the Ferrari continues to be as quick as it was on Sunday, Alonso will need all the help he can get. Even after surrendering another two points to Alonso's already emphatic Championship lead, Schumacher proved once again that it's extremely foolhardy to write him off prematurely.