No Excuses: Interview with Mark Webber

---
By Adam Cooper, England
Autosport-Atlas Contributing Writer
Mark Webber's move to the Williams team was accompanied by great expectations of seeing the front-running team finally offer the rising Australian star the right equipment to unleash his talent. So far in 2005, however, Webber and Williams seem to obtain average results and lukewarm reactions. Webber makes no excuses but believes they have done better than expected. Adam Cooper talked to Webber, ahead of the San Marino GP
His fifth and sixth places thus far in 2005 are not much to shout about in terms of the stellar history of the Williams teams. But for Mark Webber, it's been a fair start to the season, bearing in mind that back in February the new FW27 appeared to be in a pretty desperate state. When you consider that Webber could have taken the third place that ultimately went to his teammate Nick Heidfeld in Malaysia, it doesn't look too shabby.
So the plus side is that there are some points in the bag, but the downside is that there could have been more, as the Australian is the first to admit. One could criticise him for not being aggressive enough at the start in Australia, for putting himself in a position where he was a target for an optimistic Giancarlo Fisichella in Malaysia, and for spinning off in Bahrain.
It might be a little unfair to compile a list like that. It could certainly be argued that he was wise to keep out of trouble in Australia - his first race for the team and his home race - and conversely he can hardly be blamed for getting into it while aggressively defending his position at Sepang. But these are the things that suddenly become critical when you're fighting at the sharp end of the field. He's now battling with guys he rarely ran wheel to wheel with in his Jaguar days, and the spotlight is on him.
Webber admits that there's been a learning curve for both himself and BMW Williams, especially as the swap of both drivers coincides with some major rules changes.
"You're always going to learn a lot when you go to a new team and there are new regulations," he says. "There are lots of things which come up and make you say, 'We'll do better next time.' But that's obviously not good enough for too long, you've got to step up to the plate and deliver and be at the front.
"We've got a lot more to come, but we've still got a few points on the board. It's not as if we're BAR, who haven't got anything at all. We've got to aim a lot higher, and we're under no illusions about what we've got ahead of us."
Nevertheless, he's happy to have done better than might have been expected after the testing problems.
"There's no question about it, we expected a tough start, and we've had that. It's probably gone a little bit better than we thought. Imola will be very interesting, to see where everyone is. We probably got hit slightly worse than some other teams in Bahrain, and that's down to preparation, that's not making excuses. Other teams were probably a little bit better prepared for those high ambient conditions, and we'll probably be better prepared in Imola than some of the other teams."
Webber had mixed emotions when he went to Australia. On the one hand, he experienced the buzz that went with being the home hero in a top team for the first time. On the other, he knew that BMW Williams was not where it should be, and that the punters might be disappointed.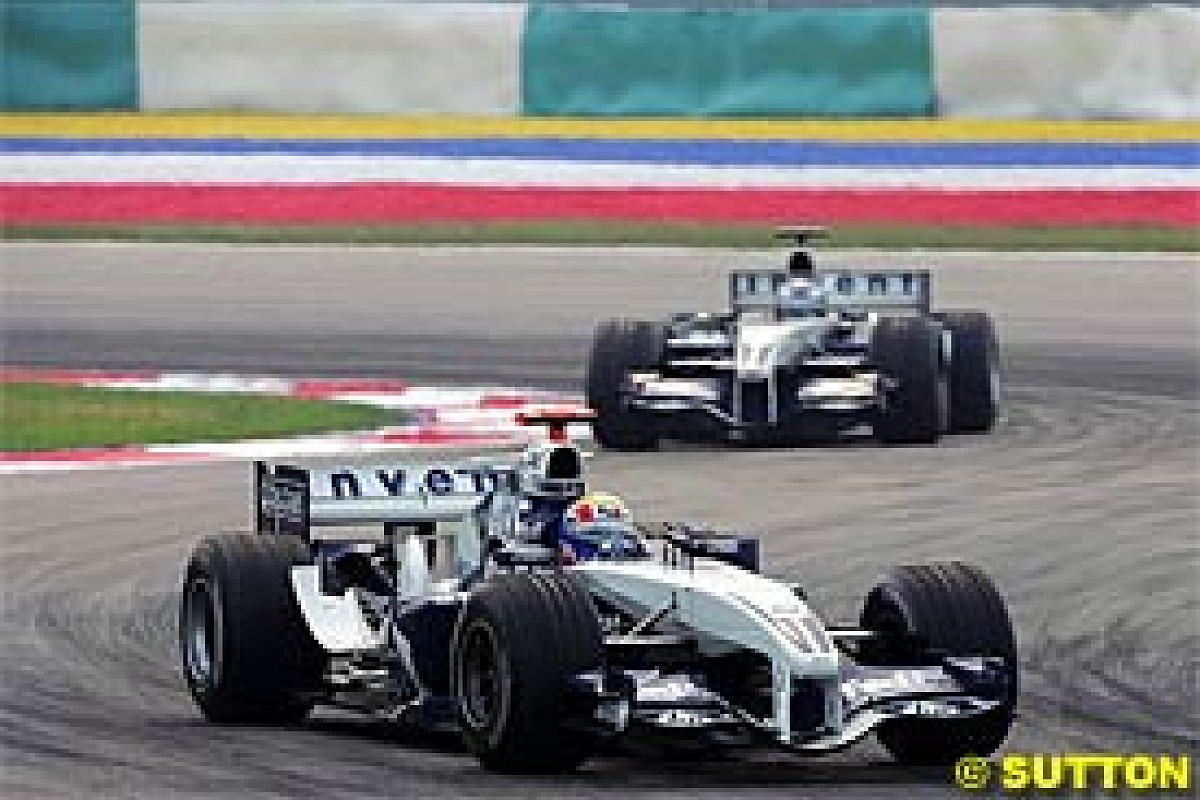 He was helped into fourth on the grid by the rain, but his form in the race was better than expected. Had he stayed ahead of David Coulthard at the start of the race, it might have been even better.
"We shouldn't have got beaten by David in Melbourne, but we did, because of the first lap and the pitstops and stuff," he says. "That was frustrating, we could have extracted a better result there because we had a better car there than we probably showed. Melbourne was probably our most competitive showing in terms of pace compared to the front, but Renault were very conservative with Fernando [Alonso], so it was hard to judge.
"In Malaysia, we were definitely the best of the rest. In the race we were hanging up there, fighting with one of the Renaults and one of the Toyotas. I was quicker than the guy who'd just won the first race, fair and square. We were on course for a very fair podium. We started fourth on the grid, and we were on our way. If Giancarlo wasn't there, then my race would have been quite straightforward. He was the bottleneck, and that made it a good race. There was me and Ralf [Schumacher] and Nick and Giancarlo and I again."
At one stage, Schumacher Jr hit Webber at the final corner, a move that saw Heidfeld jump past. The Williams pair then dived into the first turn side-by-side. Having standing right there, on the inside, I can assure you that it very nearly ended in tears...
"It was very close," Webber confirms. "I had to get it back, because I didn't think I deserved to lose that position, I was fighting Giancarlo. In the middle of it I thought we were going to touch, but Nick was good, and he gave me a bit of room that I needed."
It all came to nothing when Fisichella assaulted Webber, just where Ralf Schumacher had attacked him. This time it did end in tears.
"That was a painful DNF for both of us, we both went into that corner hoping that wouldn't happen. We were just trying to get track position. It's always the same. What Ralf and I did was much worse than that, except that Ralf kept control of his car and we managed to take the battle down to Turn One. Giancarlo lost his car, and we crashed!
"He definitely wasn't making the apex, he was using me to get round the corner. It's dirty down the inside, and Giancarlo with absolutely no rear tyres left, so of course he lost the car. If he had held his line, or made the apex let's say, then we would have gone round the corner and lived to fight another day down the next straight. But you learn from those things..."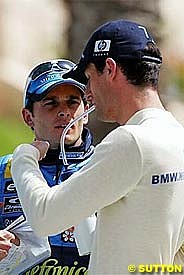 In Bahrain, Mark was compromised by issues with the car, but a spectacular spin - he was right on the limit in the corners to make up for lack of straightline speed - proved costly.
"Obviously we finished a long way behind in Bahrain, so that was a poor weekend for us in terms of the pace of the car. We had to wind the engine back heavily, because it was a little bit hot. So that was a bit tricky. We still had the pace to stay with the guys in front, but we were struggling with the tyres. I got a little bit wide in Turn 10, just a sniff, and it was gone.
"I had massive flat spots after that, so it was very difficult to fight Pedro [de la Rosa], because I couldn't really see in the mirrors that much. I couldn't see him - that car is bloody grey, so it wasn't easy to spot that car when the vibration was so massive. I lost him many times!
"But it was a good, fair scrap, and I enjoyed it. We did everything we could to try and help the tyres in the race, we knew it was going to be an issue for us. We ran more downforce to try and help them. It did become very difficult to defend against Pedro, he was incredibly strong."
Sixth place on a tough afternoon was at least some kind of reward.
"Clearly we could have had points in all three races. Obviously Malaysia was something which was a different story. We're there, we're fighting, qualifying is going pretty well, we're learning an absolute shit load. But you don't want to do as much learning as we're probably doing at the moment in races. You want to try and do your learning somewhere else. At the moment we're learning a little too much in races.
"What we saw in Bahrain wasn't particularly fair. There were some factors going on there which did multiply our race pace, if you like. We should have been a lot more competitive than we were, the tyres should have done the business for us. But it clearly wasn't good enough, we've got a lot of things to work on, and other teams are the benchmark at the moment. Renault have hit the sweet spot in qualifying and in the race."
Obviously Williams have been working hard to find extra speed in their recent tests at Barcelona and Paul Ricard, but the other teams have also made progress, and BAR and Ferrari are bound to be stronger from Imola onwards. However, Webber and his team are hoping that cooler weather will help to close the gap to those ahead.
"I'm expecting us to be a lot more competitive in Imola, and I'll be very disappointed if we're not," says Webber. "Going back to Europe should suit us a lot more than these last few races, in terms of our package, mainly because of the temperatures. We knew we made it quite hard for ourselves in Bahrain, but we got the car to the finish, and we got some points. It's a painful way to keep chipping away, we want to get bigger chunks of points than that. That's not good enough yet.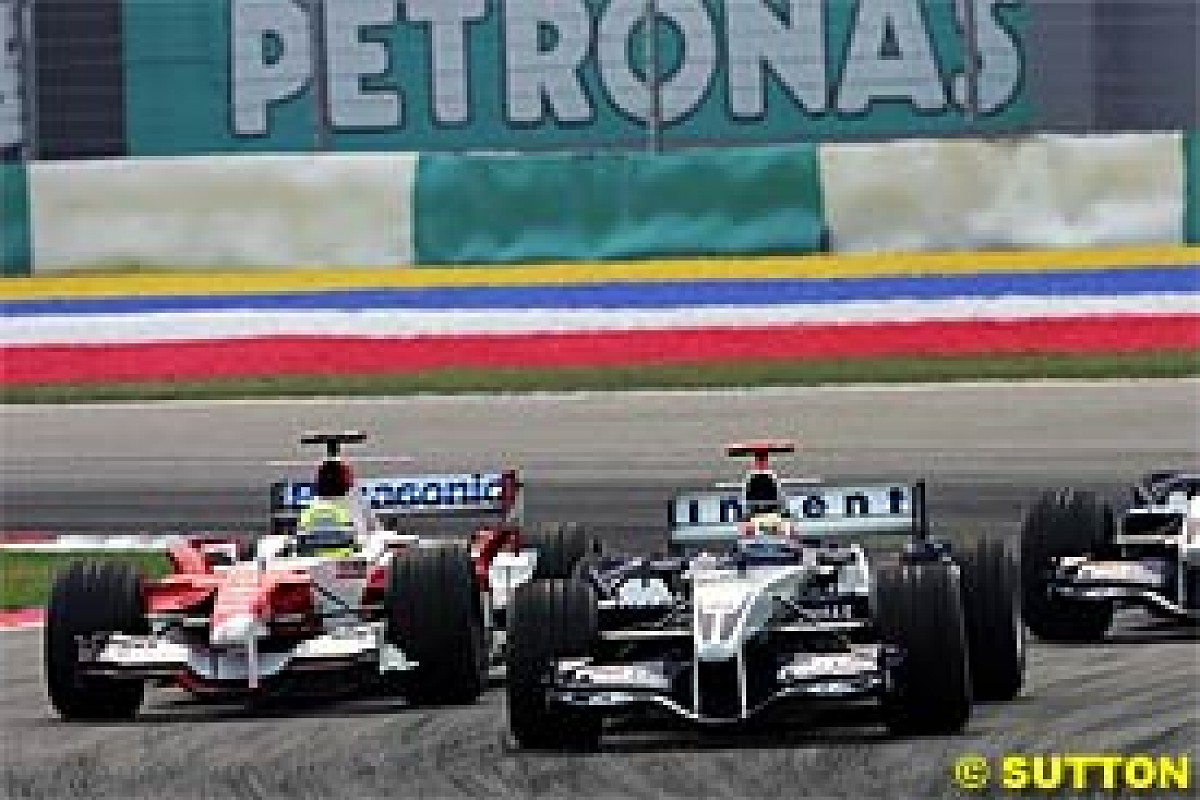 "We are setting hard targets for ourselves. Since the car was launched, we've made massive inroads into improving it, no question about it. Both BMW and Williams have done a good job, and from Bahrain to Imola we have a few more new pieces, which you have to do if you're going to race at the front. Obviously the engine failure in Bahrain was a shame with Nick, as it was only 20 laps into the race. That was disappointing."
It's no secret that like BAR, Williams knew they had some urgent aero work to do after seeing how their new car performed on track. However, Webber doesn't want to apportion blame to one part of the package.
"It's pretty harsh to pinpoint one particular area, because it's not just down to that. In the past Williams have been hooked up and [Juan Pablo] Montoya's won by more than 60 seconds in Hockenheim [in 2003]. You can cruise when things work nicely for you. But when you've got a few little areas that you're not getting the maximum out of compared to the opposition...
'We haven't been able to live with Renault at the moment, and also Toyota are quite strong. Everyone is going to start ramping up now. Renault have more to lose because they are the benchmark at the moment, just as Ferrari have been awesome for the last five years.
"Knowing how Renault are, and how it is when you've got a slight buffer like they have at the moment, they can also wind things back. We haven't really seen the most of the Renault yet, that's the other side of the coin. You could say they've controlled it pretty well. McLaren look strong, if they can get their cars qualifying better, they're very fast in the race. They're as quick as the Renaults, probably. They just haven't been able to put it all together yet, which Renault have. They're the only team that have put it all together, and they're very reliable."
The temperatures may be a factor, but Webber isn't making any excuses. If Renault and Toyota were quicker at the start of the season, that's because they did a better job in the circumstances that arose. It was the same for everyone.
"The form book has not lied in the first three races. That's where it is. The teams that weren't up there, weren't up there - they got their arse kicked, and that's how it was. They turned up and that was their best effort. They can't say 'we should have run this', 'we should have run that'.
"Imola will be, I think, the best weekend by far for Ferrari. BAR will be better than they have been, and Renault hopefully will slow their progress a little bit. How the next chunk of six or seven races will go, we will see at Imola. It might be a good indicator, as most of those races are held in the same sort of temperatures.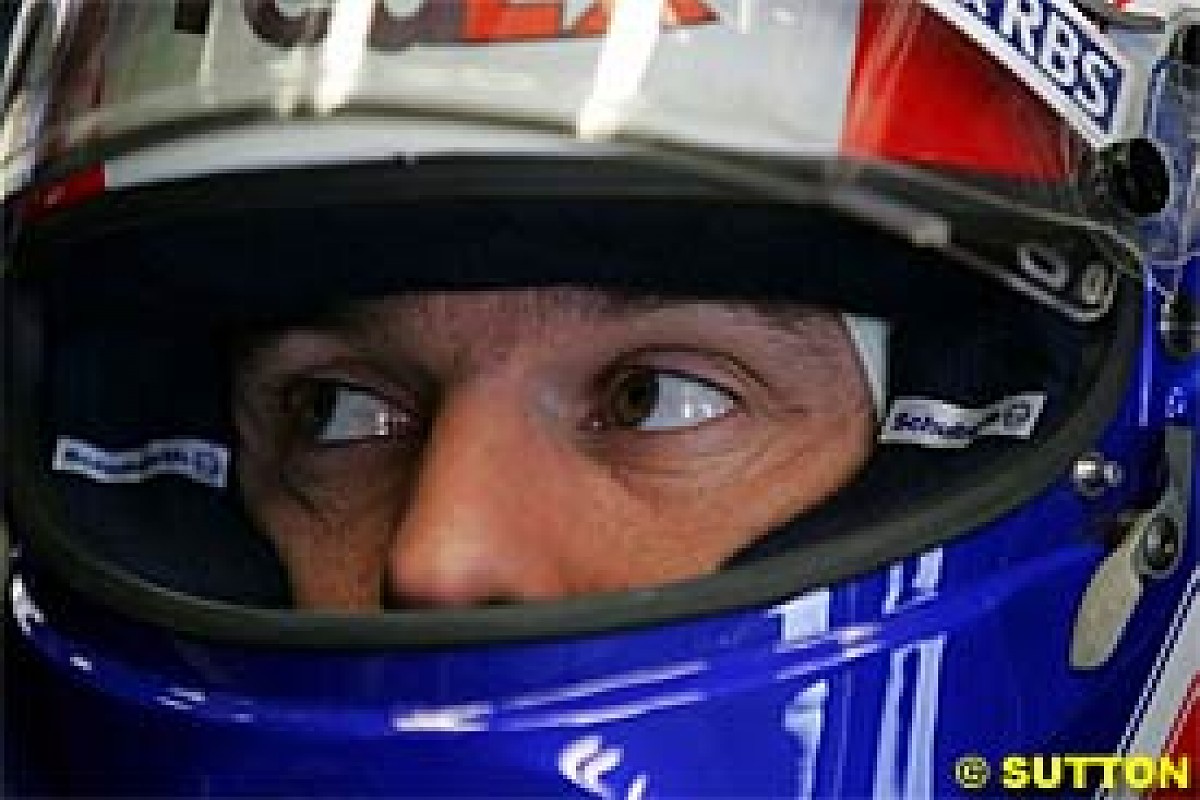 "Williams had some pretty good results there in the past. Ralf won for the first time with Michelin and BMW in 2001. Imola is a bit of a power circuit, because of the climbs, and you need good braking stability, and of course downforce - you never escape from that. Let's hope that things will go well there."
If the FW27 is getting fitter, so too is its driver. He says it hadn't slowed him in the races, but Webber has raced all year with a rib injury sustained in testing.
"It happened at Barcelona, and then I went to the Valencia test before Melbourne. It hasn't affected me at all in a Grand Prix. I went to Barcelona again the other day and did 60 laps. I just said to the boys, 'look, I just want to be sure that I don't open a can of worms again'.
"We know what's coming in May, June and July, I don't want to kick it all off again. It's 80% now. I've just got to have a few more Big Macs and put a bit of beef on!"