---
By Dieter Rencken, Belgium
Autosport-Atlas Columnist
G9, 3F, GPWC, and So On
The start of practice for the San Marino Grand Prix marks a fairly significant milestone in the politics of Formula One, for it will have been, to the day, six months since the Group of Nine bandied together in a show of strength against Ferrari and the FIA.
Ironically, it was Bernie Ecclestone who brought the teams together at the Brazilian Grand Prix last year. Formula one's commercial rights' holder, desperate to push through two Grands Prix over and above the 17 permitted by the Concorde Agreement, suggested they agree to a 10-day testing cap in 2005 (and a single tyre supplier from 2006), and offset the costs of the additional events against these savings.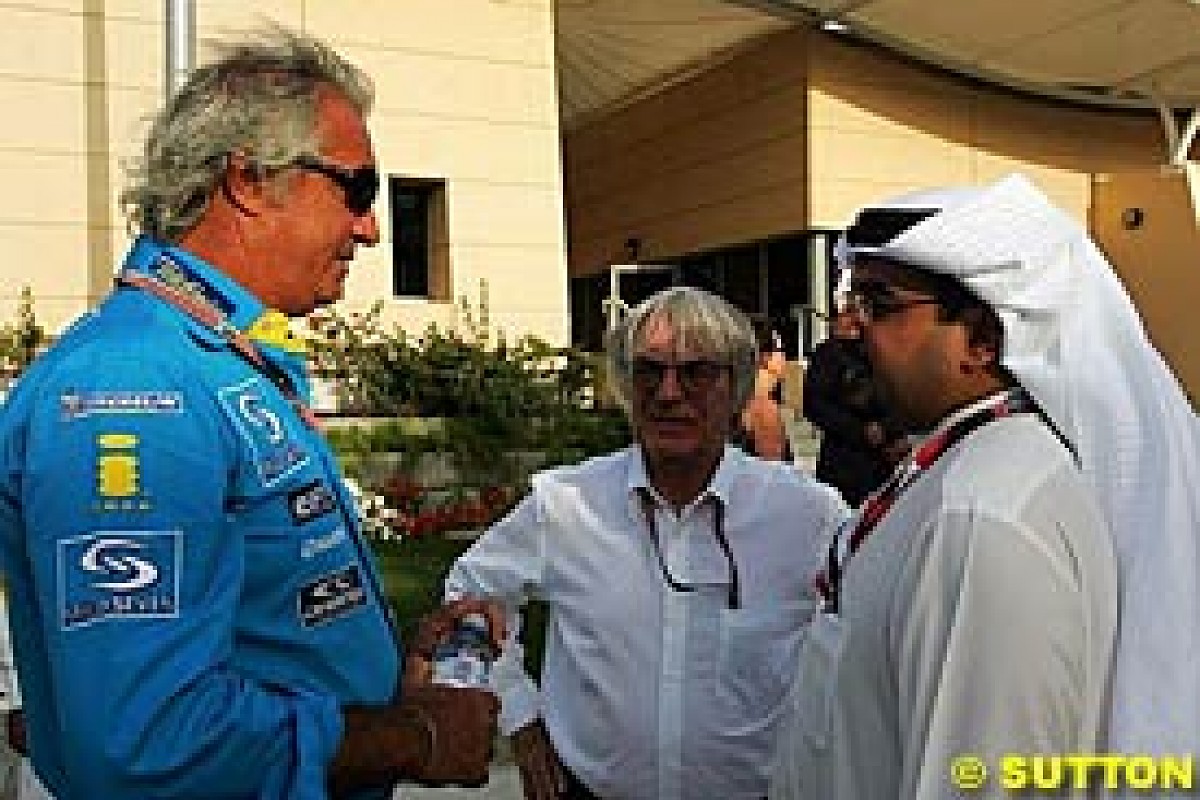 Ferrari, for reasons best known to themselves, did not attend that meeting. The team are adamant they were not invited, Minardi boss Paul Stoddart assures all who listen they were. Either way, Ecclestone hoped to 'name and shame' Ferrari, with their access to no less than four Grade A circuits, including their own Fiorano facility, into accepting cut-backs, and thus two additional races, but, as history records, the 2005 calendar includes these additional events whilst Ferrari continue on their merry way, testing what, when and where they fancy.
At the time of its forming, the G9 was given little hope of survival, with some scribes suggesting in Brazil the union would be over by the time its members landed back in their countries of origin after the race. Then, when the departure of BAR boss David Richards - an event thought not unassociated with G9, for the motorsport entrepreneur is said to have committed BAR to the accord without reference to engine partner (and soon-to-be shareholder) - was announced, G9 was given even less chance of seeing the end of 2004. Remarkably, though, the Nine have stuck together, and, despite the sale of two teams (Jaguar and Jordan) and said change of team principal, their resolve has seemingly strengthened in direct proportion to the duration of their pact.
Sure, Stoddart, has worked tirelessly to maintain the bond, and not without massive sporting and commercial risks, but his leadership and purpose have been aided by various factors, not least the Triple F 'extension' of the Concorde Agreement, which, it now seems, was nothing other than a further hand-out of funds by Ecclestone's FOA to a desperate Ferrari with the FIA's total approval.
This Unholy Trinity drove Honda and Toyota, initially content to sit on the sidelines, straight into the welcoming arms of GPWC, which had previously been dealt a serious blow by the withdrawal from Formula One of Ford/Jaguar. So, whilst the Japanese companies did not immediately subscribe to what was left of GPWC (BMW, Mercedes-Benz and Renault) they did align themselves with many of the principles outlined by the manufacturers, and, suddenly, the anti-Triple F faction became known as G9+5 - and was to grow another digit later.
Sandwiching the Triple F deal were the famous 'Banks vs Bernie' court hearings, in both of which the septuagenarian conceded to the money men who owned 75% of Formula One without holding an ounce of control. These hearings, too, contributed to this seismic shift in political power, for, where once Ecclestone deferred to no-one, the December High Court judgment and March out-of-court settlement changed all that.
Ecclestone is now very much an appointed CEO of a show-biz company turning over a guaranteed $1 billion or so per annum until end-2007, upon which the entire landscape again changes beyond all recognition with the death of Concorde in its present form.
(Strangely, although the Bahraini Grand Prix was the first since Ecclestone had conceded to the trio of banks, the matter was not much discussed in the desert. Possibly the banks are non-entities in G9+5 eyes?)
In the wake of 3F Ecclestone too tried every trick, learned in over twenty years of controlling the sport, to cajole the nine teams to sign extensions to Concorde: he sweet-talked them, attempted to 'split-and-rule' them, threatened them individually and collectively, pushed and pulled the nine together and separately, issued statements suggesting two teams (said to be Red Bull and Jordan) had broken ranks, and, finally, upped the financial ante to no avail.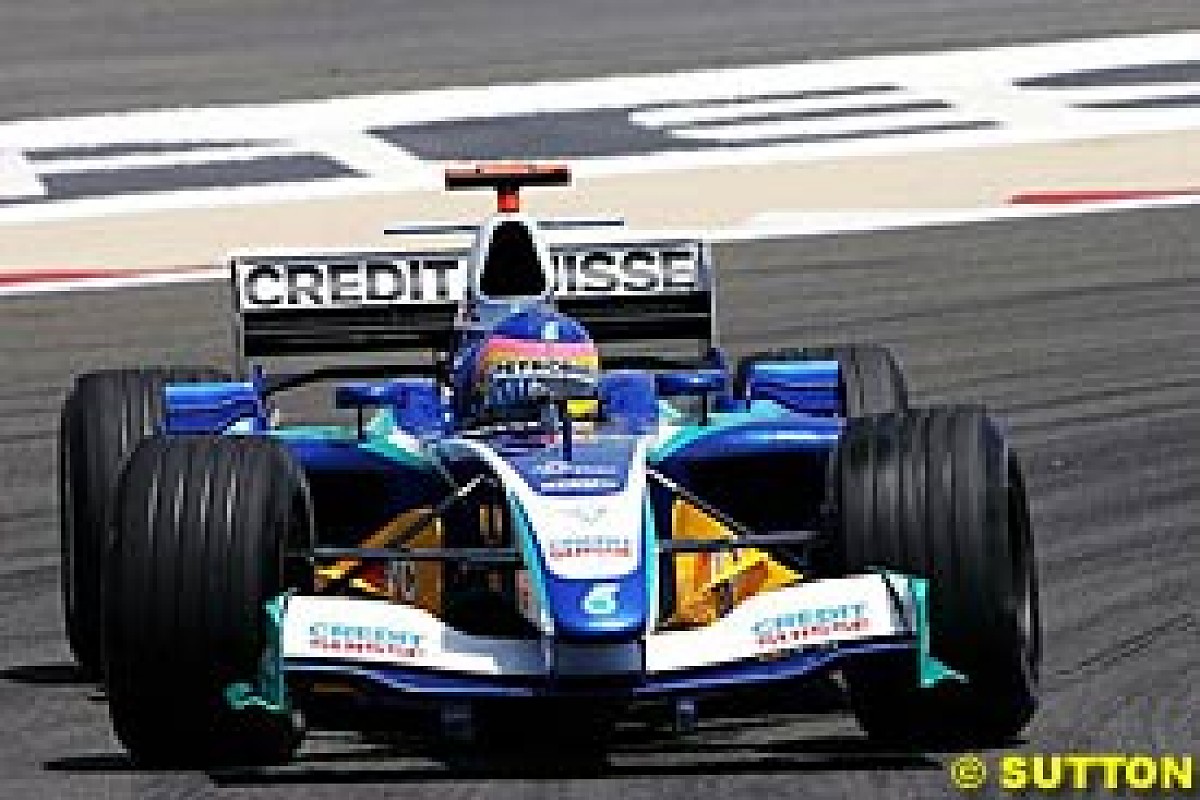 A day after his March concession, which, according to a rather frank release put out by BayrischeLB, saw Ecclestone acquiesce on every point demanded by the banks, Ferrari offered to cancel an exclusive test they had booked at Silverstone within 30 days of the British Grand Prix unless G9 members joined in. The Italian team stated that their 'etiquette is not to gain an unfair advantage', but most saw it as an olive tree hurled at great speed by Maranello as they sensed change in the air. Whatever, no teams have as yet agreed to test in Northampton.
On the contrary, the teams have stuck together - even if the number of scheduled test days was upped to 30 - so much so that when one of their number (BAR) realized they had been in breach by simultaneously running scheduled tests and Young Driver Development evaluations, immediate apologies were tendered in writing and, crucially, accepted all-round with no further ado.
Further proof of the strength and level of co-operation within G9 came, at a time when many doubted the group could agree on a time for tea, with the formation of four Working Groups (Sporting, Technical, Legal and Marketing) to work in conjunction with the GPWC's appointed promoter/administrator of a breakaway Championship - International Sport and Entertainment AG (iSe). Sure, GPWC is changing name and tack soon, but, again, the mere existence of no less than four Working Groups is astounding.
Perversely, though, that is exactly where the greatest challenge to the alliance, and the greatest opportunity for their opponents, lies: ensuring that G9+5+3 (nine teams, five engine suppliers and the three remaining GPWC founders) works cohesively (or not) towards stated and identified aims and ambitions without being sidetracked by individual agendas.
Briefly, 12 primary (17 secondary) factions each have interests in at least one camp, some in two, whilst Renault, and, to lesser degree, Mercedes are spread about all three. In 2004 Constructors' sequence, then by engine points ranking, the matrix below illustrates their spread. (Brackets denote partial financial interest in a partnered team):
Team Entity        G9 teams   5 Manufacturers  3 GPWC
BAR (Honda)         X          (X)
Renault             X           X                X
Williams            X
McLaren (Mercedes)  X          (X)              (X)
Sauber              X
Red Bull            X
Toyota              X           X
Jordan              X
Minardi             X


Applying the same parameters to motor manufacturers/suppliers provides further proof of these challenges:
Engine Entity      G9 teams   5 Manufacturers  3 GPWC
Honda (BAR)         (X)         X
Renault              X          X                X
BMW                             X                X
Mercedes (McLaren)  (X)         X                X
Toyota               X          X
Cosworth             -          -                -


(Had Ferrari remained within GPWC and agreed to testing cuts, they could have ticked, ironically in common with present arch-rival Renault, six boxes.)
Then, of course, there are the FIA Formula One and mooted GPWC Championships, both of which have their attractions - depending upon agenda. With such a range of permutations, any wonder that Tsutomu Tomita, Chairman and Team Principal of Toyota Motorsport, chose to write a hard hitting letter to the Legal Working Group outlining the Japanese company's total opposition to two Championships, regardless of GPWC aspirations? His deputy, John Howett, was at pains to point out that Tomita carries the full backing of Toyota's main board, and, as such, the letter should be seen to be coming from the directors of the car company, and not merely from Cologne.
Any wonder, either, that certain quarters are rubbing their hands in glee at a statement attributed to Mercedes-Benz's Eckhart Cordes in a recent interview. When put to the man who replaced Juergen Hubbert as boss of the beleagured German carmaker that they 'could save money by backing out of F1', Cordes, no fan of the sport, said on the record: "We are committed to F1 for 2005. Anything else is pure speculation."
On Thursday the G9+5+3 (note addition of digit) meet at a hotel in Surrey to discuss feedback from the Working Groups, which will be, in the words of Stoddart, "all about moving further forward with the four working groups, taking the 2008 regulations to the next stage and laying down a proper road map of times and dates and objectives."
Rumours suggest a discussion point relates to boycotting the Paris meeting on April 15 called by FIA President Max Mosley, though sources indicate that their snubbing of a similar occasion on 29 January will not be repeated. "There is nothing to be gained by boycotting the Paris meeting," one source said, "the G9 has now stuck together for six months, and won't be split."
Equally, in an exclusive interview with Autosport-Atlas, Stoddart was adamant that a new Concorde Agreement was the correct route for Formula One to follow. "As I stand here, I know it is the right thing," the Australian said in Bahrain. "There must be a difference in the governance, though, and the FIA must do what the EU told them to: to administer, and not get involved in commercial or technical matters."
Stoddart believes the FIA, Mosley and Ecclestone have major roles to play in shaping the future of the sport, but their involvement should be complementary to the aims of GPWC, not in opposition. This sits well with Toyota's belief that there should be one, and only one, Formula One. But, Tomita's letter and Cordes' (off-the-cuff?) comment will have done little to foster adhesion amongst the G9+5+3.
The matrices above prove how tough the going will be, for across both boards there are no less than 12 players and 17 interests - excluding Ferrari, which, surely, must commit to the alliance or accept that a World Championship with but two red cars has all the allure of a uni-coloured chess set.
Tomorrow's meeting, the first under BMW board member Burkhard Goeschel, will set the scene for 2008, and, crucially, the future of G9+5+3. If all works as planned, the alliance could be officially dissolved sooner rather than later; if not, Stoddart faces the biggest challenge to his leadership since he assumed it six months ago.
If a week is a long time in Formula One, half a year is an absolute aeon. Either way, to have kept 12 highly competitive entities, representing 17 ideologies, marching in time and step and fundamentally the same direction for 180 days has been an achievement once considered impossible. But, only if peace and a clear road map for Formula One's future follow, will it have been truly worthy.
The Future of JV, and Sauber
Normally, in Formula One, vicious attacks break their subjects, but has Jacques Villeneuve's case at Sauber been aided by the media?
That JV has not been performing is clear, and, in fact, the French-Canadian is the first to agree that his return to Formula One has not got off to a fairy tale start. But, according to a source rather close to Peter Sauber, a degree of (admirable) Swiss stubbornness and loyalty exists within the team, and, as long as JV is under attack, he simply will not be dumped.
"There is this level of Swiss 'stur', stubbornness, within the team, and Peter will not be dictated to by the media. Whether he keeps or dumps Jacques will be decision taken by Sauber (the team) and not based on media criticism," said the source in Bahrain. "Plus, no decision will be taken until the team knows it has a car which is beyond reasonable criticism.
"The car is a disappointment," continued the man, "and you don't hear of criticism levelled at Willi (Rampf, Technical Director), nor do you hear suggestions that he should be fired, yet, if Jacques is underperforming, then so is the car. Only if the car is good and Jacques is still underperforming will he be under threat. Peter says, simply, 'how can we criticise Jacques when we know our car is not up to it?' How can you argue with that logic?"
Then, of course, the question of Sauber's future arose. The source was adamant that an engine supply deal had long been agreed, that a sale agreement, following on from that contract, would follow sooner rather later, by June latest. "Look at it this way: Peter is 62 in October, and his children have no interest in the business, otherwise they would have been here years ago. He can hand over the company by the end of 2007, which coincides neatly with the end of Concorde Agreement and GPWC or whatever changes come then.
"He knows he has responsibilities to the workforce and (Hinwil) region, and needs to secure the future of Sauber, so what better action than to sell to BMW, which is said to be disillusioned with Williams?"
But, what about rumours that BMW will supply Red Bull, which admitted this weekend past that its 2006 engine supply would be finalised 'within four weeks'? Where would that leave Sauber and/or Williams?
"It really depends how disillusioned BMW are with Williams. If they are really anti, there is no reason why they can't break the contract and pay Williams appropriate compensation. It has happened before (Williams and Honda in 1987, for example), and will happen again in Formula One in future, but with two race engine rules, BMW could easily supply three teams if it has to. It has the means and capacity."
For Williams' sake, here is hoping Bavarians turn out to be as stubborn as the Swiss.