The Getting and the Spending

---
By Thomas O'Keefe, U.S.A.
Autosport-Atlas Senior Writer
Have you been wondering what Eddie Jordan is up to these days, now that he has sold his team to the Midland Group? Tom O'Keefe has recently been wandering the halls of the London High Court, and brings this Formula One legal report from the Writ Room, exclusively on Autosport-Atlas, as to Jordan GP's latest imbroglio
"The world is too much with us; late and soon, getting and spending, we lay waste our powers."
William Wordsworth
Eddie Jordan has had his first victory since the 2003 Brazilian Grand Prix, but this time the venue was a courthouse on the Strand in London rather than a racetrack.
Although not as well known as other recent Formula One lawsuits such as the 'Buttongate Affair', Bernie versus the Banks or even the Vodafone litigation of 2003, when the obscure case of Jordan Grand Prix Limited vs. Tiger Telematics, Inc., pending in the High Court of Justice in London, Queen's Beach Division, goes to trial in April 2005, it promises to reveal more details about how sponsorship in Formula One really works than all of those more celebrated cases combined.
It is a tale of Cupidity and Stupidity and Naivete, and in the end no one covers themselves in glory, including the jurist in charge of the case, Justice Nelson, who reveals his own naivete in Formula One matters when he mentions in passing during a recent pre-trial ruling handed down on January 18, 2005, that "[t]here were thought to be problems [at Jordan] with the Ford Cosworth engine and it was known by the end of June 2003 that Mercedes-Benz were proposing to provide McLaren engines for Formula One in 2004." Now there is a scoop!
The parties in the multi-million dollar case are Jordan Grand Prix Limited (it is unknown whether Russian-born Canadian businessman Alex Schnaider and his Midland Group acquired this litigation as part of the hurry-up closing on the sale of the assets of Jordan Grand Prix, or if the claim remained with Eddie Jordan post-closing) and Tiger Telematics, Inc., a company organized under Delaware law with its headquarters in Jacksonville, Florida, whose subsidiary is now known as Gizmondo Europe Limited (and formerly known as Gametrac).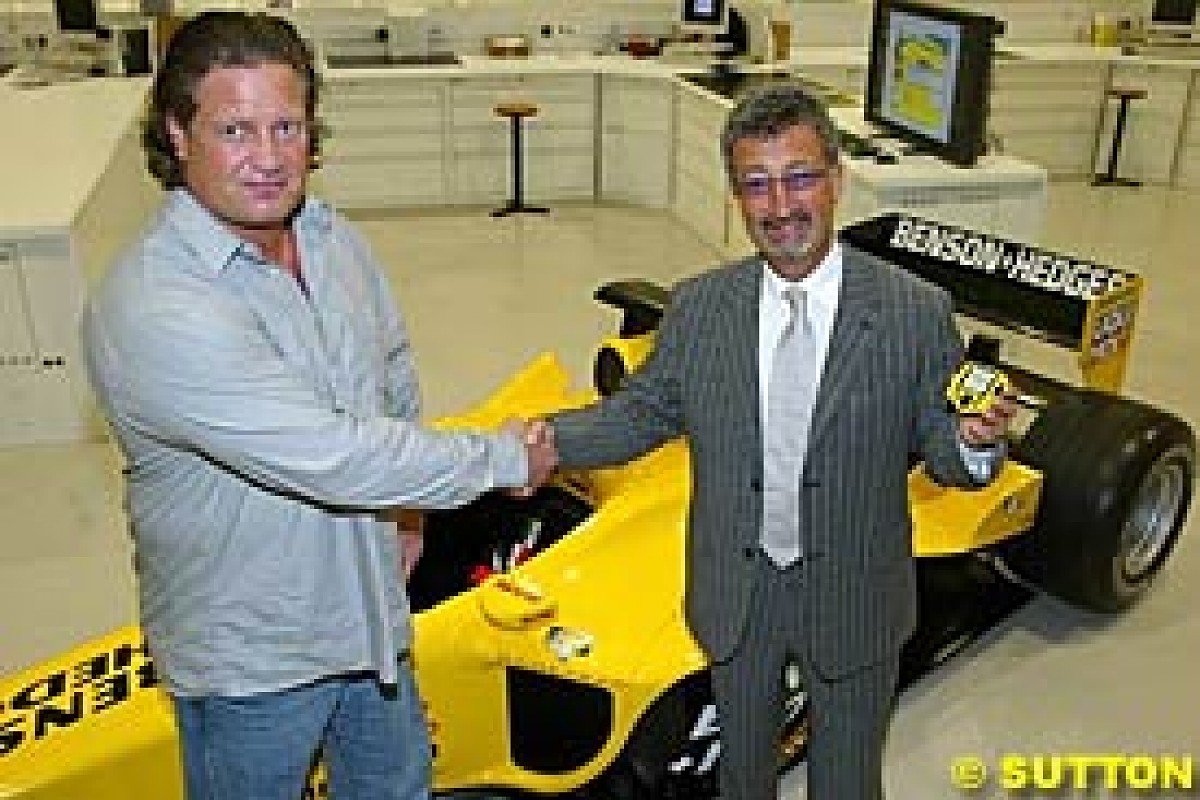 Tiger Telematics had developed a hand-held games console under the Gametrac brand name, which also has GPS, GPRS, camera, music player, movie player, messaging and Bluetooth functions. Jordan and Tiger Telematics met in mid-2003 when each entity was going in the opposite direction: Tiger Telematics was on the rise and had just raised $54 million from investors through an Securities and Exchange Commission (SEC) regulated stock offering to launch its new Gametrac product and Jordan was headed to the doldrums for a dismal 9th place finish in the 2003 Constructors' Championship and actively beating the bushes for sponsors to sustain itself.
But Tiger Telematics and Jordan Grand Prix Limited both needed each other since, as Justice Nelson stated in his finding of facts, Tiger Telematics "was looking for advertising opportunities for the new [game console] product and [Jordan] was looking for Sponsors ... Formula One is an extremely expensive sport and sponsorship is of great importance to all the teams."
There was a PowerPoint presentation by Jordan Grand Prix's Mike Jones on July 2, 2003, at Tiger Telematics offices, selling them on why sponsorship of Jordan was a sound marketing proposition for promoting Gametrac's branding. Initially, the parties negotiated a one-race deal embodied in an agreement dated July 17, 2003, which provided that Jordan would add Gametrac as a sponsor on the EJ13 for a single race, Jordan's home race at Silverstone for the British Grand Prix on July 20, 2003.
Even now, on the Jordan team website News Archive you can see the fruits of the sponsorship agreement with the following announcement dated July 17, 2003, which preceded the 2003 British Grand Prix, accompanied by a picture of Eddie Jordan with a Gametrac representative in Jordan's factory at Silverstone pointing to the barely-visible Gametrac logo located on the left side of the tub of an EJ13 near the exhaust fairing:
"Tiger Telematics have tied up a multi-million dollar deal with Jordan Grand Prix, Jordan will carry the Gametrac logo on both of their EJ13 cars at the British Grand Prix at Silverstone this weekend and then for the whole of the 2004 season.

The deal coincides with the launch of Gametrac, a pocket sized device offering SMS text capability, exciting games and GPS tracking aimed at children of all ages.

Tiger Telematics is a designer, developer and marketer of mobile telematic systems and services that combine global position and voice recognition technology to locate and track vehicles and people down to street level across the globe.

Eddie Jordan, Chief Executive of Jordan Grand Prix, said, "I'm very pleased to bring Tiger Telematics on board with Jordan as they are a smart company setting the trend in an innovative industry. We are delighted to help them launch Gametrac, a product which I'll certainly be giving my kids to try out, and I look forward to continuing our business partnership throughout 2004."
In the 2003 British Grand Prix, Giancarlo Fisichella, in his bad old days languishing at Jordan, qualified 15th but retired on lap 43 and was not classified as a finisher; Ralph Firman, Fisichella's teammate in the "Be On Edge" Jordan of the time, qualified 17th and finished 14th, one lap down. Justice Nelson, again betraying his lack of familiarity with Formula One, somewhat surprisingly characterized this showing as satisfactory, saying that Jordan "had done reasonably well in the British Grand Prix."
After the July 20, 2003 British Grand Prix, Tiger Telematics agreed to come on as a Jordan sponsor for the remaining five races of the 2003 season for $1 million and a letter agreement was signed dated July 30, 2003. There was also a $2 million agreement for sponsorship throughout the full 18-race 2004 season, with the installment payments to Jordan structured for both seasons as follows:
Date of Payment     2003 Season     2004 Season
January 1, 2004     $   250,000     $   500,000
April 1, 2004       $   250,000     $   500,000
July 1, 2004        $   250,000     $   500,000
October 1, 2004     $   250,000     $   500,000
Totals              $ 1,000,000     $ 2,000,000


If installment payments were not paid by the due date, interest accrued on the amount due.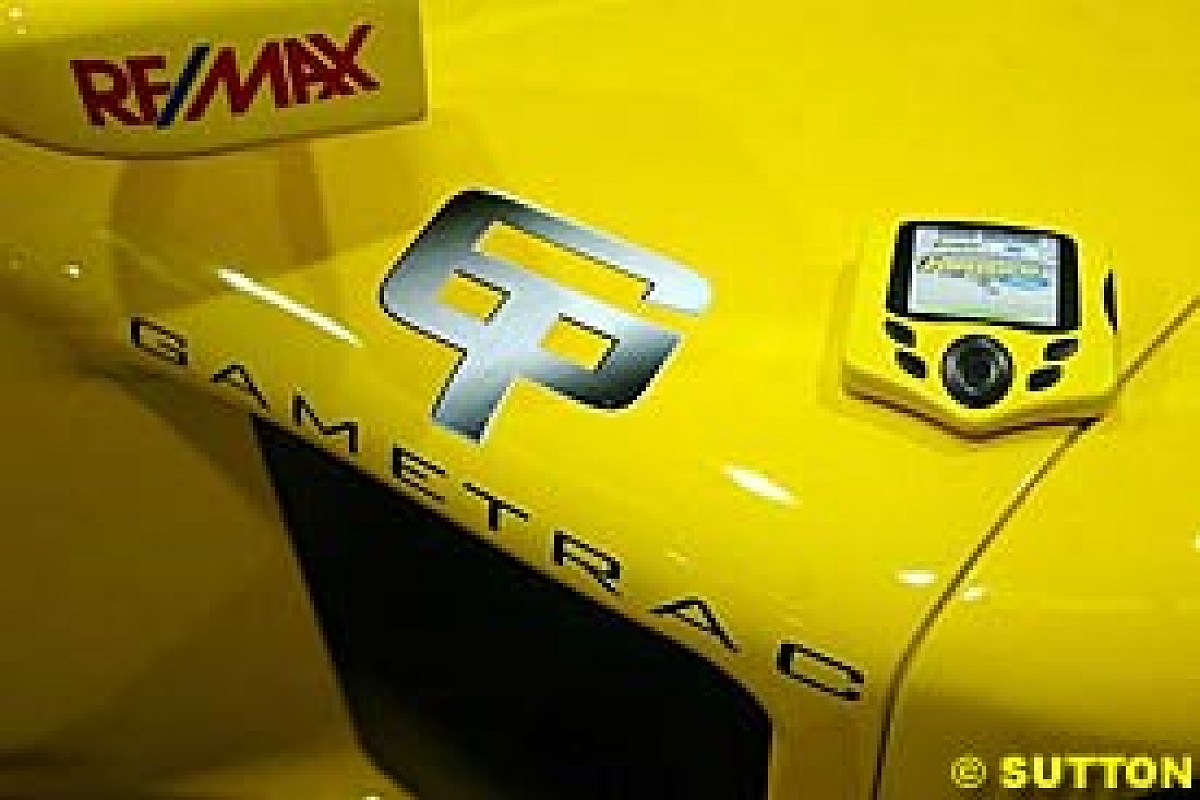 What did $3 million worth of sponsorship buy for Gametrac? During the 2004 season, Jordan agreed to display Tiger Telematics and Gametrac logos on the yellow Jordans and on the team's website and agreed to provide "corporate hospitality" and "a replica car for promotional and display purposes" as well as a grant to Tiger Telematics of the right to use the term "an official sponsor of Jordan Grand Prix" in connection with Gametrac's promotional material.
What did Jordan Grand Prix have to do to keep up its end of the bargain? Jordan basically had to show up at each Grand Prix, and represented to Tiger Telematics that it would enter not less than two cars in each of the races: entry alone would be sufficient to meet the contractual requirements, whether the cars qualified for the race or not. This is essentially what the Concorde Agreement requires of all teams.
(Remember when another bottom feeder, Arrows Grand Prix, was on the ropes in 2002? Having a reasonably fast car the weekend of the 2002 French Grand Prix, Enrique Bernoldi (now a BAR test driver but then an Arrows principal driver) was nevertheless forced to ditch his qualifying effort since the Arrows team could not afford to race, and so Bernoldi ducked into the pit lane rather than completing his qualifying lap. But showing up met the minimum requirements for Arrows under the Concorde Agreement as well as, presumably, the Arrows sponsorship agreements negotiated by Tom Walkinshaw with chief sponsor Orange.)
Tiger Telematics had no enforceable contractual rights when it came to naming who was to drive for Jordan, since the contract acknowledged Jordan's absolute right to manage its racing affairs as Jordan saw fit. Though not explicitly set forth in the contract, Tiger Telematics claimed it was advised and relied on representations that Jordan "would secure two top drivers for 2004 and pay them." It is questionable whether that happened since we know that Giorgio Pantano and Nick Heidfeld were the principal drivers for the 2004 season, with Timo Glock pressed into service on those weekends when the other drivers' finances were not in alignment with the expectations of Eddie Jordan.
There was also a mutual "morals" clause: Jordan agreed not to do anything to harm the reputation of Tiger Telematics and the Gametrac product, and the sponsor likewise agreed to do nothing to harm the reputation of Jordan.
The $150 million Vodafone litigation brought by Eddie Jordan against Vodafone for allegedly welching on the sponsorship agreement and inexplicably preferring Ferrari over Jordan in allocating its sponsorship dollars, was pending at the time Jordan and Tiger Telematics went to contract and the litigation played a role in the thinking of both parties. Jordan Grand Prix ultimately went down in flames and was soundly trounced in the Vodafone case, principally because Justice Langley, who presided over the Vodafone trial, pronounced Eddie Jordan and Jordan's Director of Business Affairs, Ian Phillips, as less than credible witnesses.
"Neither Mr. Jordan nor Mr. Phillips are commercially stupid," Justice Langley said at one point, but he rejected Jordan's evidence as "incredible" on certain key points and "fanciful" on others. "Attempts by [Jordan and Phillips] to explain [their conduct] in cross-examination did neither of them credit ... I regret to say that I found both Mr. Jordan and Mr. Phillips to be unsatisfactory witnesses."
To Justice Nelson in the Tiger Telematics case, the criticism of Eddie Jordan by Justice Langley in the Vodafone case proved "that [Jordan's] witnesses were prepared to lie in order to win a false and misconceived action against Vodafone."
Amazingly, Tiger Telematics was fully aware of the ongoing Vodafone litigation when it was about to deepen its relationship as a Jordan sponsor as of July 30, 2004. And yet it seemed to uncritically accept at face value the assurances supplied by Jordan officials that the Vodafone case was bound to be a winner for Jordan. Another thing seemed to be important to Tiger Telematics: they claimed there were assurances that "Mr. Eddie Jordan was personally paying the Claimant's [Jordan Grand Prix] legal costs of the Vodafone case." Perhaps, Tiger Telematics wanted its sponsorship dollars to go into useful things like carbon-fibre tubs or "McLaren" engines rather than into the pockets of the lawyers litigating the Vodafone case for Jordan Grand Prix.
On August 4, 2003, Justice Langley handled down his decision ruling in favor of Vodafone, concluding, according to Justice Nelson, "that Jordan's claim was plainly demonstrated to be without foundation and false..." As Justice Nelson went on to observe, "not surprisingly this judgment attracted considerable press attention. Jordan had not merely lost its action for substantial sponsorship but had been severely criticized in the process."
Indeed, Jordan made an effort to prevent issuance of Justice Langley's opinion by attempting to discontinue the case when it appeared that all was lost, to staunch the bleeding and negative publicity associated with the Vodafone case. But just before the German Grand Prix at Hockenheim, (which was the very next race after the British Grand Prix), Justice Langley insisted on delivering his damaging opinion which conclusively disposed of the Vodafone claim and also handed Tiger Telematics a weapon in its current battle with Jordan.
In marshalling its defense to Jordan's claim to recover unpaid sponsorship payments, Tiger Telematics made it a case of nondisclosure of material facts. To summarize, Jordan Grand Prix allegedly represented the following to Tiger Telematics during the July 2003 wooing period, which induced Tiger Telematics to sign the sponsorship agreement with Jordan on July 17th and 30th:
1. That Jordan had sufficient financial resources to be able to compete effectively and achieve a top five finish in 2004 [in the end, Jordan again finished in 9th place in the 2004 Constructors' Championship];

2. That Jordan had secured a substantial sponsorship agreement with Vodafone for the 2003 and 2004 seasons;

3. That Jordan would secure two top drivers for 2004 and pay them;

4. That Jordan was "bound to win" the Vodafone case.
Parenthetically, what I find so interesting about this catalogue of so-called misrepresentations by Jordan Grand Prix is that, had Tiger Telematics invested in a subscription to Atlas F1 in 2003, none of this poppycock would have been even remotely plausible to Tiger Telematics and its executives negotiating with Jordan. As a public service, perhaps Autosport-Atlas ought to be giving gift subscriptions to Justice Nelson and the parties for the trial just so they get their facts straight.
As is apparent from the arguments made before Justice Nelson, Tiger Telematics will argue at trial that, had Tiger Telematics executives known prior to signing the pre-British Grand Prix agreement on July 17, 2003, that Jordan "was actually in court in dispute with a significant sponsor," Tiger Telematics "would not have entered the sponsorship agreements on the date and terms which [it] did."
Nevertheless, by the time of the July 30, 2003 sponsorship agreement signed with Jordan, Tiger Telematics knew of the Vodafone litigation and so had no one but itself to blame in accepting the rosy speculations from Jordan Grand Prix as to its likelihood of success on the merits in the Vodafone lawsuit. Knowing that some unpleasantness was in the air with Vodafone, having already had the benefit of being a Jordan sponsor at Silverstone for the British Grand Prix, Tiger Telematics apparently decided that it was already "in" for the proverbial dime, so presumably it decided why not be "in" for a dollar.
But then Tiger Telematics went beyond mere toleration and condonation of the supposed misrepresentations Jordan made to induce the execution of the original sponsorship agreements and actively stood up for Eddie Jordan in Jordan's efforts at damage control following the Vodafone verdict on August 4, 2003. Indeed, at some point during early August 2003 when the Vodafone decision came down, Tiger Telematics offered Eddie Jordan a position on an advisory board to the Tiger Telematics group! Eddie declined the honor on September 4, 2003.
It is important to recognize that up to this point Tiger Telematics had pretty much had a free ride in 2003, with Jordan Grand Prix carrying Gametrac as sponsor but no substantial payments under the various sponsorship agreements were due until January 2004. But ironically, in another strange twist of this circuitous case, all that promotion was basically for naught anyway since by April 2004, the parent company of Gametrac got into a dispute over use of the name and ended up changing the name of the game console being promoted from "Gametrac" to "Gizmondo." The change of name presumably did not increase the desire of Tiger Telematics to make its sponsorship payments since pushing "Gametrac" as a brand name was no longer a priority.
When January 1, 2004 came around and Tiger Telematics failed to pay the $250,000 due then for the 2003 sponsorship agreement and the $500,000 due for the 2004 sponsorship agreement, Jordan's solicitors issued letters of default, which, having been unsatisfied, led to proceedings on Jordan's claim before Master Eyre in London from August 17-19, 2004. Master Eyre screens cases for the judges of the High Court and rules on preliminary motions before the case gets to trial.
In October 2004, Master Eyre issued his ruling - in fact he issued two rulings, which only confused things further - and included in his decision was a conditional ruling in favor of Jordan Grand Prix to the effect that Tiger Telematics had to deposit into court $2.5 million as security pending a trial on the claim, the $2.5 million to serve as a security fund out of which any judgment rendered in favor of Jordan would be paid.
In reviewing Master Eyre's decision, Justice Nelson was critical of virtually everyone in the case for their sloppiness in handling this matter - Jordan for its puffery in promoting Jordan Grand Prix, Tiger Telematics for its gullibility vis-a-vis Jordan and its poor-mouthing before the Court as to the hardship of being able to finance the $2.5 million security fund to be deposited into Court, and even Master Eyre came in for criticism for some errors of judicial administration.
Nevertheless, Justice Nelson put the matter down for trial in April 2005 - the same period when Gizmondo had scheduled a product launch - his only concession to Tiger Telematics being to reduce the size and nature of the monetary deposit to be made by Tiger Telematics from $2.5 million in cash to $1.5 million worth of Tiger Telematics stock, to be substituted by April 2005 for $1.5 million in cash before both parties went to trial. If Tiger Telematics fails to escrow shares with a market value equivalent to $1.5 million, Jordan will be awarded summary judgment on its original claim.
In its SEC filings, how does Tiger Telematics explain this sideshow in faraway Europe to its investors in the States who probably think Grand Prix is a Pontiac and Formula One is a detergent of some kind? In its Form 8-K filing dated February 11, 2005, Tiger Telematics makes the following disclosure:
"As previously disclosed, in March 2004 Jordan Grand Prix Ltd. filed suit against the Company in the UK alleging violation of the Sponsorship Agreement entered into between the Company and Jordan Racing in July 17, 2003 and a related Letter Agreement dated in July 2003. The sponsorship agreement was meant to assist in marketing the Company's new hand held gaming device and to correspond with its launch. The launch was delayed from the anticipation time frame. Jordan sued the Company for $3 million and alleged that the Company defaulted in a payment due on January 1, 2004 of $500,000 under the sponsorship agreement and a payment for $250,000 due on the same date under a separate letter agreement. On February 26, 2004 Jordan sent the Company a letter where they formally and officially terminated both agreements for the aforementioned alleged defaults. The Company believes that it has defenses to the suit and has filed a defense in UK courts.

The Company is considering filing a countersuit against both the plaintiff and Jordan Racing. The Plaintiff filed a motion for summary judgment against the Company. The Court denied the plaintiff's motion for summary judgment and the Company was permitted to defend the lawsuit on the condition that the Company makes a substantial payment to be held by the Court. The Company appealed this ruling to remove the requirement that the Company make a substantial payment to be held by the Court. In January 2005, on appeal the Court reduced the amount of the payment and allowed the Company to deposit in escrow shares of its stock to satisfy this requirement. The Company has just deposited 70,000 shares of its stock in an escrow account pending trial. This share deposit will permit the Company to assert its defenses at trial. Prior to commencement of the trial the Company is to substitute U.S. $1.5 million in exchange for the escrowed shares. While the Company is unable to predict the outcome of this litigation, it intends to vigorously defend the plaintiff's claims."
Interestingly, the brush Tiger Telematics had with Formula One sponsorship in its dealings with Eddie Jordan in mid-2003 and in the ongoing litigation before Justice Nelson did not discourage Tiger Telematics a year later from engaging yet another Formula One icon to associate its product with: none other than litigation-prone BAR-Honda driver Jenson Button.
In July 2004, it was announced that Gizmondo (formerly known as Gametrac) had signed up Button to help Gizmondo develop a game called "Chicane" that will run on the Gizmondo hand-held game console. Chicane will "star" Jenson Button, who, the press releases say, is very excited about the game and its development. Says Jenson: "Anyone who has ever wondered what it feels like to be behind the wheel of a racing car will love Chicane. It is as close as you will get to the real thing and matching with the Gizmondo gaming performance, it certainly will get the adrenaline pumping."
To make Chicane and its other products more readily available to British gamers, Gizmondo Europe has announced the opening on March 19, 2005 of its flagship store at 175 Regent Street, London where its games and game consoles can be purchased. I personally cannot wait to see whether Jenson is in a BAR-Honda or a BMW Williams in Chicane, or maybe the games permits the player to switch teams, just like the real thing!
So there you have it, a case study amongst the bottom feeders in the sport and the unseemly business of how money is raised in Formula One to keep those two cars running, to keep the lights on in the factories, to keep the truckies driving from track to track and to keep the corporate hospitality flowing in the paddock on each Grand Prix weekend. And when the Midland-Jordan-Toyota team is readying itself for the Grand Prix of San Marino on April 24, 2005 and Jenson Button is riding the kerbs of the chicanes at Imola, Eddie Jordan will be back at his London solicitor's office preparing for his testimony on the Strand before Justice Nelson.
Meanwhile, back in Jacksonville, Florida, the executives at Tiger Telematics, with one eye on their healthy stock price (TGTL is trading in the $24 range on the NASDAQ) and another eye on their game launches, their goodwill, reputation and the $1.5 million at stake, will have to decide whether they really want to expose themselves and their company to the negative publicity that will accompany any trial with silver-tongued, ex-banker Eddie Jordan, who now has time on his hands and is bound to appear at the trial to collect on the sponsorship agreement. The Getting and the Spending in Formula One; even as stout a heart as Eddie Jordan must be thrilled to be rid of this race to the bottom.