An hour after Grand Prix Masters' inaugural race at Kyalami, Scott Poulter still looked absolutely stunned, looked as though he had just won the world's largest-ever slot jackpot with a 5p coin, and was fighting to escape the spewing silver all about him.
The series' originator had been besieged by messages of goodwill all weekend, had felt both hands shaken by many - media members, motor racing folk and just plain, dyed-in-the-wool petrolheads - who thought he would not/could never get his Grand Prix Masters show on-track anywhere, let alone in some far-off country with strong connections to A1 Grand Prix.
Yet, the evidence was clear to see: 14 custom-built, 650 horsepower single-seater racing cars had just done battle for close on an hour in 30°C plus temperatures at an altitude of 1,800m (5,600 feet) and delivered a classified finisher rate of 86%. No less than three World Champions, further complemented by four former Grand Prix winners, had arrived in South Africa; 78,000 live, chanting spectators had paid good money - very good money by South African standards - to see Poulter's concept in action.
Trilingual worldwide feeds carried the event to 52, mainly terrestrial, networks; 82 year-old Murray Walker did English commentary duty after reputedly rejecting extremely lucrative offers from another start-up series; and millions flowed into the coffers of South Africa's Nelson Mandela Childrens' Fund and Unite Against Hunger charities.
By all accounts, GP Masters - to give the series its interim moniker whilst trade mark issues with Formula One Management are dealt with - has, and, more importantly, deserves, a bright future, and seems set to attract even more Golden Oldies than Poulter ever imagined in his wildest dreams. And, possibly the biggest accolade came from none other than Alain Prost, who, after having been linked to a GPM drive, rather mysteriously dropped out of the scene.
"My sincerest congratulations to your entire team," read a text message sent by the quadruple champion, who had watched the race at his home in Switzerland, within minutes of the flag dropping on Mansell's victory in the 30-lap race.
To imply via the one-armed bandit analogy, that Poulter had struck it lucky is to do the former British windsurfing champion a massive disservice. As McLaren boss Ron Dennis has so often pointed, in motor racing you make your own luck through the elimination of things which can go wrong, and at Kyalami it was clear to see that GP Masters had been extremely well thought through.
The inclusion of the likes of Steve Olvey, formerly Medical Delegate to CART and OWRS, in the team bore fine testimony to Poulter's efforts to cover every eventuality. 'Dr Steve', as he became known in Kyalami's paddock, has unstintingly tended to drivers' fitness since his first introduction to motor racing at Indianapolis way back in 1965 (amongst his first 'patients' were none other than Jim Clark and Graham Hill), and, given that Nigel Mansell, Emerson Fittipaldi, Christian Danner and Eliseo Salazar (plus many more) all entrusted their health to him whilst racing Indycars, a better man willing to travel to South Africa would have been hard to find.
"The best, I trust him implicitly," said Fittipaldi before committing to race after fears that a back injury incurred in his massive Michigan crash could flare up again. In the event, Olvey signed-off the Brazilian's participation, but refused to sanction Alan Jones' entry on the grounds of the neck problems experienced by the Australian 1980 World Champion.
As is to be expected from the maiden race of any start-up series, there were hitches which ambushed the minds of Poulter's management team, and taxed their abilities at critical moments. Jones' non-participation was a blow, even if Fittipaldi's about-turn compensated in part.
But, crucially, the major hiccups were not of GPM's making: South Africa's diabolical telecommunications network meant the largish international media contingent was initially unable to transmit data and visuals without enormous delays. In addition, an impressive looking traffic flow plan, formulated by Kyalami's management in conjunction with the promoters of the event and the local council, simply did not work.
Personnel from the contracted German TV production company WIGE plus various media members found themselves stuck in race day traffic for hours, and made it into the circuit with seconds to go to the warm-up, whilst spectator tempers flared as they jostled with police after being rerouted for the umpteenth time. At the root of the traffic problem, though, lay a rather indirect compliment: attendance for the event was 20,000 up on that at the last Formula One Grand Prix hosted, in 1993, by the Highveld circuit.
The data transfer situation was more easily, if rather expensively, solved: Poulter and Media Manager Nav Sidhu approved the overnight installation of a satellite-based internet system, and, come qualifying, the only sound louder than 14 Nicholson-McLaren engines running simultaneously was that of editors around the world collectively sighing as copy and photographs landed on their desktops within moments of being sent.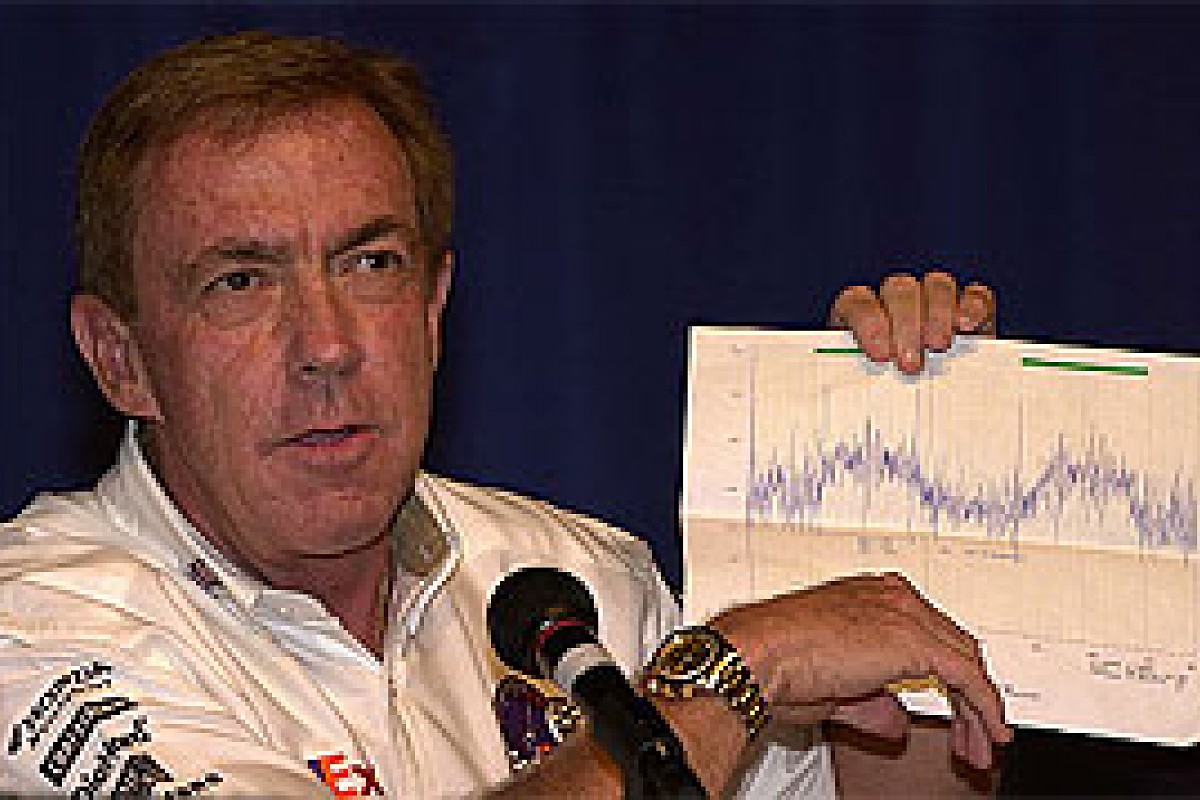 The format of qualifying was, of course, based on Formula One's former, user-friendly multiple lap system, and proved without doubt that the gimmick-free, traditional method lacked for nothing. The race, too, ran to tried-and-tested format, without pre-races and farcical pitstops, and it was a revelation to follow a race without regulatory interruptions inserted for the sake of 'The Show'. Everything considered, the racing was all the closer for their omissions, particularly given the age of the drivers concerned.
"I think we proved that age is not a discriminator to close racing," said Poulter, who, with six high 'net-worth' investors - two of whom were present all weekend - could not believe how close was the performance of the drivers. "The start was plain frightening. They ran nose to tail, frighteningly close, and I just hoped that they would all come of it well," he said.
"The reliability of the cars was just too good to be true. We suffered just two retirements: Stefan Johansson, who went to the start with a rebuilt brake system and locked up on Lap Three, and Jacques Laffite, who suffered a gear selection solenoid problem, which slowed him right down."
That GPM learned a lot from the weekend goes without qualification. "We have a test scheduled at Jerez in January," stated Poulter when asked about immediate plans, "and we'll be looking at various things. We're investigating alternate tyre compounds, maybe making one or two optional, and ways of making the cars easier to drive. At the moment they have very narrow performance bands, and we'll be looking at that."
A 'driver advisory board' - as Poulter calls it - has been established to provide opinions on matters in- and outside the cockpit. "For example, we thought we'd distribute the half million (dollar) prize fund on the basis of race results, but the drivers wanted it shared more equally. They suggested a two-tier system: World Champions got slightly more than the rest, but all drivers in each group were treated equally."
Whilst he would not confirm it, rumours at Kyalami suggested a total of $850,000 was available for distribution: said $500,000, plus $350,000 for appearances - flights and hotels were provided by the promoters, in conjunction with a local airline and hotel group - and Poulter's big trick in the future, particularly given the roaring reception GPM received worldwide, will be to ensure that drivers accept similarly realistic amounts. Greed could kill the viability of the series stone dead.
GPM's open-mindedness extended to accepting driver advice re race length. "They suggested the two pace lap + 30 lap race format, and we were happy to go along with it. It proved to be just right: they were extended throughout but not totally exhausted, which was amazing given the heat and altitude. For the future the have suggested a duration of about an hour (roughly what the Kyalami race ran to), and that's what we'll stick to."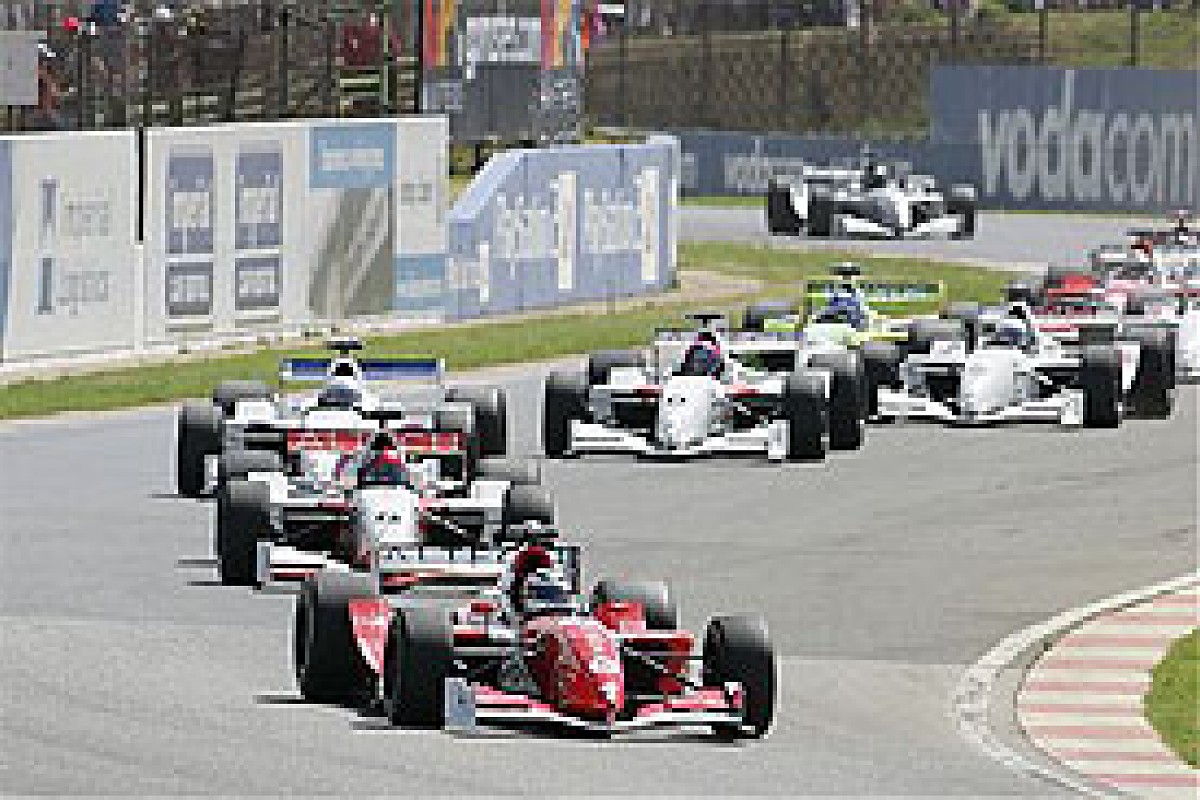 If anything proves Poulter's feet are solidly on terra firma, it is his insistence on six, maximum seven races per annum, regardless of what inducements are pushed his way. Following Kyalami's success, promoters are lining up on all continents, and the British-born former Canadian resident faces a delicate balancing act as he sifts through a mass of applications from traditional and New World circuits. Does he, for example, succumb to bucks from, say, Bahrain, or does he service an established place like Silverstone?
In true eighties and nineties fashion, Walker summed up Grand Prix Masters' first showing best: "What we saw here today was an outstanding demonstration that if you've got it (the skill) you don't lose it. You may get rusty, but you lose the rust easily. It was an outstanding demonstration by two World Champions, and, whichever way you slice it, they showed the way through cut- and-thrust racing at a classic circuit which does not encourage passing.
"But the most outstanding feature was the relaxed atmosphere, the friendship and camaraderie which existed between the drivers."
Walker is correct, 100% so. But the most impressive aspects of the weekend were seen in race administration, not the paddock. Here was a brand new series, one which attracted real superstars and truly captured the imagination of fans across the globe, all whilst kicking off realistically without over-hype and without visible teething problems.
Whatever skepticism surrounded GPM before last weekend, evaporated the second the cars left Kyalami's pitlane for a touch of impromptu testing on Thursday afternoon following a well-attended media conference which contained more laughs than a Jasper Carrot routine.
A few shakedown laps here and there turned into a mammoth three hour test session. In the end Kyalami's management requested permission from the local council to run beyond the 17:45 curfew, which was willingly granted. Eventually African sunset, in which the large round ball of lights extinguishes itself in seconds, scuppered GPM's proceedings.
With such enthusiasm, from drivers, from circuit management and local residents, from 70,000 fans and 52 TV networks, how can Scott Poulter's concept fail?