Round 1 Motorland Aragon, Spain
The opening World Series by Renault meeting of 2010 coincides with the eruption of the Icelandic volcano Eyjafjallajokull. Despite some unorthodox travel arrangements, the race goes ahead without major disruption.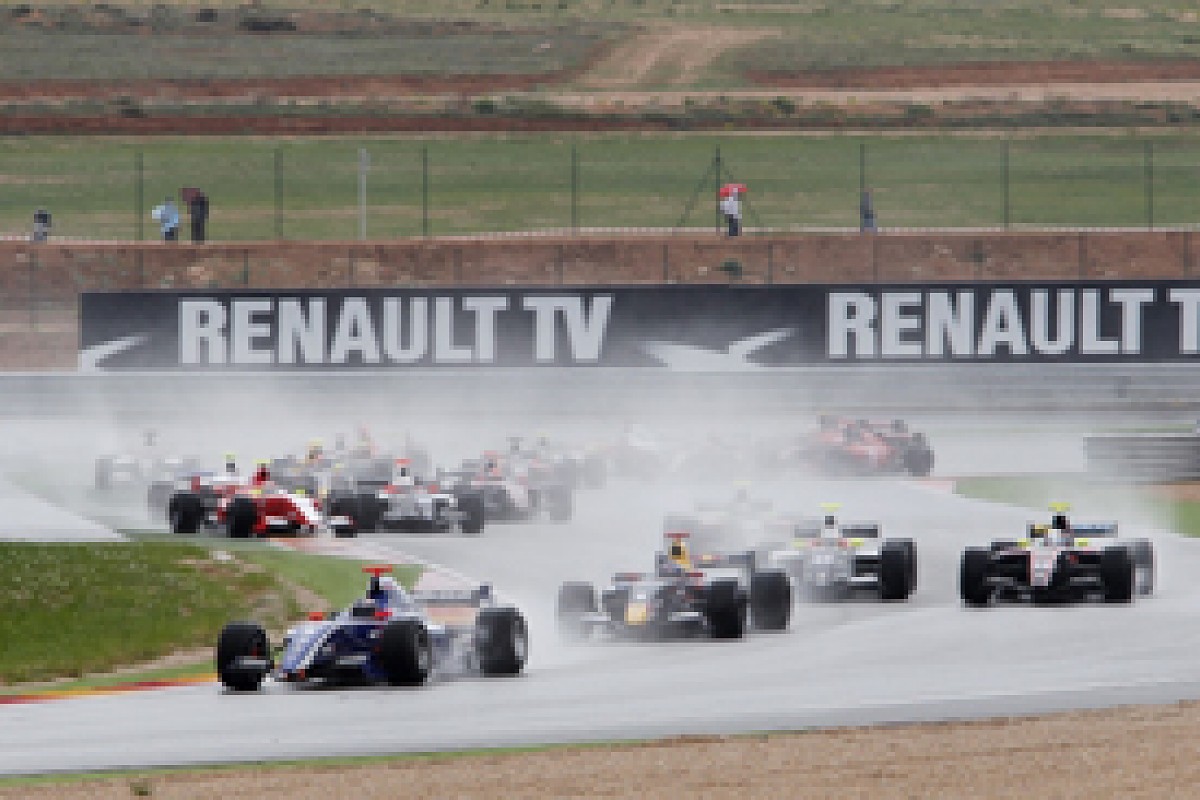 Aleshin leads in the wet at Aragon
In a precursor to a stunning championship qualifying record, British Formula 3 champion Daniel Ricciardo takes pole position for his debut. On sodden asphalt, the Australian is beaten away from the line by series returnee Mikhail Aleshin. In foul conditions, the Russian has the advantage of relatively clear visibility, and pulls away to take his first win for Carlin since 2007. Ricciardo later runs wide, allowing 2009 Italian Formula 3 champion Daniel Zampieri into second. Fortec's Sten Pentus and Draco's Julian Leal collide, and at Turn 1 under the ensuing safety-car period, ISR's Esteban Guerrieri crashes into Stefano Coletti.
Pentus' weekend improves in a dry race two. The Estonian had shone at the circuit in pre-season testing, and from the front row jumps pole-man Ricciardo to lead into the first corner. However, former Le Mans Series champion Jan Charouz enjoys a fantastic exit, and sweeps past both. Charouz makes his mandatory pitstop early to take on new fronts. Pentus stays out longer, before opting for fresh rears. The strategy works and the Fortec man rejoins in the lead, going on to win by a comfortable 8.6 seconds. Ricciardo loses ground at his stop, but inherits third when Charouz is disqualified for having an insufficient quantity of fuel left in his tank. Aleshin receives a 10s penalty for his part in an incident with Leal, dropping from ninth to 11th. Guerrieri leaves Spain with a double retirement.
Points:
1 Ricciardo 22
2 Aleshin 15
3 Pentus 15
Round 2 Spa-Francorhamps, Belgium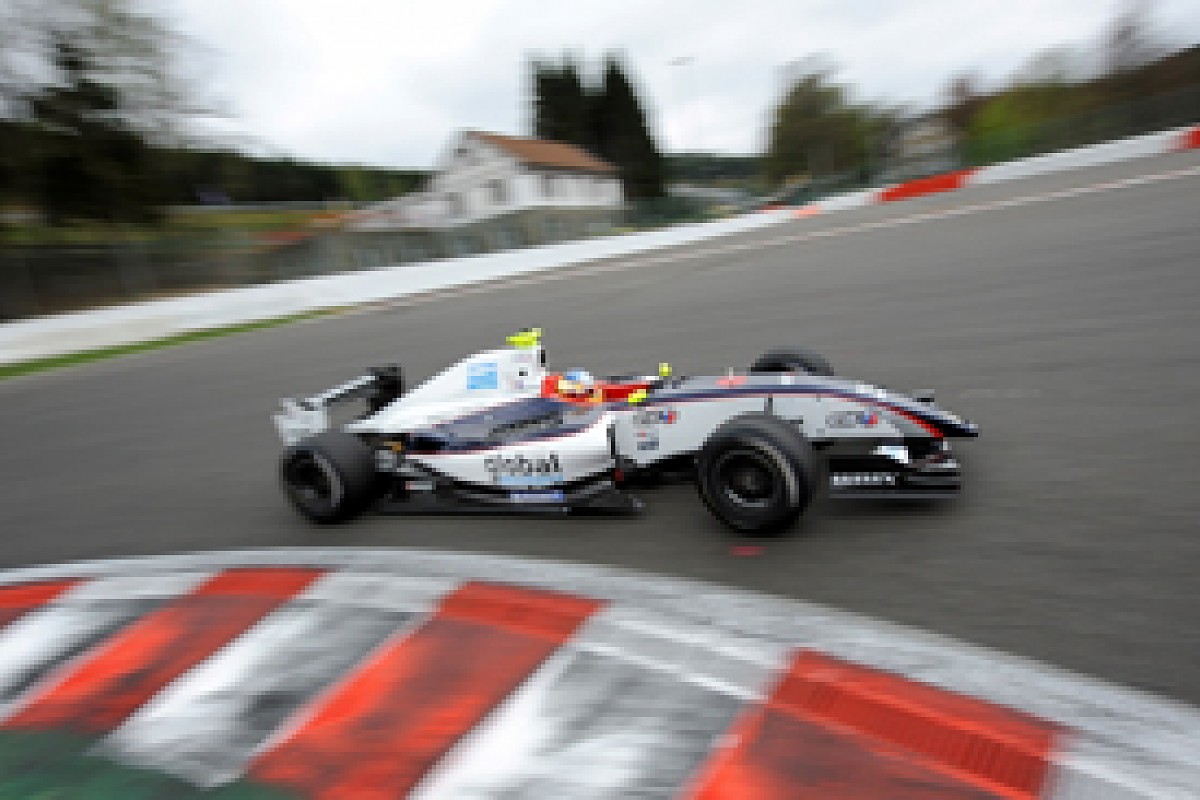 Esteban Guerrieri at Spa
In qualifying, both Ricciardo and Guerrieri crash at Rivage before having registered a time. The damage to Guerrieri's car rules him out of the race. Aleshin shrugs off a fever to take pole, and goes on to win a dry opening race. Nathanael Berthon is second into La Source, before running wide and allowing Pentus and Ricciardo's Tech 1 team-mate Brendon Hartley through. Under pressure, Berthon is later tapped into a spin by Anton Nebylitskiy at La Source. Hartley overtakes Pentus for second at the Bus Stop, but his pursuit of leader Aleshin ends with electrical failure. Coletti takes third, only months after his enormous GP2 crash with Durango at the circuit
A smooth Jake Rosenzweig masters a wet session to take pole for race two, the second Carlin car of Aleshin and race one pacesetter Hartley line up on the fourth row. With the onset of rain, many drivers, including Rosenzweig, change tyres on the grid after the authorised deadline. Hail arrives, and an accident on the warm-up lap prompts a delayed start. The race borders on chaos as 10 drivers receive drive-throughs for grid infringements. Twelfth qualifier Guerrieri wins, Zampieri is second, despite having taken a penalty. Coletti repeats his Saturday result, while Aleshin and Ricciardo take strong points in fourth and fifth.
Points:
1 Aleshin 38
2 Ricciardo 28
3 Pentus 27
(7 Guerrieri 17)
Race 3 Monaco
Ricciardo takes pole for the blue-ribbon event, ahead of Aleshin. Epsilon Euskadi's Albert Costa qualifies third, despite nursing a hand injury - a legacy of a pre-season testing crash. Local man Coletti qualifies fourth, edging out spectacular guest driver Alexander Rossi, who runs in place of the cash-strapped Guerrieri.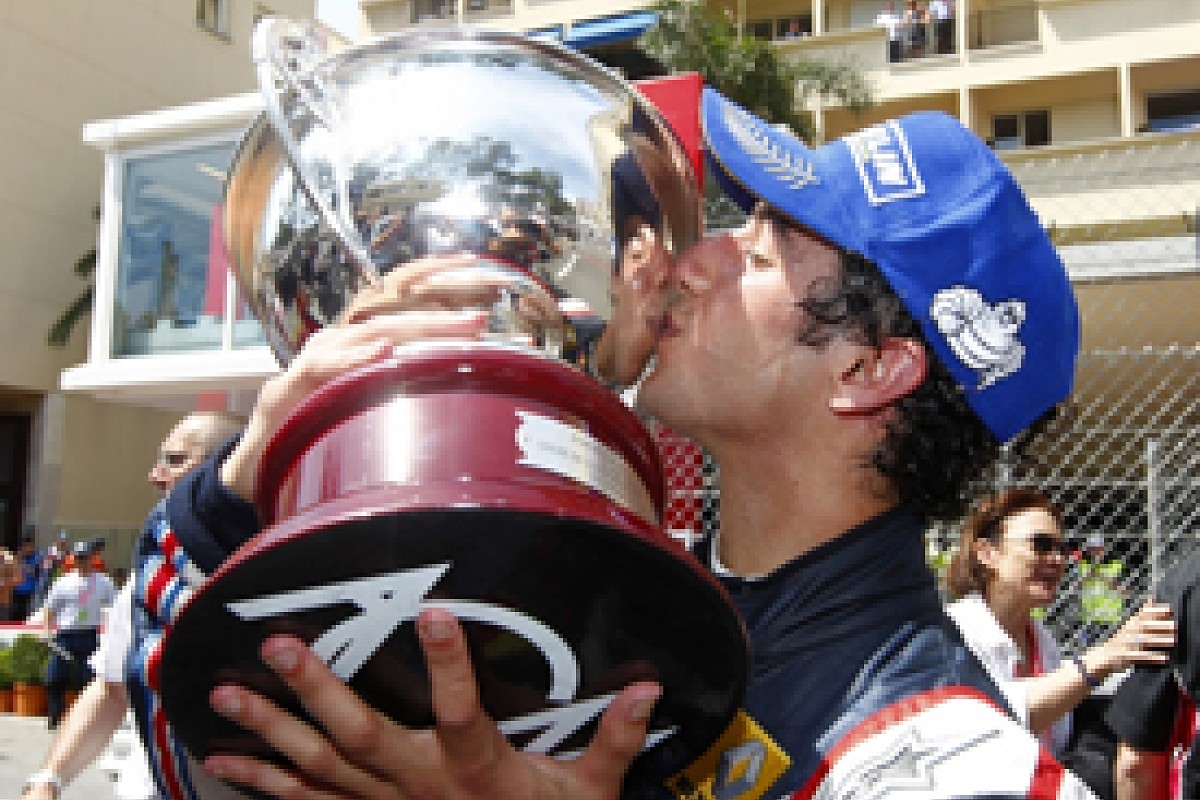 Ricciardo was delighted to win the series' premier race
Ricciardo leads Aleshin from lights to flag, Costa takes the final podium place some 23 seconds back. The race is enlivened by Hartley, who passes Filip Salaquarda and Pentus before catching Rossi and tapping the GP3 racer at Rascasse. Rossi hits the Armco at Massanet next time around. In his last move, Hartley snatches fourth from Coletti at Mirabeau, but the Comtec man is incensed, claiming Hartley steamed through yellow flags at the preceding Casino Square.
Points:
1 Aleshin 50
2 Ricciardo 43
(9 Guerrieri 15)
Race 4 Brno, Czech Republic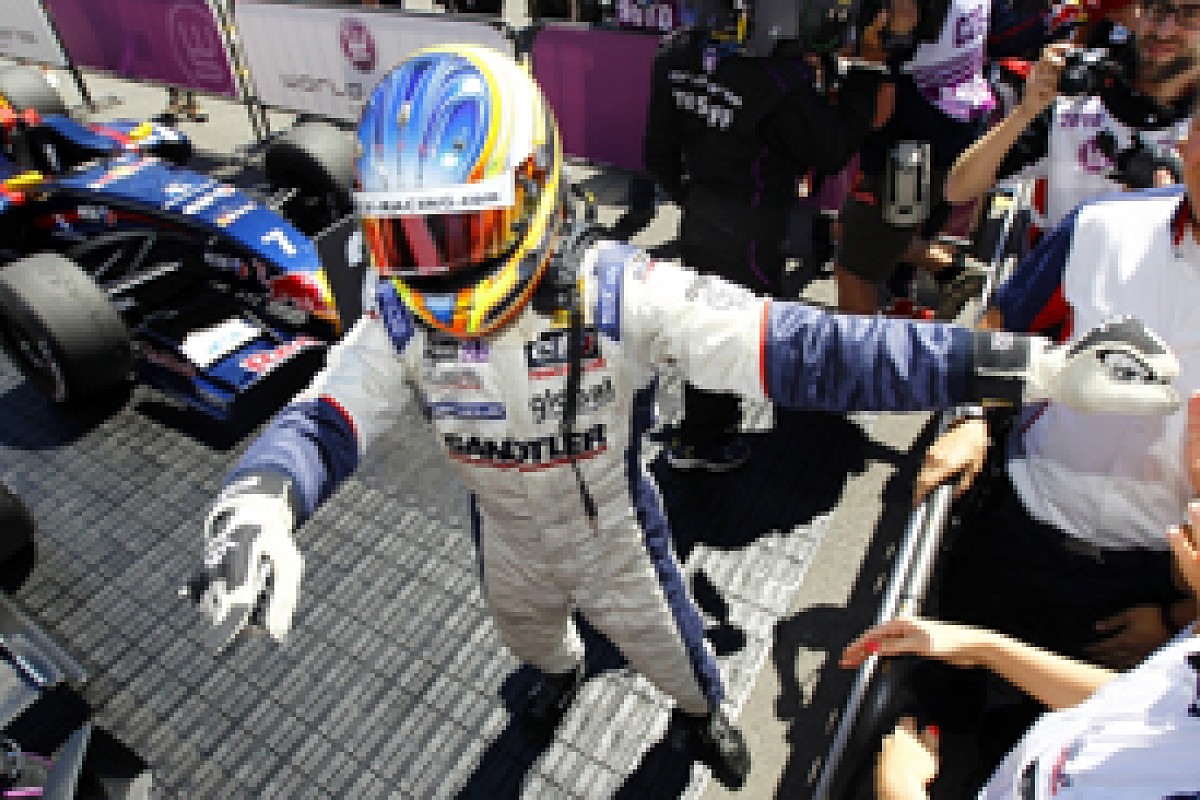 Guerreri gave ISR two home wins
Local star Salaquarda takes a double pole on the series' maiden visit to Brno, his family ISR team locking out the front row for both races. Salaquarda is twice slow to get off the line, allowing the returning Guerrieri to take a double victory.
Hartley finishes second in race one, from KMP Racing's Nebylitskiy. In a disappointing opening lap for the Czech fans, Charouz is tapped into a spin, while Salaquarda loses ground running off the road. Ricciardo and Aleshin finish out of the points.
More competitive in Sunday's high downforce spec, Coletti attempts to pass a circumspect Salaquarda for second into Turn 1, only to spin off. Further around the opening lap, Pentus is knocked off the road. Berthon splits the ISR cars to finish second, while Walter Grubmuller produces his best result of the season, fourth, for P1 Motorsport.
Points:
1 Aleshin 52
2 Ricciardo 49
3 Guerrieri 45
Race 5 Magny-Cours, France
Guerrieri takes pole at Magny-Cours, Costa starts second, while on home soil Nelson Panciatici qualifies in his highest grid position of the year, third. The opening race is wet, and away from the lights Aleshin rises to second. The Russian soon challenges Guerrieri for the lead, eventually moving ahead on the exit of the Lycee chicane on lap 15 and pulling away to win by 14s. Panciatici loses out in the battle for the final place on the podium at the hands of Coletti. As a reward for being the mid-season points leader, Aleshin completes a demo test of a Formula 1 Renault R29.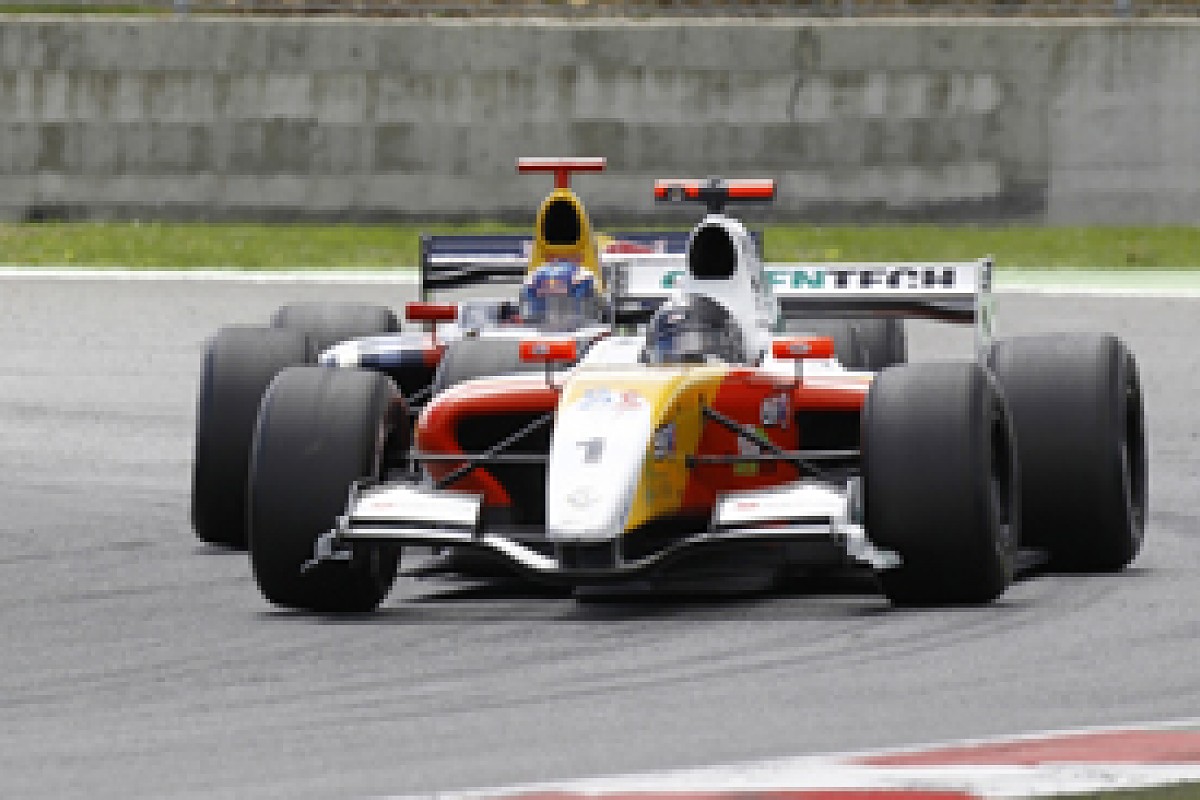 Berthon holds off Ricciardo in France
In a replay of Spa, changeable weather teases the teams regarding tyre choice on the race two grid. The sky eventually brightens, and the top three of Ricciardo, Berthon and Aleshin breakaway. Ricciardo is one of six drivers to receive a drive-through penalty for changing onto slicks after the five minute board. Berthon wins, successfully fending off a recovering Ricciardo who is just 0.2s in arrears at the chequered flag. Aleshin has an excursion to allow Salaquarda into third. Guerrieri, also penalised, attempts to pass Aleshin at the hairpin on the last lap but the pair collide. Guerrieri limps home ninth, with a puncture.
Points:
1 Aleshin 75
2 Ricciardo 66
3 Guerrieri 59
Race 6 Hungaroring, Hungary
In a controversial start to the weekend, ISR's tubs are found to be heavily worn after practice. The officials refuse to sign the cars off, and the team is forced to return to Prague.
From pole, Ricciardo wins race one by a dominant 13s. Aleshin takes second, only on terms with the victor at Turn 1 and following a safety car period. Pentus takes third, from Hartley.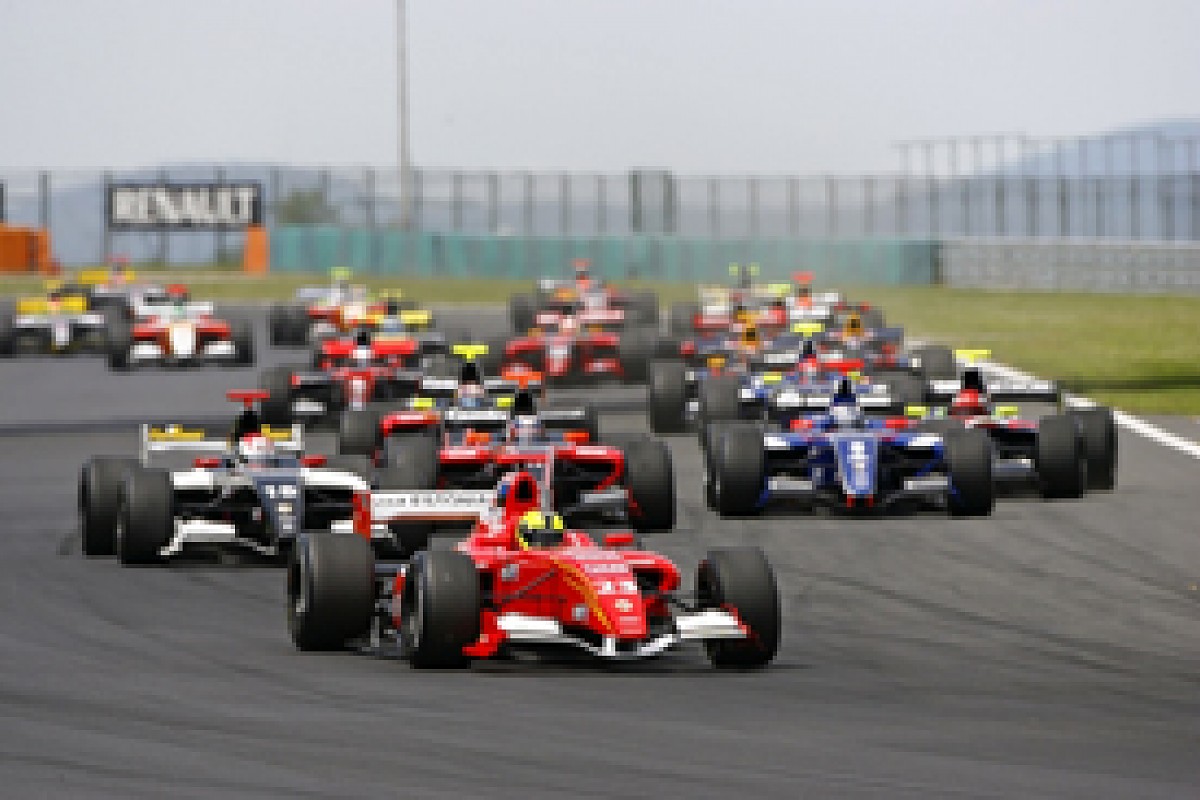 Pentus out front at the Hungaroring
Pentus wins race two from pole. Costa misses his maiden pole after a mistake in the final sector, but survives running three-wide into Turn 1 to pick up second. The race is red-flagged when Hartley spins. Over the summer break the Kiwi is dropped by the Red Bull Junior programme. Aleshin extends his points lead with third, ahead of Zampieri, a good showing from Greg Mansell, and Ricciardo.
Points:
1 Aleshin 97
2 Ricciardo 86
3 Pentus, 69
4 Guerrieri, 58
Race 7 Hockenheim, Germany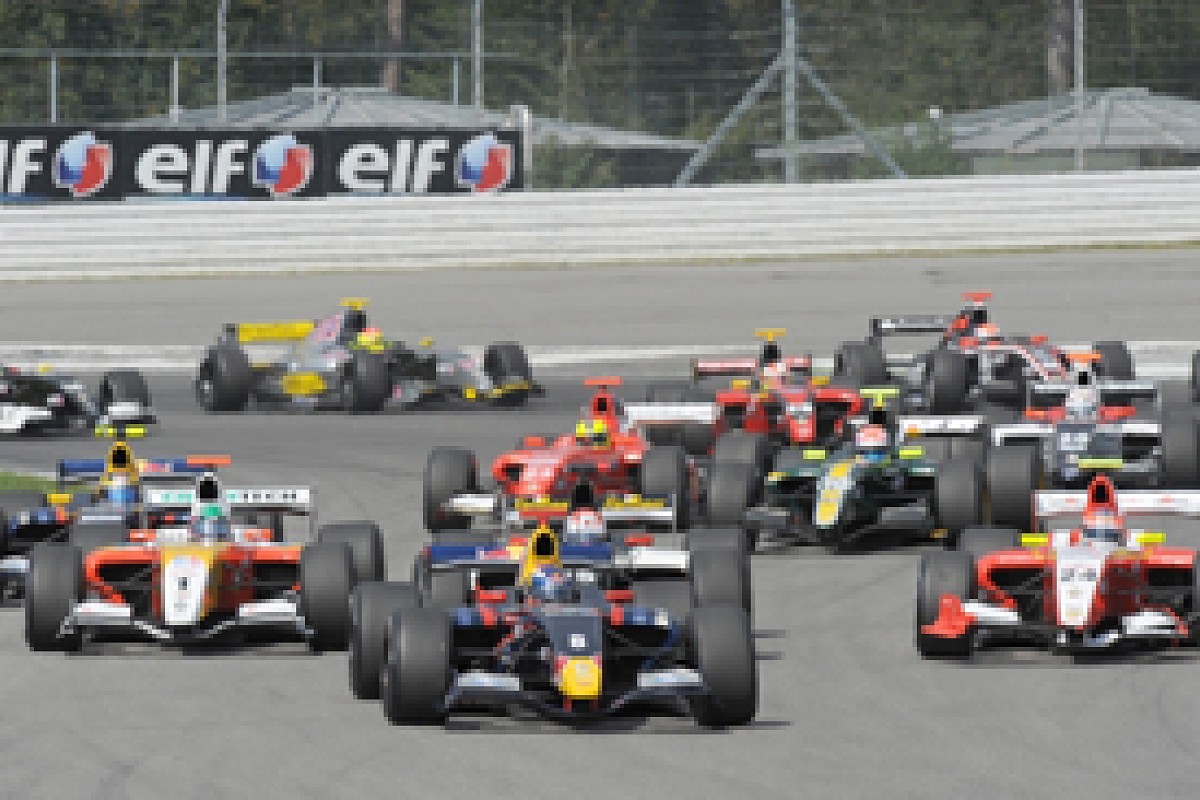 Ricciardo leads the pack at Hockenheim
At the second new venue for the series, Ricciardo again demonstrates his Tech 1 car's superb low-downforce set-up by recording pole. The Aussie is joined by a new team-mate, British Formula 3 champion Jean-Eric Vergne. Aleshin draws alongside front-row man Guerrieri at the first corner, but following a big brake lock-up into Turn 2 is passed by Fortec's Jon Lancaster and Zampieri. The Italian later enrages Salaquarda, who feels he was squeezed off the road at Turn 5. Ricciardo wins by 2.9s from Guerrieri, Lancaster complains of short gearing and finishes a further 10s back. Zampieri completes the race in fourth, from Aleshin and Mansell.
Zampieri makes a flier of a start to pass pole-man Guerrieri at the start of race two, but is demoted again by Argentinean at the hairpin on the opening lap. Comtec puts both drivers on the second row, but a frustrated Mansell is taken out by Lancaster at Turn 2. Coletti finishes third, but is promoted to second when Zampieri's Pons car is found to be fractionally underweight. Vergne finishes on Aleshin's heels in sixth.
Points:
1 Aleshin 109;
2 Ricciardo 101
3 Guerrieri 85
Race 8 Silverstone, Great Britain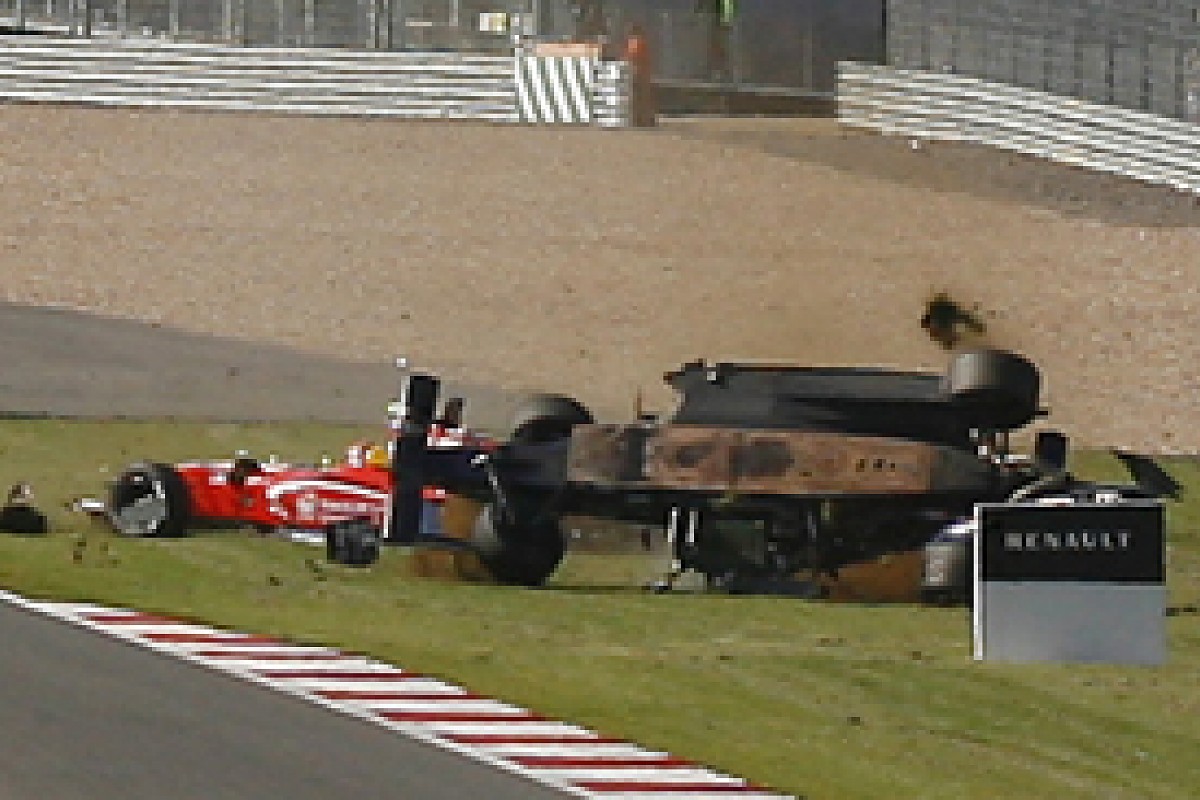 Lancaster sends Ricciardo upside down at Silverstone
The most eventful weekend of the season. Guerrieri crashes in qualifying, handing his crew a tough job to ready the car for the race. The ISR man makes it out of the garage to claim his front-row grid slot alongside Lancaster with minutes to spare. On his maiden pole of the year, Lancaster angles his car towards Guerrieri at the lights. With massive wheelspin, the Briton veers across the road, tagging Ricciardo and sending the championship challenger into a roll. Guerrieri is chased past the chequered flag by Vergne. The Frenchman picks up the win when his Tech 1 team protests Guerrieri for having a piece of tape on his bodywork, a legacy of the hurried repairs.
Ricciardo's Tech 1 mechanics work until 5am to fix his shattered car, and are rewarded when Ricciardo takes a seventh pole of season. Lancaster is ordered to start from the pitlane, but proves a point by going second-fastest in qualifying. Running in place of the injured Charouz, Hartley finds refuge at P1 Motorsport and inherits a place on the front row. Guerrieri passes the Kiwi into Stowe. Vergne attempts to follow suit at Vale, but squeezes Hartley on the exit of the corner. Losing a handful of places, Hartley tags Aleshin into a spin at the complex. Ricciardo changes fronts at his pitstop, and maintaining his advantage over Guerrieri who takes on rears. Guerrieri reels in the leader, and clinches the win on the final lap
Points:
1 Aleshin 114
2 Ricciardo 113
3 Guerrieri 100
Race 9 Barcelona, Spain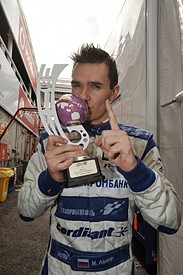 Aleshin becomes the champion
Ricciardo takes a record-breaking eighth pole of the season, despite spinning into the gravel at Repsol and goes on to dominate race one. Aleshin finishes 26s down in second after spinning at Turn 1. Guerrieri says goodbye to his title hopes when Vergne passes him for third on lap 12. Ricciardo and Aleshin are tied on points entering the last race, but in the event of a tiebreak Ricciardo would pick up the title.
In a wet qualifying, Guerrieri storms to pole. The Argentinean ends his season on a high, romping to a mammoth 24s win in heavy rain. Ricciardo runs second in the early laps, but soon has Aleshin on his tail after third qualifier Mansell runs wide and fourth starter Zampieri spins under the safety car start. Vergne runs second after the pitstops, while Ricciardo has a 3s advantage over Aleshin. The Russian hunts an oversteering Ricciardo down and passes the Aussie with three laps remaining, thereby securing the title.
Final points:
1 Aleshin 138
2 Ricciardo 136
3 Guerrieri 123
Full 2010 Formula Renault 3.5 standings