The Long Goodbyes

---
By Tony Dodgins, England
Autosport-Atlas Contributing Writer
The Chinese Grand Prix marked the end of the illustrious careers of three remarkable men, who each in his own way has made Formula One richer and humane. Peter Sauber, Pierre Dupasquier and Paul Stoddart said their farewells in Shanghai, and Tony Dodgins was there for the tears and the speeches
The constructors' Championship was still up for grabs, but there was an 'end of term' feeling about Shanghai.
For some it was more than that, and there were farewell dinners/cocktails/barbecues marking the last races of familiar paddock faces. On the journalistic side, long-time Daily Mail correspondent Ray Matts was having his last hurrah before retirement and Jim Rosenthal was lending his silky skills to F1 presentation for the final time before going off to host ITV's boxing coverage and get himself more involved with Champions League football.
But of the Players themselves, three will be a huge loss; Peter Sauber, Paul Stoddart and Pierre Dupasquier.
The Gentleman
Peter Sauber is one of the paddock's few true gentlemen. Not for him the sharp practice, ego and ostentation of some of his colleagues. His cars' 'C' designation has its root in his wife's name - Christiane - who apparently said to him after the sell-out to BMW: "Peter, our lives are so humble! How are we ever going to spend our money?" So popular is he at home that any begging letters addressed to: 'Peter Sauber, Switzerland,' will probably find him! Okay, he does have his own plane, but at least it's got propellers...
Sauber has been in motor sport for 36 years, the last 14 of them in Formula One.
"You know," he reflected, "When I look back at the whole thing I've had a long career and, I don't know, 10 or 20 times I've been very lucky. I was delighted with all the success in sportscar racing because when I started, with small two-seater race-cars, I never had the idea to win Le Mans or to go to F1. And for me it's a big success when you can finish a career like I can now."
When Sauber looks back at his time in F1, his high spots are Kimi Raikkonen and finishing fourth in the Constructors' Championship in 2001. Plucking a driver straight out of Formula Renault and putting him into a Grand Prix car was practically unheard of and only Jenson Button's success in a Williams at just 20 gave Sauber a chance of getting the Finn an F1 superlicence.
"The licence was a fight against [FIA president] Max [Mosley] and for me it was a big, big success. The team principals and the organisers helped me because it was necessary to have 18 votes in the F1 Commission," he remembers. "I think Max had his reservations but he didn't actually vote against, he abstained, which was very fair.
"Kimi was the most talented driver I had in F1 but I can't take the credit. It wasn't my idea. There was a good salesman behind him!"
Sauber says that selling to BMW was not pre-meditated despite his wish to secure the future of his workforce.
"The deal with BMW was 100% chance," he says. "I was looking for another engine. Securing the workforce was a separate thing. Also, I didn't build the wind tunnel to find a company to buy the team; I built it to have good sponsors and to look for a new partner on the engine side.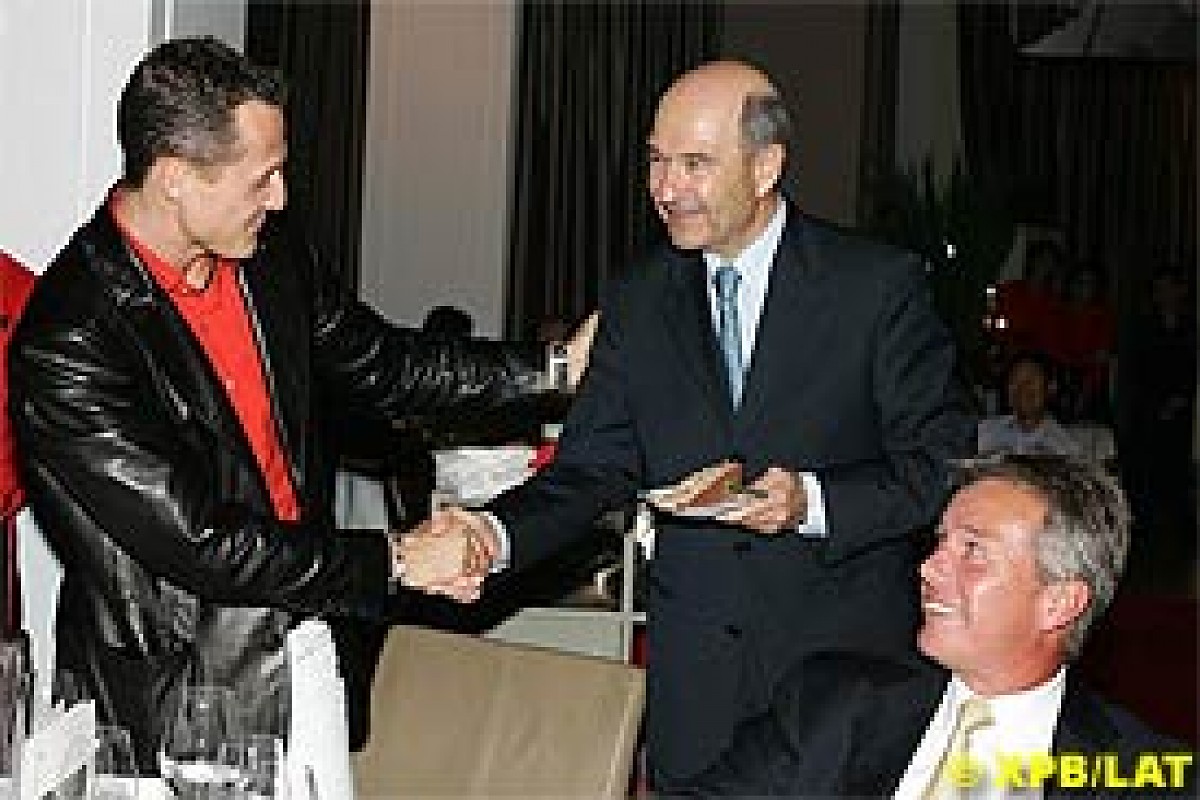 "Suddenly it wasn't in the interests of Petronas to supply engines anymore. Many years ago it was the idea of Petronas to work closely with Proton and that didn't work, for political reasons. They told me three years ago that I had to look for another supplier. They gave me time and I spoke with different companies. We were closer to Toyota than BMW. But during the discussions with BMW they had some problems with Williams - or Williams with them - and in the end it was an excellent solution for me. Now I'm 62 - it's not so old but it's getting on!"
Sauber hopes that he won't feel at a loose end after the intensity of the past 14 years.
"I haven't got another passionate interest," he admits. "I do have to work with BMW, however, and I hope I'm not tempted to start some other new business. Maybe I'll do a bit of skiing, some horse-riding and some motorbike riding."
It sounds good, but Sauber will not be totally absent from the F1 paddock. "I will come to some races. I have a contract with BMW as a consultant and I have to work for Credit Suisse and, I hope, for Petronas. I will have to go to maybe four or five races a year. If I have time I will watch the others, for sure. But I need a screen and a computer to have the sector times because they are more important than the pictures."
"Thanks for coming," he said, with his customary politeness as we left his farewell drinks bash last Friday, "I'm sure I'll see you next year."
The Michelin Man
For Paul Stoddart, you feel, F1 is unfinished business too. But for Pierre Dupasquier, a man who has been the face of Michelin since they arrived in Formula One in 1977 with Renault, it is really the end of the road. At 68, Dupasquier hands over the reins of the Michelin competitions department for good.
He conceived the idea of a separate motorsport division within Michelin in 1973. In that first season Michelin helped Alpine Renault to lift the manufacturers' World Rally Championship. Since then, under Dupasquier's stewardship, Michelin can boast 1300 wins in World Championship events and 180 world titles in all disciplines on two and four wheels. Fittingly, Fernando Alonso gave Michelin its 100th pole position in Dupasquier's final race.
With Pierre, they threw away the mould. With his impish smile and sense of humour, he is warm, enthusiastic, charming and ever so slightly barking, in the nicest possible way. The turn-out of the great and the good of F1, from Bernie on down, to wish him well at 5pm on Saturday in Shanghai was a measure of the universal affection in which he is held.
I mention the time only because regular behaviour dictates that technical men are closeted away in strategy meetings for the morrow, team principals are usually engrossed in the latest episode of F1's political saga and those drivers who aren't required by the technical men are usually looking for an early exit. But in China just about every team chief, technical man and driver was there to show support for Dupasquier. And that included the opposition from Bridgestone, who volunteered to make speeches if Michelin felt they needed any help. You get the picture. A popular man.
For someone nearly 70, Dupasquier is in incredible nick and was regularly seen roller-blading his way around the Grand Prix circuits of the world. But he's no monk. He likes a beer, a glass of red and even a whiskey now and again.
In the back of your mind it was end of season. The dictaphone was full of review material that needed dealing with before race day overtook me. So, a quick visit to pay your respects, then an evening in front of the laptop. That was the intention. But hours later you were still there, listening to Pierre. What the hell! Did anything really matter? It's men like Dupasquier who make the sport what it is.
We'd heard he flew fighters and wanted to know about it. "I flew T6s, not easy things!" he beamed, those wide eyes lighting up. "I think it was '61, I was in the French air force and you got 20 hours and then you went solo. They were used to help the people on the ground in Algeria but happily I didn't have to go. I wanted to learn to fly, sure, but I didn't want to kill anyone!"
Then a sheepish look.
"Actually, I had a real big shunt and dug up the ground for about 270 metres, funnily enough at Clermont Ferrand (where Michelin is based). I was at the controls and the instructor was behind me. And I basically landed without putting the wheels down...
"Once you get below a certain height there's supposed to be a warning klaxon if you haven't put the landing gear down. But you don't hear it if the guy is talking to you. He was going blah, blah, blah in my ear! And there was another guy supposed to be watching from the control tower. But there was no warning there either. I basically realised the moment I hit the ground! Phwoaah! What a noise!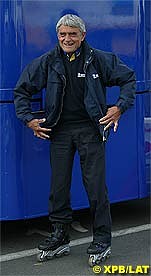 "Of course, there was a danger of fire and the guy in the back seat was out so quick you hardly saw him. But I was so shocked I just sat there. I was lucky but the instructor was a career flier from the air ministry and he got a few black marks for that. I said, blame me! Blame me! But the guy was in big trouble... Did I feel bad!"
We moved onto the early F1 days, during which Dupasquier had already explained that it might have been oh so different if he hadn't been summoned to Maranello to meet Enzo Ferrari. Basically, Dupasquier said, if it hadn't been for getting his tyres onto the Ferrari in '78, Michelin might have been blamed for Renault's shortcomings and the programme canned.
Which took us on to Gilles Villeneuve, perhaps the most talented driver Dupasquier has worked with.
Mauro Forghieri was running the show at Maranello in those days, Dupasquier remembered. To illustrate Mauro's temperament, Dupasquier waved his arms around and laughed a lot.
"I remember I was there when Villeneuve first drove the Ferrari at Fiorano. He spun wildly about three times and, with everything wreathed in smoke, he came into the pits. Forghieri looked at him, shaking his head, and said, 'Gilles, this is a Formula One Ferrari, it is not a Formula Atlantic car. You cannot stop it like an Atlantic car. You cannot use the brakes like that!'
"'Brakes?' Villeneuve said. 'What do you mean, brakes? I haven't even touched them yet...'
"You should have seen Forghieri's face!"
In a break from the competition department, Dupasquier was in the States for a few years, working with the truck division. He still has a '63 Chevrolet Corvette, a legacy of his time in the USA, but has just sold his Citroen SM to an Englishman about a month ago. He's a bit fed up with cars.
"The French are stupid!" he says suddenly, gesticulating dismissively. "You cannot keep your licence these days. You mustn't go too quickly. You can't speak to anyone on the phone. All these silly rules. Pah!"
The same nanny state nonsense that drives most of us mad these days gets up Pierre's nose too. So much so that he spends more time on his Honda VFR or his Ducati 916.
His eyes light up again. "Going to Monza this year, I saw a woman police officer standing by the road with a radar gun. I was going very quick! No way could I slow down, and so I just gave her a wave. She put the gun down, spread her arms wide and just shrugged. Great! I don't think they bother so much with bikes..." He laughs infectiously. He will be a big miss.
And so, too, will Stoddart.
The Ombudsman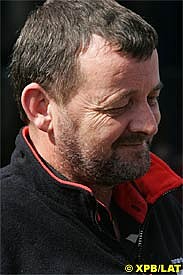 The bane of the FIA for quite a while now and doubtless no angel, Stoddart was sometimes accused of generating noise levels inversely proportional to his or his team's significance.
Formula One can sometimes seem elitist, class-ridden even, and a rough diamond Aussie prepared to speak his mind - and everyone else's - to all and sundry, was always going to make waves.
But what a breath or fresh air. Stoddart was never afraid to call a spade an effing shovel, but ask a straight question and you got a straight answer. He made far more sense than Eddie Jordan ever did.
Dietrich Mateschitz has undoubtedly boosted Paul's bank balance but selling was the right thing to do. Minardi might have been affectionately regarded as F1's minnows, might have achieved so much with so little, as Stoddy was keen to point out with Churchilian overtones, but with deeper pockets the team can now look towards advancing.
Stoddart admitted that he still has Formula One in his heart.
"I'm available for anything worthwhile," he said. "I certainly feel I can make a valid contribution to this sport. There are things wrong with it, they do need fixing up and maybe someone will offer me a job..."
Bernie Ecclestone was quoted saying that he wouldn't be surprised to see Stoddy still active in the paddock. Something we should know about?
"It's something for Bernie and the manufacturers," Stoddy grinned. "The thing is, I'm not worried who sorts out F1, so long as somebody does, because this idea of heading towards two series is a disaster. Either we have to get it together or it's going to go that way. And if it's going to go that way, who knows, anything's possible..."
Paul Stoddart as the manufacturers' Max Mosley. There's a thought. It's almost funny. Chalk and cheese...
Shanghai made you think. In what other field of endeavour would the paths of such disparate individuals cross: Peter Sauber, Paul Stoddart and Pierre Dupasquier? Truly, that's the magic of F1. Good luck, one and all, but hopefully we'll see you around.