---
By Dieter Rencken, Belgium
Autosport-Atlas Columnist

THE FUTURE OF BMW


Will BMW eventually succumb to total team ownership? Before its re-entry into Formula One in 2000, rumours were rife that the Bavarian manufacturer 'intended doing a Renault', who had entered the sport with its own car/engine in 1977. After sporadic success, the company departed, returned as engine supplier, then made it known that it intended purchasing an existing operation. Eventually, in 2000, it did so.
BMW, though, chose the 'safe' option of supplying engines to a team with seven drivers' and nine constructors' championships to their name. Having won titles with Ford, Honda and Renault power, Williams seemed a sure bet for future honours, and, above all, was adept at maintaining very British upper-lips in the face of adversity, and shouldered responsibility for failure when engine matters were not always in order.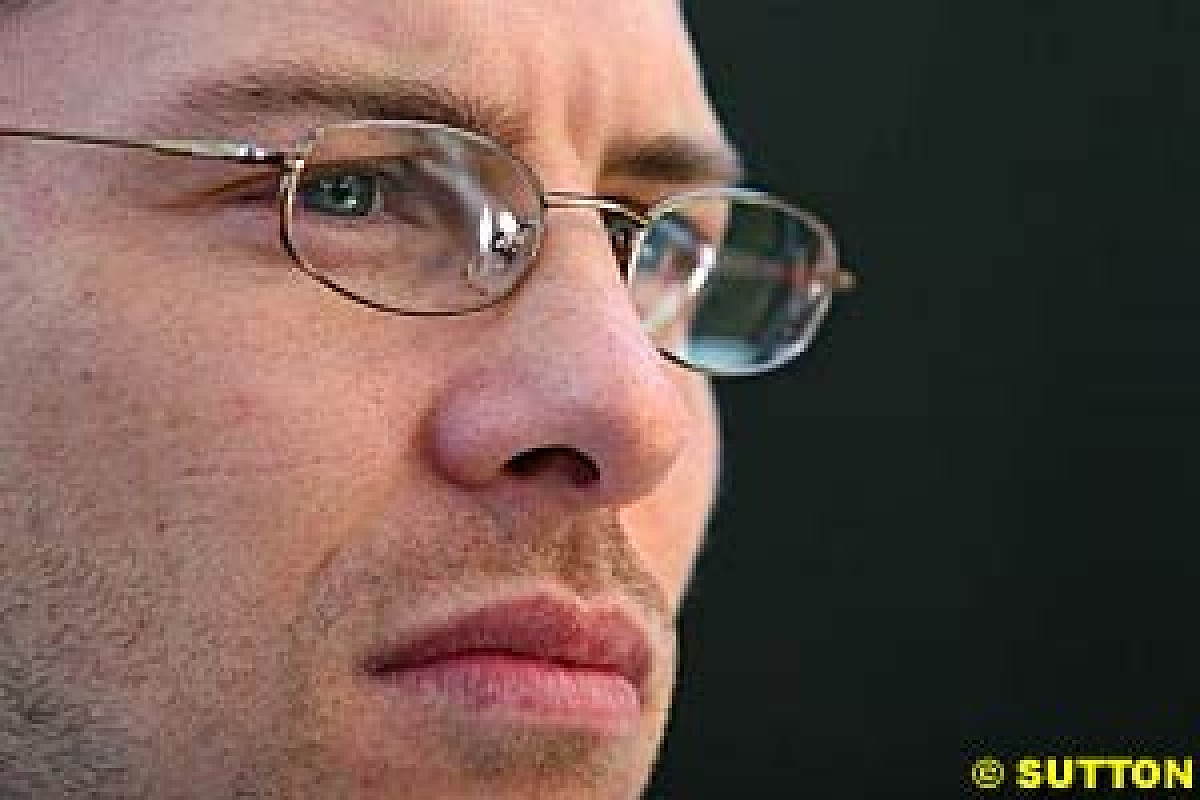 First step was the manufacture of a Le Mans sports car, and, in 1999 a BMW, albeit designed, engineered and manufactured in Grove, Oxfordshire and overseen by Gerhard Berger won the 24 Hour classic on Michelin tyres.
The strength of BMW's OEM and racing contracts with the French company pressured it into reconsidering its absence from Formula One, and, thus, the totally blue/white team was formed. So strong were the early corporate and financial bonds that BMW was able to insist that Williams sever their relationship with British American Tobacco, owners of Rothmans and Winfield, although, as the monetary force behind the formation of BAT at the time, many believe separation was inevitable. But, whatever, BMW certainly ensured that Williams steered clear of nicotine money.
The first year, 2000, was so-so, with Ralf Schumacher placing fifth in the Championship and F1 debutant Jenson Button finishing eighth, with the team scoring third in their league - albeit with a points score of 36 against the 170 and 152 of Ferrari and McLaren respectively.
Juan Pablo Montoya replaced Button for 2001, and matters looked up: Schumacher took three wins, and JPM one; 2002 saw one for Schumacher and nil for 'Monty' as Ferrari decimated field and formula, whilst in 2003 both drivers climbed the top step twice. Not bad against the bright red backdrop, but not too good, either, particularly considering that BMW's engine was considered the class of the field.
But, always there were rumours of discontent and raised voices; regularly one sensed that team and engine partner spoke only formally; that Williams resented BMW's input into areas the team traditionally considered proprietary, that BMW considered itself more than just engine partner. (Which, having purchased the livery to gain naming rights and control over 'unsavoury' sponsors, it was.)
An extension to the partnership was announced a little over a year ago. However, much has changed since: Patrick Head, whilst still a director and shareholder in Williams Grand Prix Engineering Ltd, has relinquished many day-to-day technical duties and is absent from most events, his place taken by the highly capable, but relatively inexperienced Sam Michael. Then, the 2001-2004 driver pairing gave notice, neither doing so in a particularly pleasant manner, with their replacements, whilst considered competent at the very least, lack winning (or regular podium) pedigrees.
Any wonder, then, that rumours are rife that BMW is seeking alternate teams to supply? First came suggestions that the Munich-based company was in talks with Red Bull Racing - far from a wild rumour given that RBR's Austrian boss Didi Mateschitz is known to be fiercely patriotic and considers former BMW Motorsport Director Berger (an Austrian and provider of BMW's final turbo-era Grand Prix victory) a close friend.
Then came rumours that BMW had offered Sauber a secondary supply of engines, a matter which gathered currency when BMW confirmed its agreement with GPWC's latest charter, which requires all signatories to supply at least two teams. And, of course, Sauber agreed terms for a supply of Michelins, recently enjoyed the fruits of the largest wind tunnel in Europe (capable of accommodating a full-sized passenger car) and announced its acquisition of the most powerful super-computer in F1.
Sauber is, as previously detailed in these pages, unwilling to pay, directly or indirectly, a king's ransom for future Ferrari engines, particularly given that long-time associate Petronas, payer of engine bills since 1997, gains no benefits from two race engines. Then, Willi Rampf, technical director of the Swiss team, is an ex-employee of BMW who saw service in various engineering and competition departments within the company. Such matters count for plenty in Munich and Hinwil boardrooms.
So, BMW power for Sauber seems almost certain come next season, but will the relationship between the two be that of team/engine supplier, or could there be a more permanent bond? Current stories have BMW purchasing Sauber lock, stock and barrel and operating the team from Hinwil. Certainly, Sauber's facilities superbly complement those of BMW, whilst common language and similar cultures certainly facilitate closer communications than does the present Oxfordshire/Bavaria set-up.
Peter Sauber openly accepts that succession planning is vital to the future of the operation which began by building VW-powered hillclimb cars in his backyard, and has long admitted he would sell out to the 'right' partner. BMW, burning to win a first Championship since 1983, is certainly that, and more.
And what of BMW's GPWC involvement? No clauses in its articles of association prevent a manufacturer from owning an entire team, merely that it must be prepared to supply two operations. Here BMW would be spoiled for choice: Red Bull and Williams are the obvious candidates, but others would no doubt join the queue. And should GPWC and Bernie Ecclestone agree terms? Matters would continue as per the present situation, so no problems there.
Finally, what if BMW should decide to withdraw from the sport in future? Simply put, it would have prototyping facilities capable of producing one-offs in record time, plus have access to amongst the best wind tunnel and computing facilities in the international automotive industry. Finally, should it require assistance in arranging the deal, majority shareholder Credit Suisse would be most amenable to a deal...

HONEYMOON GONE AWRY


Has it all gone badly wrong already?
Six months ago Sauber awaited Jacques Villeneuve's arrival in Hinwil for a seat fitting. The French-Canadian, certainly not known for sartorial elegance, had signed a two-year deal with the team, and there to meet him was Sauber's hierarchy all kitted out in suits.
Shortly thereafter he signed a rather ill-advised three-race deal with Renault, thought to have been schemed up by Flavio Briatore, who, having tired of Jarno Trulli, attempted to get his hands on his 2005 signing, Giancarlo Fisichella, a few races early. He would, the Italian thought, sign Villeneuve to replace Trulli, then offer the former BAR-Honda driver to Sauber in exchange for 'Fisi'. Sauber thought better of the offer, and turned Briatore down.
The 1997 World Champion thus lined up for Renault, and was comprehensively blown off by Fernando Alonso. At the time it was put to Peter Sauber that signing Villeneuve had been a mistake, which he countered by explaining that he had expected his new signing to initially battle in what was accepted as being a 'difficult' car. Signing Villeneuve, he added, was the beginning of a new chapter for the team, for never before had Sauber employed a Formula One ex-champion.
Early season testing went unremarkably, but there were known aerodynamic 'issues', put down to calibration problems with the new wind tunnel, with the C24, so no real fingers were pointed. Generally, though, Felipe Massa was quicker, but, so often, the young guns are quicker in pre-season testing than established masters.
Come Melbourne, the same trend continued, until qualifying 1, when Villeneuve elected to venture out on to a still-wet track on 'dry' rubber. The team permitted it, but only with bated breath and through gritted teeth. JV hooked fourth on the grid; great things were expected from his race...
Villeneuve disappointed, slipping unfathomably down the order to finish 13th. Four places were lost in a first corner incident, but responsibility for the balance was placed firmly at his door, particularly as Massa went from the back of the grid to 10th. "I can't explain the difference (in performance between Villeneuve and Massa), which is a big one. Really it was bigger than it looks," admitted a baffled Sauber afterwards.
Whether or not Sauber, who insisted upon a rolling performance clause in the driver contract, is looking to replace Villeneuve after just one race or not is debatable, but when last was a driver/team honeymoon over so quickly?

TOYOTA POWER

In a feature entitled 'The Unfair Advantage', this column suggested that cars running out of the points on the last lap of the first race of set of two, would choose to exploit a loophole in the two-engine rule which permitted non-finishers to change engines before the next race. The FIA had previously stated that it considered such behaviour unlikely, and reiterated that stance during the Australian Grand Prix weekend.
During the team managers' meeting in Melbourne, chaired by FIA Race Director Charlie Whiting, various team representatives are said to have stated clearly that they would 'retire' cars running out of the points on the last lap. BAR-Honda controversially did just that, with the only remarkable issue being that they were alone in retiring healthy cars.
In Australia the FIA refused to believe widespread abuse of the loophole, which indirectly rewards non-performance, would follow, and indicated no steps would be taken against the perpetrators. Public and media outcries, plus rather harsh criticism of BAR by Toyota seems to have swayed the FIA, and it has now issued a clarification which differentiates between 'failing to finish' and 'choosing not to finish'.
In order to ensure that the regulation is fully respected the FIA reserves the right to demand that drivers explain the circumstances surrounding any first race retirements to the stewards of the meeting. Fair enough.
There are rumours that BAR will face sanctions for their 'retirements'. Just how and why is difficult to understand, and these suggestions would appear to stem from sensationalism of one kind or another. After all, BAR played to the letter of the regulations, and the results of the race were signed off by all three stewards without any form of enquiry being called.
Equally, BAR are surely entitled to change engines before the Malaysian Grand Prix, but not to pull the same trick come the end of the race. Michael Schumacher, Nick Heidfeld and Christijan Albers, too, should be entitled to change engines, as the intention always was that bona fide retirements were punishment enough for drivers and teams.
What makes the situation interesting, though, is that the FIA acted not after media or public criticism, but after comments by Toyota. Could this be a sign of appeasement towards the Japanese company?
Certainly the most cash-rich motor company in the world and destined to overtake General Motors shortly for volume honours, Toyota was highly critical of the governing body in the wake of the FOM/FIA/Ferrari Concorde alliance, and immediately thereafter sided, ironically with Honda, with GPWC against the trinity.
Then, in the run-up to Melbourne, Toyota are thought to have snubbed the Superlicence fax vote, together with Minardi, on the basis that they thought the procedure to be outside regulations concerning such voting systems. Seems, Toyota are really muscling their way to the front.