Japanese GP Facts, Stats & Memoirs

---
By Marcel Schot, the Netherlands
Autosport-Atlas Writer
How good is it looking for McLaren to clinch the constructors' title? What are the odds that Fernando Alonso's record as youngest champion is beaten in a near future? And what happened in F1 21 years ago? Marcel Schot brings the answers and more anecdotes on the seventeenth round of the season
While we do have the youngest World Champion in Formula One history we also have a Champion who hasn't won in the last five races. For McLaren it's clearly a season of too little, too late. The Woking team's five successive wins may be their longest winning streak since 1988, but in the end it didn't bring them the Drivers' Championship. What remains is the Constructors' Championship, in which they now lead Renault by two points. This in itself is a rather remarkable feat, as McLaren were no less than 22 points behind after two thirds of the year.
The last time a team were leading at two thirds of the season was in 1997, when Ferrari were two ahead of eventual Champions Williams after 11 of 17 races. Before that it was 1994, when Benetton were leading Williams 85 to 62 after 11. In 1985 it was Ferrari leading McLaren by five after 11 of 16 races.
Ferrari's demise in 1997 was mainly due to two unusually poor races in Italy and Austria, while Williams 1994 victory was thanks to Michael Schumacher's ban in Italy and Portugal. 1985 was not exactly due to one or two races. In the final five races of the season, Ferrari scored only seven points. Even winners McLaren weren't all that strong with 20, but it was enough to hand them the title.
Should McLaren win the constructors' title, it would be for the tenth time since its inception in 1958 that the winning constructor didn't harbour the drivers' Champion. Interestingly, it would be the first time it would happen to McLaren.
Year    Driver                          Constructor 
1999    Mika Hakkinen (McLaren)         Ferrari
1994    Michael Schumacher (Benetton)   Williams
1986    Alain Prost (McLaren)           Williams
1983    Nelson Piquet (Brabham)         Ferrari
1982    Keke Rosberg (Williams)         Ferrari
1981    Nelson Piquet (Brabham)         Williams
1976    James Hunt (McLaren)            Ferrari
1973    Jackie Stewart (Tyrrell)        Lotus
1958    Mike Hawthorn (Ferrari)         Vanwall


Back to Fernando Alonso. Youngest World Champion ever, breaking Emerson Fittipaldi's 1972 record. While it may not be likely to stand 33 years, it doesn't seem all that obvious that Alonso's record will be broken anytime soon. Of the current Formula One drivers, only Christian Klien and Robert Doornbos are younger than the Spaniard.
Doornbos is out of the equation as he passes Alonso's mark within two months and while Klien is over a year younger, we can't seriously expect him to win the Championship next season. However, below Formula One there are a few options. GP2 Champion Nico Rosberg has made his testing debut and will only reach 24 years, one month and 24 days on 23 August 2009. A1 GP inaugural race winner Nelsinho Piquet is nearly a month younger, while McLaren protege and Euro F3 Champion Lewis Hamilton is about half a year older than the other two.
Another option might be the next German in line, Sebastian Vettel. Last year he completely demolished the field in the German Formula BMW series, while he had an impressive rookie season in Euro F3 this year with four podiums. To top it all off, Vettel also made his Formula One testing debut recently, having turned 18 in July. The date to remember for him: 30 August 2011.
All in all, Alonso's record looks safe for at least another four years, unless one of these guys - or in fact someone else - makes a rapid entrance in Formula One with the right team.
This Week in History
Twenty one years ago this week Formula One celebrated its return to the Nurburgring. After Niki Lauda's almost fatal accident at the old 14 kilometre track in the Eifel mountains, the circuit was deemed unsafe and taken off the Formula One calendar. Eight years and several million Deutsch Marks further, a modern circuit had replaced the track that for so many years had filled drivers and fans with both terror and excitement.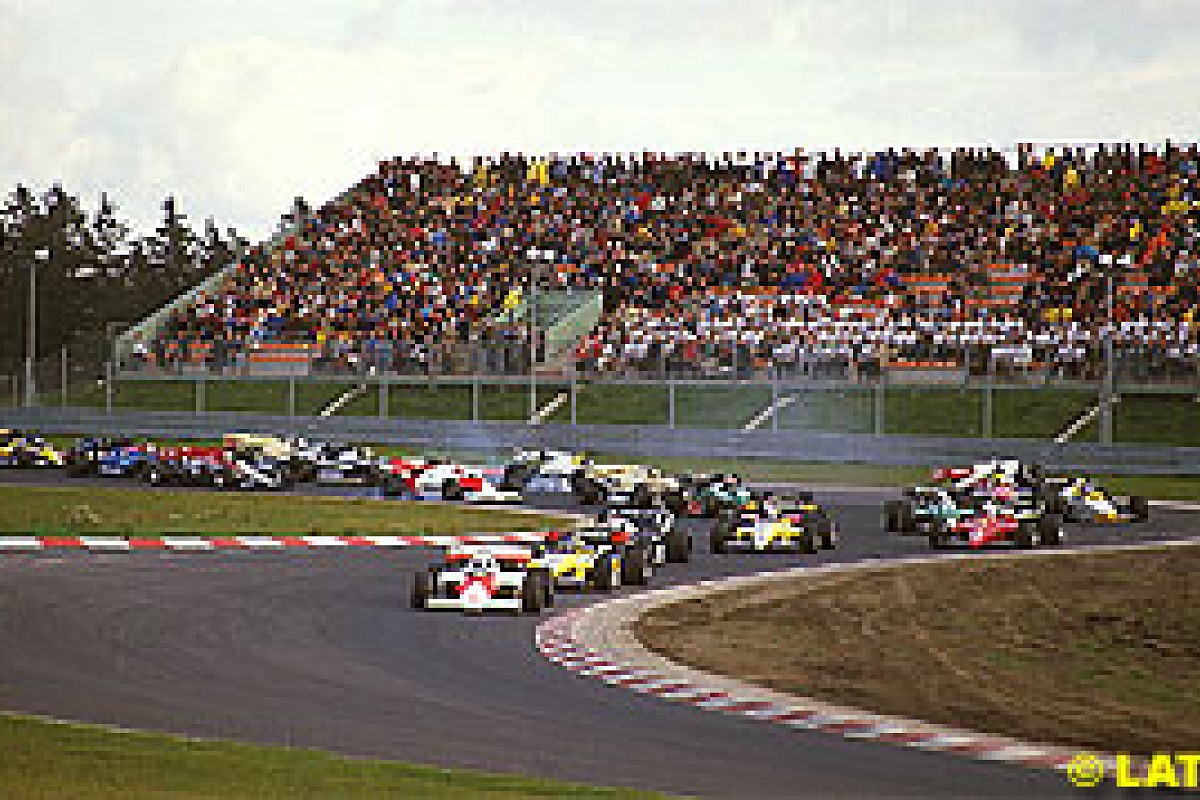 Just like in 1976, Niki Lauda came to the Ring as the Championship leader. With two races to go, his teammate Alain Prost was 9.5 points behind him, with Elio de Angelis of Lotus a distant third, 31 behind Lauda.
On Friday, the Championship rivals were as far apart as possible. In free practice the difference between Prost and Lauda was a massive four seconds in the Frenchman's advantage. The Austrian in the spotlight was Gerhard Berger. The ATS driver went off hard, but luckily escaped with only a swollen knee. In the first qualifying session Lauda went a little better, but with a 15th place, 2.5 seconds adrift of his teammate, there wasn't much to cheer about for the Austrian. However, Prost wasn't the fastest as Brabham's Nelson Piquet beat his time by three tenths. Only Renault driver Patrick Tambay came close, three tenths behind Prost.
The next day it was rainy at the Nurburgring. This of course meant there was no way the Friday times would be improved. While Lauda was fastest in free practice, it was hardly a consolation. He was perfectly aware that Prost was on the front row and he himself was back on the eight row. The tension between the two teammates rose when Prost damaged his car in the Sunday morning warm-up. While the team wanted to give him the spare car, which had been set up for Lauda, the Austrian protested. In the end both drivers started the race.
The race was almost over for Lauda before it started. Ahead of the McLaren driver, a massive pile up took place. Toleman rookie Ayrton Senna ploughed into the back of Williams driver Keke Rosberg, who had had a terrible start and behind them Marc Surer (Arrows), ATS driver Gerhard Berger and the Osella of Piercarlo Ghinzani were also eliminated. Lauda managed to avoid the mayhem masterfully and started the chase for Prost. After the first lap the Austrian was already up in ninth place, while Prost was leading ahead of Tambay, Piquet and the second Renault of Derek Warwick.
In the next two laps Lauda fought his way past the Alfas of Eddie Cheever and Riccardo Patrese, followed by Rene Arnoux's Ferrari two laps later. Lauda was determined to make his way towards Prost as fast as possible in order to try and grab the win and thus the Championship. Meanwhile Prost struck a gap towards Tambay and wasn't worried about Lauda at all. The Frenchman's philosophy for the race was simple, he had to win regardless of what Lauda did and thus asked the team to not inform him about Lauda's progress at all.
Unfortunately for Lauda, his progress was halted when he arrived behind Warwick and Ferrari driver Michele Alboreto. The three circled the track like a train, frustrating Lauda no end. The Austrian was quicker, but not quick enough to pass the duo. Slowly but surely the gap to Prost increased and on the 22nd lap things got even worse for the chasing McLaren. When the trio lapped Mauro Baldi in the Spirit, the Italian shut the door after the first two, sending Lauda in a spin. It didn't cost the McLaren driver a position, but the time loss was significant.
For Lauda the race was lost. With the gap too big to fight with Warwick and Alboreto, he settled for sixth place, only helped to fourth place by retirements of Patrick Tambay and Derek Warwick in front of him. The two extra points would prove vital at the end of the season as Lauda did win his third Championship...by a margin of half a point.