Helmut Marko: the Player

---
By Thomas O'Keefe, USA
Autosport-Atlas Senior Writer
Thomas O'Keefe continues his portrayal of Red Bull's power player Helmut Marko, and this week, in the final part, we look at the Austrian's F3000 years as team owner, and his current involvement with Red Bull Racing
Part III: Life Goes On
After a horrific accident like that when Helmut Marko was at the peak of his career, the young Austrian could have been forgiven if he had simply turned his back on motorsports and contented himself with re-assuming the duties of someone with a doctorate in law in Austria, living out his days with his wife and family in the home in the mountains above Graz that he never had time to live in while he was racing. His wife recalls that up through May of 1972, Helmut had been home only 18 days that particular year.
When a driver is racing, he is constantly on the go and living out of a suitcase - in Marko's case, to Formula One races and sportscar races as far away as Kyalami in South Africa, Buenos Aires, Argentina or Sebring, Florida or as close to home as the Osterreichring.
Throughout this pell-mell travel, the rest of life gets lost, things that Helmut Marko loved but had precious little time to do while flitting around the globe, as he once described those interests, before his accident: "all of the things in which I am interested - relaxing with my family, music, painting, playing cards, books - these are my interests," along with skiing in the winter like any God-fearing Austrian and motorcycle rides on his Yamaha bike around the mountains near his home.
One thing, though, that all this globetrotting did for Marko was that he developed his own model of what a good hotel might be like and, in time, Marko and his wife have acquired and built two small, luxury hotels in Graz, Austria - most notably the Schlossberg Hotel (which is a converted 450-year old mansion, the former so-called lock mountain house).
Graz is a fabulous Old World place and one of the regional capitals of Austria. It is a shame we no longer go to Spielberg and the A1-Ring for the Austrian Grand Prix because a few days at the Schlossberg Hotel sounds like fun, as it was described in Karen Brown's Travel Guides: "The Schlossberg is ideally suited near the river, just a block from the pedestrian heart of Graz.
"The tasteful decor of this splendid small hotel is most refreshing. After the ornate, fussy antique furniture encountered in many hotels in Austria, the Schlossberg is like a breath of fresh air ... The owner, Dr. Marko, is a retired racing-car driver. His attractive wife used to own an antique store, and it is her fine taste for simple, predominately country-style antiques that creates the delightful ambiance."
Although Mrs. Marko gets credit for the looks of the hotel, Helmut Marko does actually run it as well, between trips to Salzburg and to the races. So now at least Mrs. Marko has her man at home more than 18 days every six months. Marko's appreciation for art is also in evidence, with young artists being permitted to show their work in his hotels.
In addition to becoming a hotelier, Marko could, after his accident, have resumed his legal career but the quiet life of a circuit judge in Graz was not for him. Marko's first passion was still motorsports and in time he worked his way back into the sport, not as a driver, but as a team owner in the lower formulas, proving that he had a special knack for spotting and nurturing the kind of talented young driver that he himself had been, once upon a time.
He formed an F3000 team called RSM Marko, as the vehicle for his forays into motorsport, and it was active in 1990-91, 1996-1997, scoring five wins and five pole positions, and fielding drivers like Karl Wendliger, who took the 1989 Formula Three German Championship away from runner-ups Michael Schumacher and Heinz-Harold Frentzen; all three drivers were on equal points at the end of the last race but after endless discussion amongst this trio and their managers and the officials, Wendliger won because he had higher finishes throughout the season.
And in 1990, when Danica Patrick was eight years old, Marko was already supporting a woman sportscar driver, Ellen Lohr, for a spot at Le Mans in a Lola T90, but Lohr did not qualify, though she has raced in touring cars and in other divisions since 1990, hoping to do the Dakar Rally next year.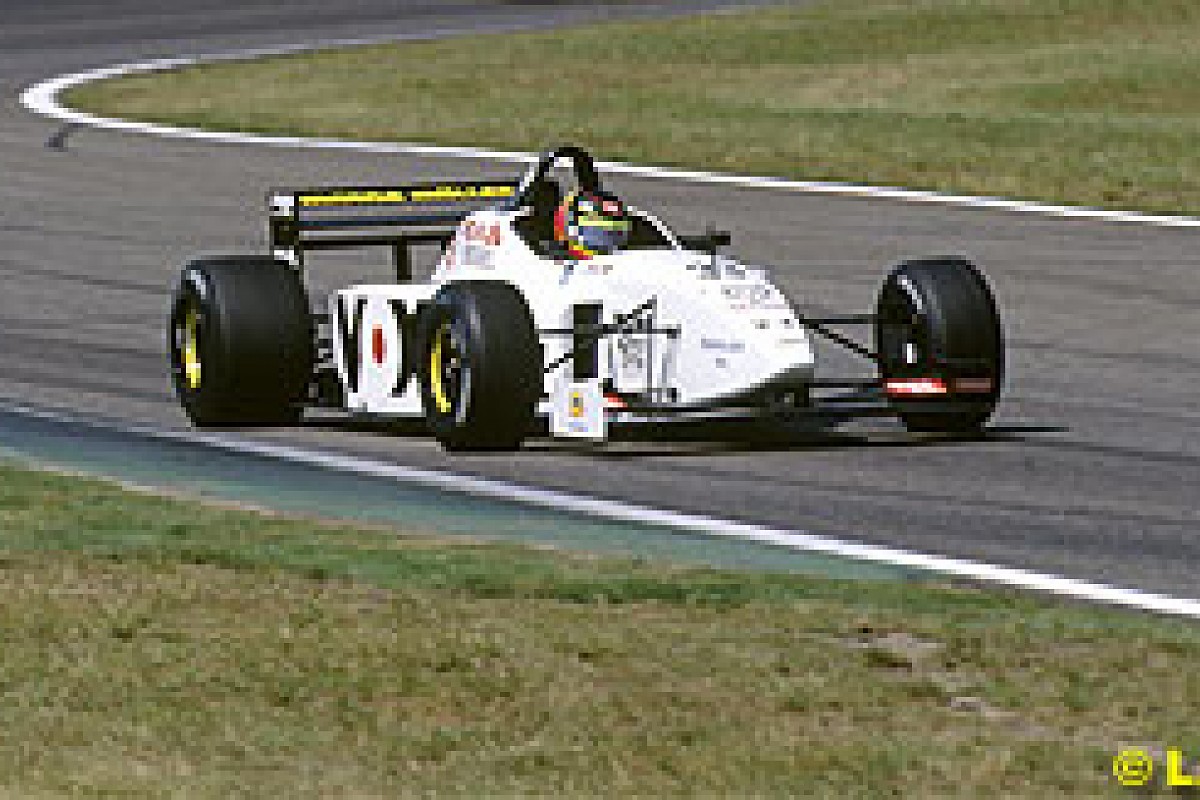 In 1996, RSM Marko won the Formula 3000 Championship with a German driver, Jorg Muller. In 1997, Juan Pablo Montoya joined the team and finished second by one point in the Formula 3000 Championship to Ricardo Zonta.
In 1998, RSM Marko even briefly fielded an Indy Racing League car for sprint car ace, Dave Steele, but that was a short-lived venture; later on, Marko would have another involvement with the IRL, as he supervises Red Bull's sponsorship of Red Bull Cheever Racing Team, the IRL team run by Eddie Cheever. (At Indianapolis this year, Cheever and Marko had some important meetings in the paddock as to continuing Red Bull sponsorship; as busy as ex-Formula One driver and Indianapolis 500 winner Cheever was on USGP weekend, he too made a bee-line to Helmut Marko to discuss Cheever's IRL team.)
In 2001, Marko's F3000 team was christened the Red Bull Junior Team and Patrick Friesacher, another Austrian, was given a seat, driving in Formula 3000 for four years on his way up the ladder to Formula One and that too worked out to some extent since Friesacher drove for Minardi earlier in this season. (Friesacher also had a fabulous black Lamborghini in the Imola drivers' parking lot, so shed no tears for him that he is currently between rides.)
It was during this period that the Red Bull Driver Search Program was initiated, American's Scott Speed being the most visible evidence of the success of the Program, finishing third in the first GP2 Championship and propagating the Red Bull faith in the United States that in not too short a time we will finally see an American in Formula One after a gap of what is now 12 years since 30-year old Michael Andretti stepped out of his McLaren-Ford in the 1993 Italian Grand Prix.
And make no mistake about it; these people at Red Bull are the ones that have the power and the self-interest to make an American in Formula One happen, as it will tend to validate the Red Bull Driver Search effort as well as continue the marketing of the energy drink that supports all this racing in the huge American market.
Where does Helmut Marko fit in with Red Bull as it evolves? His Red Bull Racing calling card contains no fancy titles, and Marko prefers it that way: he needs no high falutin Senior Vice President rubric after his name to communicate his importance to the team. Indeed, you can search the whole RBR website and find no publicity picture of Helmut Marko anywhere.
Marko, in his precise way, tells me he has two formal roles: he is one of four directors of Red Bull Racing (the others are Dietrich Mateschitz, Dany Bahar and Christian Horner), and he is a consultant to the team. But taking nothing away from the genial and capable Christian Horner, who was named Sporting Director of RBR in January 2005, when Dietrich Mateschitz needs a heart-to-heart discussion with a fellow Austrian of his own age, he doubtless dials up Helmut Marko.
When the Michelin tire fiasco began to unfold on Saturday afternoon at Indianapolis in Gasoline Alley, I happened to be with Marko doing one of my interviews with him when his mobile phone rang. After a conversation in German, Marko apologized for the interruption, explaining that he had to take the call because it was from The Boss, Mr. Mateschitz. And later, when Bernie Ecclestone was briefing McLaren, Minardi and RBR in Gasoline Alley, Martin Whitmarsh was there for McLaren, Paul Stoddart for Minardi and Christian Horner and Helmut Marko were there for RBR.
Upon reflection, it is almost as if the RBR team is stratified by age at all levels: the adults and the children. On the adult level as to policy, we have Mateschitz and Marko, and on the adult level as to drivers, we have 34 year-old David Coulthard, who is older than the team-principal Christian Horner.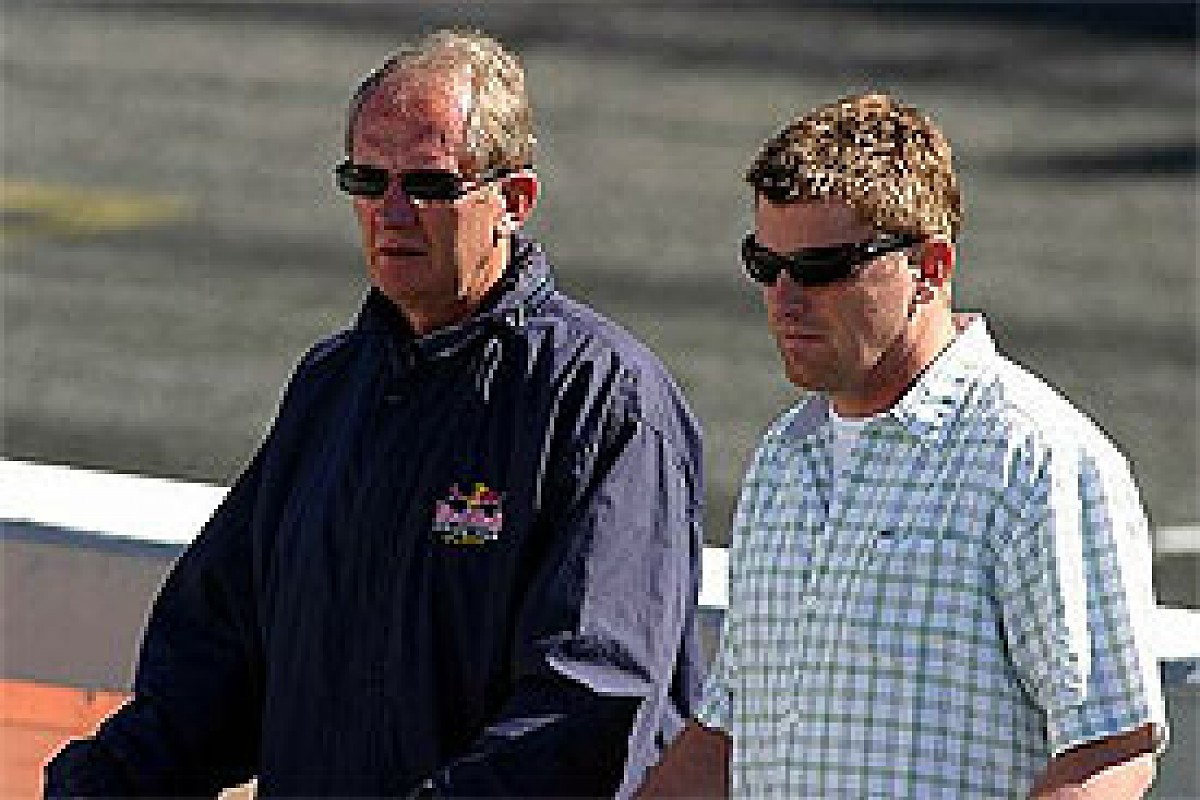 And on the youth part of the spectrum, there is 24 year-old hip hop exponent Tonio Liuzzi, he of the off-centered hat and engaging, flashing smile, and the somewhat younger 22 year-old, muscle bound ex-sheetmetal worker Christian Klien. And, as Scott Speed describes the life of many young drivers with Helmut Marko: "Helmut, I don't know how much advice he gives us, but he definitely tells us when we are messing up."
With the evolution of RBR to Red Bull Ferrari and Red Bull Minardi will come higher expectations from paddock insiders and the media who have clearly held their fire this season while under the influence of gallons of free Red Bull and sandwiches at the Red Bull Energy Store. In the 2006 season, Red Bull will have the opportunity to show that they are a real Formula One outfit, and not just a dazzling branding exercise, though with the Prancing Horse and the Red Bull they are certainly that.
Will it work? Red Bull Racing is here to stay, happily for Formula One, since in its short history Red Bull Racing has proved itself to be everything Jaguar Racing was not: exciting and interesting to watch and moderately successful on the track. Red Bull gives us Wings and, hopefully in the form of Red Bull Ferrari, it will give us Wins.