The fifth season of the World Series by Renault's Formula Renault 3.5 category wheeled into Barcelona in April fundamentally in good shape, if not escaping with immunity from the global downturn. A last-minute clamour of drivers taking advantage of cheap seats fleshed out the grid to near capacity.
P1 Motorsport, who had carried Giedo van der Garde to the 2008 title and were now pinning their hopes on Jersey's James Walker, secured the services of second driver Daniil Move just days before the opening round. Reigning teams' champions Tech 1 Racing were also made to sweat, completing an extremely late deal with Red Bull to field multiple British F3 race winner Brendon Hartley, who would not be afforded any testing.
At the opposite end of the pitlane, the identity of Interwetten's drivers was a mystery until the Thursday prior to the race when former GP2 driver Adrian Zaugg was announced in partnership with Romanian rookie Mihai Marinescu. A casualty to grid numbers came from the withdrawal of Belgian team KTR, which found it impossible to attract two drivers with full budgets.
On the technical front, the removal of certain aerodynamic add-ons from the cars mirrored developments in Formula 1 and provided additional performance.
Round 1 Barcelona, April 18-19
Pons Racing's Marcos Martinez was greeted with acclaim following a somewhat surprise double victory. In the processional reverse-grid race, series returnee Adrian Valles made a poor getaway from pole and was passed by Martinez, who was left unchallenged to take his maiden victory.
Renault Development Driver Charles Pic's season got off to a terrible start, misjudging the temperature of his brakes and crashing out on the formation lap. By starting from pole in race two, the Tech 1 driver would have a shot at redemption.
He staged a superb battle for the lead with Carlin's British F3 champion Jaime Alguersuari until both had to make an enforced extra pitstop. They had opted for early mandatory tyre changes, before a mid-race rain shower. Martinez timed his sole stop to coincide with the onset of the deluge and, despite sliding through the odd gravel trap, maintained his advantage to complete the double.
Round 2 Spa, May 2-3
Marcos Martinez, Pons Racing © LAT
Martinez took his third win in a row in the reverse grid after grabbing the lead around the outside of pole-sitter Marco Barba at La Source. While Barba fell to an eventual seventh, his Draco team-mate Bertrand Baguette exploited his local knowledge and charged up from eighth to second in just nine laps.
James Walker's race one crash at Rivage prompted P1 boss Roly Vincini to say "it's a bit sad" that his drivers were not living up to their qualifying performances on race-day. Walker duly recomposed himself and triumphed in the feature. Pole-man Baguette was unable to live with Walker's pace, blaming a flat-spotted a set of tyres, and settled for second.
Round 3 Monaco, May 24
A stunning pole lap for rookie Oliver Turvey set-up a faultless victory. Second place man Adrian Zaugg's pass on Walker, who once again started from the front row, was one of few overtaking manoeuvres. Hartley enlivened the F1 curtain raiser with stunning pace in between two penalties for cutting the harbour chicane, both decisions the Kiwi strenuously contested.
Martinez's brake induced retirement allowed fifth-placed Baguette to close within two points of the championship leader.
Round 4 Hungary, June 13-14
Martinez silenced critics by delivering his first pole-position in superpole, but his qualifying effort would yield no additional points in race two, as mechanical failure struck once more on the Sunday.
Saturday's pole-sitter Fairuz Fauzy survived a heavy lock-up into Turn 1 to take his maiden FR3.5 win in three seasons. Hartley challenged into the first corner, but spun on the dusty outside of the circuit. Draco team-mates Barba and Baguette completed the podium.
The safety car was brought out when a multi-car crash was instigated by Zaugg and Chris van der Drift. Later, Walker found the barriers on the approach to the pitlane. Pasquale Di Sabatino and Julian Leal's pitstops on lap seven were perfectly timed between the two periods, giving the pair a huge advantage and , from 15th on the grid, Di Sabatino claimed a maiden victory.
Round 5 Silverstone, July 4-5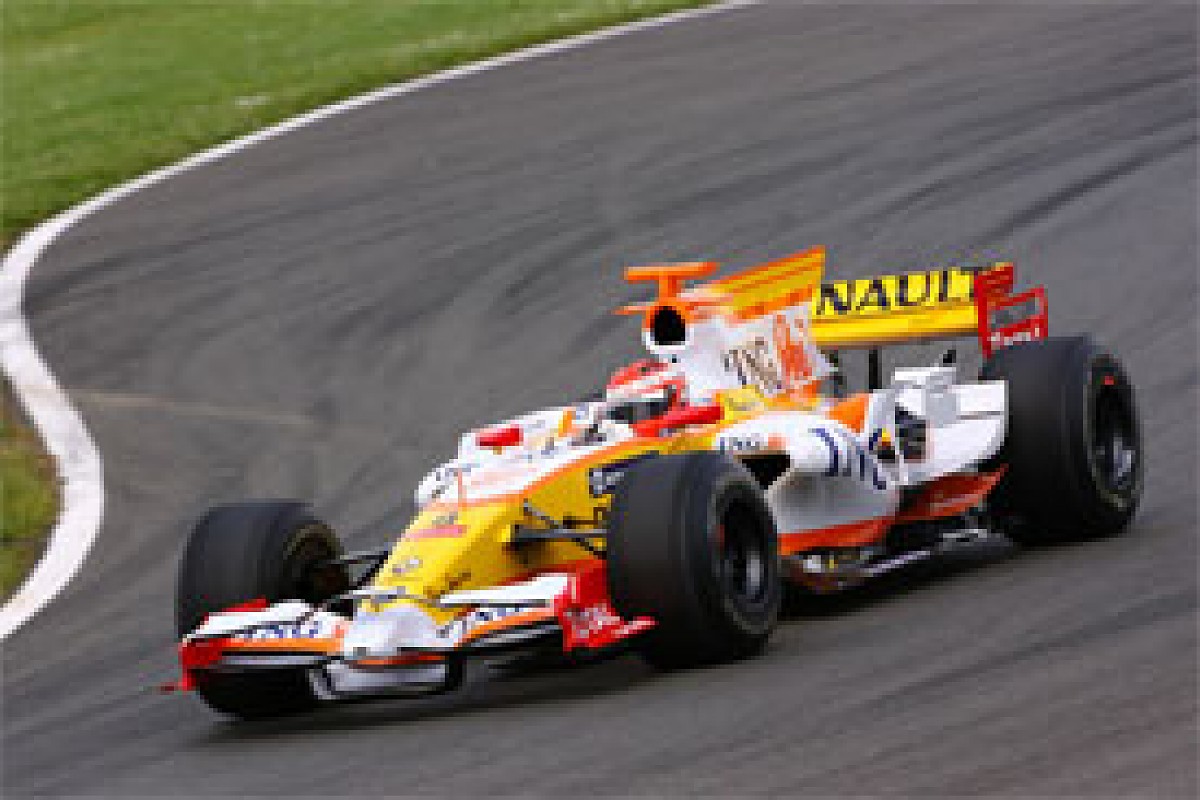 Marcos Martinez samples the Renault R28 at Silverstone © LAT
The reverse-grid produced an intriguing line-up for Silverstone's opening race, with the joint championship leaders Martinez and Baguette sharing the front row. Martinez made a flier of a start and gradually extended his lead as Baguette withered with increasing traction difficulties and slipped to eighth. Hungaroring winner Fauzy produced the drive of the day, staging an inspired chase of Martinez to finish within a second at the flag.
Superpole winner Pic led Tech 1 team-mate Hartley in race two until the Red Bull Junior picked up a penalty for speeding in the pitlane. That gave second to Walker, which moved him ahead of Baguette in the standings in pursuit of Martinez - who was handed a prize run in a Renault R28 Formula 1 car for leading the championship at the mid-way point.
Round 6 Le Mans Bugatti, July 18-19
Baguette survived a wheel banging run down to the first corner with Barba and Di Sabatino to claim his maiden victory of 2009. He completed the double on the Sunday to eke out a 19-point lead with just three rounds remaining.
Miguel Molina climbed from 10th on the grid to finish second, with Alguersuari third. Pole-man Jon Lancaster had been the star of the weekend, but encountered gearbox problems, and Walker - recovering from a throat operation - endured a slow pitstop after leading the early laps, while Martinez's hopes of points were killed by an early puncture.
Round 7 Algarve, August 1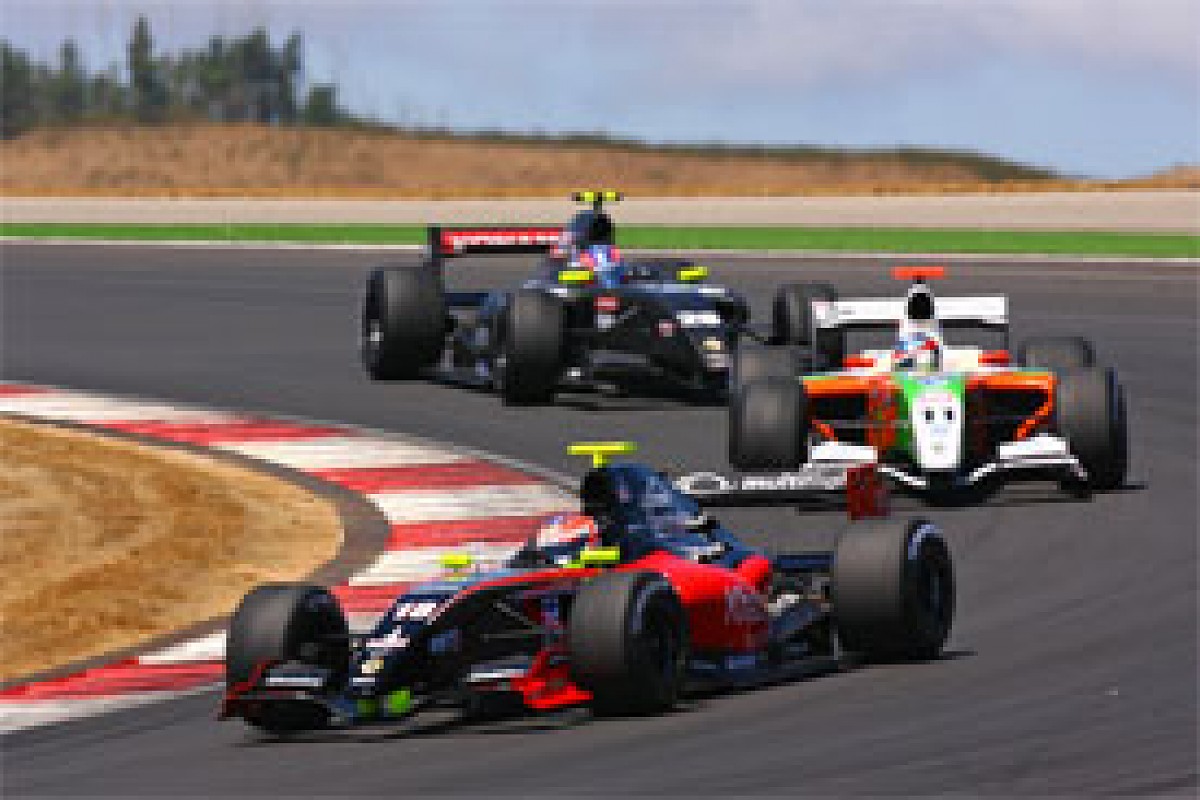 Jon Lancaster, Comtec Racing © LAT
Lancaster delivered on his potential, withstanding intense pressure from Baguette to claim his maiden victory. He was handed a break at the start when the second and third qualifiers, Epsilon Euskadi team-mates Van der Drift and Dani Clos collided into the first corner.
Toro Rosso F1 driver Alguersuari came from seventh to complete the podium for Carlin the scored his first victory in the feature race. He was made to work hard for the win by a flu-ridden Pic, who briefly stole the lead on two occasions, heading the charge into Turn 1 before running wide at the back of the circuit, and fleetingly taking the lead following a safety car period on lap 16.
Competing in only his third round of the season, Guillaume Moreau completed the podium for newcomers SG Formula, harassing Pic to the finish.
Round 8 Nurburgring, September 19-20
Baguette moved a step closer to lifting the title with his third victory of the season in the reverse grid race. He passed pole-sitter Move on lap eight and made a break while Move backed up the field.
Fauzy recovered from a poor opening lap, on which he briefly dropped to seventh, to take third. He was promoted another step on the podium after a 10-second penalty was applied to Lancaster for dangerous driving.
Pic led Hartley home, while fifth was enough to seal the title for Baguette. Lancaster was set for third but was saddled with more misery when his car ground to a halt.
Round 9 Aragon, October 24-25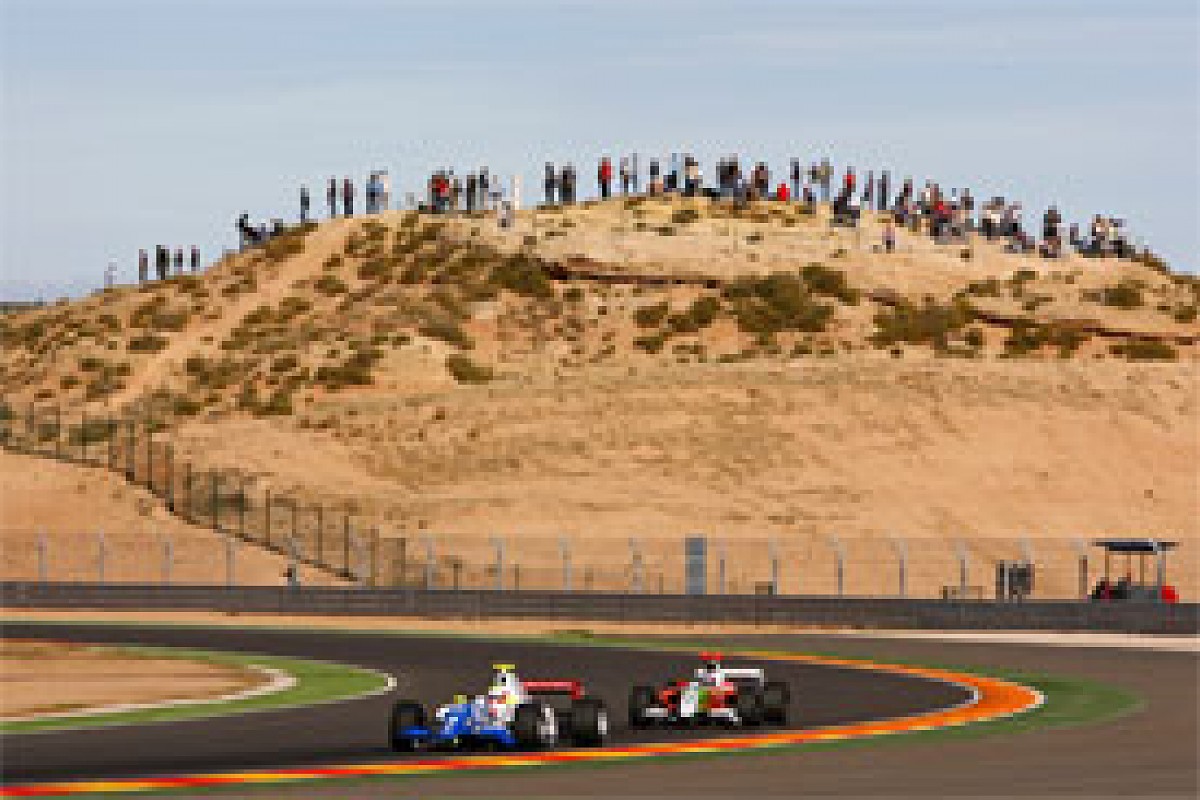 Bertrand Baguette (Draco) stalks Oliver Turvey (Carlin) at Aragon © LAT
Baguette scored his fourth victory with a superb drive from fifth after passing early leader Turvey. Lancaster finished third behind Turvey after passing Alguersuari at the start.
Baguette rounded out his title year in perfect fashion by completing the double. The Belgian passed poleman Fauzy during the mandatory pitstops. Fauzy's second earned him the runner-up spot over Pic, while Move survived contact with Lancaster to complete the podium.