The Brazilian Job

---
By Adam Cooper, England
Autosport-Atlas Contributing Writer
Rubens Barrichello's decision to leave Ferrari before serving the seventh year of his contract was a bold decision on the Brazilian's part, and one which could prove to be decisive when his rivals play musical chairs at the end of 2006. But how did Barrichello come to make the move and what does he expect to find at BAR-Honda? Adam Cooper analyses the Brazilian's strategy
The imminent move of Rubens Barrichello from Ferrari to BAR has, to some degree, been overlooked in recent weeks, as there's been so much else going on. And yet the Brazilian's decision to bail out with a year to go on his contract surely demands further scrutiny, not least because just a few months ago such a scenario would have seemed impossible. The man who for so many years told us he was the future of Ferrari has accepted that it's not going to happen.
To recap, after four years with Jordan and three with Stewart, Barrichello signed up for Ferrari in the autumn of 1999, replacing Eddie Irvine. His original two-year deal stretched out to five years, and ultimately to seven, although the final season will not, of course, happen now.
Barrichello signed the current extension unusually early, even by Ferrari's standards. Indeed, he agreed on the terms for 2005-6 in December 2003, some six or seven months before he really needed to. Several drivers were banking on the Brazilian not being retained, among them Giancarlo Fisichella, whose move to Sauber was intended to forge links with Maranello that would lead him to partnering Michael Schumacher. Well before Fisichella had even raced the blue Sauber car, that plan was scuppered by the re-signing of Barrichello.
It must have seemed like a good idea at the time. One can only presume that he was offered a good financial deal if he agreed on terms early, and Ferrari wanted to guarantee continuity. Perhaps at the back of his mind, Barrichello thought that if he delayed until the summer, someone else might just sneak in and take his job. And of course, at the time Ferrari was still in a dominant position, and he could see more wins coming his way.
But while 2004 was another Ferrari year, this season - the first year of that prematurely extended arrangement - has been a nightmare.
Clearly the reversal in form has played a big part in the Brazilian's decision. It's no secret that life as Schumacher's number two is no bed of roses, but when you have a bad day and still finish second, you can put up with a lot. This season, where at some races even getting into the points has been a struggle, the compensations have been few.
One senior Ferrari engineer said a few years ago that he always knew when the car was good - Schumacher's teammate, be it Irvine or Barrichello, was a lot closer to the German. When things weren't going well, the gap grew. That has been very apparent this year.
A more specific catalyst was, of course, Monaco. Delayed by his early bump with David Coulthard, Schumacher barged his way past Barrichello at the chicane on the last lap to claim seventh place. The Brazilian was incensed, but a lot of people missed the point and saw him as some kind of bad loser.
In fact, Schumacher could only have pulled that move on his teammate, because naturally Barrichello was obliged not to chop him, as just about anyone else would do. In other words, Schumacher took advantage of the fact that his teammate was in front and would be unable to defend if he tried something a little overly aggressive. Equally, Barrichello was simply not expecting his own teammate to try a dodgy move, especially when so little was at stake.
Words were said in the motorhome afterwards, and there's no question that things have not been the same since. The silly business at Indianapolis, where Schumacher exited the pitlane and aggressively overtook Barrichello - a move that could well have left Tiago Monteiro as winner of the US Grand Prix - added fuel to the fire.
Just like Juan Pablo Montoya after his radio altercation with Williams at the 2003 French GP, Rubens was now open to offers that he would not have previously entertained - he was on the rebound, you might say. And BAR -helped of course by the recent arrival of his pal Gil de Ferran as a trusted go-between - got their timing just right.
The extraordinary point is that Barrichello had a firm Ferrari contract for 2006, and nobody - at first even BAR - believed that he would be available. The only thing that could have made it happen was a mutual agreement with the Italian team. Clearly Barrichello wanted out, but what was the motivation for Ferrari? On the face of it, the simple fact that if a driver even suggests that he doesn't want to stay on, then he's no longer worthy of the job anyway.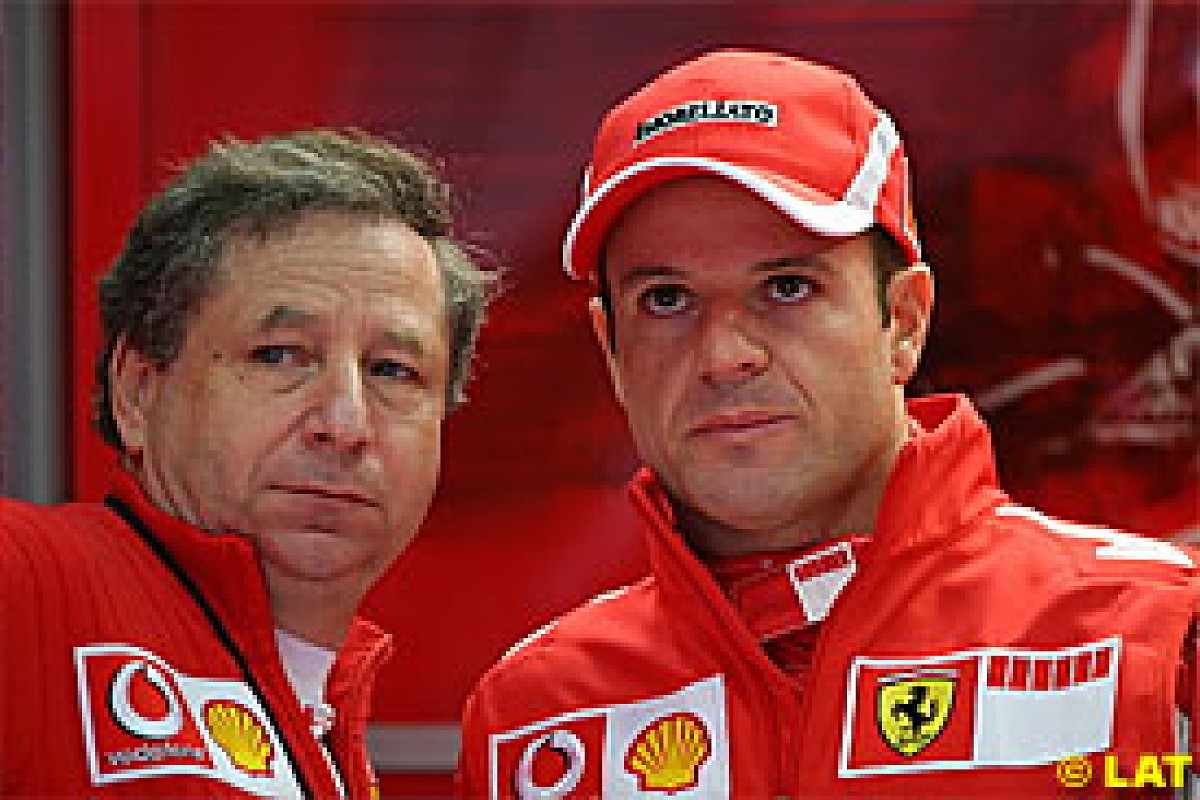 And that is pretty much what happened, aided by the fact that Ferrari's principal Jean Todt could see a welcome opportunity to employ his protege Felipe Massa, who has been on standby for the past few years.
"I only signed the contract on the weekend of Hungary, so there was never anything happening before," says Barrichello. "Obviously you talk to people, like I talk to everyone here. I have so many friends. I spent 20 minutes this morning with Norbert Haug... It's something that happens every day. As for Gil de Ferran, when he came into F1, there were a lot of people obviously saying that I was going to go there, but it wasn't just that.
"We started talking some time after Monaco, but not seriously, because I had a contract with Ferrari, and I really thought there was no way to get out of the contract, because there was no buy-out or anything like this. So the only way for me to get out of my contract was to go in person, talk to Jean Todt, and ask his permission to do it. That's what I did, and that happened in Germany, at the Hockenheim race.
"Obviously he was very surprised. He said he was counting on me, but he could never accept somebody staying on the team if he didn't want to, so he was very kind to let me go. He accepted the fact that I considered BAR as a new challenge, and I told him that there are better chances for me to win the Championship there than I have here."
Barrichello admits that he put himself in an extremely delicate situation: "I could never accept something from BAR-Honda without talking to Todt, but I could never talk to Todt if I didn't have something on hand. It was a bit of a cycle. I wanted to be as truthful as possible, I couldn't sign anything for BAR before I talked to Jean, because that was on the contract, and there was a human respect for that. But the deal was done quite nicely, and the teams both agreed on the terms."
Things genuinely seem to have worked out with everyone gaining, not least BAR. For a team that has long appeared to be on the verge of the big time, keen to put the final pieces into place, getting a driver with winning experience and inside knowledge of the most successful organisation of this era is a logical move. In addition, BAR have always had a major interest in South America, which is why Ricardo Zonta was hired back in 1999, why Enrique Bernoldi came on board as test driver, and why Nelson Piquet Jr. had a test earlier this year.
There's no question that Barrichello has great faith in Honda, and he's admitted that the obvious Ayrton Senna connections have an appeal for him. It's also probably significant that discussions kicked off at a time when the team was at a low point, struggling to get over the Imola saga. BAR have regained momentum in recent weeks, but the fact that Barrichello wanted to talk as long ago as May has no doubt gone down well with both the BAR management and the Japanese. Loyalty, commitment, that sort of thing.
But where else could he have gone in 2006? Maybe Williams, maybe BMW, but all things considered, BAR were the best short-term shot. Intriguingly, Barrichello is now out of synch with nearly all of his rivals. Most seats in the top teams will come up for grabs at the end of 2006, when a lot of contracts run out, and had he stayed at Ferrari, he might have been lost in the crush. Perhaps he could see that even if he outlasted Schumacher at Maranello, the arrival of Kimi Raikkonen - or whoever - would shatter his dream of taking over the starring role. Just ask Coulthard how Raikkonen can spoil the best laid plans.
Now he will be set fair at BAR at the end of 2006 and not party to any silly season nonsense. It remains to be seen if his unusual schedule works to his benefit longer term. For now, he's convinced he's got it right.
"People in Brazil, one of the main topics that they asked me was, 'Why didn't you leave earlier?' And I said 'Because I didn't have anything better to do'. And now I have. I definitely consider it a step forward in that direction. I've got 13 years experience. Self-belief is much better than at any other time in my career. It's a good challenge, definitely, but there are good people working for you, and working for two cars to make it happen. Honda has been there winning so many Championships in the past, and I think they will start winning now.
"The main thing is that if at the end of the year everyone was to offer me a drive, I would consider BAR-Honda very highly, because I think that's the team that have not won a race yet, but they have all the cards and all the ingredients to do it. I hope that the one missing point is myself..."
Why he wants to leave Ferrari for a team that have yet to win a race is an obvious question, and you can't argue with his answer.
"The attraction is the fact that they have all the ingredients but they haven't won yet. The good people are definitely there, the Honda power makes the whole situation very attractive, and there's my experience - my experience with the will to work and win.
"I'm going there not to say 'change this' or 'change that', I'm going there to learn how they work, and to point out what I think they need to do to make it win. I've come from smaller teams when I came into Ferrari, had to learn my way. Now I have the experience of three teams, and the biggest one from the past years, which I think will be a good combination.
"I actually don't consider BAR a smaller team at all, if you're looking at the amount of people and the amount of effort and the will really to win, the same as I have. It looks just the same, so I'm definitely not going backwards, it's not a step down. It's a step up, and the level of motivation on the team is quite high.
"Obviously there are going to be some changes. I probably won't be driving the car until January 1st, but it will be a good time, good preparation, and everything that I can do, I will - for the team and for myself, because I still remain confident that I can win the Championship."
The big question is, inevitably, who will be his teammate? Having Barrichello on board has massively decreased the team's dependence on hanging on to Jenson Button. But if they can retain him, they'll have one of the most intriguing partnerships in the pitlane, and two highly motivated drivers who are adept at building a good situation for themselves. Barrichello says he never felt that he was signing up as Button's replacement, so he's up for the challenge.
"Definitely not, it didn't look that way," he says of replacing Button. "They want to put as much effort as I want for the Championship, so I don't think I'm a replacement.
"This I will leave in the hands of the team. Jenson I consider as a friend, as much as I consider David Coulthard, or [Fernando] Alonso, or Montoya... I have no problems with anyone out of the circuit. Jenson is a good guy, I only have good things to say about him.
"Obviously having someone competitive on the team brings the best out of you. Michael is very, very competitive, so I have to work very hard to actually beat him and sometimes, whenever I can, stay in front of him. It's going to be a challenge in many respects."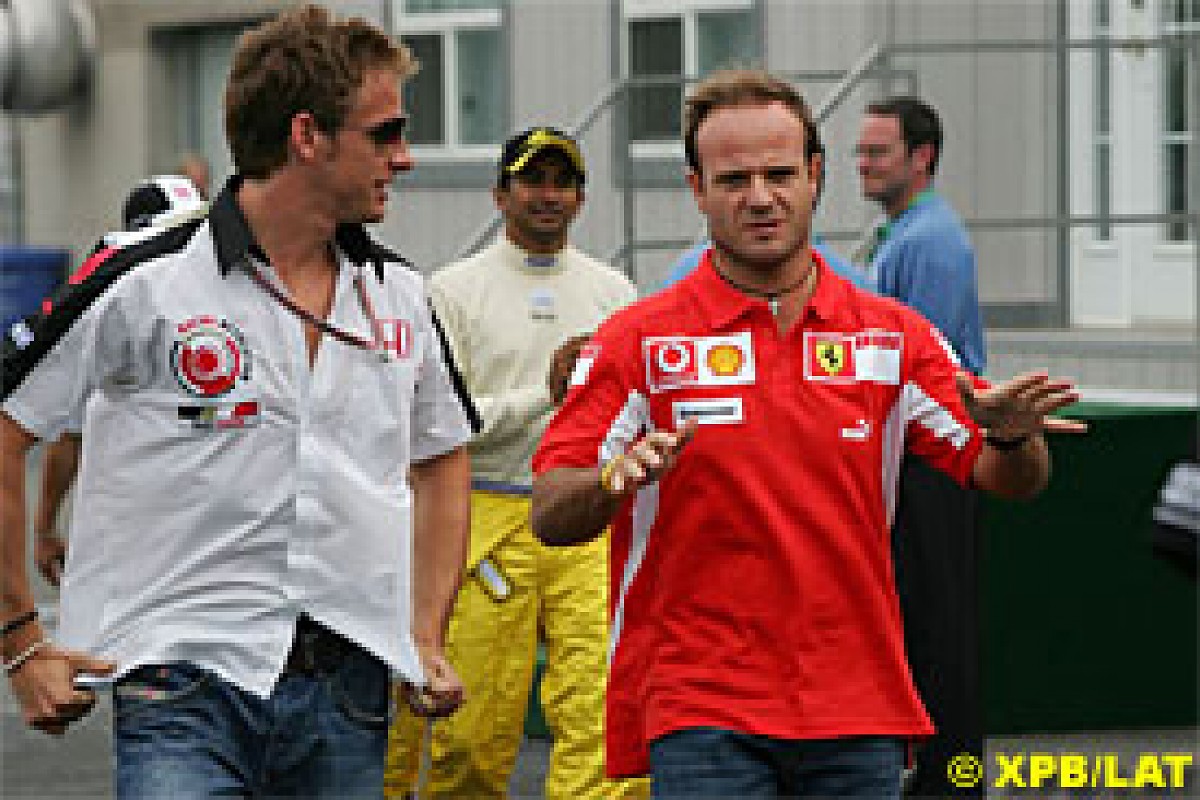 A remarkable era will come to an end at the Chinese Grand Prix next month. Barrichello raced alongside Schumacher through an extraordinary period of success, and he's generated a resume that most drivers in the paddock can only dream about. He's had the last laugh over those who criticised him for accepting a supporting role - even if he could never admit that's what it effectively was. Where else could he have won all those races?
"I think the best moments always have been the wins, but whenever people ask me about Austria [2002], I think that was a good time, because in the view of every spectator or anyone in the paddock, it was a changing point. It was definitely a time when I definitely proved that I could win races without the help of anyone, against Michael on the racing track. That will remain as a hard time to accept, but as a strong point and a changing point.
"Obviously racing with Michael you can show your potential, but it's always very hard to actually do it. Apart from him being a driver of his calibre, he's been there for longer, so he has a good treatment and everything. That's why I say I have bigger chances to win in another team."
Now it's time to cash in his chips and move on. If Honda can build a powerful V8 and BAR create a car that hits the ground running, Barrichello really could have a chance to prove something.
"There's always a time that things have to finish. I had a good time at Ferrari, I really think that I need to thank them for everything I had, all the experiences I had. The harder times made me even stronger, and we had a few of them. We had really good times too, so at the age of 33 I'm able to move on.
"For me, it's a step forward to work with Honda, to work with BAR, and to make it happen for them as much as for me, because I've always had a dream of becoming a World Champion, the same way that they too have that dream, so we're going to make it happen together."