---
By Dieter Rencken, Belgium
Autosport-Atlas Columnist
Schumacher's Future
Speculation about Michael Schumacher's future is nothing new. In the wake of his leg-breaking shunt at Silverstone in 1999 many predicted his retirement; equally, whenever rumours of pregnancy surround wife Corinna, talk to turns to Schumacher The Family Man wishing to wind down his career.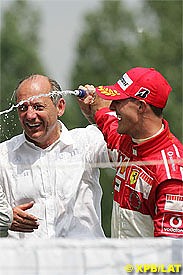 When 2003 appeared to be going the way of a consistent Kimi Raikkonen rather than the German superstar, Schumacher's retirement was widely forecast. Now, of course, the 36-year old is the oldest driver on the grid, having since captured his sixth and seventh Championships, but, if anything, that age-related, yet rather meaningless statistic from a talent perspective, coupled with the German's worst full season in his illustrious 15-year career, has again fuelled retirement talk.
Now, following confirmation that Schumacher has met - not once, but twice - with Mercedes-Benz motorsport boss Norbert Haug, come rumours of a different sort: that the driver is heading for McLaren-Mercedes in the near future, possibly after his existing contract with Ferrari expires at end-2006. "We spoke only about the future of Formula One," admitted Haug, (and) "I think it is rather impossible that he leaves Ferrari."
Maybe so, but two meetings merely to discuss the future of F1 with a driver contracted to another team, an organisation in direct conflict with Mercedes-Benz, whether seen in commercial, sporting or political contexts? After all, Haug is a leading light in the newly constituted Grand Prix Manufacturers' Association - with which Ferrari identifies not at all - and Maranello boss Jean Todt is hardly a man likely to permit his views on Formula One to be swayed by a couple of meetings between Schumacher and Haug.
However, given Schumacher's influence in Formula One, where his moves on- and off-track, and his place within the sporting business, directly affect 'the future of Formula One', there is no doubt that Haug is being totally on the level. Equally surely we believe that any contractual talk between the two could be directly linked to 'the future of Formula One'. So, whilst that is all they may discussed, it may not be all they discussed, if you follow the logic.
Mercedes it was, after all, who brought Schumacher into Formula One in 1991 via Tic-Tac and Jordan. The motor manufacturer, having reared Schumacher, Heinz-Harald Frentzen and Karl Wendlinger through their Sauber-Mercedes sports car programmes, is said to have paid the £100,000 required by Jordan for Michael's F1 debut at Spa, but passed the branding spots to the mint manufacturer as part of a longer-term DTM deal. Thus, having paid for Schumacher's entry into F1, could it not be expected that Mercedes would appreciate a slice of his action before he departs?
Of course Mercedes, who for almost 40 years reaped the fruits of their 1954/5 relationship with fifties' star Juan Manuel Fangio - whose Championship records were only recently beaten by Schumacher - could appreciate another enduring association with an icon. But, tellingly, it was Haug who once said Mercedes, which owns 40% of McLaren, would, for obvious reasons, prefer to win against Schumacher than with him.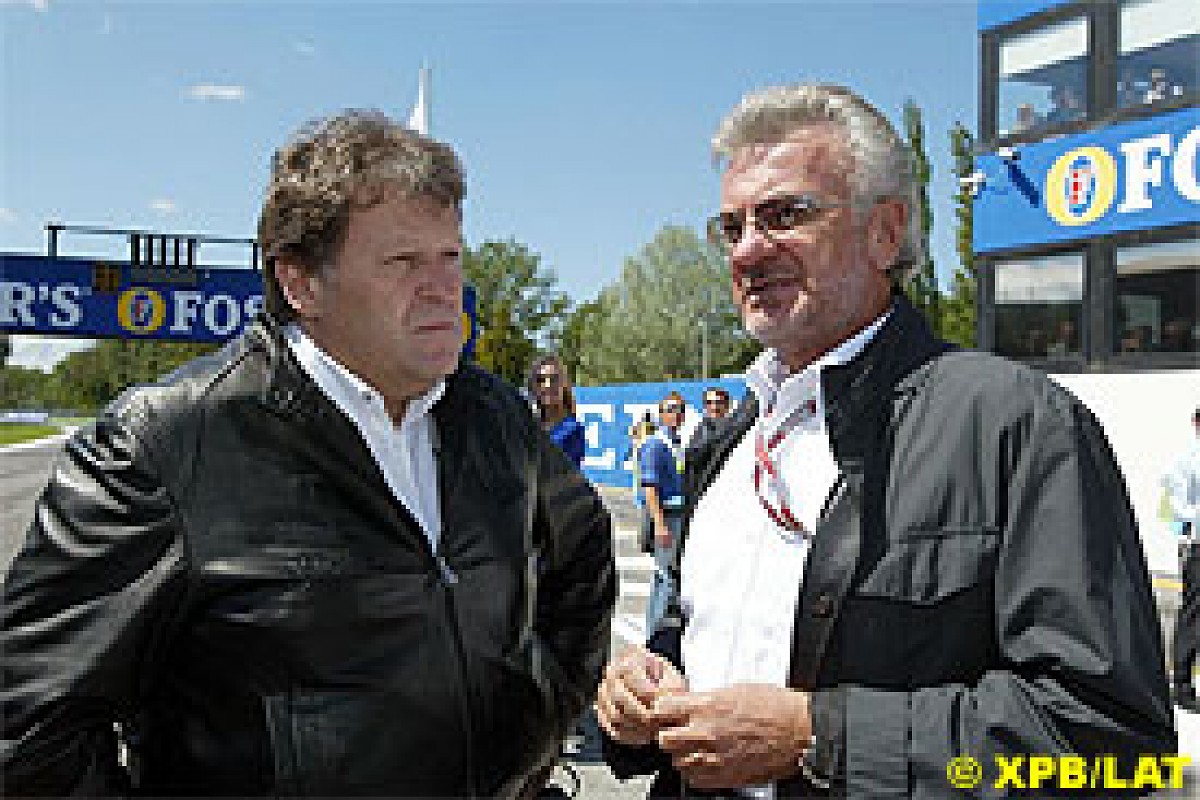 So, what are the odds of Michael slipping into silver overalls topped by three-pointed stars, thus displacing Kimi Raikkonen or Juan Pablo Montoya? Whilst some could see logic in dropping JPM, particularly given the number of points lost through inexplicable cockpit errors, the possibilities of McLaren dropping the former seem, from the outside looking in, to equal the square root of zero.
Are they, though, really that remote? Raikkonen's original four-year McLaren deal, announced immediately after 9/11, was scheduled to expire this year. Last year it was extended for an unconfirmed period, though rumours suggest it expires at end-2006 - precisely when Schumacher's present deal with Ferrari ends.
Recently Todt admitted his preferred Schumacher replacement was 'somebody driving for a certain silver, German-powered team', and, rest assured, the Frenchman was hardly fingering Monty. Given the superb contractual skills displayed by Kimi's handlers, the father-and-son Robertson combo, in all their F1 negotiations, please rest assured that talks, exploratory or advanced, between the Italian team's honchos and Raikkonen's managers have been in progress for a while yet.
Former F1 journalist and magazine editor Haug, with access to a massive network of contacts within the paddock, would have been amongst the first to hear of such discussions, and what better method of unsettling both Ferrari and McLaren's driver than by inviting Schumacher to a meeting talk or two under the pretext of discussing 'the future of Formula One'? And, if something rather constructive, such as indications that Schumacher intends ending his driving days in DTM, should emanate there from, well, the meal tabs will have justified their totals.
So, if Todt thought McLaren could be destabilised by reference to Raikkonen, Haug, no stranger to paddock life, could be trying it on against Ferrari - with the bonus that Schumacher may have spoken about life with Ferrari. For Haug nothing could have been simpler: a phone call or two, an agreed date and place during F1's summer break, a good meal in the company of the best driver of his generation, all wrapped by a couple of leaks to tame contacts at Bild, Germany's national tabloid newspaper, who lapped up, then embroidered every word.
Why, though, would Schumacher play along? For a variety of reasons, all interlinked: he may genuinely wish to race in DTM come the end of his F1 days, having made no secret of his love for racing, and a move into Germany's carbon fibre-roofed series could provide a tidy revenue stream (ever heard of a driver who has earned enough?) whilst permitting him to indulge in his love for action without leaving his wife and two children - rumoured shortly to become three - and the £16m (€24m) mansion in Switzerland he commissioned for them, too regularly for extended periods.
Sure, there would be tricky question asked about a German earning a fortune in Germany through 'working' for a German employer whilst domiciled in Switzerland, but, if manager Willi Weber can, as he did, avoid criminal hearings when charges of perjury were brought against him, by donating €50,000 to charity, then Michael should not suffer too many questions in that regard.
Why, then, did not both (or just Weber), attend the meeting if matters were mainly contract-related? First, Weber's recently alleged past is such that Mercedes may have no wish to be associated with him; second, a close associate of the Three Pointed Star was recently called as witness in preliminary hearings relating to the perjury allegations, causing further embarrassment. Then, Weber is known to have committed himself to Germany's A1 GP franchise, so the stubble-bearded manager's PDA may have been a crowded, particularly as legal matters encroached upon his time during F1's break.
Michael's break, too, may have been disrupted: talk is that he received an inkling that a pay cut by Ferrari, known to be going through economic times so diabolical that parent Fiat allowed a Middle Eastern bank to purchase 5% of Maranello rather than settle a debt to same value owed to a trio of Italian banks, was on the cards. Matters are unlikely, either, to improve over the next year or two, particularly as Ferrari's present performance is likely to result in reduced payouts from Formula One Management and those sponsors whose contracts are linked to performance or TV exposure.
By extension Schumacher, whose contract includes bonuses for Championships, wins and points specifies wins, is likely to earn rather less during this year and next - for, crucially the same (or greater) risks - and that trend is likely to continue beyond end-2006 after the departure of technical boffins Rory Byrne and the expiration of Technical Director Ross Brawn's contract. So, if Michael believes that, as stated publicly, he can race at the top level until age of 40, now surely is the time to initiate discussions for 2007 and beyond. What better organisation to link up with than Mercedes, busy embarking upon major restructuring to prevent Fiat-like decline as this is written.
Mercedes could well use the halo effect of Schumacher as it goes about re-organisation - said to include the axing of Smart and a whole raft of niche models - much as Shell Germany utilised the Schumacher factor to repair an image battered by Nigerian oil scandals and the ecological disaster that was Brent Spar. As Shell paid heavily then, so Mercedes could do very soon.
Schumacher, of course, had been promised a 'job for life' as ambassador for Fiat by (the late) Gianni Agnelli, but, seriously, would any seven-time Champion firmly nail his colours to that group's mast at present? And, as Jackie Stewart discovered when departing Ford, switching ambassadorial roles later is well-nigh impossible. Which will be a round longer: Mercedes or Fiat?
In fact, sources suggest that so acute is Fiat/Ferrari's situation that Rubens Barrichello was granted his early release simply to enable the Scuderia to sign Felipe Massa, thereby saving the $5m variance between the two Brazilian's salaries. Given that Massa has been confirmed for 2006 only, Schumacher is surely wondering what the bigger Ferrari picture entails, particularly after Todt spoke of his admiration for Raikkonen.
So, yes, the likelihood exists that Michael and Mercedes did discuss 'the future of Formula One', particularly with regard to his role therein, and, yes, the likelihood exists that Michael could join McLaren and/or Mercedes one day, but hardly before 2007. That said, too many unknown need fall in place before then, making it more likely the meets were little more than old friends putting their sporting world to right. Ultimately both men covered their bases - which, is after all, their professional duty - and received pay-offs in return. Sorry, folks, but you'll see JPM in silver for a little while longer.